[dropcap]A[/dropcap]t the 2016 Dubai Boat Show Dutch shipyard Oceanco unveiled latest 90m superyacht project "Moonstone", an extremely innovative megayacht bearing the exterior design of Van Geest Design with unique and cutting-edge lighting systems by TEMELOY Advanced Lighting Design. The defining difference between Moonstone and all other yachts is her uniquely conceived faceted hull sides, that through innovative visual effects and light show suggest a hypnotic glamour, just as one sees in the multiple surfaces of a finely cut precious stone.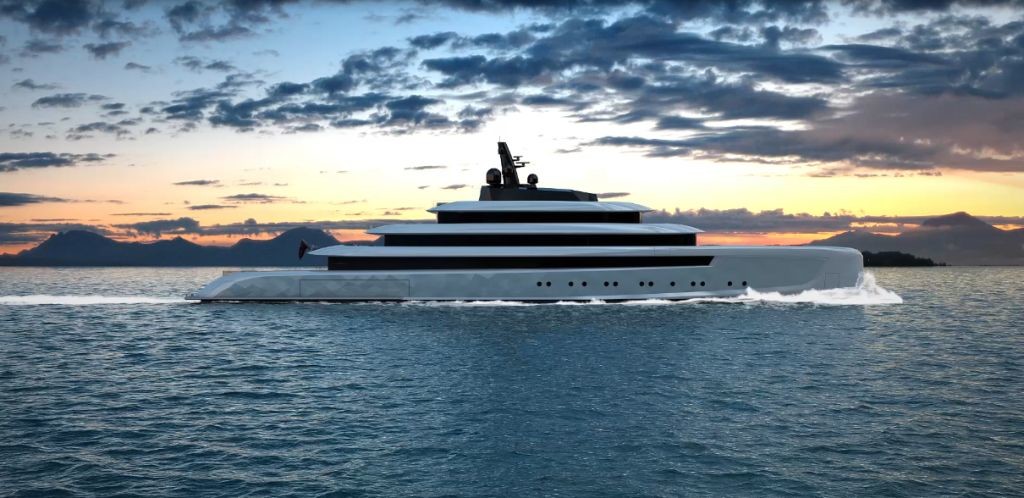 "Moonstone is all 
about seeing, being,
giving, belonging, and 
sharing the experience"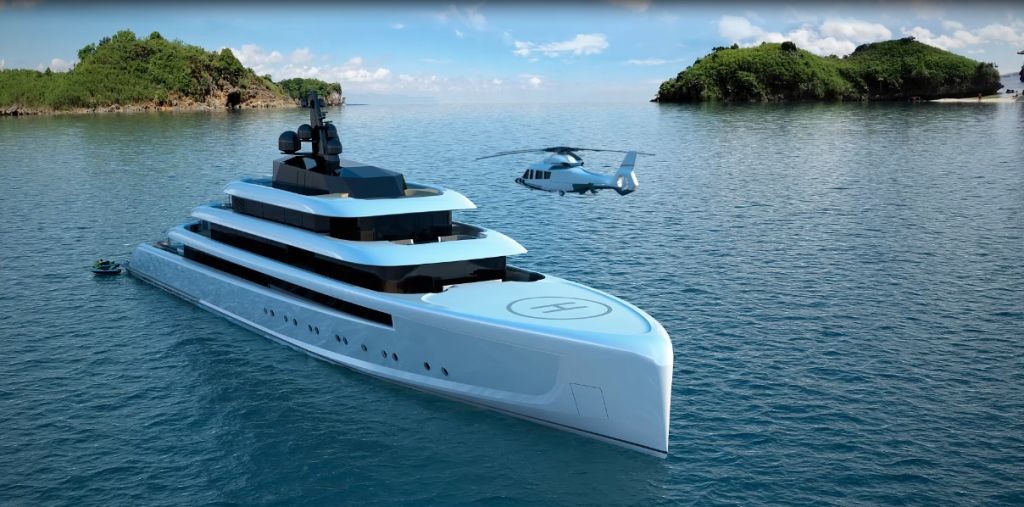 Moonstone is a delicate, nuanced dance between tone, shadow, and brilliance. This difficult-to-achieve equilibrium shapes the emotional, even spiritual flow of this yacht. Light infuses spaces and shapes with a multidimensionality that is felt, but almost impossible to adequately describe, because it is more art than science.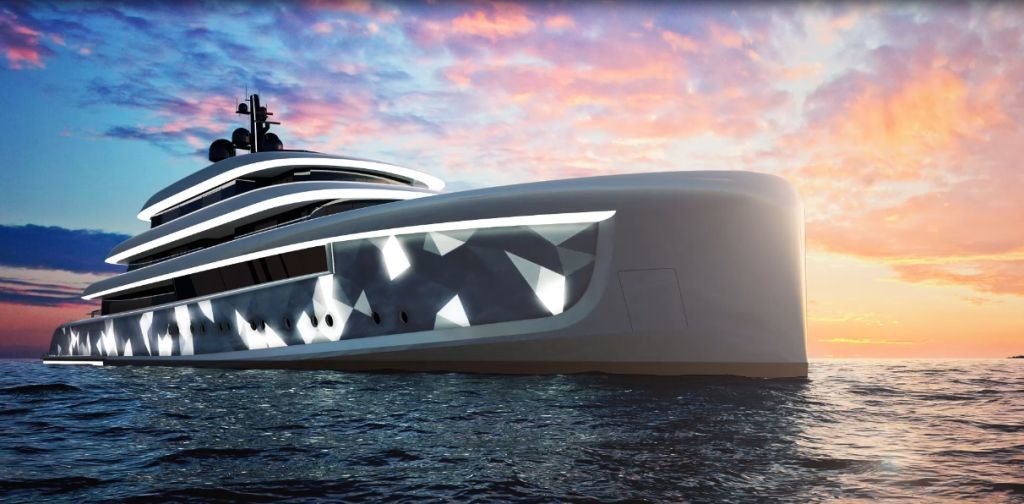 The multi-angled surface shapes of the hull sides reflect the water and play off sunlight. The unique 'twinkle effect' provides a visual link from Moonstone to the sky and the sea. This striking 'facet' motif repeats in many other areas of the yacht and is used in conjunction with special lighting effects.
In its natural state, the faceted surface of the yacht constantly mirrors its environment— it reflects the sun, sky, clouds and sea. As the facets contain LED lights that are digitally programmed, a mere swipe of the finger on a mobile device will manipulate those lights and immediately allow the creation of a personalized light show. The power is built into Moonstone's design for one to curate an ongoing video art experience with the yacht as a medium. The possibilities are endless.
In addition to working with these exceptional design components and lighting techniques, Oceanco is engineering the 90-meter Moonstone to be PYCcompliant and capable of accommodating considerably more than 12 guests.
The master suite is located on private owner's deck with generous spa and gym area, a cinema and a touch-and-go helicopter pad and as to the guests' accomodation, the yacht features 4 double guest suites and 2 twin suites.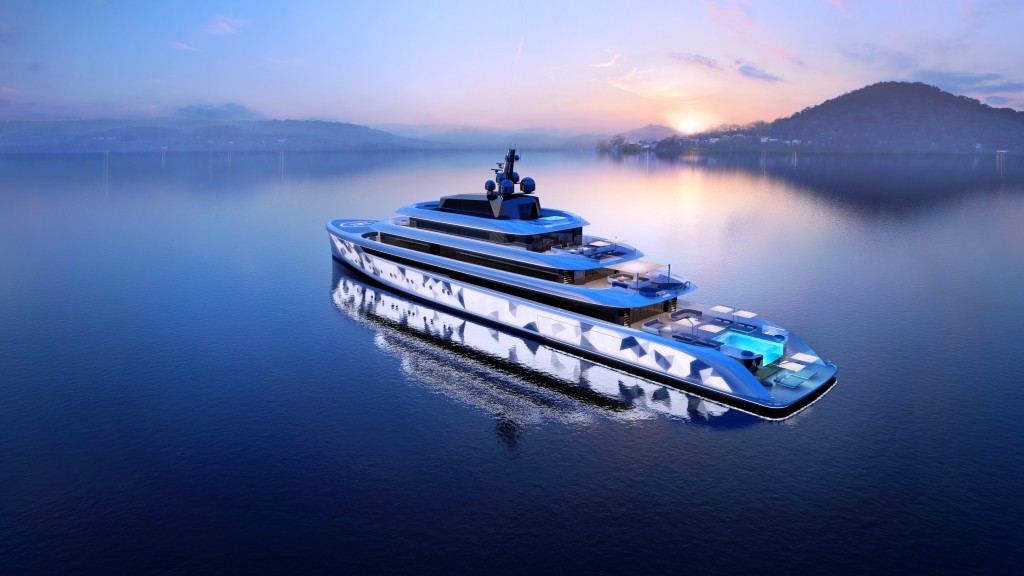 The general arrangement was designed to give infinite flexibility. The hull light panels have been designed to be self-sufficient with the use of 70 square meters standard solar panels on top of the superstructure. A day of sunlight could potentially allow the dimming and illuminating light panels to run for an estimated three hours.
The plumb bow has an integrated mooring and anchoring bay, which helps keep the bow area uncluttered.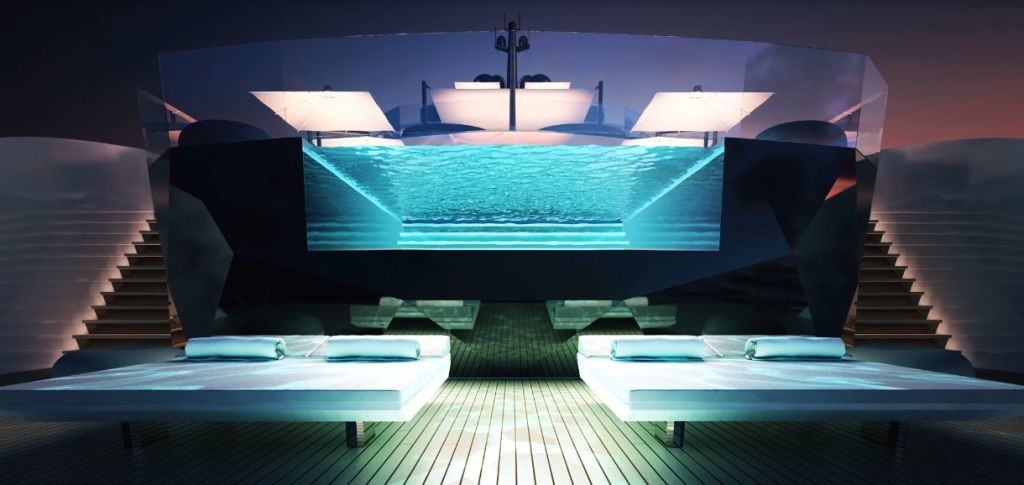 There is a sky deck lounge with a 360° panoramic views. Custom exterior deck furniture is designed to be modular, lightweight, clean, chic, low maintenance and user friendly — allowing flexibility in the deck layout — in accordance with the lifestyle on board.
Unfolding navigation wings are designed to increase visibility — these stations spread out laterally like wings suspended in mid-air. Side platforms forward give access to water toys and rescue tenders. Aft side platforms allow access to two main guest tenders and an outdoor lounge play area.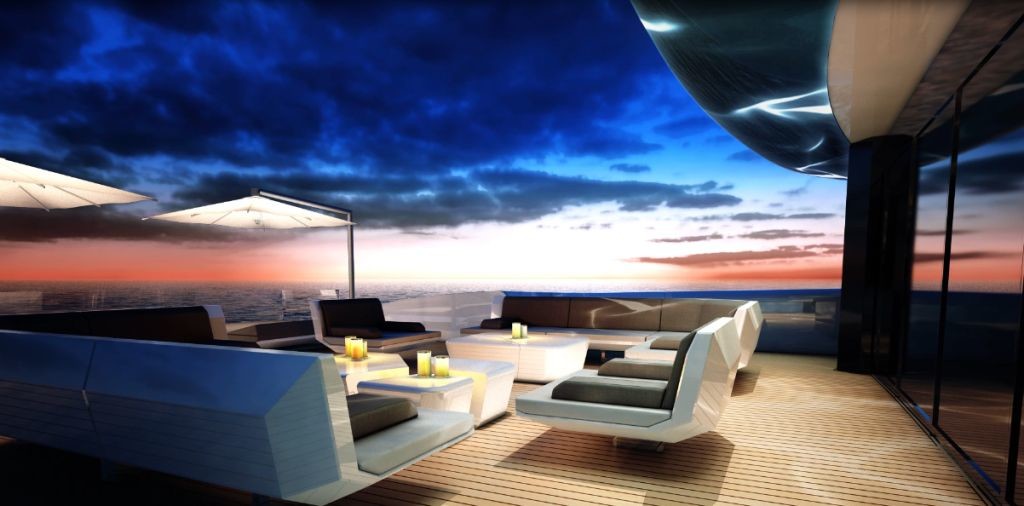 LIGHTING DESIGN FEATURES
Overhead panel — a backlit surface linked to fish-eye cameras can capture the magic of a night sky, a sunset or a sunrise as well as their refection on the water. Extremely versatile, this technology can also be used to affect an array of colour, moods, and ambience.
Hull-side facets — Custom hull panel lights triggered by 300 individually dimmable white triangles per hull side create unlimited lighting possibilities. At night, these lights generate a unique shimmering twinkling effect.
Swimming pool and hot tub — The pool walls have dimmable lights that will create a warm welcoming glow.
Boot stripe lighting — its horizontal line of light plays with the water line of the yacht.
Main Data
LENGTH OVERALL 90m / 295ft
BEAM OVERALL 15m / 49ft
MAXIMUM SPEED 18.5 knots
ACCOMMODATION 14 guests in 1 Owner's suite, 4 double guest suites, 2 twin guest suites, cinema, spa/gym, wellness area; and 29 crew members
ENGINE TYPE 2 x MTU 20V4000 M73L (3,600kW / 4,828hp each)
NAVAL ARCHITECT Oceanco / Azure
EXTERIOR DESIGNER Van Geest Design