By Gemma Fottles – from Superyacht Digest | July Issue 2019
[divider style="solid" top="20″ bottom="20″]
Innovation. A buzzword in every industry, innovation connotes something new, something exciting and, above all, a general sense that the brand or product in question is a cut above anything that preceded it. as with most buzzwords, however, many innovative products fail to live up to the hype. once the curtain is raised, the description seems to benothing more than a marketing ploy. too often the world is left questioning: what's so special about this so-called revolutionary innovation?
[divider style="solid" top="20″ bottom="20″]
[dropcap]I[/dropcap]In this regards, the German shipyard Nobiskrug is a rare example of living up to the promise of real innovation. Combining 100 years of experience in naval, commercial and special ship building experience, Nobiskrug burst onto the big boat building scene in the year 2000 with the delivery of the 92.4-metre Tatoosh.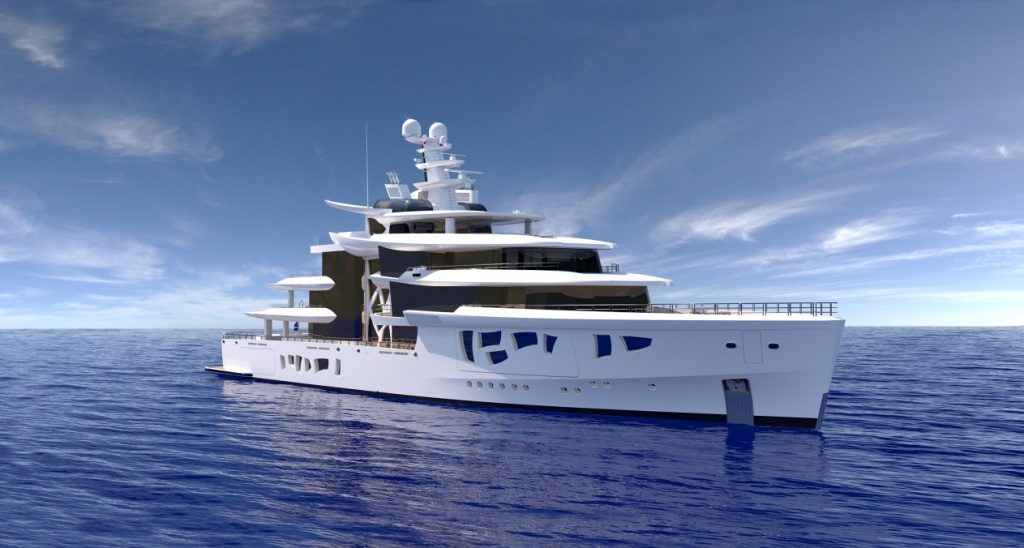 Since then, the yard has built up a reputation for not only creating some of the largest superyachts in the world, but also some of the most groundbreaking. From their first yacht in 2000 to their latest yacht, the instantly-recognisable 142.8-metre Sailing Yacht A delivered in 2017, Nobiskrug is a brand which is more than just talk when it comes to creating unique vessels. Nobiskrug, arguably, is the most innovative creator of custom superyachts in the world.
However, it takes (at least) two to tango in the time and capital intensive game of superyacht construction. When it comes to creating yachts that truly break the mould, the key ingredient is a bold owner, willing to dive in at the deep end and take a risk… albeit a meticulously calculated risk. Defining the owners of the exclusive Nobiskrug fleet of 10, the yard says: "The one characteristic that all Nobiskrug owners have in common is vision. We create yachts that stand apart for their innovative aesthetic. Their performance, their beauty, their onboard technology – and for pioneering in all areas".
Looking at the Nobiskrug fleet, it's clear that yacht owners who are looking to truly push the boundaries of yacht design come to Nobiskrug. And the next Nobiskrug yacht to hit the water will be no exception.
Named Artefact, the next Nobiskrug features exterior design and naval architecture from the Canadian studio of Gregory C. Marshall, while her secretive interior design is from the drawing boards of London-based Reymond Langton Design. Measuring 80-metres and currently under construction in Rendsburg, Northern Germany, Artefact is on track for delivery in late summer, ready for her world debut at the Monaco Yacht Show 2019.
A mere glimpse at Artefact's design renderings or images of the yacht under construction makes it immediately apparent that this is something altogether different. Her distinctive exterior design is comprised of 750 square metres of mismatched, geometric glass shapes, weighing almost 60 tonnes in total. The largest single glazed surface is 14.6 metres and, altogether, the yard has utilised 223 pieces of glass throughout her design.
But it's not just her eye-catching exterior design that makes Artefact stand out. Artefact, like all Nobiskrug yachts, is a unique collaboration between the designer, the yard and the owner. Though this is the first new build yacht project for the owner, he is no stranger to complex, boundary-pushing projects. Handson in every aspect of the design, engineering and construction processes, the owner was extremely influential in the entire project. As the team at the Gregory Marshall Studio tells us, this owner worked to bring a fresh perspective to the whole project.
One of those fresh perspectives was an almost unprecedented dedication to developing and installing environmentally conscious technologies, as well as achieving near zero noise and vibration levels. The yard has revealed that Artefact incorporates several new technological and engineering features to minimise its environmental impact. These include 23 square metres of solar panels on the sundeck hardtop, as well as a large battery storage system and a diesel-electric propulsion system developed with ABB. Upon delivery later this summer, Artefact will also be one of the first superyachts in the world to meet IMO Tier III emissions regulations.
Talk abounds regarding Artefact's technological advancements and radical, glass-covered exterior design, but when it comes to her interior, details are scarce. Though it's often the case that owners of these high-profile boats choose to keep at least some aspects of their new toys out of the public eye, the industry and yacht enthusiasts alike are always hungry to know more. With confidentiality key in the superyacht business, all that we know so far is that her interior is defined by an abundance of 'natural light and a fluid layout'.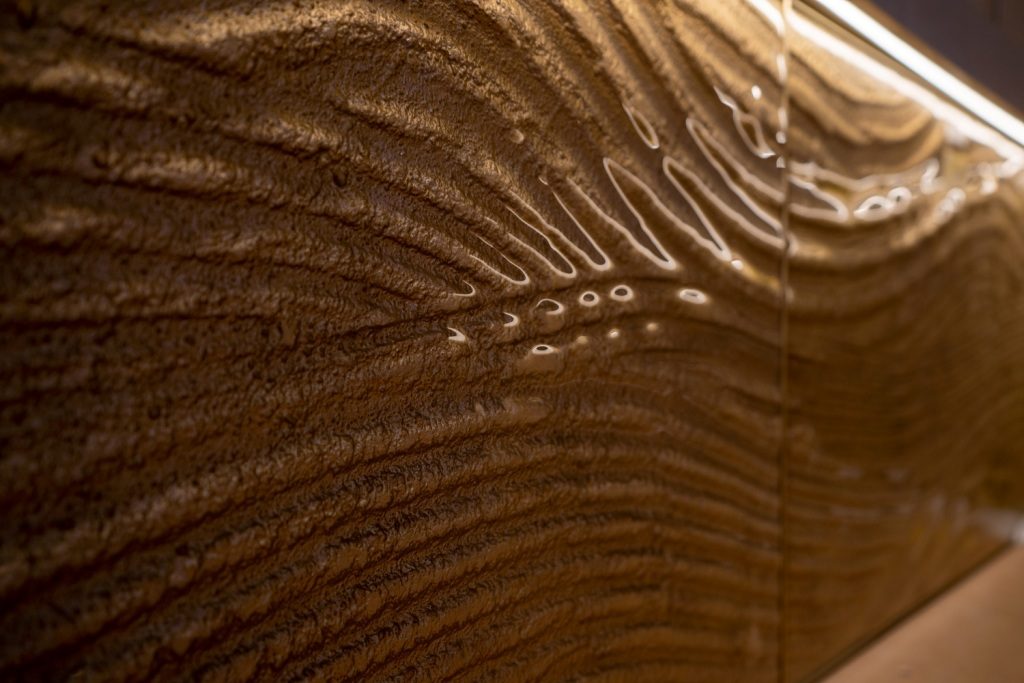 Talking to the yard's top management this summer ahead of her completion, they revealed a tiny glimpse into what guests can expect to see if they are lucky enough to step on board. "Her interior design details will be revealed in time, but we can tell you that specially commissioned artwork adorns the walls and there is bespoke flooring throughout. The elaborate decorative walls are certainly one of her stand out interior design features".
INSIDE THE DESIGN | Geoff Harrington, Senior Designer, Gregory Marshall
What makes Artefact stand out in terms of design?
GH: The onboard experience for the owner and their guests is at the core of Artefact's design. You may have noticed the glass… The enormous windows provide unmatched views from the interior, but their configuration creates personal spaces with privacy and shelter from wind and weather on the exterior. For example, the midship VIP windows cant out over the water, literally hanging above the sea. But they also provide a windbreak for the attached balcony. From this balcony, you cannot see into the owner's suite or their exterior deck aft, nor can they see into the VIPs forward. And you can't see into any of these suites from above or below without making a great effort! We removed the exterior decks from the midship section of the deckhouse, avoiding the typical layering on a yacht and creating Artefact's narrow waist. The fascias on the exterior of the yacht were then developed to create connective tissue and give Artefact a kinetic stance. For the hull and stairway windows, they need to be large, but to add something geometric to the hull sides would be at odds with the rest of the design – so they're not! Artefact is undoubtedly a game-changing superyacht.
What makes her special?
GH: It takes a particular client to be willing to create something so unique and see it through from concept to completion. Artefact is not only visually stunning, but she is also technically exceptional as well. That takes hundreds of tremendously skilled and experienced people to engineer and construct her properly. We have always felt that Artefact is something special, and we know the owner feels the same way. That is the most important thing.
5 Questions to Holger Kahl (former CEO, now advisor for Nobiskrug)
HK: The distinctive interior and exterior design of Artefact reflect the discerning owner's persistence to achieve a list of specific criteria that included environmental responsibility, technological innovation and guest comfort. For example, the quest for silent operation and maximum stability has been a driving force behind the concept for this vessel. In a major departure from convention, the master stateroom is situated in the aft rather than the bow and all guest entertainment areas are located in low-acceleration zones. Extensive hull development and testing have ensured that the vessel will be both comfortable for guests when cruising, as well as having excellent seakeeping capabilities.
When it comes to eco-friendly technology and design, Artefact takes the lead. Do you see more owners concerned with their environmental impact?
HK: There is always a desire to innovate with a new build, but Nobiskrug owners particularly look to push the boundaries of yacht design, both in aesthetics and engineering. To be at the forefront of such a technically innovative industry is always an appealing concept to owners, and if these innovations are paired with cutting-edge design and pioneering environmental features, then the yacht and her owner stand apart from the rest. The need to protect the oceans and environment will only increase with time, so by leading from the front on these areas, a new build yacht will remain relevant for a long time after her delivery date.
What do you envision as the next step towards more eco-friendly yachts?
HK: In the future, we will continue to see growth and innovation within propulsion systems and hybrid engines, as well as yachts that possess sleeker, more efficient hull designs. This significantly reduces both costs to the owner and a yacht's carbon footprint.
What difficulties come with challenging the status quo in yacht design and engineering?
HK: With the rapid development in software and engineering solutions for superyachts, improved technology on board is more affordable and efficient than ever before. But the biggest challenges that we face is how to include and implement the latest software and engineering innovations in a way that ensures a yacht is future-proofed for years to come. Technological advances are happening all the time, and we need to ensure that not only are our yachts equipped with the best possible solutions available on the market but that they will continue to serve an owner's needs for years to come without compromise. Pushing the boundaries of yacht design will always be part of Nobiskrug's identity, but not to the detriment of performance or an owner's experience.
What defines Nobiskrug yachts to you?
HK: There are many different facets to achieving a 'perfect yacht', and even then, perfection remains so subjective that one owner's ideal will not match another's. One thing that we can be sure of, however, is that at Nobiskrug, we make sure always to balance design with technology, so that our perfect outcome is a beautiful marriage between art and science.