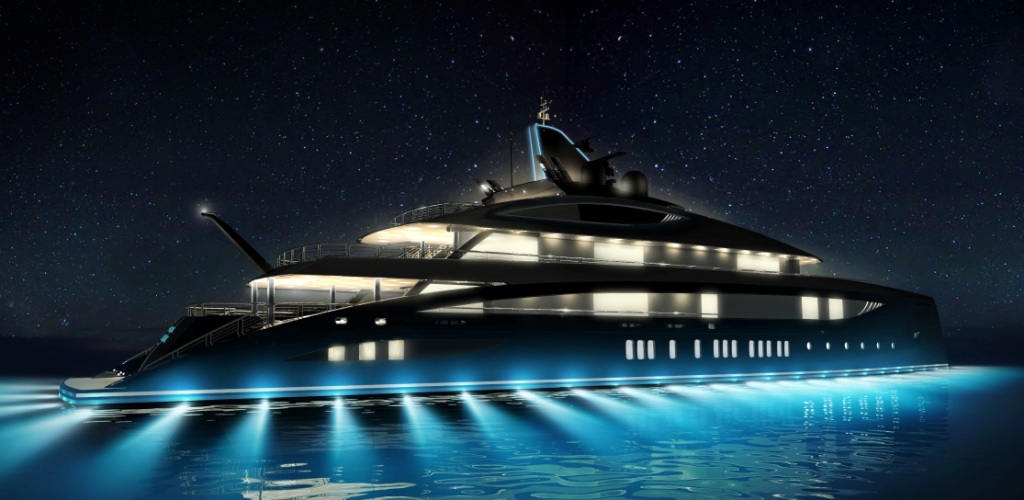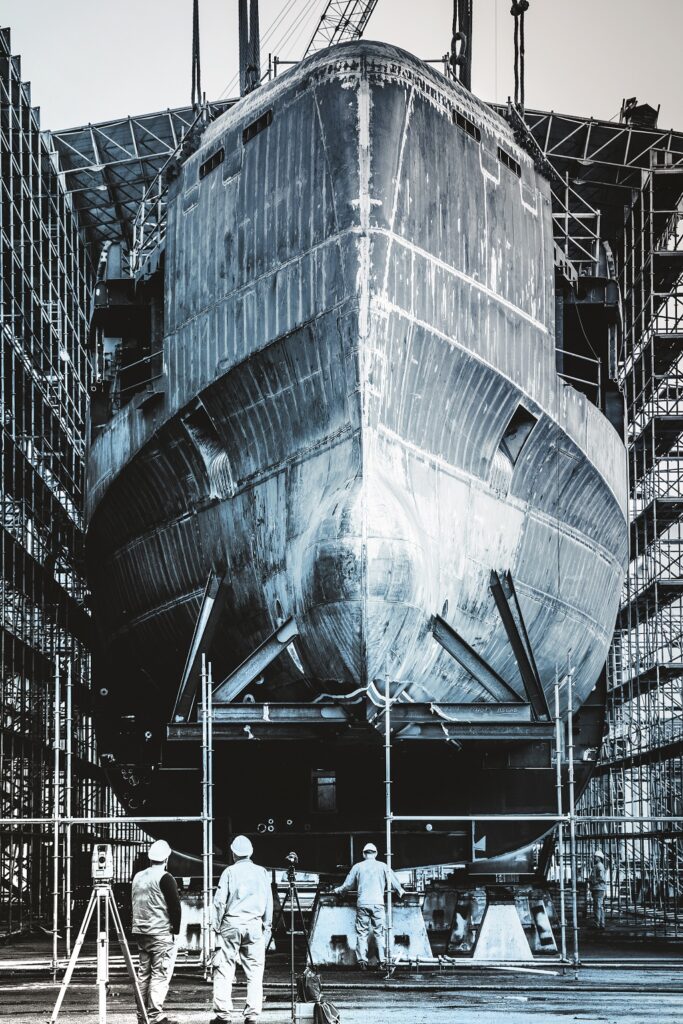 Opening its doors in 1905 at the river eider in rendsburg, germany, nobiskrug has come a long way in more than a century in business. Initially specialising in commercial vessels, schooners and cruise ships, today, nobiskrug is synonymous with some of the most exciting superyachts in the world. Here we take a look at how they made the journey from thriving commercial shipyard to one of the most boundary-pushing superyacht builders out there.
It was in the year 1997 when Nobiskrug took the bold step into the superyacht business with the construction of their inaugural superyacht project, Tatoosh. Measuring 92-metres, upon delivery in 2000, she became one of the largest superyachts ever built at the time.
Featuring naval architecture and exterior design by Kusch Yachts and an interior by the famed British designer, Terence Disdale, Tatoosh drew global attention for her innovative design and almost unprecedented spaces for an expansive selection of water toys and tenders. An impressive first offering to say the least, with Tatoosh, Nobiskrug made it crystal clear that they were serious players in the exclusive game of luxury yacht building.
Since 2000, Nobiskrug has delivered an exciting portfolio of 11 custom-built superyachts to adventurous yachtsmen and women around the world to date. To name but a handful is the 68-metre Triple Seven in 2006, the 73.5-metre Mogambo in 2012 and – perhaps the most famous vessel in Nobiskrug's fleet – the 142-metre Sailing Yacht A in 2017.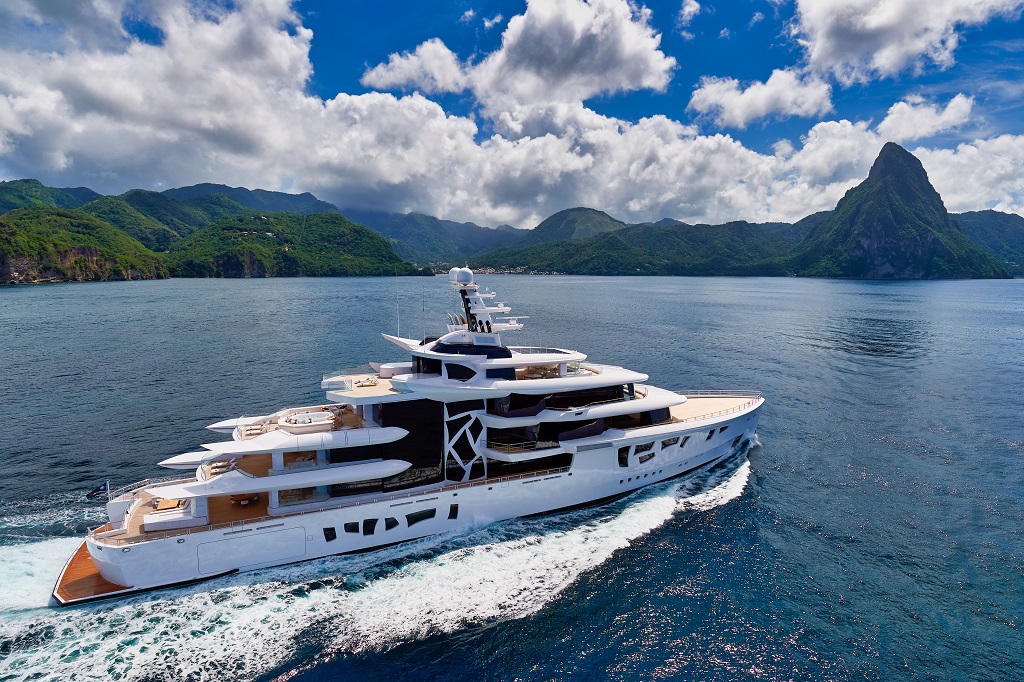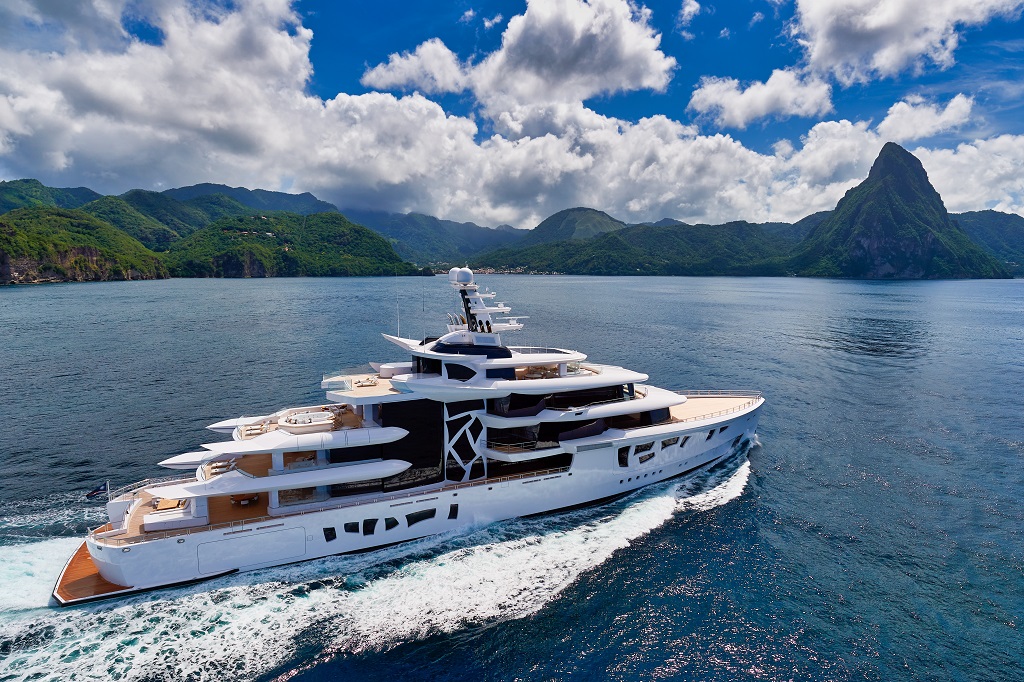 Perhaps just as impressive as the yachts that Nobiskrug build, however, are the owners that consistently challenge the yard to think outside the box. Innovation in yachting, after all, is a challenging feat. It requires heavy investment, a healthy dose of risk and, above all, a dedicated, forward-thinking owner. Of course, the yard has always had a long history in shipbuilding as a testament to their skills in building ocean-going vessels.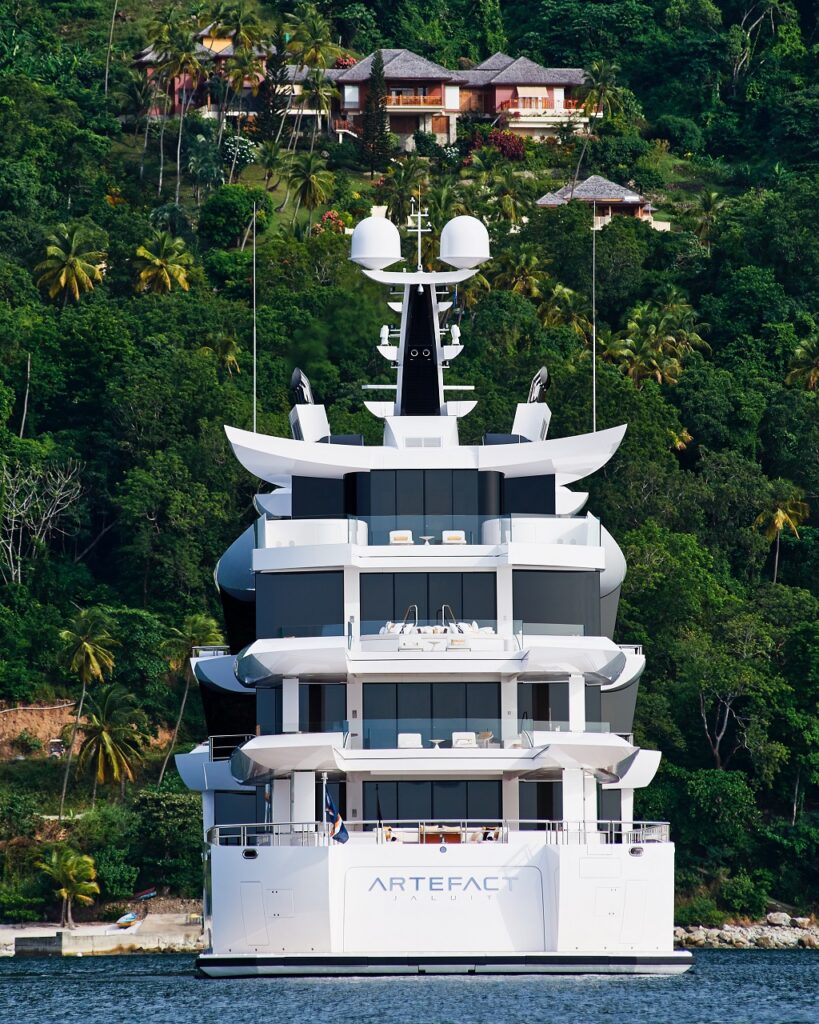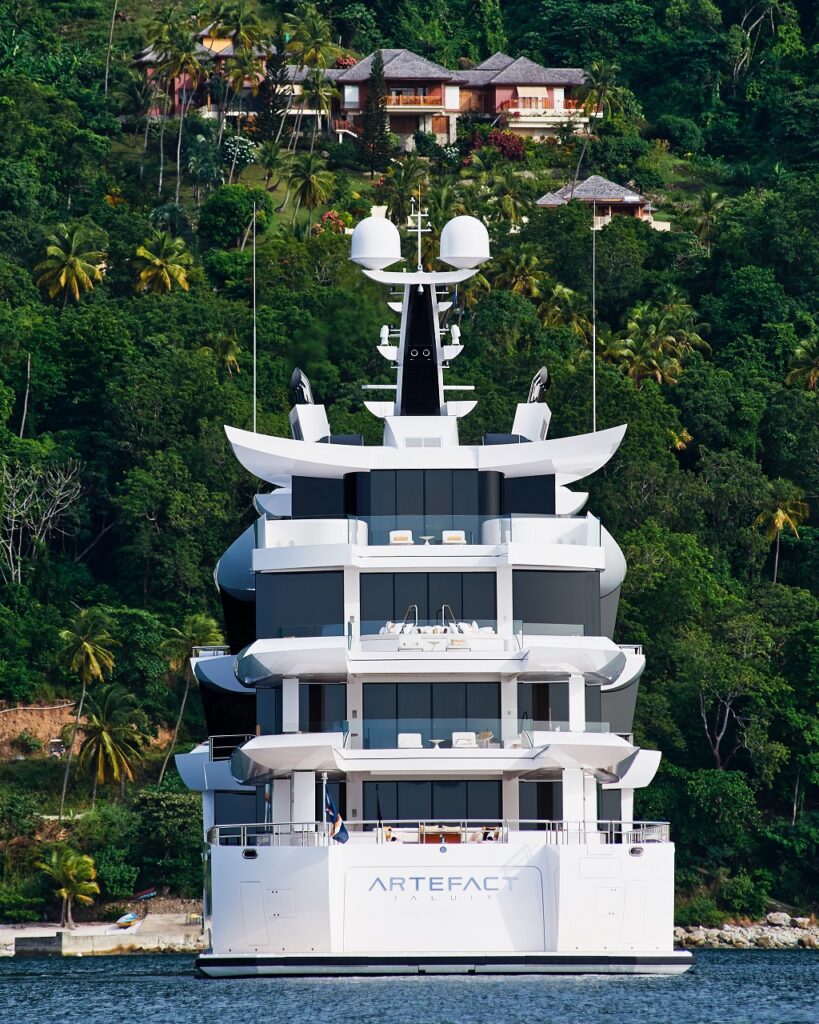 But how does Nobiskrug manage to successfully capture both the imagination and trust of the daring yacht owners of the world? "Our inquiries in the last few years have been mostly for bold designs, but bold doesn't always mean more expensive or risky", explains Fadi Pataq, Nobiskrug's Head of Sales & Marketing. "We take the time to design with our clients, and explore new technologies directly with the owner's team. We've always found that this is the best way to build confidence in bold designs and the trust to work together to build a unique and innovative vessel".
Exclusive fleet, maximum innovation
Though a relatively exclusive fleet of superyachts, every one of Nobiskrug's superyachts is driven by the desire to push boundaries. The result is a fleet of yachts that have made their owners' wildest yachting dreams come true – and it's also a fleet that comes with a lot of firsts. "For Triple Seven, Nobiskrug used for the first time – the in-house developed technology – moulded parts made of composite materials, which replaced the usual aluminium superstructure", explains the yard when examining some of the milestones throughout their history. "This can be formed into any shape or size, saves weight and time during construction and eases up maintenance while the yacht is in use. Years later, the use of GRP in this way became standard. This innovation was awarded by the International Superyacht Society (ISS)".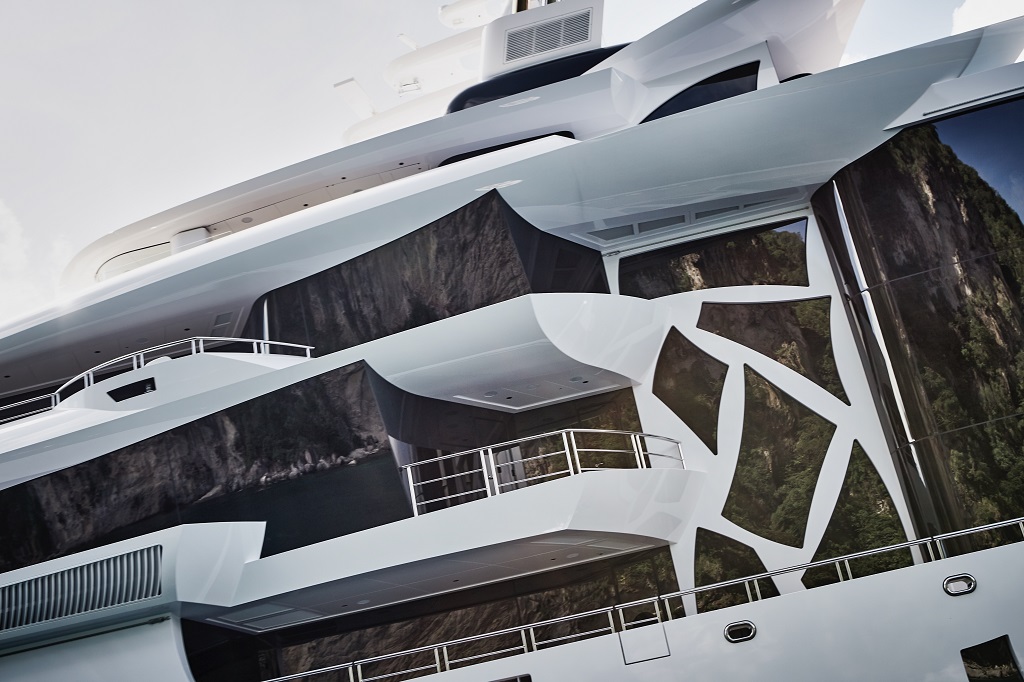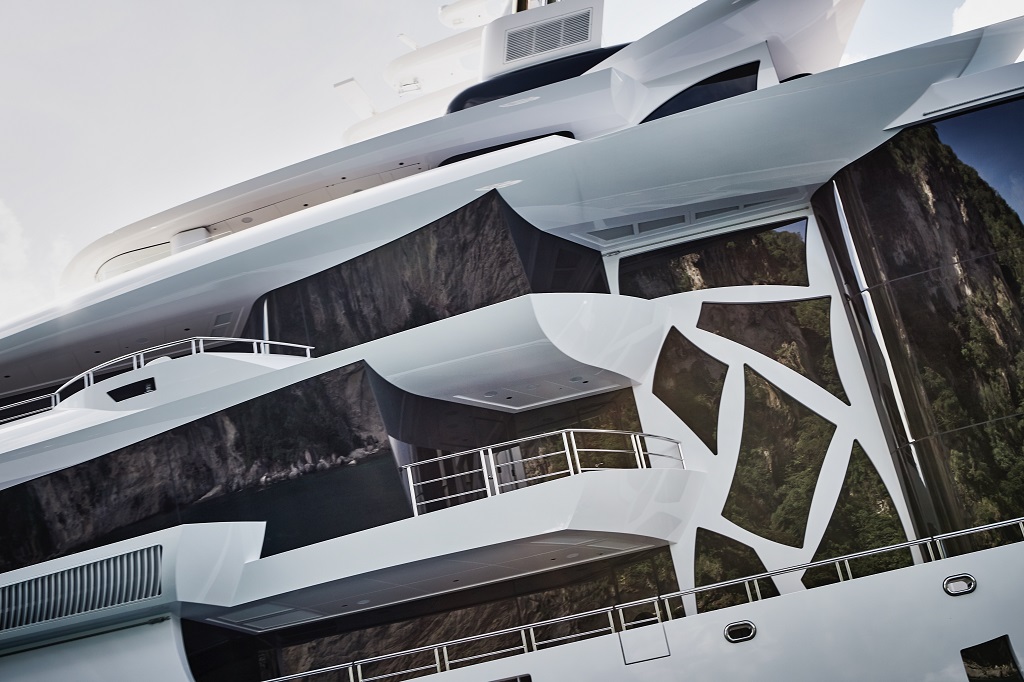 The strategic utilisation of GRP in large superyacht construction was not the only thing that Nobiskrug pioneered in the industry. Over the next few years, we saw the delivery of the 74-metre Siren in 2008, where Nobiskrug introduced the first luxury yacht with a hydraulic foldable helicopter platform. The platform can also be used as a sundeck, dance floor or an entertainment stage, while the large owner's side terrace for optimal privacy at sea was another groundbreaking feature at the time. The 68-metre Sycara V saw the largest tender garage ever installed on a yacht in 2010 and, though the list of noteworthy innovations and firsts goes on, finally, is the latest game-changer in Nobiskrug's fleet, the 80-metre Artefact.
Delivered to her owners in March 2020, Artefact features interior design by the British-based Reymond Langton Design studio. Though her interior has been kept closely under wraps and away from the public eye, Artefact immediately stands out for her distinctive exterior design from the drawing boards of the Canadian design studio Gregory C. Marshall. The stunning design is made up of a total of 750 square metres of geometric glass shapes, weighing almost 60 tonnes. The largest single-glazed surface is a vast 14.6 metres, and the yard has utilised 223 pieces of glass throughout her design. Describing the evolution of Artefact, Pataq explains. "Artefact's distinctive aesthetic exterior and interior styling reflect the discerning Owner's persistence to achieve a list of special criteria that included environmental responsibility, technological innovation and guest comfort".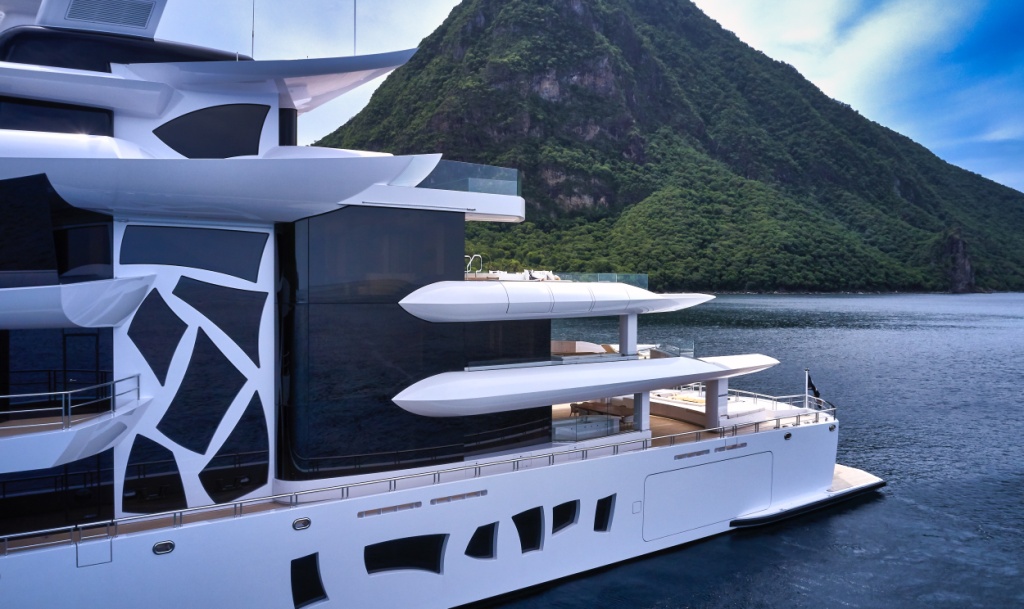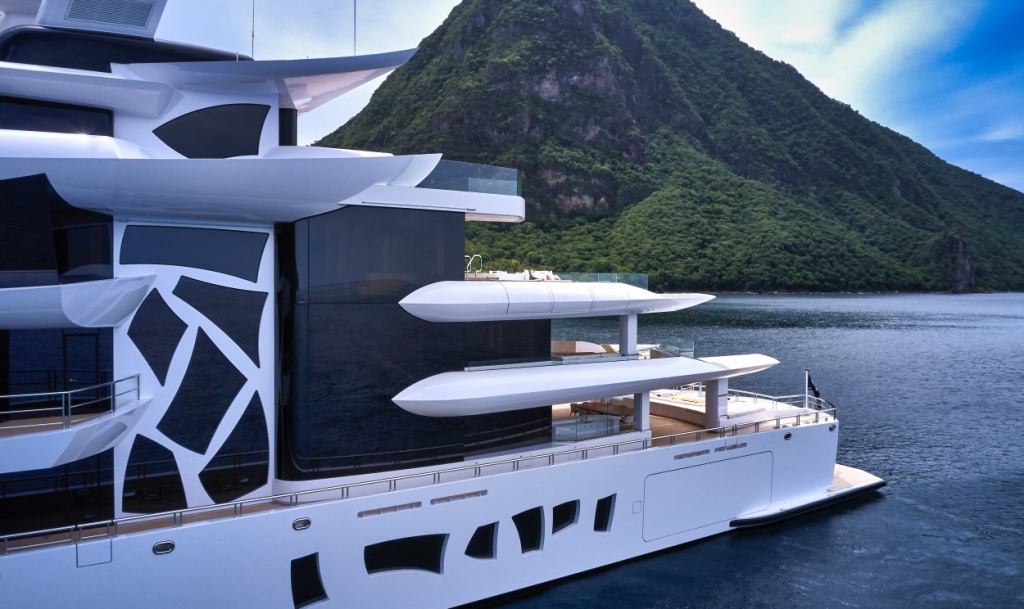 Eco-friendly yachting
It wasn't just Artefact's cutting-edge design that made waves upon delivery. One of the first yachts built under the new IMO Tier III regulations and featuring a host of green technology onboard, Artefact is one of the most environmentally conscious vessels out there. True to Nobiskrug's philosophy of innovation and progress, Artefact once again demonstrates that Nobiskrug is not a yard with style over substance. "We delivered the eco-friendly Artefact earlier this year, which gave us another opportunity to carve Nobiskrug as the go-to brand for unique superyachts that are vastly different from others", agrees Pataq. In addition to solar panels, an extensive battery storage system and a wastewater recycling system, Artefact features an innovative DC-bus diesel-electric Azipod propulsion system developed by ABB. The custom six-bladed propellers minimise noise and vibration while maximising performance and efficiency. The result is a hybrid yacht offering up to 30% more efficiency than yachts in this class. "Artefact is the perfect marriage of art and science", adds Pataq. "The sky is the limit when it comes to innovation on our yachts, and one of the most recent features proving this was the DC-Bus system onboard of Artefact, which has created a trend for pod-driven vessels. At Nobiskrug, we embrace innovation by actually innovating and building, not by simply talking about it".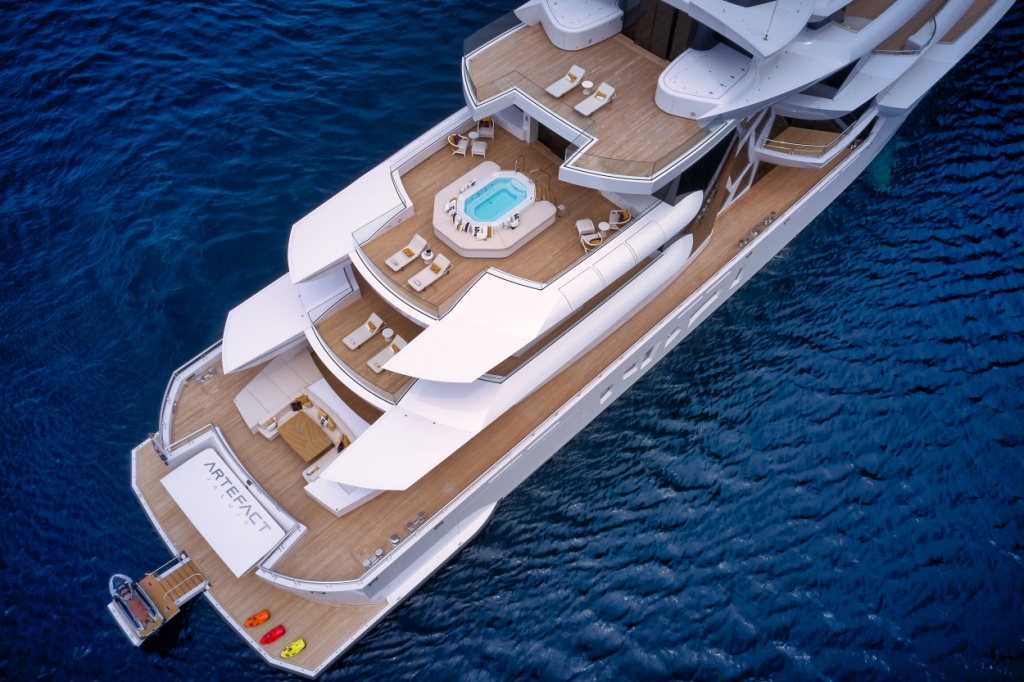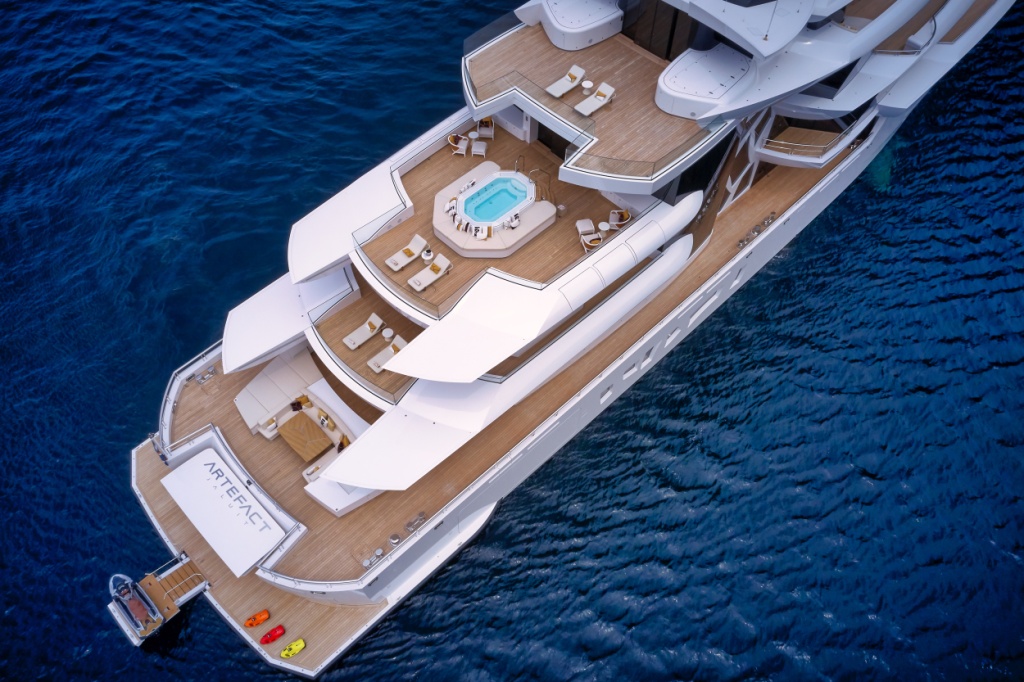 Artefact proved that eco-friendly yachting could well become the new normal far sooner than many have anticipated, but Nobiskrug really proved that they are in the eco-friendly yachting game for the long haul when they joined the Monaco Yacht Club in launching the Superyacht Eco Association (SEA) Index in September 2020. Developed in collaboration with Nobiskrug, Yacht Club de Monaco and Credit Suisse, the SEA Index is a rating system for the carbon footprint of superyachts. The aspiration is that the index evolves into a global industry standard providing a transparent ecological rating for all large yachts.
An expanding fleet
The pandemic hasn't slowed Nobiskrug down with the yard adapting processes as needed to continue building the world's best yachts despite the challenges of global and local lockdowns.
"COVID-19 has changed the world", continues Pataq. "It's been a rollercoaster for the yachting industry, but fortunately we managed to have a zero infection rate at the shipyard, so our fingers are crossed that we can continue this way. The way of doing business has changed forever over the past few months, but the good news is that we are adapting quickly. This period of uncertainty also gave us the opportunity to revisit our internal processes and restructure a few departments".
Now fully adapted to the uncertain global landscape, what does the future have in store for Nobiskrug? With projects like theirs amongst the closest guarded secrets in the industry, all that we know for sure is that the Nobiskrug fleet is set to almost double in the next two years – which is a pretty exciting prospect.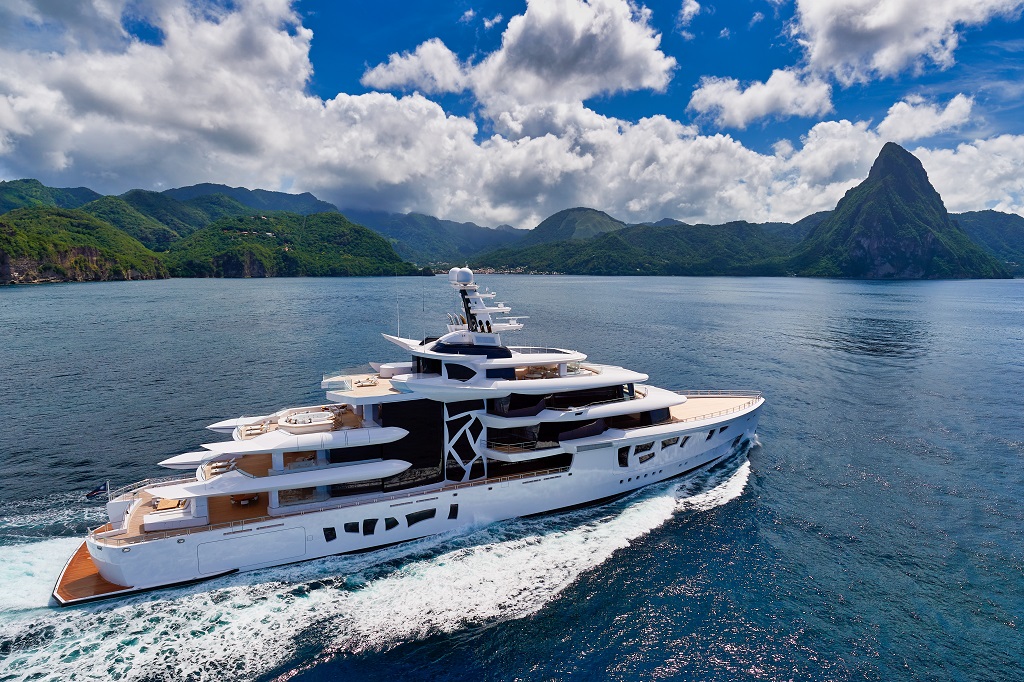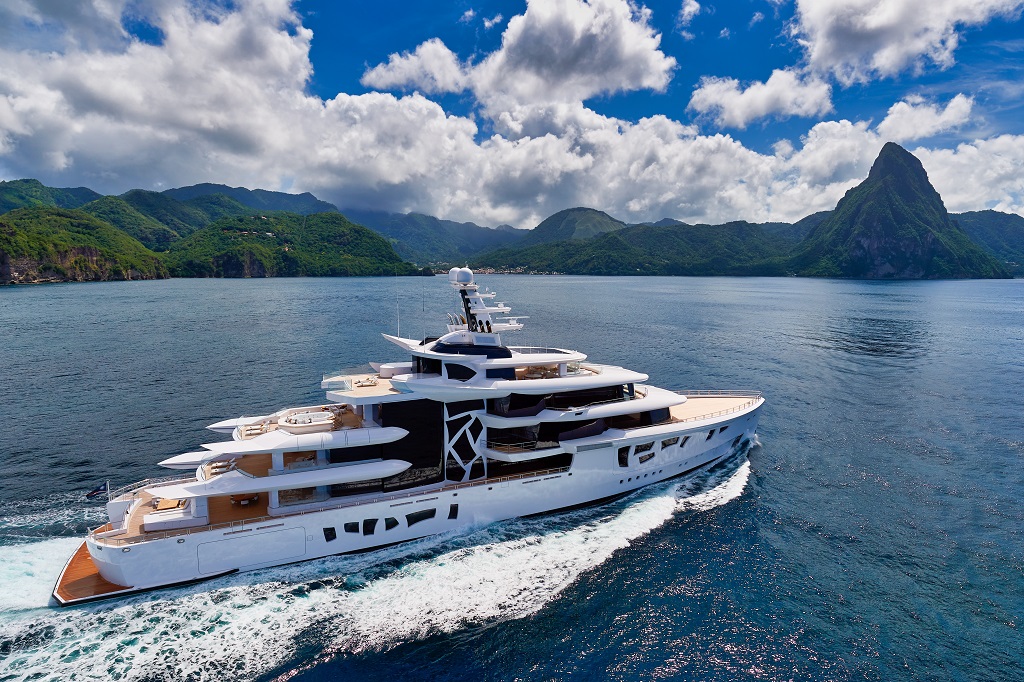 Right now, there are four superyachts currently under construction at the yard's facilities. Slated for delivery in the next 2 years is the 77-metre Black Shark featuring an exterior design by Winch Design and an interior penned by Sinot Yacht Architecture Design, the 61.95-metre Project 794 featuring an exterior design by Espen Oeino, and the 70-metre Project 795 which also features a design by Winch Design.
Two superyachts are currently under construction and scheduled for delivery in 2022, and one, in particular, seems intriguing: the highly secretive 100+ metre Project 796. "We can't tell you much", teases Pataq. "But we can promise that Project 796 will change the industry!" Judging by Nobiskrug's past offerings, it seems a safe bet that Nobiskrug will stay true to their word.
---
The milestone superyachts
Artefact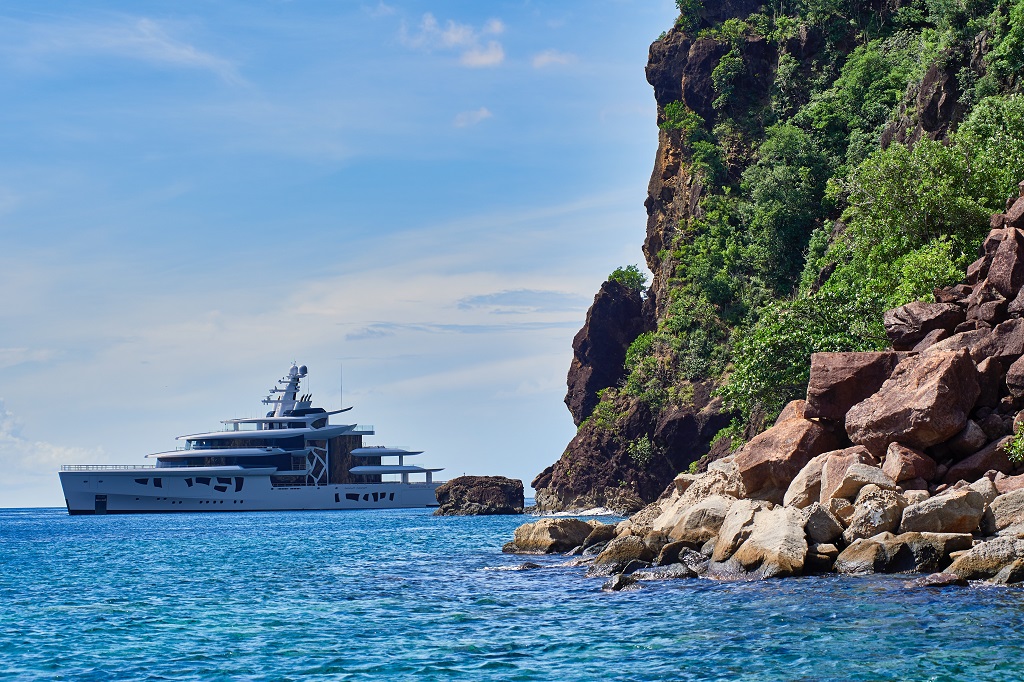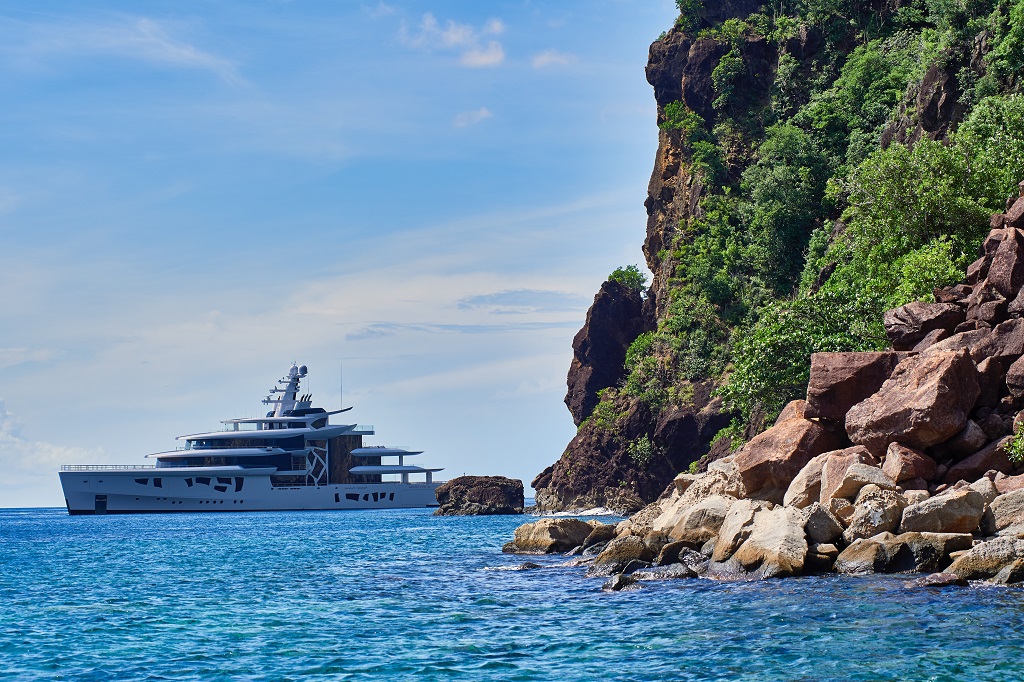 Measuring 80-metres and the latest yacht to be delivered by Nobiskrug, Artefact is a hotbed of innovation in terms of environmentally conscious technology. With the yard responsible for the engineering and naval architecture, Artefact is packed with a wealth of eco-focused features that aim to "set new standards for engineering-driven stewardship". Significant in Artefact's development is onboard comfort: taking seaworthiness, noise and vibration to rare extremes and exceeding industry standards. This attention to detail can be found in her hull form, hybrid propulsion system and layout. She has also been carefully configured to create a fluid transition for guests from the interior to the water's edge when at rest.
To offset the significant weight of the extensive use of glass, the steel hull is unusually paired with a superstructure made in fibreglass. Using a composite superstructure has enabled curved shapes to be moulded to create an exciting exterior design.
---
Sailing Yacht A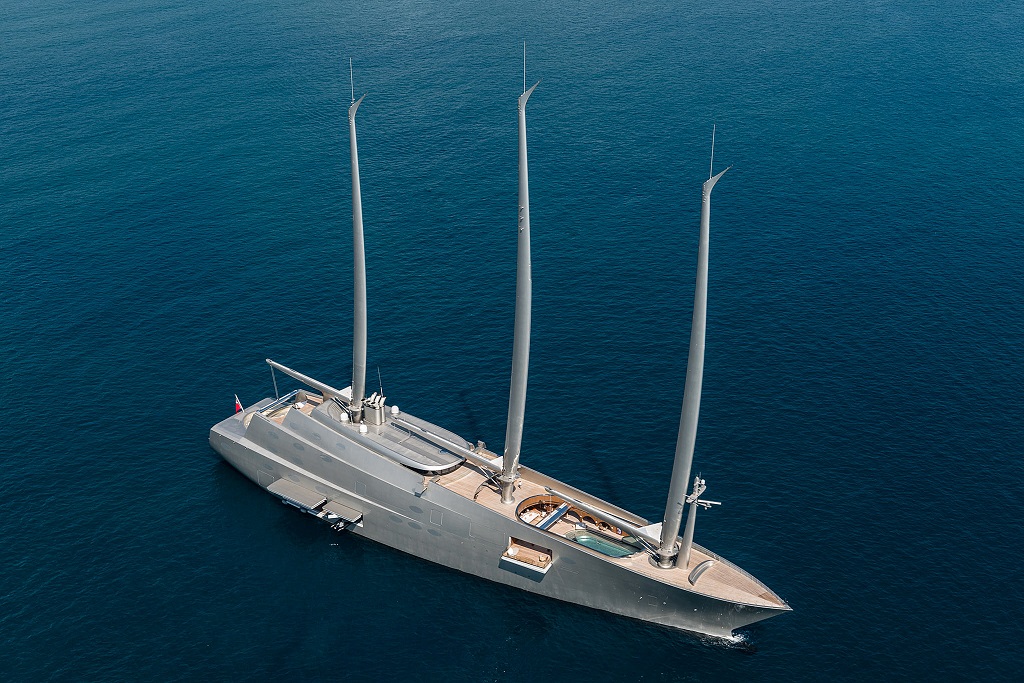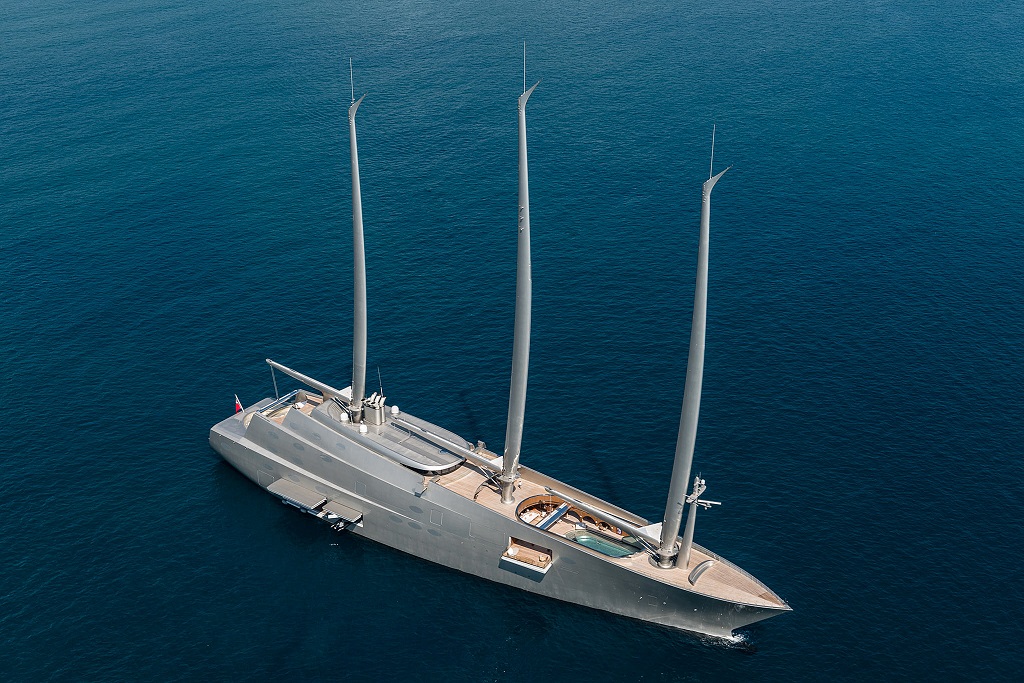 Measuring 143-metres and with a volume of more than 12,500 GT, Sailing Yacht A became one of the most impressive PYC superyachts in the world in regards to design and technology upon her delivery in 2017.
Designed by Philippe Starck, she features a steel hull and superstructure with high-tech composite fashion plates that can be formed to her sci-fi lines, a technology Nobiskrug has developed during the past 15 years.
Her free-standing carbon masts measure an incredible 100 metres, while her propulsion comes via a hybrid, variable-speed powertrain which was revolutionary at the time of build.
Since delivery Sailing Yacht A has cruised the world, turning heads wherever she sails and changing the future landscape of super sail forever.
---
Tatoosh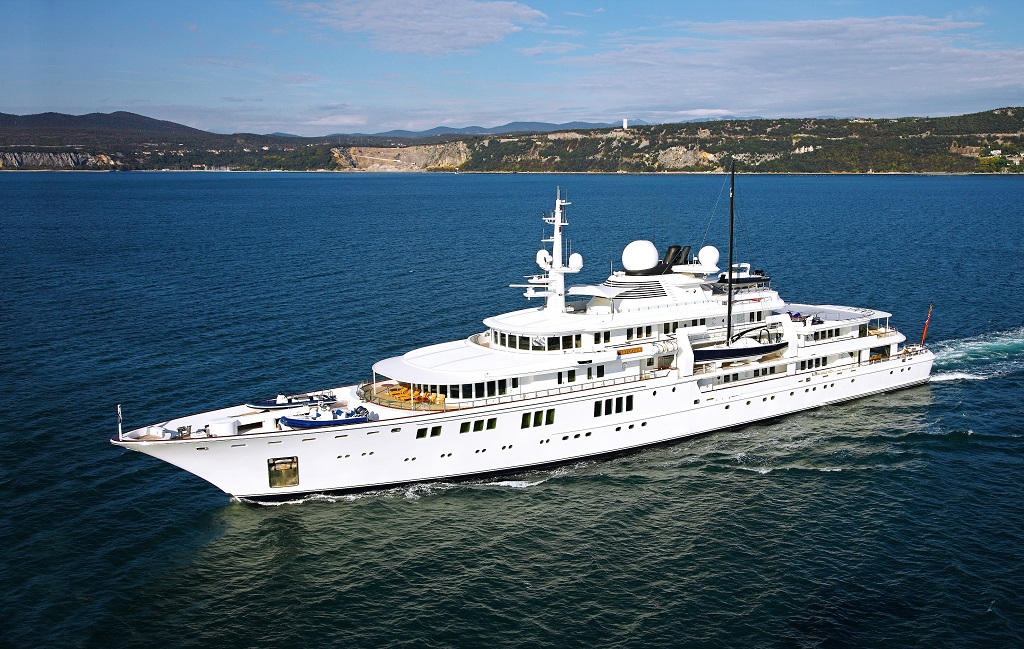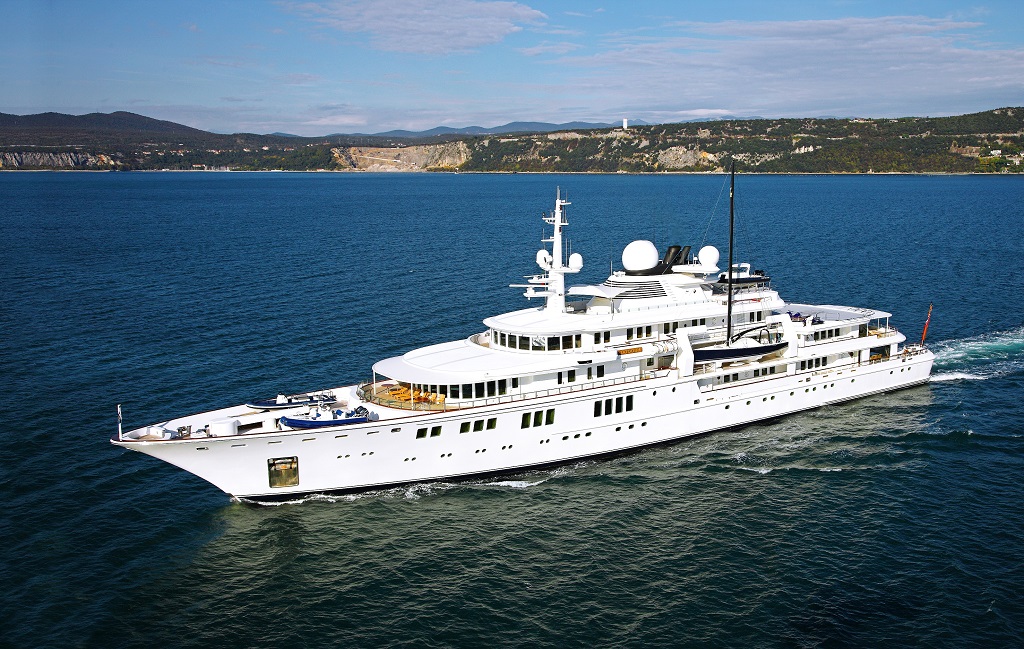 Tatoosh at the length of 92-metres and a volume of 3,229 GT was one of the largest superyachts in the world upon her delivery. Built for an experienced yachtsman for ocean exploration and self-sufficient cruising, the first yacht ever built by Nobiskrug features exterior design by Kusch Yachts and interior design by Terrence Disdale. At 3,229 GT, Tatoosh is a high-volume yacht with equally expansive deck spaces.
In addition to her size, another aspect that put her at the forefront of her class was the high number of water toys and tenders – an unprecedented amount at the time. She carries a 40-foot Hinckley day boat and custom daysailer as her main tenders and comes with two helicopter landing pads on the bridge and upper aft decks.
Designed for a life at sea, inside Tatoosh are a cinema, a sauna, a pressure chamber for divers and a lobster tank, while out on deck, guests can enjoy a swimming pool with a depth of 1.8 metres and a full-size basketball court.
---
Read this article in the January Issue