[dropcap]T[/dropcap]he new 370 GT Special adds another layer of exclusivity with interior decorand furnishings revisited by the fashion stylist Anna Fendi.
Anna Fendi said:
"It really is a Special Edition. In decorating this yacht I started thinking of travel as a concept, and I was inspired by old steamer trunks in parchment and Bulgarian leather. Following a precise color scheme and using materials not usually found in the yachting world, I tried to decorate this little sea-borne jewel in a very special way and with a strong personality. I've always adored yachts of this size, they have an intrinsic sense of proportion, with an intimate and adventurous feel. With Christian we tried to study every single detail and create something beautiful and very functional."
The project started during a chance meeting between Anna Fendi and Christian Grande, designer of the Invictus range.
Conceived as a deluxe dayboutfor overnight cruising, the series model can just as well serve as a superyacht tender or chase boat.
Christian Grande says:
"The Special Edition emerged from an exchange of creative ideas between myself and Anna Fendi. The resulting alchemy combined both our styles in perfect harmonyand the end product is a truly beautiful yacht that responds to a specific niche in the market."
Among the four layout options available, the arrangement with a forward dinette and a full-beam owner's cabin was selected as the most suitable for the 370 GT Special Edition.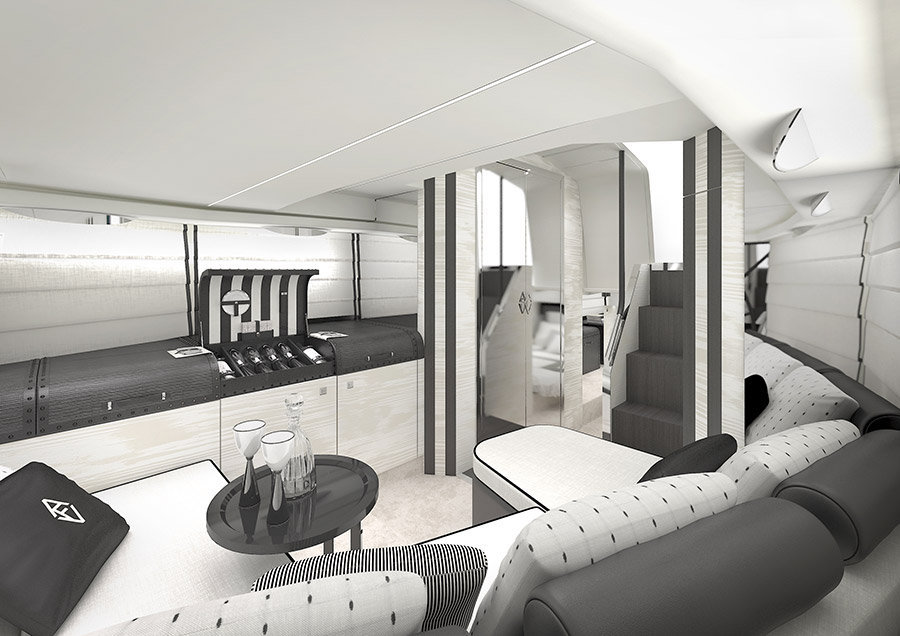 A wide variety of opaque and polished finishes add warmth and texture to the monochrome tones. The black surfaces, for example, are metallic chromed using a special Physical Vapour Deposition (PVD) process that deposits a nickel film onto the substrate. A velvety ivory finish, on the other hand, has been applied to the furniture pieces of pale Tanganyika White friséthat highlights the softness of the wood. This black and white theme continues in the soft furnishings and fabrics, from the day sofa in warm, ivory white chenille, to the linen drapes bordered in dark leather. Other Anna Fendi hallmarks include the design motifs borrowed from leather goods and travel cases. The wardrobe in the owner's cabin is styled to resemble a classic travel case and finished in a combination of nappa and glossy black leather with metallicdetailing.
The dinette furniture is styled in similar fashion with storage for wine bottles, glassware and bespoke tableware, typical of the Anna Fendi Collection, under its lifting top. A final touch is the mirrored forward bulkhead with a metal framework of black nickel that pays tribute to the Villa Laetitia boutique hotel refurbished by Anna Fendi.
The same style and attention to detail extends to the exterior cockpit where the teak decking with ivory caulking is laid out in a herring-bone pattern, and the sofas are decorated with black leather belts and buckles embossed with the Anna Fendi signature.