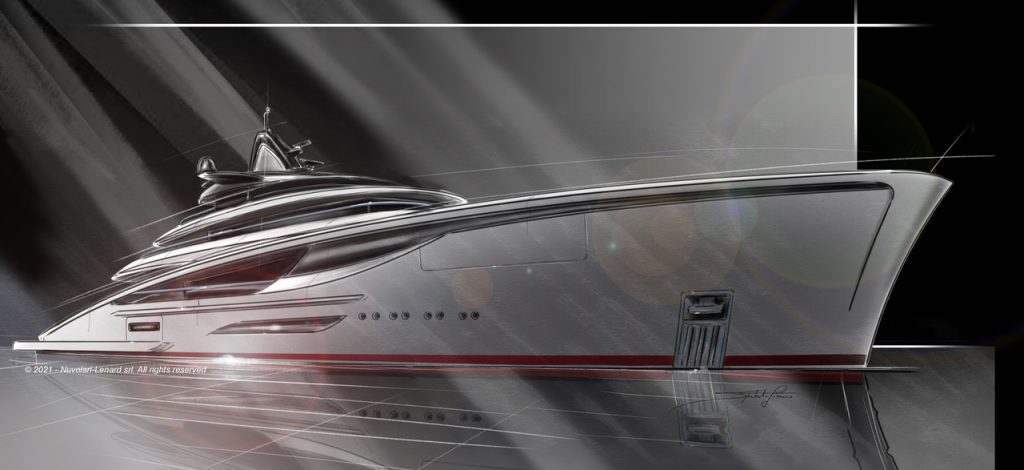 Ferretti Group has announced today the signing of a contract for a new 67- metre steel and aluminium CRN yacht, a fully bespoke design and build: hull number 143, codename project Maranello. The client is represented by brokers Moran Yacht & Ship. As the owner's representatives for the project, Moran Yacht & Ship have played a key role in developing the technical specification and agreeing numerous contractual matters. They will continue to assist the client through the build process until the technical review, inspection and acceptance, from project management to on-site supervision and coordinating the external suppliers.
CRN M/Y 143 is a unique bespoke work that blends CRN's expertise and its design and build quality with the experience and creativity of the studio helmed by Carlo Nuvolari and Dan Lenard, which has developed the design. With her taut, fluid, aerodynamic lines, this is a yacht with a potent sense of style that fully reflects her owner's vision and requirements. In particular, his insistence on sustainability chimes with the shipyard's own passion for safeguarding the environment.
The CRN M/Y 143, then, is an innovative and eco-friendly one-off pleasure yacht with a state-of-the-art hybrid diesel-electric propulsion system for greater energy efficiency and significantly reduced fuel consumption. A perfect synthesis of creativity and tailored style, the 143rd CRN vessel is the 8th magnificent creation in CRN's partnership with Nuvolari Lenard since 2001. She follows iconic yachts like Magnifica (43 m), Clarena (46 m), Saramour (46 m), Azteca (72 m), Atlante (55 m) and the latest masterpiece, the 62-metre Voice; the majestic 60-metre CRN M/Y 141 is also currently under construction.
CRN is presently building another 4 bespoke yachts: the 62-metre CRN M/Y 138, the 72-metre CRN M/Y 139, the 60-metre CRN M/Y 141 and the 52-metre CRN M/Y 142.