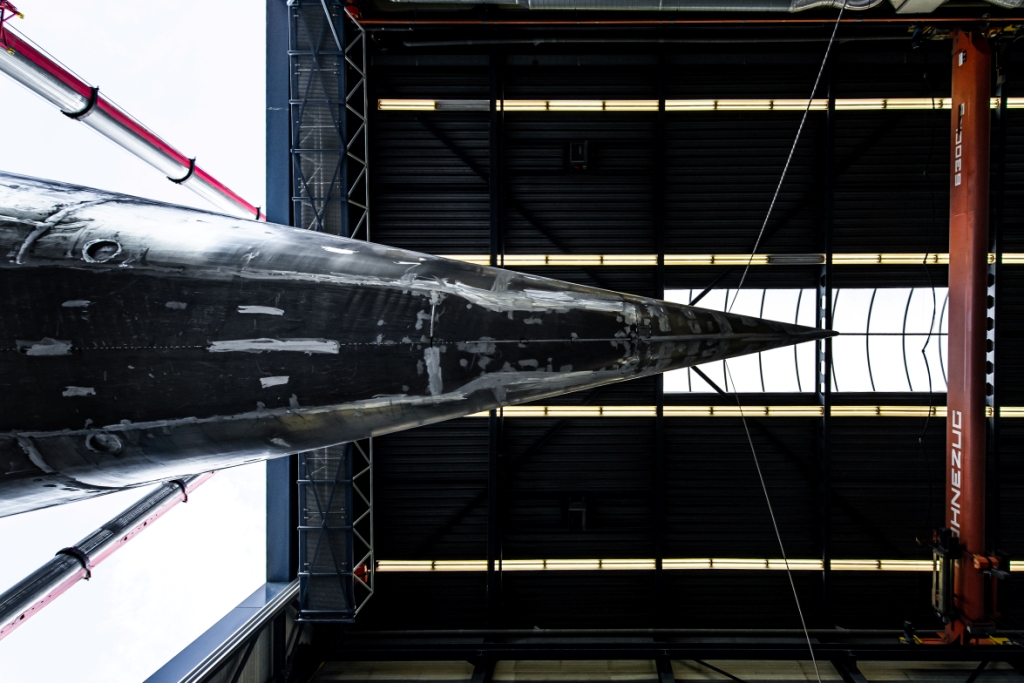 Dutch shipyard Royal Huisman has revelead this week the lines of the new secretive project 404. A majestic structure is now ready to progress into the next phase of its construction, as this very secretive 59.7m / 196ft no-compromise performance sloop reveals her striking architecture. Delivery is expected in 2022.
Royal Huisman's Project 404 took a major step forward with the turning of her impressive hull; a spectacle proudly watched by her Owners and their design and build team at the shipyard headquarters in Vollenhove. Project 404 (aka MM597), was designed by Malcolm McKeon Yacht Design and built by Royal Huisman's craftsmen. In an inspiring new affiliation, Studio Liaigre – the French interior designers – excelled to create her interior, which is currently under construction at the shipyard's joinery hall. Once completed, the yacht will comprise a wealth of innovative systems and onboard amenities; developments which since the start of the project have been overseen by the Owners' Representative Gregory Monks.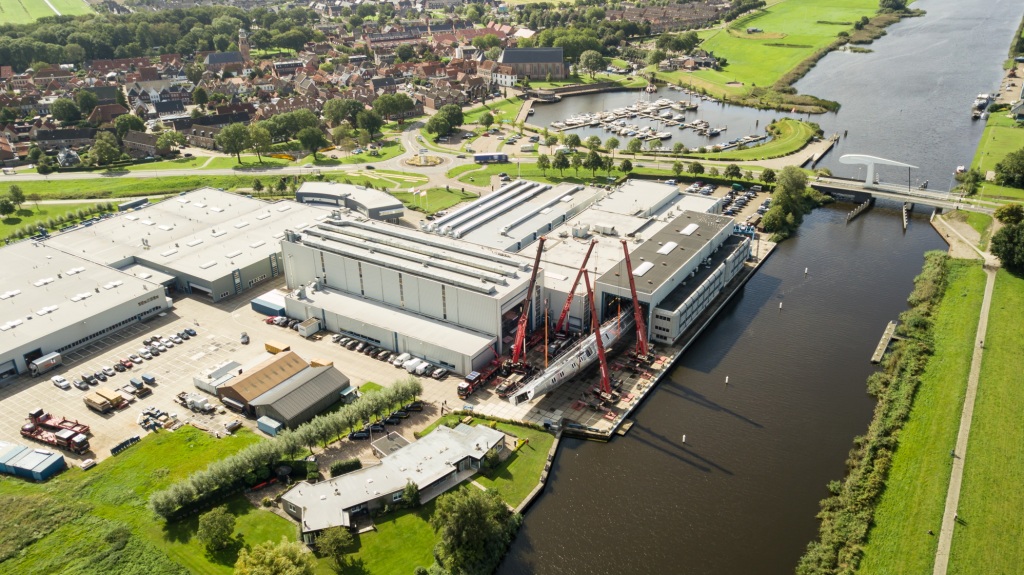 Out in the open, the eye is immediately drawn to Project 404's iconic reversed bow and her sleek, powerful hull lines. At the request of her Owners, Royal Huisman tantalizingly kept her design a closely guarded secret, but this first airing of her Alustar aluminium hull unavoidably reveals a treasure of distinguishing features – disclosed by the cutouts which have been prepared.
There is a huge transom opening which, in time, will give access to an expansive, lavish beach club. It is already possible to imagine the floods of daylight which will enter the interior through the array of large and extra-large portholes.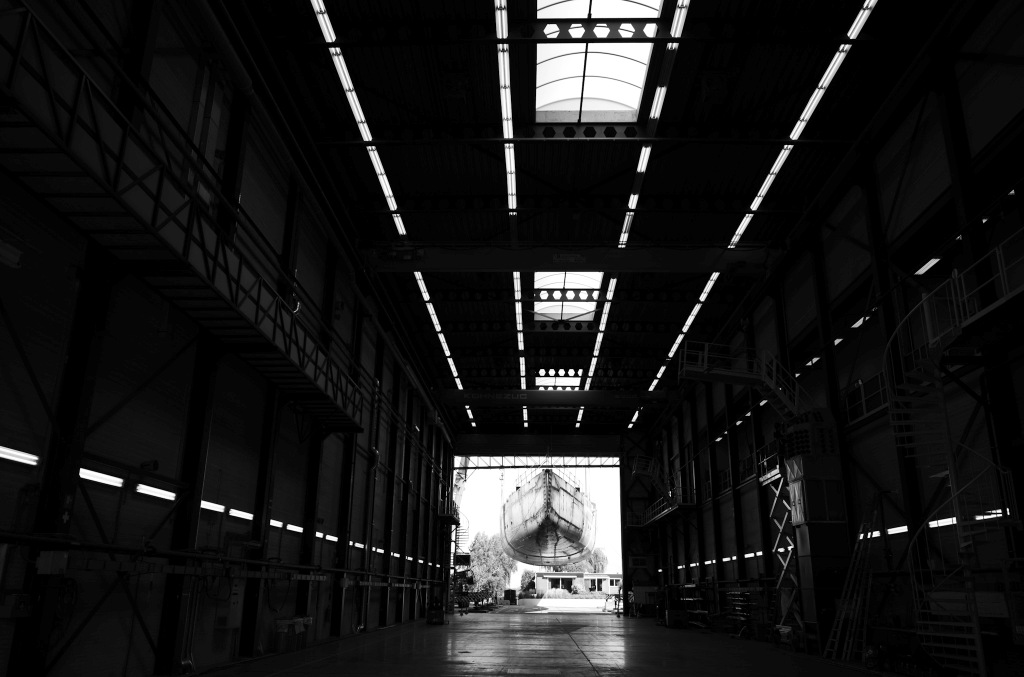 The smart midship lazarette is guaranteed to catch the eye of all onlookers. With its boarding platforms giving access from both sides of the yacht, and storage for watersports equipment, Project 404 can rightfully be described as a unique and truly inspiring yacht.
Note, also, the contours of the carbon composite deckhouse, cockpit coamings and main sheet arch, all currently under construction 'next door', at the shipyard's sister company Rondal.
Under the waterline are further innovations. To facilitate the yacht's high-performance characteristics, Project 404 will have a lift keel, retractable propulsion, and twin carbon rudders. These will both make her a regatta winner, and take her to breathtaking long-range exploration destinations, worldwide.
The assortment of cutouts in Project 404's deck will soon be a fully flush surface; its deck hatches appearing almost invisible at first glance. Practically unnoticed but all the more ingenious will be the large main tender hatch; an opening for sail storage on the underdeck reels, lockers for Rondal's carbon electric winches, and space for state of a the art deck equipment.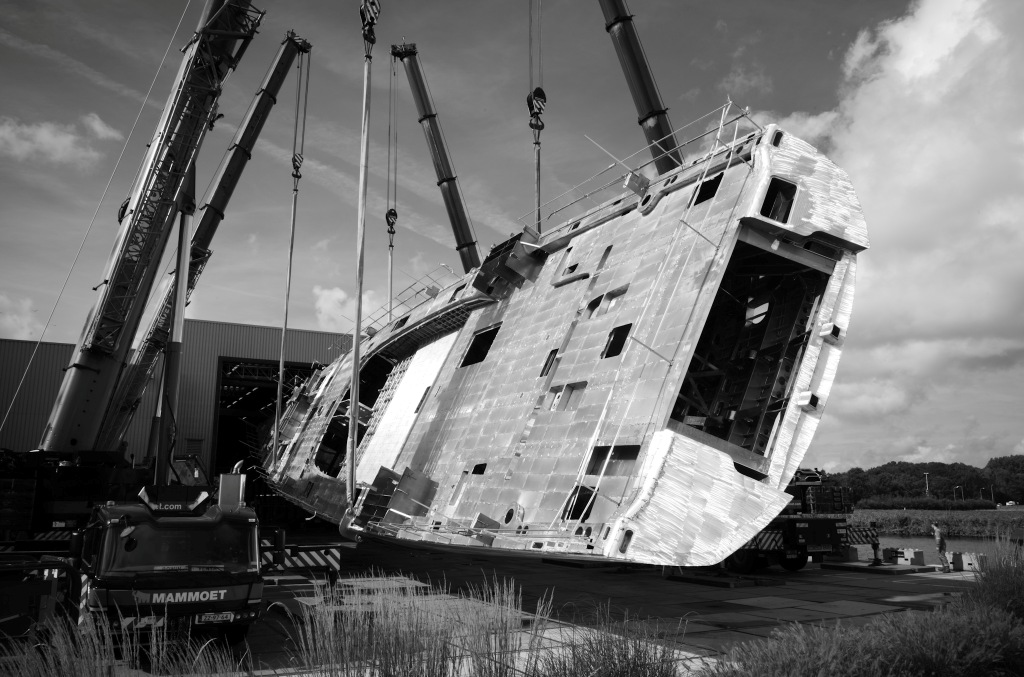 Malcolm McKeon comments: "The hull turning at Royal Huisman this week signifies a pivotal stage in her build and that this construction has remained on schedule, despite the worldwide pandemic, is testament to the yard's strategic, meticulous approach and the incredible dedication of the entire team."
Gregory Monks comments: "We are very excited to see this incredibly sleek and powerful yacht design taking shape at Royal Huisman. Our project continues to strive forward, driven by an excellent team committed to achieving only the very best results for this special performance yacht. The build is running on schedule, and we are delighted to have reached this important and visually impressive mile stone in our project."
Guillaume Rolland of Studio Liaigre adds: "The Liaigre team is extremely proud to be attending this very important milestone. We were able to appreciate from all angles and under daylight this 60 meter aluminium jewel."
Royal Huisman's CEO Jan Timmerman is pragmatic about 'building in COVID-19 times': "We always aim to offer our clients the experience of being involved with the build: visiting the shipyard facility, viewing the work in progress, getting a feel of what the yacht will be like – possibly even in combination with a 1:1 mock-up of key areas. The past months were 'different', but we managed to accommodate client involvement, all the same."