[dropcap]G[/dropcap]reat success for Ridoc, the first MV19 at its worldwide premiere during the Cannes Yachting Festival.  One of the boat you can not miss this year. Look at the colours, look at the build and its design! A little jewel, promised!
The project brings the name of one of the most elegant and sophisticated designers in the industry: Francesco Paszkowski Design. The 19.50m represents the natural evolution of the MV13 and belongs to the MV series inspired from the First and Second World War MAS . The boat is a tribute to the military crafts that made the success history of the Liguria-based yachting brand and reinterprets some of their peculiar features and shapes in a modern style, matching them with architectural elements adapted from the open segment.
Francesco Paszkowski Design with Baglietto is responsible both for the exterior lines and the interiors. The Baglietto technical office is responsible for the hull, plant and propulsion designs. The symmetrical air intakes along the hull free board underline the rigorous style of both Francesco Paszkowski and the Baglietto open lines themselves. The metallic dark grey color enhances the aggressive lines of the boat giving her strength and power.
The interior design, created in cooperation with architect Margherita Casprini, focuses on in-depth exploration of materials and finishes to combine a retro allure with contemporary comfort demands. Also, the most up-dated audio-visual systems with satellite TV are included on board: a feature which is unusual in boat of this size. The upholstery is in Canaletto nut together with white lacquered walls while all the floors are in dark oak.  The result is a beautifully accessorized boat that still has a powerfully decisive character consistent with the sporty look of the exterior.
The layout of Ridoc presents the master cabin forward and two guests cabins with ensuite bathroom amidship. In between is a spacious open dinette with comfortable sofas and a well-equipped galley. According to the Owner wishes, a third cabin for the Captain with direct access from the exterior has been included.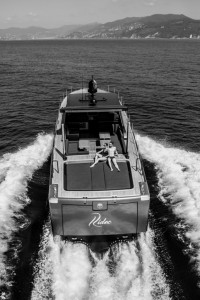 The steering position with 24' screen is exterior. Behind it there is a comfortable dinette with wet bar. Forward and aft there are two large sun pad areas with cushions.
The deep V-shaped hull allows high performances and improved seakeeping as well as perfect maneuverability which are typical of the Baglietto yachting tradition. The yacht, entirely built in aluminium, can reach a considerable maximum speed of approximately 40 knots thanks to twin MAN V12 1800hp engines.