[dropcap]L[/dropcap]eader in the design and construction of luxury motor yachts, Ferretti Group has inaugurated its new Milan HQ today, right in the heart of the city. After halving its consolidated losses, the Group has allocated investments worth over €50 million for product development and research over the next three years, with its majority shareholder, Weichai Group, subscribing to an €80 million increase in capital.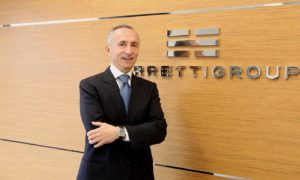 During the press conference, Alberto Galassi, Chief Executive Officer of Ferretti Group, presented their strategies for growth and expansion over the next three years, hot on the heels of the increase in capital worth €80 million, fully subscribed and paid up by majority shareholder, Weichai Group, with the aim of consolidating and underpinning its net worth and supporting a relaunch that includes a series of targeted actions to implement new strategies and directions.
The Group is focusing on the continued development of the core brands in its portfolio – particularly Riva, Ferretti Yachts, Pershing and Custom Line – involving investments in product development and research worth over €50 million over the three year period spanning 2015-2017, that will fund the launch of 27 new models. The new Riva Superyachtdivision is part of this new direction, endorsing the decision by the historic and iconic brand to enter the 50-metre-plus super yacht segment.
This is what Alberto Galassi had to say during the press conference: "On such an important day, when we are officially unveiling our new HQ in Italy's capital of design and innovation, we have plenty of reasons to feel proud and satisfied: we are continuing our efforts to relaunch the Group, which is now reclaiming its position as the leader in the yachting industry; we are investing over 50 million in 27 new models; we are launching the Riva Superyachtdivision, which has already won an order for its first 50 meter craft; we are presenting a Group that has already slashed its losses by half and reduced its bank borrowings to an all-time low and will continue to benefit from the full support of its majority shareholder Weichai, after its decision to continue investing in the industrial excellence of our country by subscribing to a substantial increase in share capital".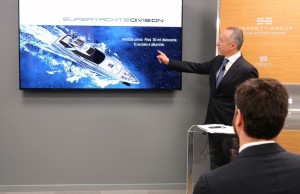 Thanks to the efforts of the new management team, Ferretti Group saw its losses more than halved in 2014 compared to 2013 despite a particularly challenging market situation, resulting in a net loss of circa €40 million, with bank borrowing at an all-time low in the history of the Group, amounting to just €34 million at the end of 2014.
The launch of new models and the efforts to develop markets in the years to come, are signs of the Group's hopes and intentions to reach break-even and achieve sales volume worth €542 million by the end of 2017, compared to estimated sales of €373 million by the end of 2015 and €392 million in 2016. The Group also expects to see steady growth in its margins over the next three years, and aims to achieve a positive EBITDA of €16 million in 2016, expanding to €44 million in 2017.
[divider style="dashed" top="20″ bottom="20″]