[dropcap]A[/dropcap]t EBACE 2015, Geneva – 19 /21 May 2015, Mercedes-Benz Style and Lufthansa Technik announced their cooperation on the design and completion of VIP aircraft cabins. The two companies will jointly develop an entirely innovative, luxurious and integrated cabin concept for short- and medium-haul aircraft.
Mercedes-Benz Style and Lufthansa Technik develop VIP cabin for short- and medium-haul aircraft: State-of-the-art luxury high above the clouds.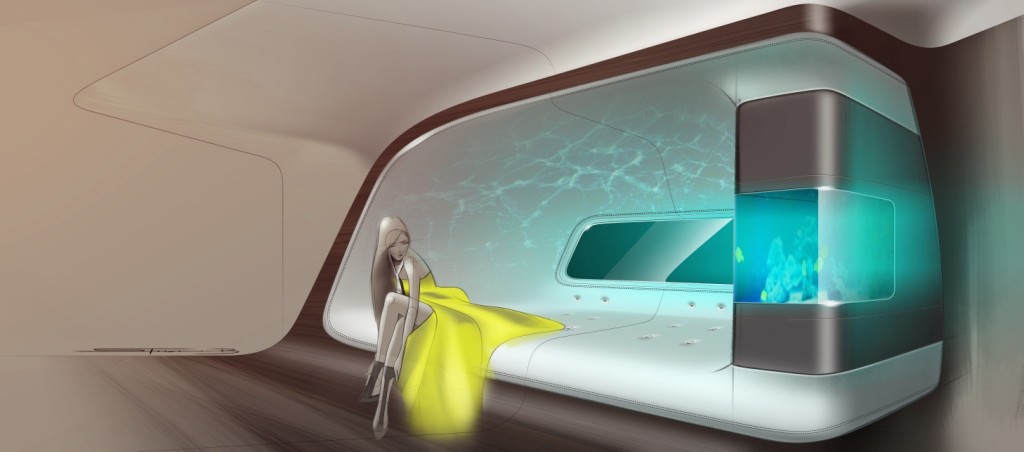 Dynamic architecture instead of traditional interior cabin design: under the joint approach adopted by the two companies, the traditional separation of ceiling, wall and floor will be entirely replaced by a dynamic, spiral layout. This gives rise to new, independent spatial zones without the typical arrangement of seat and wall elements. The new sense of space is additionally reinforced by Mercedes's typically strong emphasis on contrast in terms of material, colour and lighting. The overall design is characterised by the aesthetic appeal of state-of-the-art luxury embodied in the Mercedes-Benz brand. Mercedes-Benz Style and Lufthansa Technik plan to target this innovative concept at a private global clientele with a strong affinity for unique design. Lufthansa Technik will contribute its decades of experience in the customisation of VIP and VVIP aircraft in order to harmonise unique design with the particular requirements of an aircraft cabin.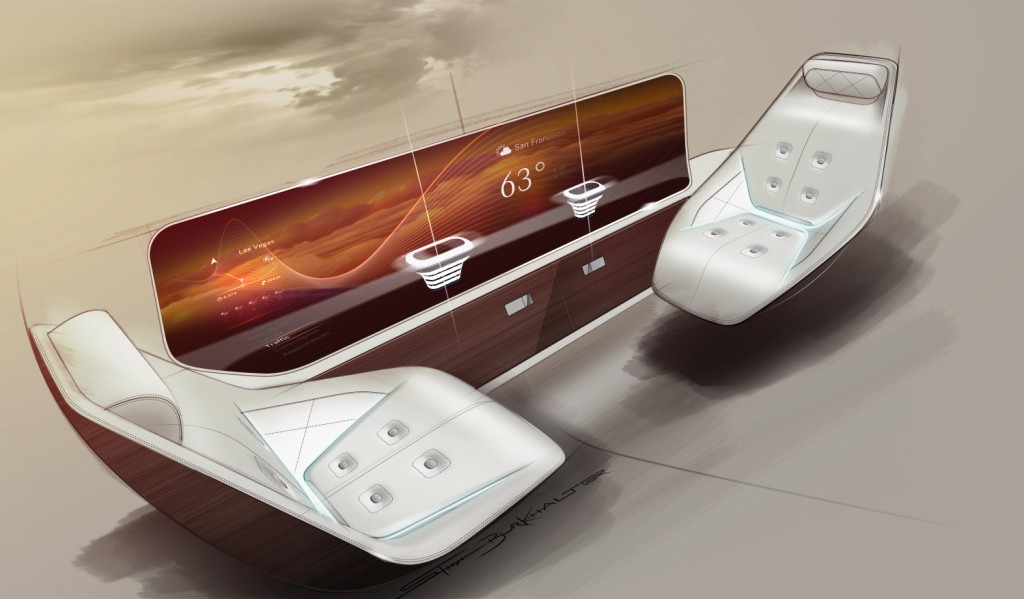 "It was an inspiring challenge to transfer our design philosophy of sensual purity into the area of aeronautical engineering. The spectacular architecture of the interior shows creativity and modernity. Sensual surfaces and clear forms, combined with intelligent high-tech features and perfectly shaped modern luxury are the characteristic features of Mercedes-Benz design," explains Gorden Wagener, Vice President Design Daimler AG.

Walter Heerdt, Senior Vice President VIP & Executive Jet Solutions, Lufthansa Technik AG, continues:
"The purpose of our cooperation with Mercedes-Benz Style is to unite the two companies' innovative expertise in the areas of design and technology. Our goal is to offer a highly discerning global clientele a standard of interior design that leaves nothing to be desired. Whether for private or business use, our modular completion concept perfectly fits every purpose."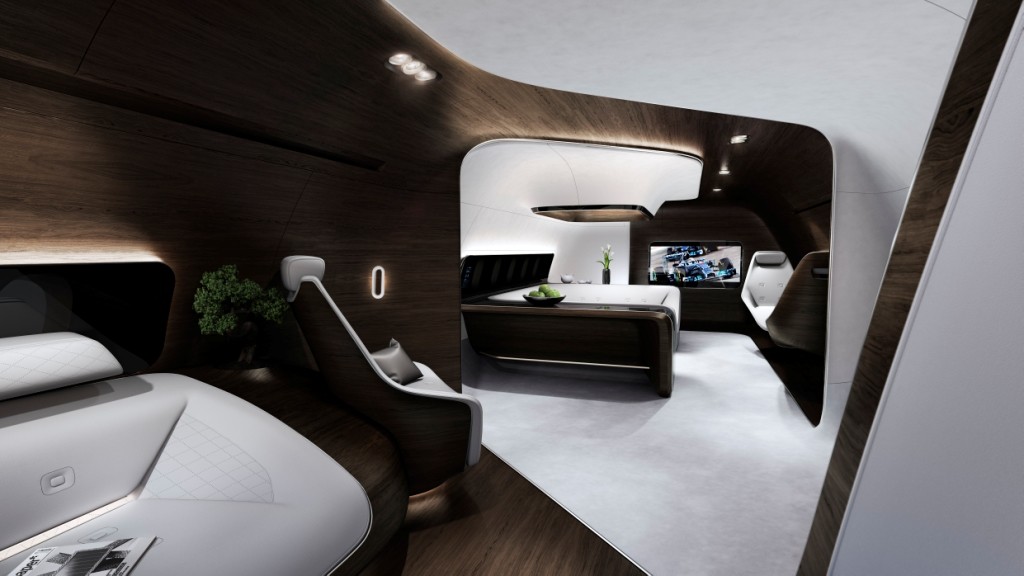 Innovative approach, away from the familiar
In a departure from the familiar design of aircraft interiors, the cabin concept adopts an entirely new approach. The interior of the cabin is organic and homogeneous like a DNA helix. Floor, wall and ceiling flow into each other. Featuring numerous innovative details, the furniture with its sensuous clarity of design merges seamlessly with the cabin interior. The cabin windows are concealed by so-called black panels, which, inspired by the screen design in the Mercedes‑Benz S-Class, appear to float in front of the window like a light corona. Innovative Mercedes-Benz Magic Sky technology allows the panels to be dimmed electrically from black to transparent. Displays and touch screens for entertainment and information can easily be integrated into the black panels.
In the coming months, the two companies will jointly evaluate the general level of customer interest on the VIP market, in addition to further developing the details of the design concept.
About Mercedes-Benz Style
Since 2010, in addition to classic automobile design, Mercedes-Benz designers have also created designs for other products in cooperation with selected partners under the label Mercedes-Benz Style. The aim is to transfer Mercedes-Benz's unmistakable, progressive design idiom and high standards of luxury and aesthetic appeal to other spheres of life. All Mercedes-Benz Style products stand out through the dynamic and avant-garde design that is a hallmark of the brand, uncompromising quality and the choice of fine materials finished to perfection. The portfolio of Mercedes-Benz Style includes products from the areas of mobility, lifestyle, sport and interior design.
About Lufthansa Technik
Lufthansa Technik is one of the world's leading providers of technical services for commercial and corporate aircraft as well as VIP and government aircraft. In addition to maintenance, overhaul and repair, Lufthansa Technik also offers special services such as the completion of customised aircraft cabins. In the area of VIP aircraft, Lufthansa Technik has over 50 years of experience in the development and installation of technically and aesthetically high-end solutions. To date, the VIP & Executive Jet Solutions Division of Lufthansa Technik has modified or completed over 100 short-, medium- and long-haul aircraft.
[divider style="dashed" top="20″ bottom="20″]