Turkish shipyard Mazu Yachts has announced the launch of its largest boat, the first 25m sport superyacht Mazu 82. Sea trials have been completed on time for delivery. Built of a lightweight carbon composite, the Mazu 82 combines a clean profile, expansive decks and large hull windows with the outstanding performance, efficiency and handling. The bespoke interior design is created by Turkish designer Tanju Özelgin with the aim to create an onboard ambience more in tune with land-based architecture. Working closely with the shipyard, Özelgin optimised the generous volume and large hull windows, combining subtle textures, muted colours, and both direct and indirect light to create a vibe of understated elegance. The end result is an interior design that perfectly complements the edgy exterior styling of the Mazu 82, designed in-house by the shipyard's founder, Halit Yukay.
"The interior and the exterior should never be defined as two different aspects but should be seen as a whole as one is the extension of the other," refers Yukay. "Both should create a coherent unity and reflect the main mood and feelings the designer intended."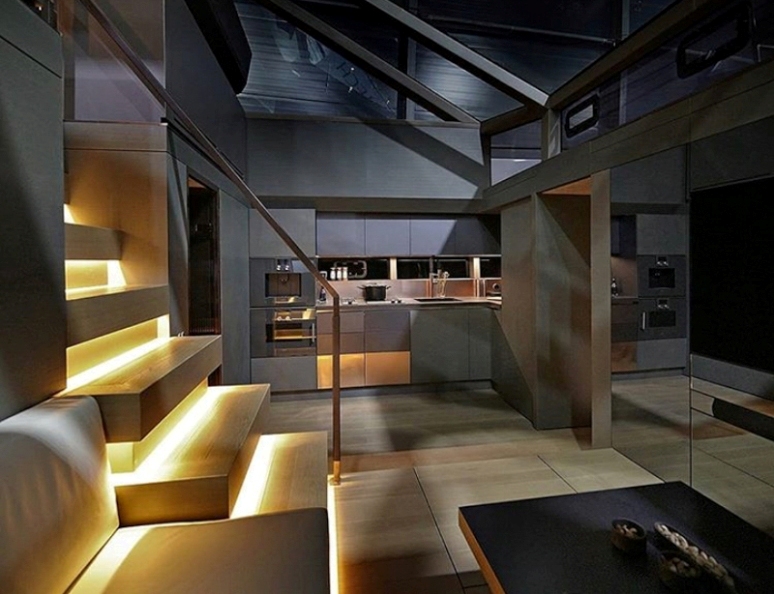 Tanju Özelgin is a designer renowned for its ability to transmit meaning in design through subtle and abstract uses of form, symbol and material. He is widely recognised for his distinct style that is contemporary and abstract yet deeply aware of the fundamentals of human nature and environment. These same signature qualities distinguish the interior design aboard the new Mazu 82.
"The main challenge with yacht interiors is that the space mostly never stands still and is constantly surrounded by water, says the Turkish designer, who aimed to create an onboard ambience more in tune with land-based architecture. "This aspect will direct your decisions regarding which materials to use, the weight and scale of every piece of furniture, and whether or not the furniture is anchored to the decks or built-in."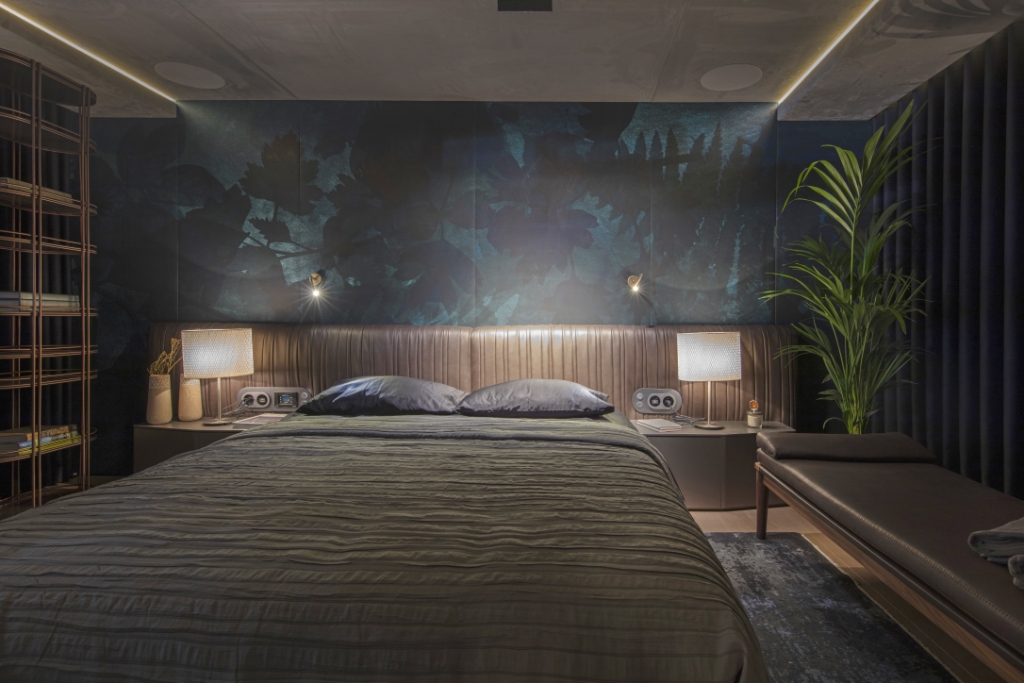 As regards light, the Mazu 82 boasts very large deckhouse windows and strip glazing in the hull. In particular, the sliding sunroof and 9-sqm windshield of ultra-clear laminated and tempered glass, give the interior an airy, loft-like feel.
Artificial lighting is just as important as natural illumination and has to be both functional and atmospheric. For this reason, a bespoke lighting system was developed for the Mazu 82.
To create a chic yet warm and inviting feeling, walnut and leather has been used for the furniture – exclusively built by Mazu – while the walls are decorated with metallic finishes and teak paneling that has been textured and stained grey. The textiles and carpets were specially designed for the boat, as were the doors made of bronzed tempered glass and the stainless steel hardware that has been treated using thin-film deposit (PVD) techniques in the same bronze hue.
Mazu 82 is powered by 3 Volvo Penta IPS 1350 (3 x 1000 HP) and can reach a max speed of 40 knots (cruising speed: 35).