[dropcap]B[/dropcap]etween 10-12 June the superb German yard Lürssen invited members of the international yachting media to visit its facilities in the areas between Hamburg and Bremen. Superyacht Digest was part of the tour and could turn this occasion into an opportunity to enrich its cultural baggage in the superyacht world. Based in Germany, Lürssen is the leading shipyard for large luxury yacht building and for four generations – since 1875 –  has been cultivating the most refined skills and advanced technologies to create truly outstanding vessels.
Before the tour inside the sheds and along the docks where some giants of the seas are "parked" for finishing works, Lürssen Sales Director Michael Breman takes the occasion of the welcome meeting to give the media audience a rapid update about the Lürssen activities.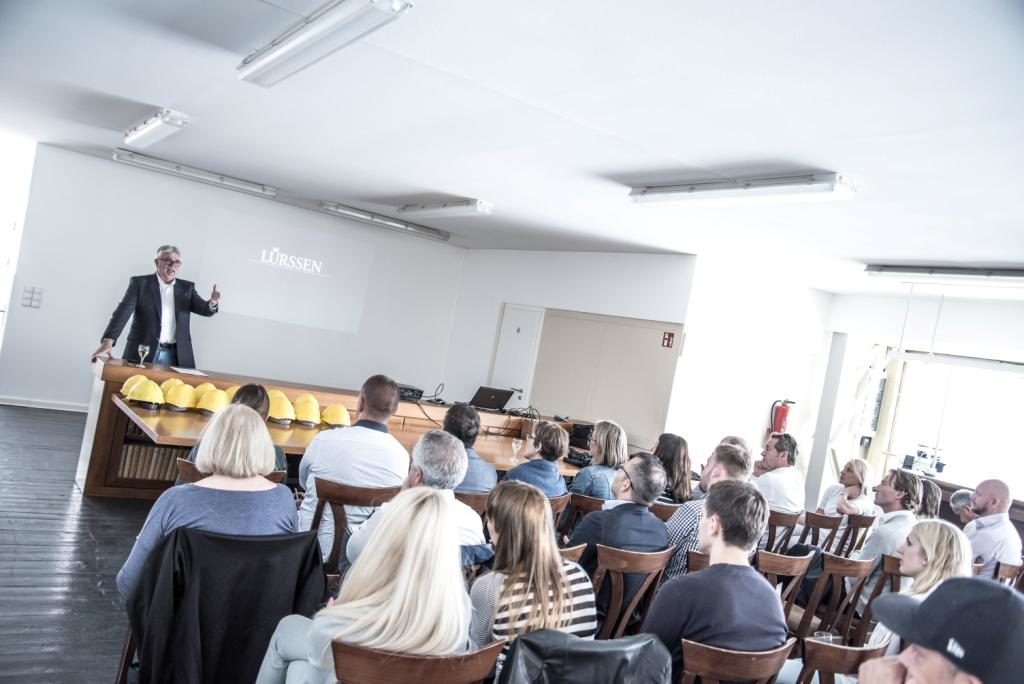 He states that the yachting sector seems to forget – due to a sort of 100m plus mentality – that Lürssen is very much strong in the 60m range. As a matter of fact, since 2008 they have produced 19 builds below the 100 meters, which means 8 more compared to the fleet launched in the 100m+ category.  The group will now undertake strong marketing actions to involve much more their yacht owners – and new ones – in their ability to build 50m superyachts.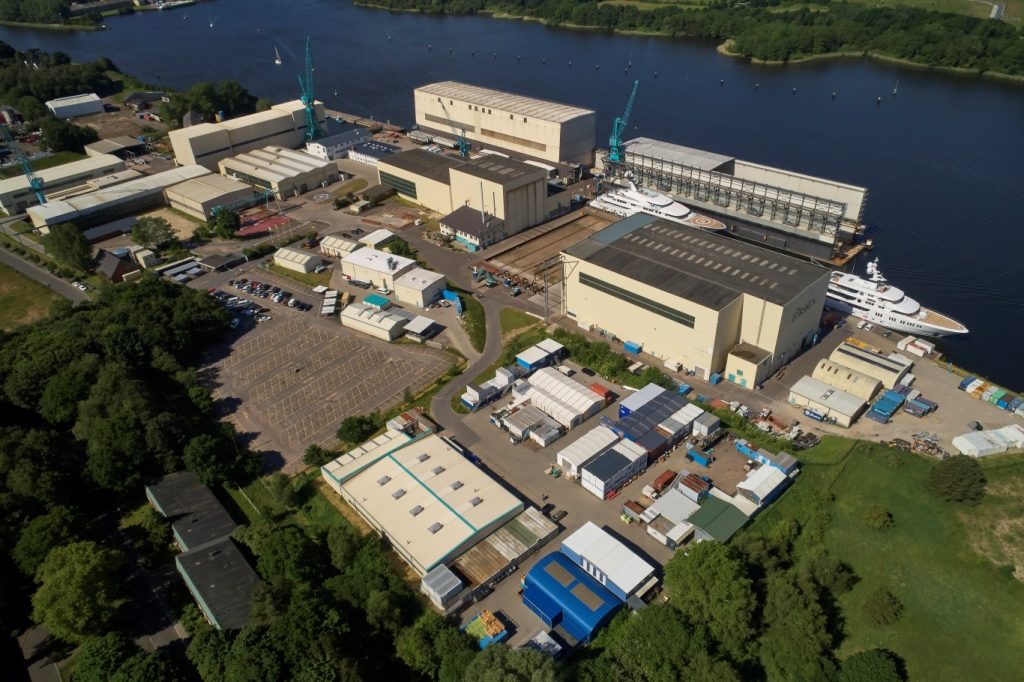 Lürssen operates in Northern Germany in eight different yacht building facilities, including the Blohm and Voss shipyard, representing the main hub for Refit and Repair. Their eight shipyards provide ample space to build and refit multiple yachts at the same time in covered sheds and drydocks. And with 2700 people working in the group, Lürssen also boasts a manpower of 700 plus engineers and naval architects, in addition to a fleet of craftsmen to tackle any project – be it a new build, a refit or a conversion.
At the shipyard in Rendsburg, which concentrates on building yachts from 60 up to 110 metres, several yachts are currently under construction. One of the yachts under construction is Project TIS, a quintessential 111 m yacht, scheduled for delivery in winter 2018, with exterior and interior design by Winch Design.
With her long and well-balanced sheerline, TIS is a supremely elegant yacht, notwithstanding her considerable size.  With a beam of 16.85 m she boasts extraordinary volumes accommodating all of the Owner's requirements. TIS features six decks and offers spacious Interior and Exterior areas for guests, making her the perfect yacht for entertaining on a grand scale. The sweeping staircases at the transom create an impressive entrance, which sets the tone for the rest of this palatial yacht, with very generous ceiling heights, sophisticated interior decoration and Lürssen's customary attention to detail.
There are several other yachts in various phases of engineering assuring the yard in Rendsburg a healthy order book.
As to the three shipyards in Bremen, they are located on both sides of the river Weser. On the north side of the river, at the facility known as Lürssen-Aumund, there is a large graving dock, where yachts of up to 170 metres can be built. Adjacent to that lies a floating dry dock with a length of 220 metres which allowing even larger yachts to be built and to properly look after its rapidly expanding fleet.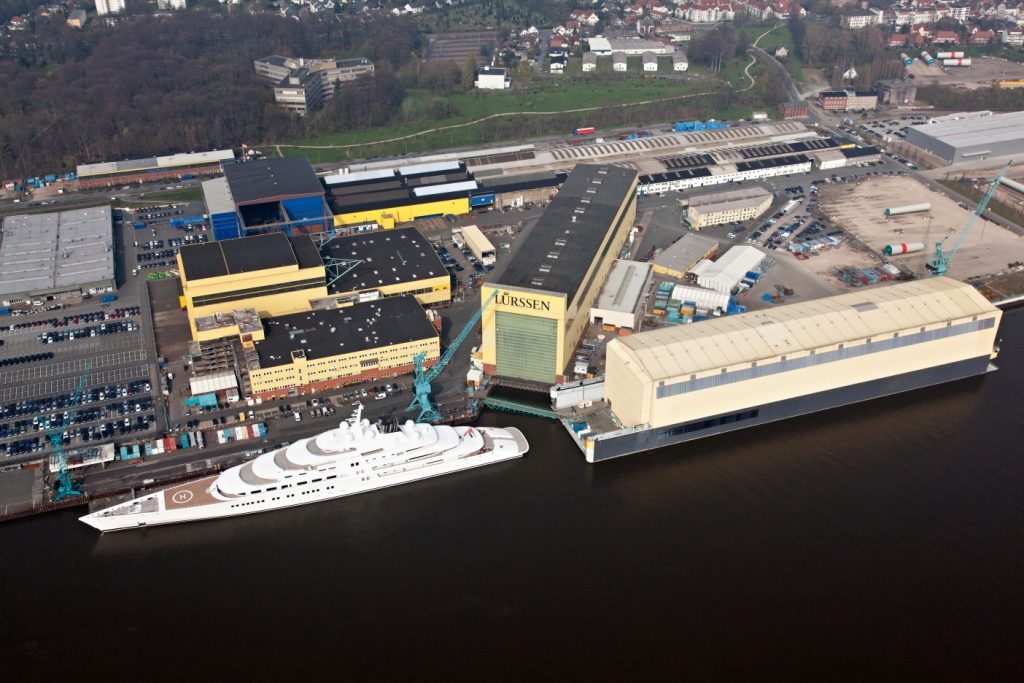 Both in the floating dock and in the graving dock two very large yachts are currently well underway while at the pier the 136 m yacht SHU is undergoing her final outfitting and being readied for delivery.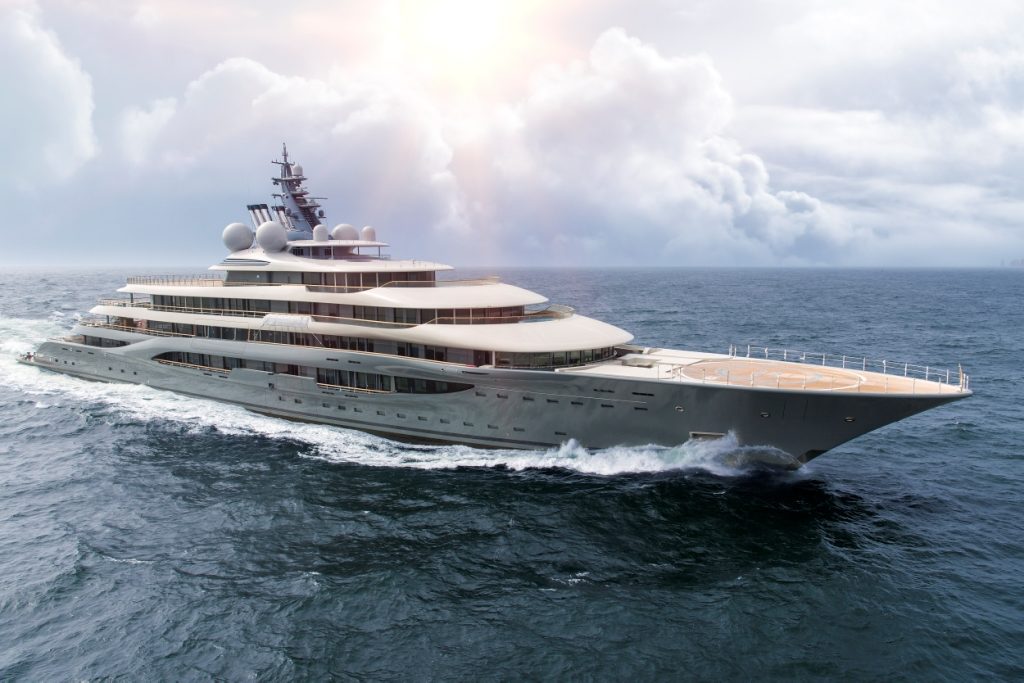 In May project SHU has successfully concluded her final sea trials in the North Sea and her delivery is planned for autumn of this year. Designer Espen Oeino has given SHU elegant and graceful exterior lines whilst ensuring, despite her massive volume, that she maintains her striking looks.
The balance and proportion of the exterior profile allows for generous deck space that offer a range of options for owners and guests to enjoy. From sun opulent and open entertainment areas to more shaded and intimate spaces. A special feature is the enormous swimming pool, which runs transversely on the main deck aft. The exterior also boasts two helicopter landing pads, one on the bridge deck and another on the sun deck aft, allowing for multiple helicopter use for owners and guests. Other highlights of her profile include the sea terraces and platforms, which enable guests to access the water easily for water sport activities as well as relaxation.
In perfect combination with her beautiful exterior, designer Mark Berryman has created an interior that is nothing short of spectacular. SHU has a calm and spacious feel which has been beautifully crafted with the use of soft neutral tones and tactile finishes.
On the south side of the river, the facility known as Lürssen-Lemwerder, is Lürssen's main facility, where at the moment there is another 100+ m yacht under construction. The Lürssen building process culminates at this location, where all the ship blocks are assembled together inside the shed. When the last finishing is completed the yacht is ready to be launched.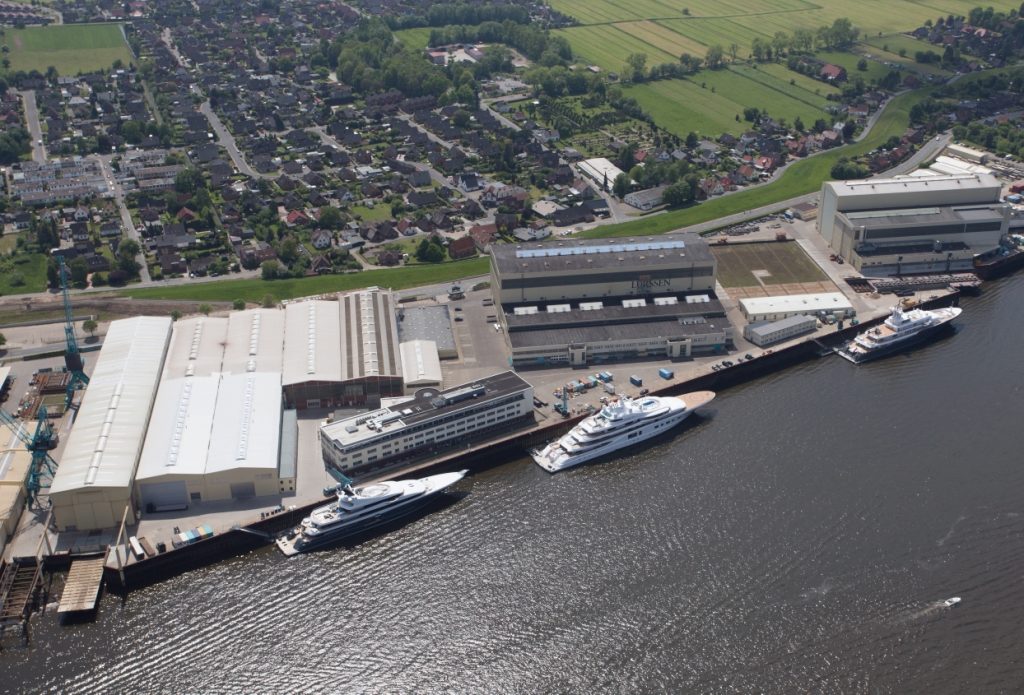 At the pier there is currently Al Lusail, which has been delivered in 2017, returned home for some guarantee works.
The third yard is down river of the first two and is located in Berne. There pre assembly of steel blocks takes place.
The Lürssen group has unique facilities and also for the refit activites it is second to none.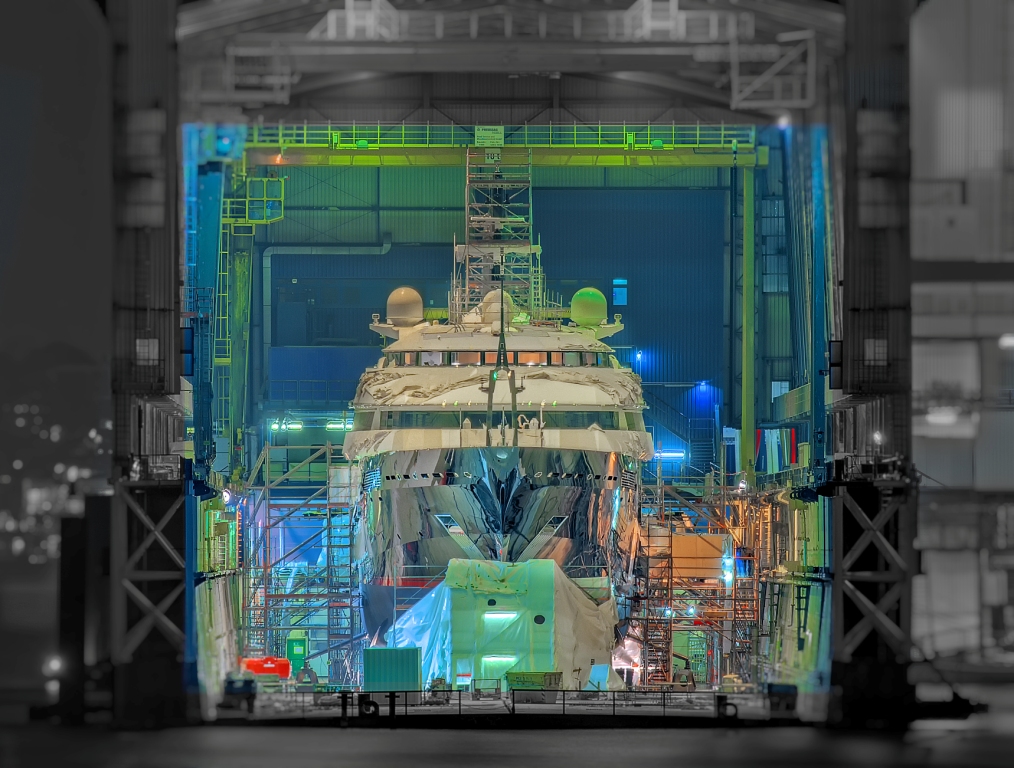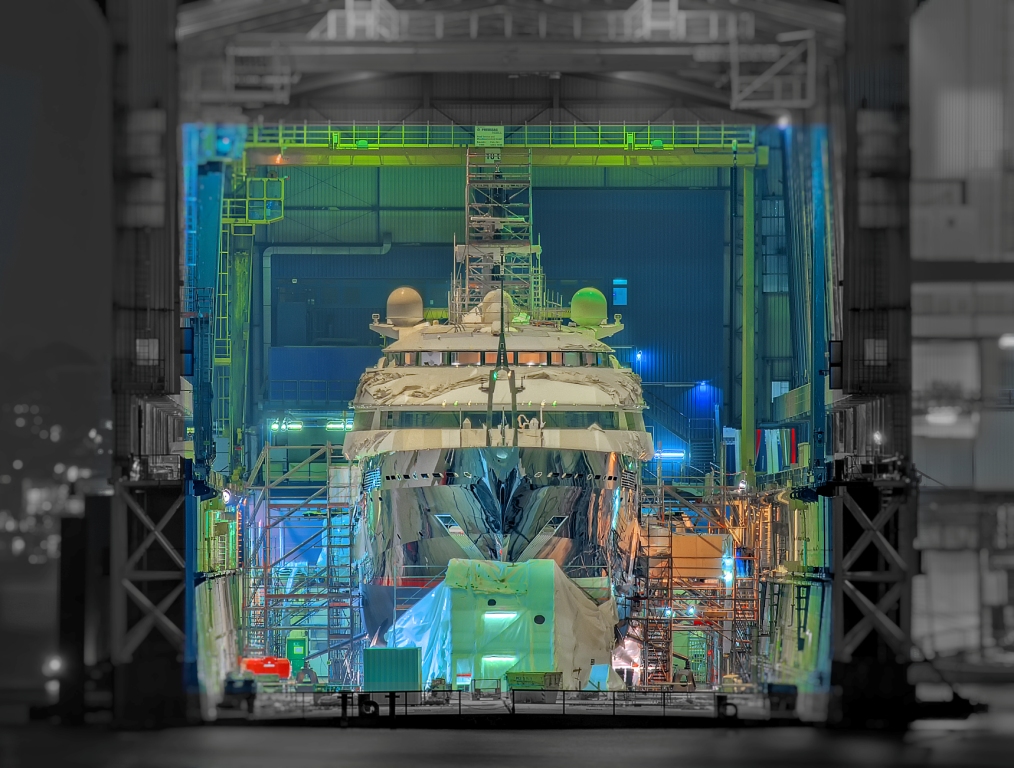 During the last year more than a dozen yachts between 50 and well over 100 meters have used the Lürssen facilities for modifications and maintenance works. 8 of them alone in their Hamburg based Blohm+Voss shipyard. Amongst them are some of the world's most beautiful yachts such as Lady Moura, Yas, Rising Sun, Alfa Nero to name a few.