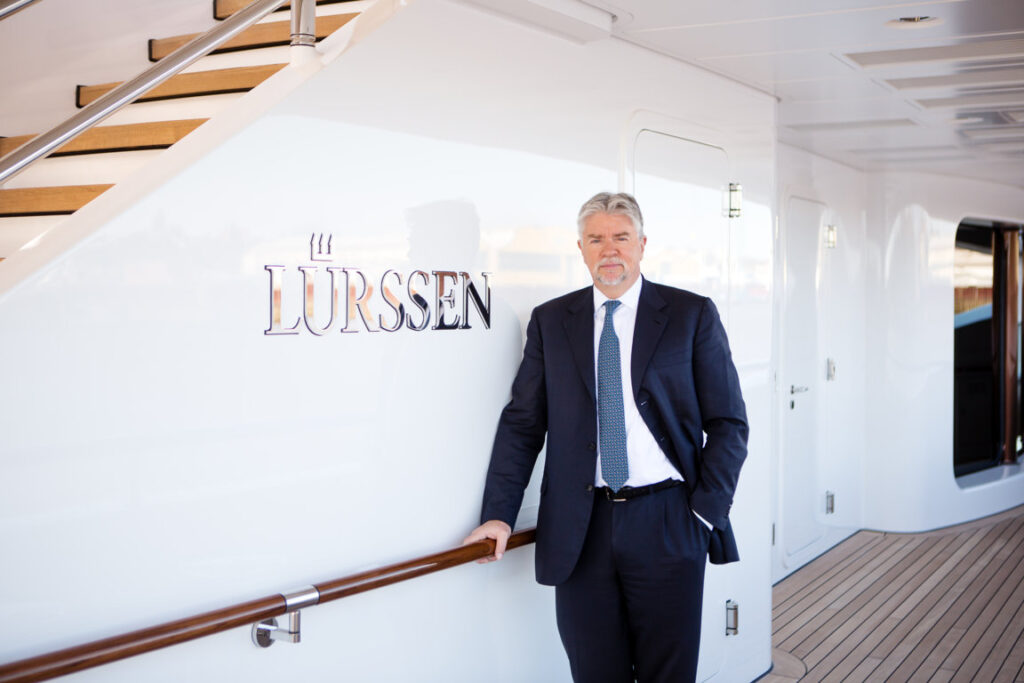 German shipyard Lürssen has one of the most successful track records of all superyacht builders of all time, but even this giant player is adapting, re-evaluating and moving with the times.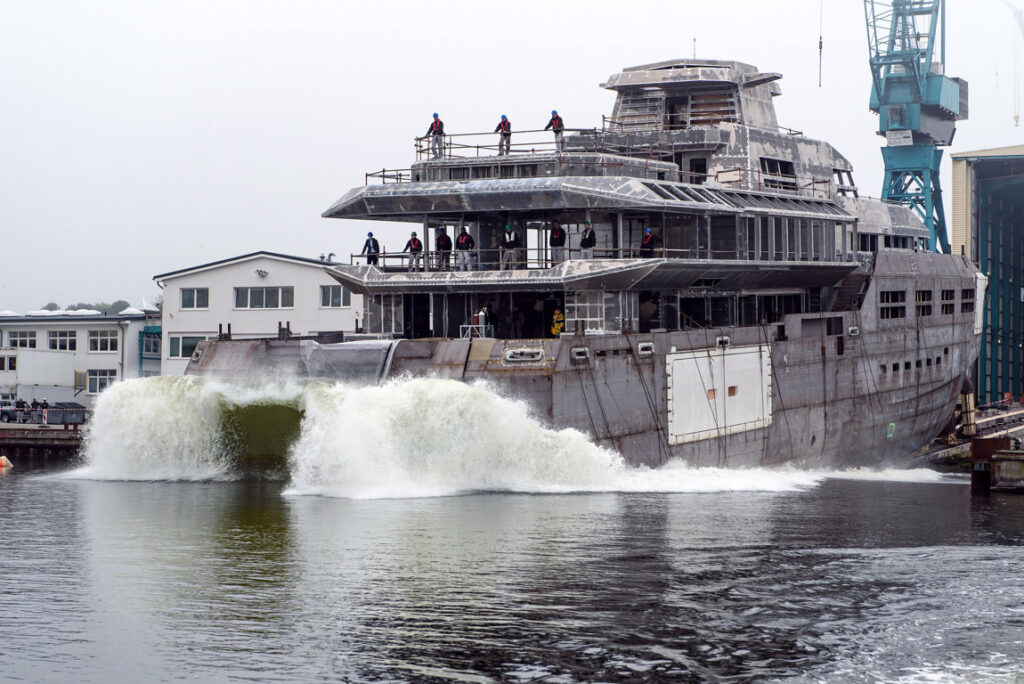 Since 1875, the hallowed Lürssen name has endured as a successful family-run German shipyard, now recognised for building some of the most iconic superyachts in the world. In addition to its headquarters in Bremen Vegesack, the company has aggressively expanded over the years and has today has locations throughout Germany. This includes the old-established shipyard Blohm+Voss in Hamburg, which became part of the Lürssen Group in 2016, and its shipbuilding facilities in Lemwerder and Berne. But it is in Bremen-Aumund where the real scale happens. It's here where the construction, production and assembly of superyachts greater than 100m in length are built. With highly advanced construction and assembly technology, this is where the most ambitious and creative concepts for bespoke luxury yachts become a reality, not to mention the refit and maintenance of the behemoths of the sea.

Of the top 25 largest yachts by length ever built, Lürssen has built 13, and that's not even including Savarona and Eclipse built by Blohm+Voss. From the mighty 180m Azzam in 2013, the world's largest superyacht, to 156m Dilbar in 2016, the largest yacht in the world in terms of volume, Lürssen has become the go-to shipbuilder for significant builds.
The company employs more than 1,000 people in Bremen alone. But who could have imagined the impact that Covid-19 would have globally. Even a shipyard as successful and resilient as Lürssen has had to adapt.
"Due to the current situation regarding the coronavirus, we have implemented numerous preventive measures at all our shipyard locations, always in close coordination with the local health authorities", says Michael Breman, Sales Director at Lürssen. "Besides the by now considered normal standard hygiene measures, such as distancing, regular handwashing and mask wearing, we have adopted a combination of a shift system and a zone system. This way, different groups work and rest at different times and reduce contact opportunities and effectively work only in one "zone" of the shipyard in order to further reduce contact. Engineering departments are on a rotational system with one week home office and one week at the shipyard's office, again reducing opportunities for the spreading of the virus. These measures follow the current recommendations that come from the Robert Koch Institute", adds Breman, "as well as the specifications of the German health authorities. In addition, we are in close contact with the regulatory bodies on a daily basis so that we can reassess the situation on site each day and ensure that we can adjust our procedures on short notice if required. Throughout the ongoing situation, we have continued to be operational at all our North German shipyards. The market has changed somewhat throughout the summer and there are more and more clients who have a wider view but unfortunately, they are still hesitant to take decisions".
Even with the far reaching ramifications of the Covid-19, however Lürssen has pushed through the pandemic to deliver two yachts and redeliver several refit projects which were underway. This success includes the 2020 launch of Project 1601.
Exterior designed by Espen Øino with an interior by Dölker + Voges, 90m Project 1601 launched down the slipway on a sunny May morning, showing off her extraordinary features, which are dominated by planar surfaces, straight lines and angular corners. "The crispness of the exterior styling suggests a geometrical precision that permeates every facet of the yacht", stated Lürssen in its press release, adding that the interior "echoes the same design themes as her exterior".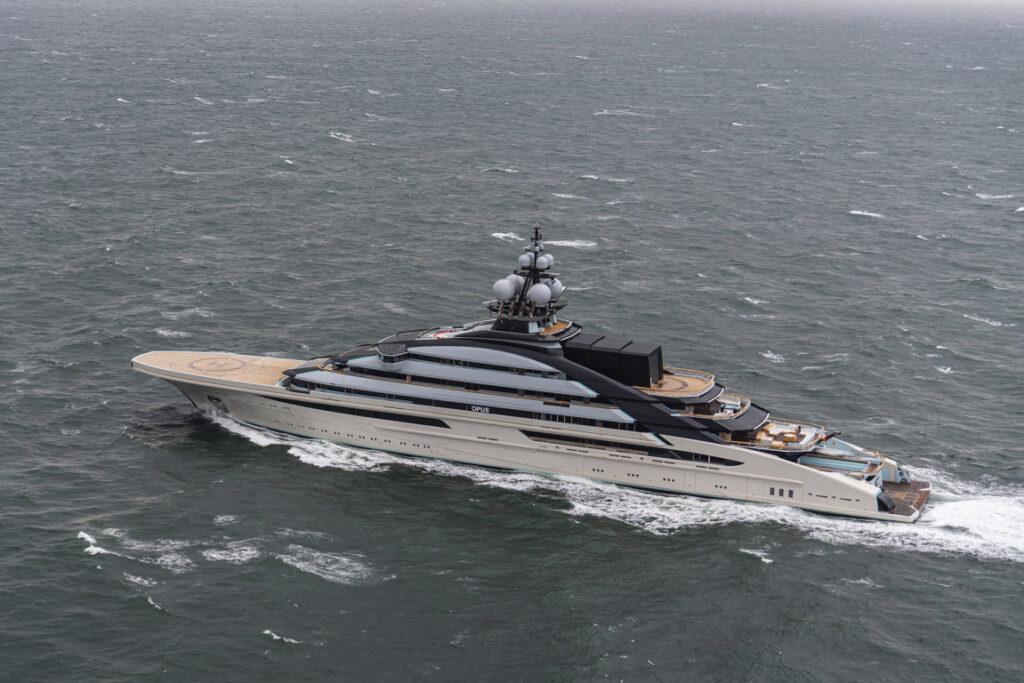 Project 1601 currently resides in Lürssen's floating dock and will not emerge again until 2021. But spectators keen to cast eyes over the craftsmanship and work undertaken at the German shipyard were not disappointed when at the end of September, the colossal 142m Project Opus was unveiled to undergo sea trials in the North Sea before her scheduled delivery in early 2021. Sporting an exterior and interior by renowned Italian studio Nuvolari-Lenard, Project Opus benefits from a "never before seen" bow.
"Under typical North-German weather conditions, functional tests such as the propulsion plant, trials of the thruster, steering system, tests of the cooling-, lubrication- and fuel-system as well as the freshwater treatment units were carried out. The speed and manoeuvring tests were executed to full satisfaction and all other tests carried out on board achieved the expected excellent results", stated Lürssen.
One thing that remains constant at Lürssen is the shipyard's willingness and hunger to continually develop and make major changes and investments in its setup. "We are permanently investing in the yards' infrastructure to ensure that we are well positioned for the future and work even more efficiently and sustainably", says Breman. These changes to infrastructure include Dock 10 at the Blohm+Voss shipyard in Hamburg, which is currently being converted into a covered dock and once completed, will be Europe's largest covered floating dock.
"Not only will the new structure offer improved occupational health and safety and help to reduce emissions, it will also render the shipyard to be better equipped for confidential projects and the oftentimes-temperamental Hamburg weather", says Breman.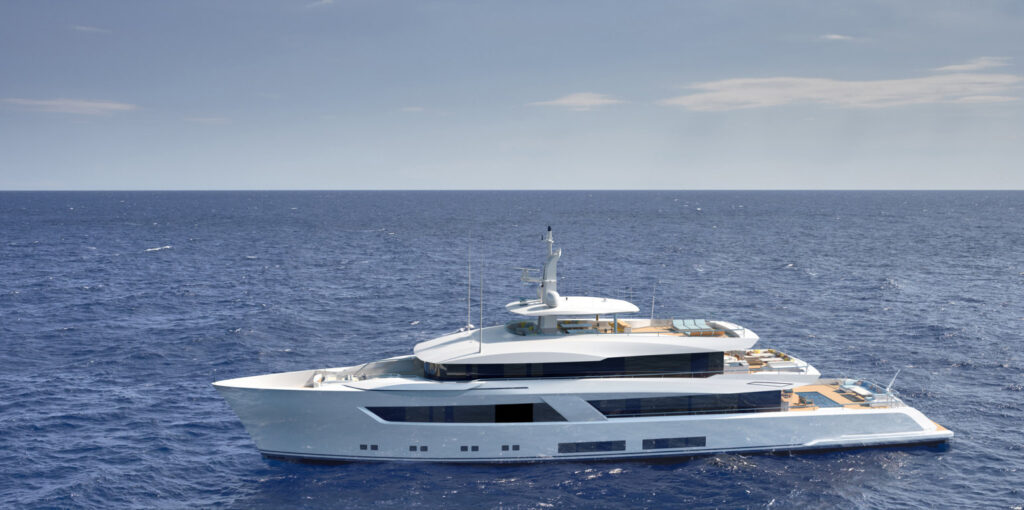 Since the takeover of Blohm+Voss in 2016 Lürssen has invested approximately 20 million euros in the Hamburg shipyard. After completion of the work on Dock 10, the total investment at Blohm+Voss will increase to over 33 million euros. In addition to infrastructure developments, and despite its reputation and form for building 100m+ yachts, Lürssen has been keen in recent years to promote the idea that it's just as capable of building yachts in 55-75m sector.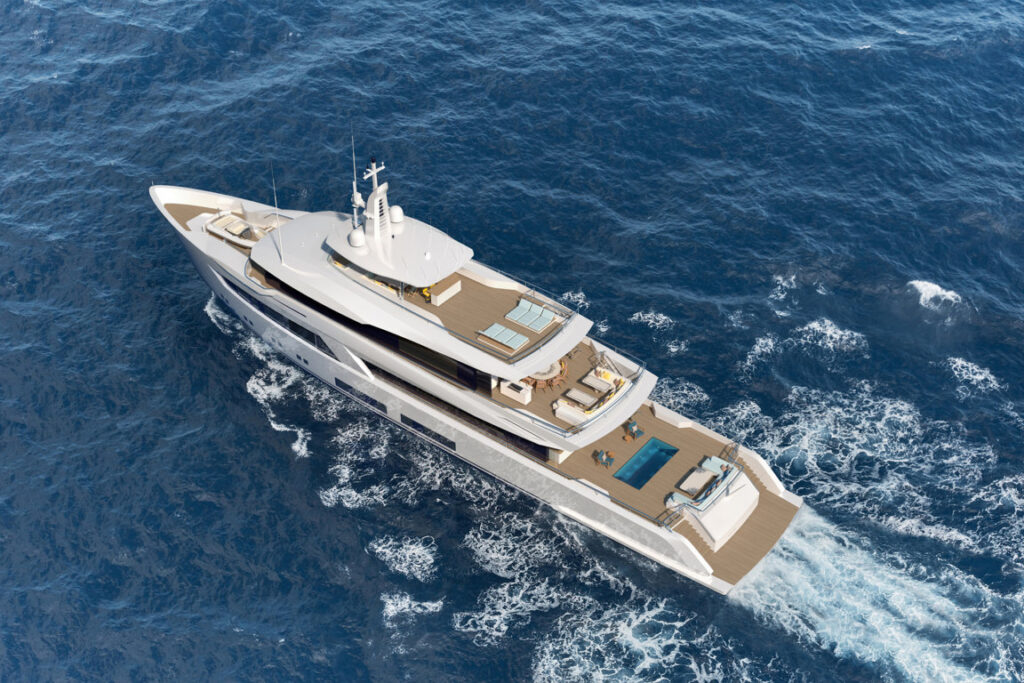 As superyacht owners come to realise that size is not always everything, and that in order to enjoy some of the more intricate ports and shallow waters, a smaller yacht can offer a lot more flexibility, Lürssen has placed itself in line for consideration for more petite builds.
Project 13800, which is set to launch in 2021, is a first step in re-establishing the brand as a serious proposition for yachts in that size bracket. At 55 metres in length, the project is well underway having first been announced in 2018. At the end of April 2020, Project 13800 briefly showed herself as she came out of the building shed, went into the water for some tests and was then moved to the outfitting hall, where she will remain until the end of the construction period. During the design development phase the project grew to 55.5m in length and became the recipient of some distinctive exterior lines penned by British studio Bannenberg & Rowell. The initial concept was influenced by Bannenberg & Rowell studies based on Jon Bannenberg's classic yacht Carinthia VI, which was built by Lürssen in 1973. Lürssen points out that through several design iterations the design evolved to the point where Project 13800 displays her own strong identity whilst boasting the very real heritage of a Lürssen/ Bannenberg predecessor.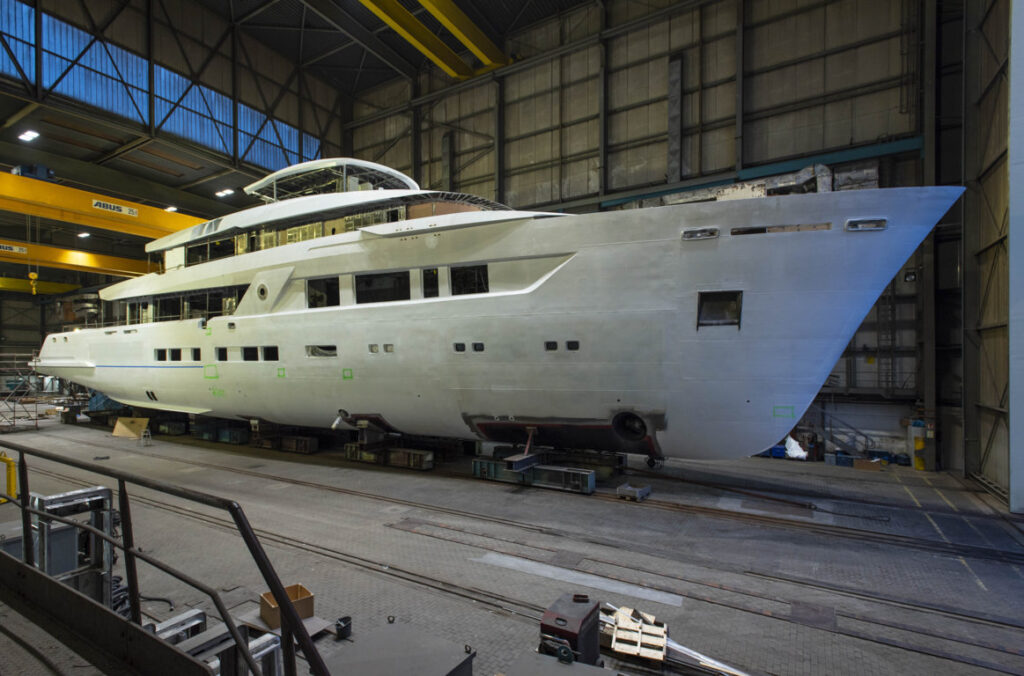 "It has been great to see how Project 13800 has evolved over the past two years and see it now come to life", says James Hutchinson, owner's representative. "The technical launch marked a big milestone for the project, and it makes me proud to be closely involved in the first Lürssen to be built in this size range for many years".
Project 13800 is said to possess a "fearless use of colours and textures" as well as "museum quality" interior furniture pieces and a tremendous attention to detail in both the interior spaces and technical areas. Peter Lürssen, managing partner at Lürssen, says: "We are very grateful for the success of all the large yachts we have built, however, our core business is between 60 to 90 metres and Lürssen has delivered more vessels over the last 15 years under 90 metres than above! As long as it is a bespoke yacht, Lürssen is the right shipyard".
---
Q&A with Michael Breman
SD: "What can we expect from Lürssen in 2021?"
MB: "Our first delivery in 2021 will be Project Opus, a powerful yacht with a striking 'never seen before' exterior design on a pleasure vessel. And in the summer of 2021 we shall deliver Project 13800, a truly bespoke designed, engineered and manufactured 55-metre Lürssen yacht".
SD: "How will yachting change post-Covid? What will be the lasting legacy?"
MB: "The world and its actors will clearly be different post-Covid, but how different exactly only the future can tell. One thing is clear, however, if we have learned one thing the past year, it is that yachting offers the best safe environment in such a global pandemic".
SD: "What is your opinion on boat shows; can we live without them, or at least with less of them?"MB: "A boat show offers a client the opportunity to experience the yachting product from different brands all at the same time, at one location, and in the water! Without a boat show this is not possible and therefore boat shows will continue to exist. But hopefully, they will revert to being the proper environment for a business to client interaction that they once were, rather than the B2B extravaganza they have grown into".
---
Read this article in the January Issue 2021