[dropcap]F[/dropcap]inishing touches were today being put to preparations for the fifth edition of the Loro Piana Caribbean Superyacht Regatta & Rendezvous taking place in Virgin Gorda from 11th to 14th March 2015. Crew lists have been submitted, sails inventoried and technical briefings attended in readiness for the kick-off of racing tomorrow. Twelve of the world's most beautiful sailing yachts have assembled at YCCS Marina alongside six imposing motor yachts for the event which is organized by the Yacht Club Costa Smeralda in collaboration with Boat International Media.
Racing for the sailing yachts, which range from 72 to 197 feet in length, is scheduled to start at 11 am tomorrow with challenging conditions forecast which should enable the fleet to unfurl their colossal sails and produce top performances.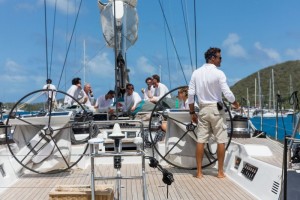 "The outlook is for continued easterly winds of 18 to 22 knots over the next few days. With these conditions, and in order to fully exploit the new handicap rule, we plan to set courses with plenty of variety: upwind, downwind, reaching and a round-the-island course." commented YCCS Sports Director and Race Committee member Edoardo Recchi.
This year marks the first time the new ORCsy handicap rule, specially developed by the Offshore Racing Congress (ORC) in collaboration with the Superyacht Racing Association (SYRA), will be used at this regatta. The rule has been under development for several months and will be put to the test for the first time during the Loro Piana event. Three ORC officials, including Chairman Bruno Finzi, are on site to ensure that application of the new system – firmly based on transparency and open consultation with owners and designers – runs smoothly.
Three days of racing are scheduled, with boats divided into Classes A and B based on their handicap. Both divisions host a widely varied range of vessels, some of which could easily be described as ships rather than boats including event newcomer Wisp, a 157-foot long Royal Huisman sloop competing in Class A, or the Perini Navi ketch Seahawk – weighing in at over 550 tons and measuring 197 feet in length – in Class B. As always, there is no shortage of sailing talent peppered across the fleet with Pier Luigi Loro Piana able to count on veteran America's Cup tactician Francesco De Angelis alongside a host of top Italian yachtsmen on his Cape Arrow, a 99-foot Southern Wind chartered for the occasion.
[divider style="dashed" top="20″ bottom="20″]
www.loropianacaribbeansuperyachtregatta.com