[dropcap]A[/dropcap] private island refuge in the South Pacific, Laucala unites dramatic rainforest-laced landscapes and white sandy beaches with unparalleled levels of luxury and privacy.
No expense has been spared at the exclusive tropical hideaway, where 25 Fijian-styled villas are set amid coconut plantations, beside deserted beaches and atop the island's volcanic mountains, overlooking fertile coral reefs and endless jungle.
Style and sustainability go hand in hand throughout, from the natural fibres and woods used in design to the wild orchids harvested in gardens and organic produce grown on island farms.
Set over 1,400 hectares, Laucala epitomises the seclusion and graceful hospitality for which the Fijian archipelago is famed.
ABOUT THE ISLAND 
A private island covering 12 square kilometres, Laucala offers dramatic extremes in landscape: volcanic mountains covered in tropical rainforest and postcard-perfect beaches, untouched mangroves and coral reefs brimming with marine life.
The resort sits on the island's northern coast and covers just 4.5 square kilometres, which means that the vast majority of the land is an unspoiled wilderness of jungle and coconut plantations, home to some of the archipelago's rarest birds and animals.
Laucala has tapped into the island's lush natural bounty, establishing a number of organic farms and gardens producing fruit, vegetables, herbs and meat for resort restaurants as well as flowers and spices for the spa. The sustainable approach to resort living not only guarantees flavourful food and memorable spa treatments, but also ensures that guests leave with a genuine insight into Fijian culture.
AIRPORT & ARRIVAL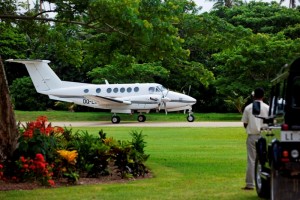 Getting to Laucala Island, one of a string of landfalls dotting Fiji's Koro Sea, offers guests a taste of the faultless service to come at the resort. Private aircraft are permitted to land on Laucala, with international procedures such as customs and immigration clearance organised on- island by request. Laucala Island's private airport operates day and night, with the concrete airstrip suitable for jets with a maximum 40 t MTOW (aircraft type Falcon 900).
Upon arrival at the Nadi International Airport, guest relations will drive travellers to the private Laucala Nadi Lounge. Travellers will be transferred from Nadi to Laucala Island via the resort's King Air B200 for 50 minutes comfortable flight.
CULTURAL VILLAGE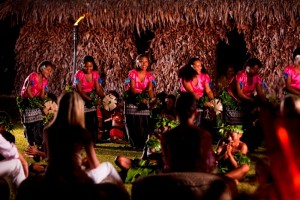 Laucala's Cultural village is one of the few traditional villages left in Fiji and is designed to preserve and showcase local traditions, culture and architecture to guests.
The main buildings are the bure kalou, or spirit house, as well as the village hall and the chief's hut. Here, guests can join our Lovo night and discover kava ceremony with Laucala staff, listen to traditional music or participate in Fijian arts and crafts: weaving, carving and Masi art.
A chapel is also available few steps from our traditional village for wedding or celebration.
FARMS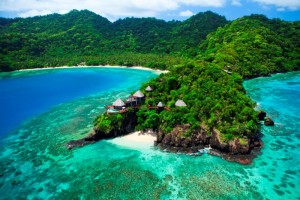 Laucala features its own farm, where 240 acres make up a farmland to organically grow crops and raise animals that provide the majority of products needed on island and can be prepared in-house. Crops include vanilla, pepper, tropical fruits, a wide variety of herbs vegetables, like lettuce, tomato, cucumber, zucchini, eggplant, cabbage, broccoli, cauliflower, okra, string beans and animals such as poultry, cows (including Wagyu), pigs, quails and ducks, goats and coconut crabs, all grow splendidly at the farm.
In the South Pacific region, the coconut palm is truly the tree of life, supplying food, building materials, medicinal and beauty products. With more than a quarter of the island covered in coconut groves, its versatile products shape every visit to Laucala, used as a source of shade, an ingredient for cocktails, culinary refinement or an ingredient for homemade wellness products.
COCONUT PLANTATIONS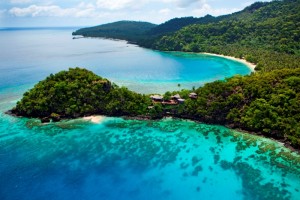 In the South Pacific area the coconut palm is the tree of life, supplying food and building materials and forming the basis for medicinal and beauty products. In short, it is the mother of all South Seas cultures and the pulsating heart of Laucala.
More than a quarter of this island is covered with coconut groves. Its versatile products shape every visit to Laucala, as it is used as a source of shade, an ingredient in cocktails, culinary refinement or as an ingredient for home-made wellness products.
FISHING GROUNDS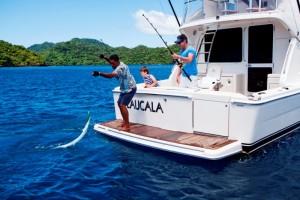 No ocean of the world can come up with more exotica than the South Pacific, with its unequalled variety of colours and shapes and big and small fish.
No wonder the crystal clear water around Laucala is a Mecca for anglers and coastal fishing as well as for deep-sea diving.
The fish caught during the day are taken directly from the boat to the kitchen and transformed into top-class maritime delicacies – they couldn't be fresher!
NATURE 
Right from the start the main aim was to preserve the original beauty of the South Seas Island which resembles a dream of the Garden of Eden thanks to its exuberant green mountains, coconut groves, the gently sweeping beaches and the dazzling turquoise lagoon.
Every effort has been made to preserve or restore the authentic vegetation. Only those plants that kept back the original vegetation were removed.
Last but not least, the construction of every single resort area had to be compatible with the island ecology.
[divider style="dashed" top="20″ bottom="20″]