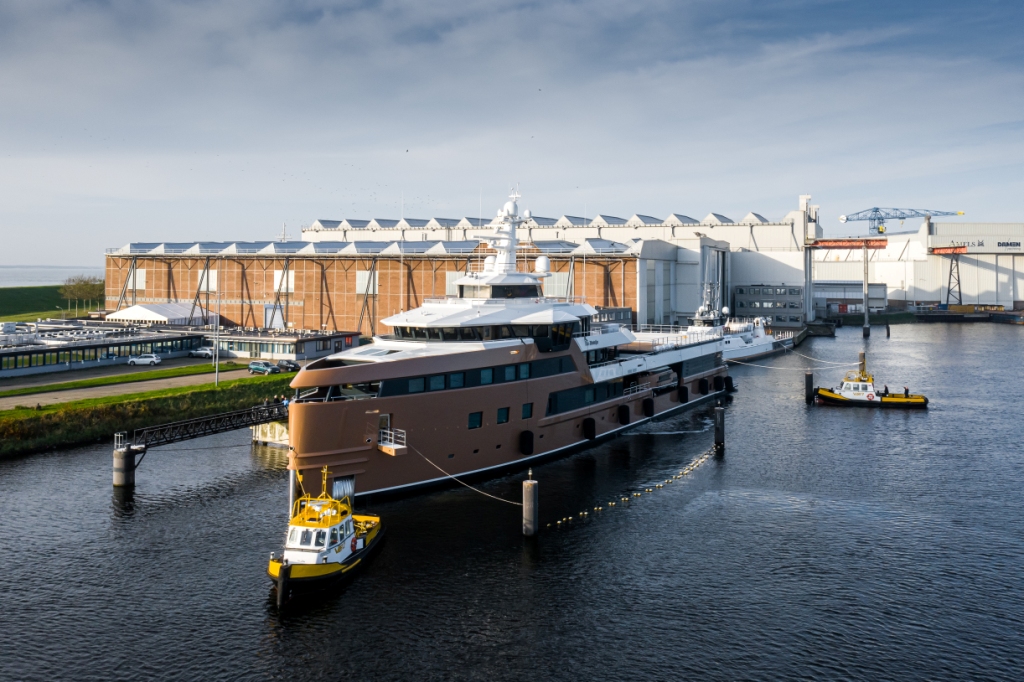 The 77-metre SeaXplorer LA DATCHA has departed the Damen Yachting yard in the Netherlands, ready to take on a charter itinerary like no other. This luxury expedition yacht, part of the LA DATCHA Tinkoff Collection, is set to offer unrivalled global charter opportunities from heli-skiing in Kamchatka to dive adventures off Papua New Guinea and is the first purpose-built Expedition yacht with a fixed itinerary and commercial goal.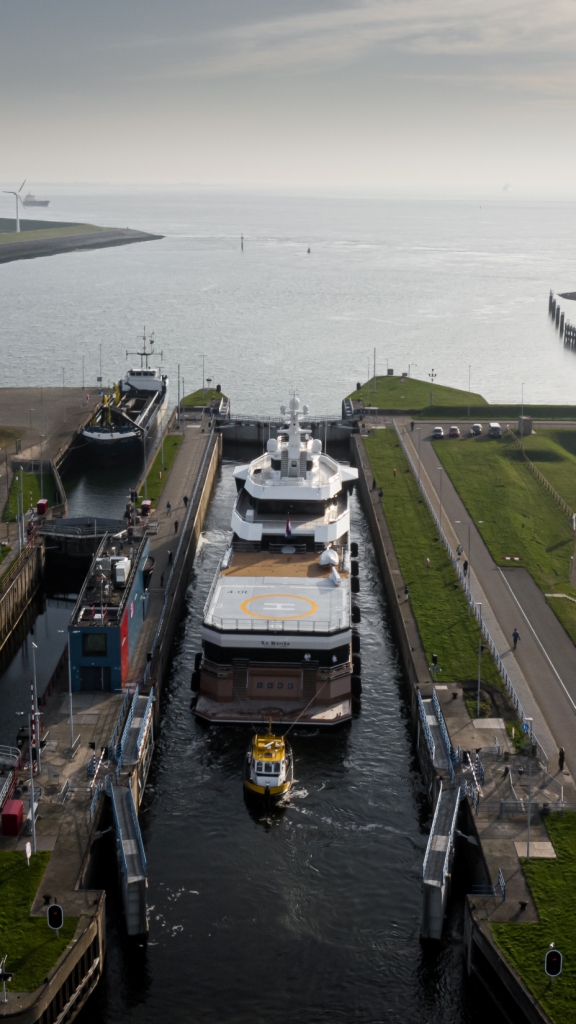 The build of LA DATCHA was managed by Fraser Yachts and overseen by Owner's Representative Stefano Feltrin, Chief Executive Officer of La Datcha – Tinkoff Collection, who has been involved with the project from day one. With LA DATCHA now taking to the seas, Stefano reflects on this milestone. "The owner's team is thrilled to take delivery of LA DATCHA and start her journey which commenced on the drawing board years ago and will continue in the remote and beautiful places on Earth. We are thankful to the whole Damen Yachting family for all these months working together in very challenging times. The great end result represented the LA DATCHA yacht has been achieved thanks to the relentless efforts of many talented people that joined forces to make this happen. We felt at home in The Netherlands and at Damen Yachting's shipyard and are very proud and excited to sail today on such a magnificent yacht."
The Owner's vision behind LA DATCHA has always been very clear – for charter guests to "Set out on the journey of a lifetime to places others can't reach — exclusive adventures to share with friends and family in total comfort, style and safety." The result is the ultimate crossover, combining rugged capability designed for adventure with luxury comfort and style.
With that vision now a reality, Rose Damen, Managing Director Damen Yachting, explains why the delivery of this SeaXplorer 77 is such an iconic moment for the yard. "It is always a very proud moment for everyone who has been involved in the build when a yacht departs our yard. The departure of LA DATCHA is certainly no exception and has definitely been highly anticipated. The interest in her has been phenonomal. She's a real head-turner with a unique proposition and is not afraid to stand out from the crowd."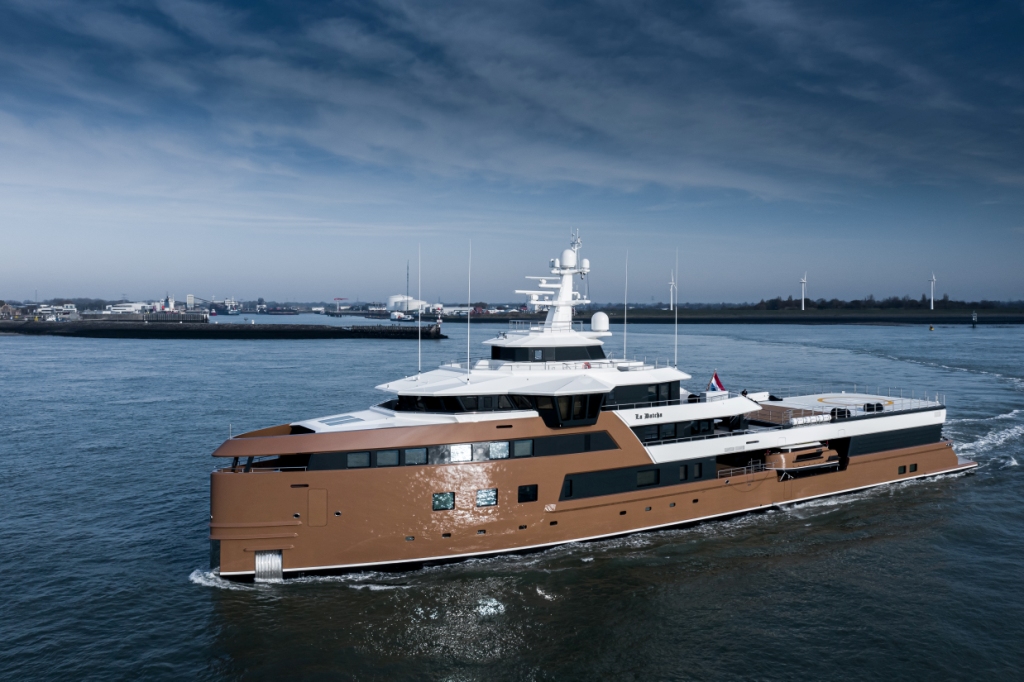 In addition to industry intrigue and interest, there is also achievement for the yard behind this delivery as Rose explains. ''In a year that has challenged us all with COVID, new working measures and travel restrictions, it is incredible to see LA DATCHA head off on the adventures she was built to achieve. That is down to the dedication of everyone involved in this project from our own teams at our yards, to our co-makers and the Owner's teams. We are looking forward to following her adventures as she heads off to explore the world's far-reaching destinations."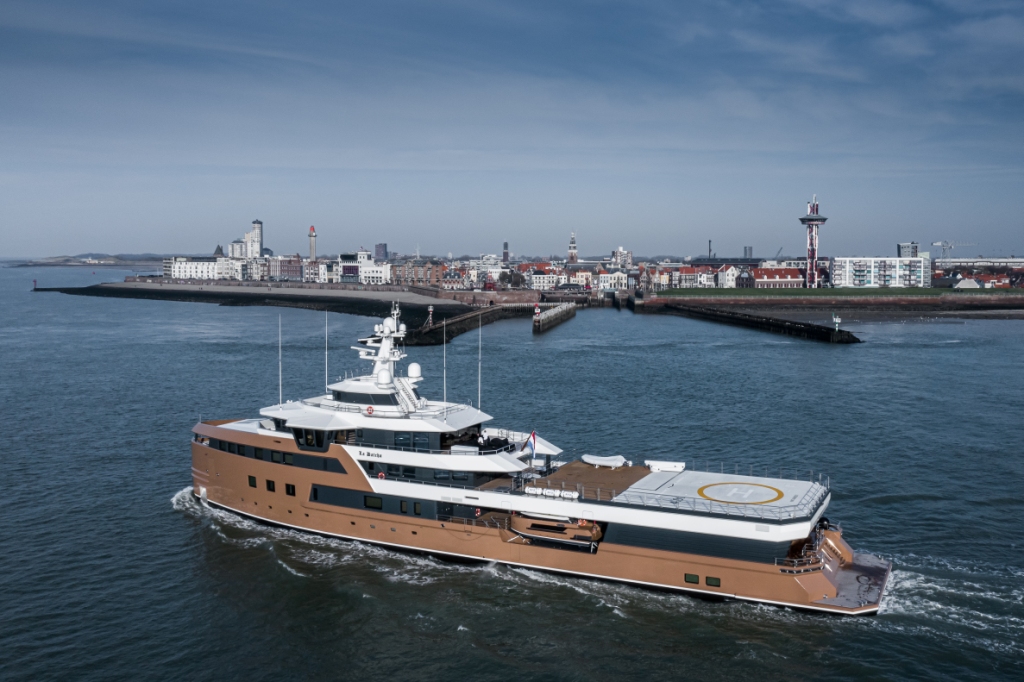 As part of the Tinkoff collection, LA DATCHA will be available for charter. Managed by Edmiston, onboard guests can expect a unique take on charter opportunities, adventure-focussed activities and once-in-a-lifetime experiences. LA DATCHA's range and autonomy provide enormous capability to cruise to more remote areas, some without serious infrastructure or large populations – rugged environments with huge potential for adventure, less people, more wildlife and places where very few yachts have travelled. In contrast to the itinerary characteristics, guests will be treated to the uncompromised comfort of custom superyacht interiors by the Label's interior designer, Vasiliy Shprits, who is behind each of the Tinkoff Collection properties' unique interior style and personality.