[dropcap]W[/dropcap]e met the Shipyard during the Boat Show and they showed us their new project: it deals with the new AMER 94′ with the revolutionary Volvo Penta IPS (Inboard Performance System) propulsion system.
The IPS system offers HIGHER PERFORMANCES and HIGHER EFFICIENCY at equal power, this means lower consumption. Since the significant difference in terms of initial costs, the product is targeted at that Owner who immediately wants to benefit from an easier manoeuvrability and to get a middle-term return on consumptions.
Despite the significant ADVANTAGES some people still ask whether the conventional shaft system is better than the innovative IPS. The question is clearly explained by the shipyard:
"The IPS propulsion system results to be more efficient from speeds around 24 up to 35 knots" – says Barbara Amerio, Co-Owner of Gruppo PerMare." To achieve these speeds in the 3-engine system proposal, we need performing hulls and an accurate study of weights. And Amer Yachts, thanks to its well-known strong know-how, is able to meet all these technical requirements with adequate innovative solutions. Let's take Amer 116 as a successfull case history; it is a 36mt Yacht able to reach speeds up to 27 knots, fitted with twin 1,825 hp Caterpillar C32 engines. Thanks to our consolidated experience and ability in manufacturing fuel-efficient and high-performance yachts, we are sure to get the maximum benefit from the IPS system, so todispel all doubts."
According to the data, IPS means: PERFORMANCE, EMISSIONS (low environmental impact), and ONBOARD COMFORT
Among the remarkable benefits of Volvo Penta IPS:

Lower weight and longer cruising range
IPS propellers
WEIGH LESS
than the conventional engines. In addition, and consequently, the lighter total weight of the vessel contributes to further improve the IPS propellers's high performance. Another benefit derives from the possibility to carry
LOWER FUEL WEIGHT
 to cover the same range or, alternatively, to get longer cruising range by increasing the fuel capacity.
Amer 94', an AD HOC project
Also in terms of
VOLUMES
,
the IPS system offer considerable advantages: IPS propellers involve a lower amount of space in favour of a larger engine room and, consequently, in all interior areas.
For this reason, interiors have been completely renewed and, compared with the previous Amer 92, they are clearly more spacious.
Amer Yachts have also taken this opportunity to re-design the STERN and to re-study a larger GARAGE, that can now accomodate a longer and more comfortable tender.
And it is to meet all these technical requirements that the Permare Shipyard have designed the new Amer 94′, as proof of their seriousness and constant commitment in offering new and INNOVATIVE products in line with the technological development.
Amer 94' is a project developed by Permare – Amer Yachts – in collaboration with the Architect Stefano Tini and Verme Projects.
General Arrangement
[divider style="dashed" top="20″ bottom="20″]
Work in Progress.
Launch scheduled mid Summer 2015.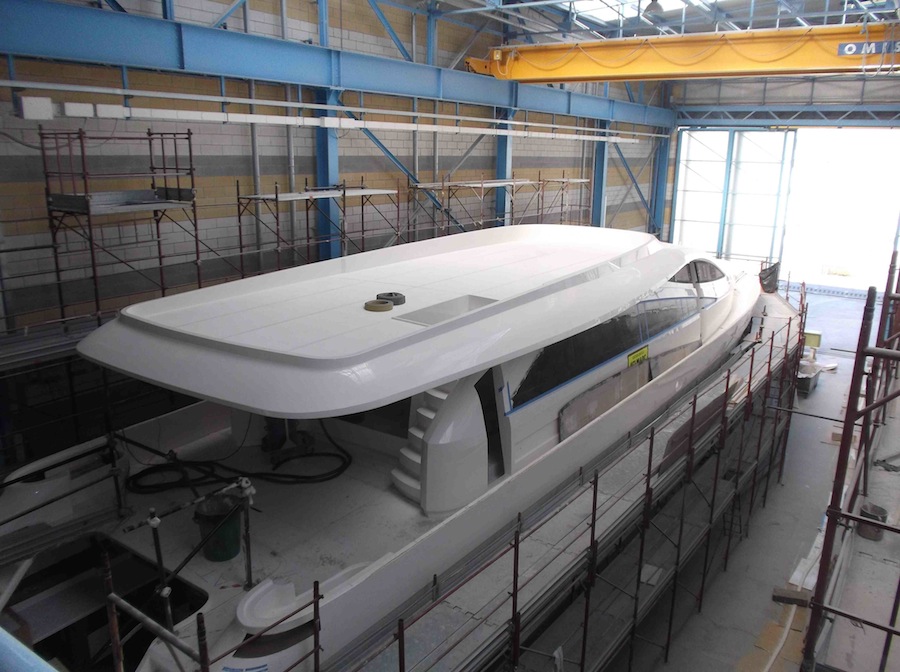 The new Amer 94' will make her debut at the Cannes Yachting Festival 2015 and then will be showcased at the 55th edition of the Genoa International Boat Show, where during sea trials guests will be able to test and appreciate all the innovative characteristics of this new boat concept.
The new Amer 94' is the first planning motoryacht over 90 feet powered by three IPS propellers 1200.
With a first unit already been sold, it is the first Amer to be built with stabilizers by Seakeeper and able to accomodate the innovative Tender Extender (5.20 mt).
[divider style="dashed" top="20″ bottom="20″]