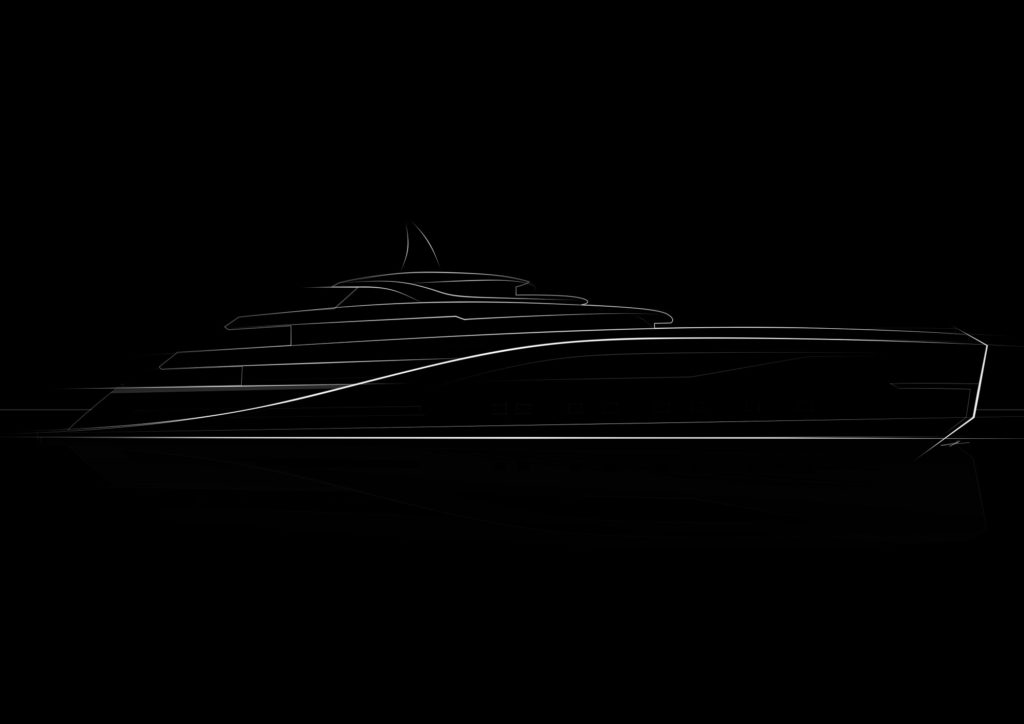 Imperial has announced today the signature of a new exciting, diesel-electric superyacht in collaboration with The Italian Sea Group – Admiral and Sinot Yacht Architecture and Design. With her code name Project BLUE MARLIN, this thrilling 77m vessel is called to be a masterpiece in her range, with a delivery programmed for 2023. Imperial acted as Broker, and will continue as Owner's Representative and Build Supervisor throughout the construction process.
BLUE MARLIN, the next 77-metre superyacht project built at Admiral shipyard, is designed with the intention to find the perfect balance between the elegance of the best nautical tradition and the use of outstanding technologies and materials, with particular attention to eco-sustainability thanks to her innovative diesel/electric propulsion system.
"BLUE MARLIN's distinguished exterior exudes both excitement and refinement. Her look is defined by a prepossessing sheer line, flowing gracefully from bow to stern in a ribbon-like movement. The exterior as a whole emanates a blend of both dynamism and motion, whilst maintaining elegance." says Paul Costerus, Partner at Sinot Yacht Architecture and Design & Lead designer for project BLUE MARLIN on both exterior and interior designs. Key highlights about the project on the exterior side are the abundance of space combined with a distinguished exterior. 6-metre Pool, Spa, Dive area, Gym or a helipad complete this brief overview, which also includes a 6-cabin layout comprising of a Master area on Main deck forward, a VIP suite on Bridge deck next to the full-beam living area, and four Guest cabins on Lower deck.
"With the remarkable reputation of Imperial and Sinot Design we are sure to achieve the best possible results for client's satisfaction" says Giuseppe Taranto, The Italian Sea Group – Admiral Vice Chairman. "We took a very flexible approach as we are convinced that customising a product and the attention to every details is the key to the relationship with an owner. Every yacht that comes out of our yard is an expression of her owner's essential being, character and preferences, something that is able to highlight his personality and we've very proud of that fact."
Julia Stewart, Imperial Director, says about Project BLUE MARLIN: "Ecological consideration and environment impact are now priorities of our clients. Being involved with us with several years now, they understood yachting needs to evolve and a follow a greener attitude. We are proud to improve the trend with the remarkable Project BLUE MARLIN, with Admiral as shipyard and the disruptive Sinot Yacht Architecture and Design teams alongside us to give life to a cutting-edge superyacht of a new generation."