I flood myself with light of the immense
Christian Balzano – Lolli e Memmoli
8th April – 30th October 2015
Lolli e Memmoli Showroom, Milan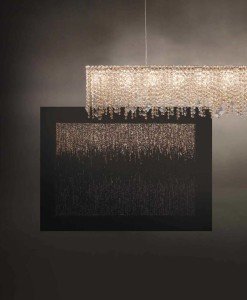 From the 8th of April to the 30th of October the Lolli e Memmoli Showroom in Milan will be hosting the exhibition "I flood myself with light of the immense".
The best known lamps from the Lolli e Memmoli collection will be interacting with the works of the artist Christian Balzano, creating an exhibition itinerary bordering between art and design. For the occasion, Christian Balzano has indeed created a number of large format works that interpret Lolli e Memmoli's lamps through his distinctive artistic language and elements. Amongst them, Ugolino circular, a circular suspension lamp with crystals woven together to form a soft mesh that shields the bulb, and Ugolino system square, a large format chandelier hung from a square frame that carries a weave of thousands of crystals in the various shades of brown labradorite. The exhibition also includes a number of Balzano's earlier works and Lolli e Memmoli colored crystal lamps collection.
Lolli e Memmoli
The Lolli e Memmoli brand, established in Milan in 1993 by architects Ivan Lolli and Mario Memmoli, is known the world over for its hand-made coloured crystal lamps that harmoniously combine geometric rigour, asymmetry and deconstructivism. The two architects have drawn a particular type of illumination, the Bohemian crystal chandelier, from the past to the present, completely changing its substance though without ever abandoning its timeless beauty.
Christian Balzano
Christian Balzano was born in Livorno where he still lives and works. In 2008 he held an exhibition-event in Milan and took part in OPEN XI at Venice Lido. In 2009 he was engaged in an itinerant exhibition in five Argentinean galleries, and in the "Milanogallerie" exhibition at the Milan Triennale. In 2010 at Art Basel, he painted the side of a 500 for Fiat. In 2011 he took part in the "Thai-Italy Art and Cultural Exchange" project in Bangkok. In July he was invited to the 54th International Art Exhibition organised by the Venice Biennale – Italian Pavilion, Tuscany Region, Pecci Gallery. In September he was invited to the 4th edition of the Moscow Contemporary Art Biennial. In May 2012 on invitation by the Italian Institute of Culture he held a personal exhibition at the Italian Embassy in Washington DC. In 2013 he took part in a collective exhibition in New York. In June the same year he was invited to the Costa Rica Pavilion at the 55th Venice Biennial. In July he won the 64th Michetti Prize and in September took part in the collective "Tabula Rasa" at the Museo del Paesaggio a Torre di Mosto, Venice. In October he was invited by the Youngeun Museum of Contemporary Art in Gwangju, Korea, for an artist residency of one month ending with an exhibition.
LOLLI e MEMMOLI SHOWROOM
Via Fratelli Vivarini 7, Milan
Monday to Friday: 10.00 -18.00