During the show Gulf Craft  showcased a diverse line-up and unveiled three new yachts.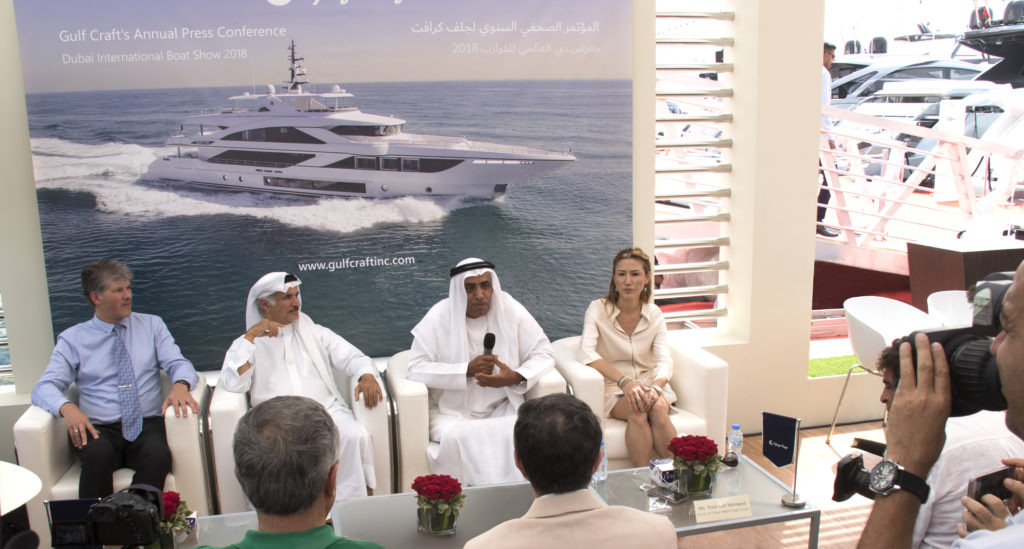 Mohammed Hussain Al Shaali, Chairman of Gulf Craft, said:
"Gulf Craft is proud to be one of the global leading manufacturers of luxury yachts and boats. The company's continued commitment to support the Dubai International Boat Show since it was founded, reflects our leading position in the industry both regionally and internationally. Today the Majesty 140 is a continuation of our three and half decade long commitment to create yachts and boats in accordance with the world's best standards, carrying the 'Made in UAE' flag with pride." He proudly adds, "More than 35 years of experience has helped us reach new shores. We have trusted clients across the globe who are always assured of world-class products that offer never-before ocean experiences. Our revolutionary technologies, wide array of designs, flexible configurations, finest finishes, and above-all complete after sales support have enabled us to establish a strong brand. In fact, our 'Made in UAE' image is now being looked up to as a symbol of quality and true international workmanship".
Yachts premieres:
Majesty 140: an elegant 140-foot superyacht.
The new superyacht features a spacious beachfront deck with balconies on both sides and a main living room finished with the finest Italian wood and leather. The 55 sqm saloon section on the middle floor of the superyacht's upper deck is designed as a private lounge area with a large TV screen for a complete entertainment experience. The tri-deck superyacht features a richly finished owner's stateroom offering charming views of the outside through its glass facades and an elegant terrace, and comes with an en suite featuring a jacuzzi bathtub. The Majesty 140 additionally has 4 guest staterooms that can accommodate up to 10 people. The rooms are finished in premium wood and has the finest Onyx Costa Blanca marble with crystal door handles.
The Majesty 140's main helm station is fitted with the latest in navigation and communications technology. It features a unique window design that is a premiere for Gulf Craft with a distinctive negative inclined front glass making this superyacht stand out from its class. Furthermore, two side docking platforms on either side of the yacht assist the captain during docking. Powered by two MTU engines of 2,600 hp each, the yacht can reach a top speed of 20 knots. The Majesty 140 has boasts a Gross Tonnage of 360 tons.
Majesty 62 finished with stained Eucalyptus as the main veneer, Oak Rhodes for the floorings and leather walls, the new yacht can be distinguished by its large panoramic windows. The main deck has been designed and built to maximize the onboard space, connecting the indoor and outdoor decks together. Propelled by two MAN engines, each with a capacity of 800 hp, the yacht travels at a speed of 26 knots.
Also Touring 48 was unveiled, a fine limousine boat built with luxury yacht materials, can take up to 15 people, while the custom-made ferry version can take up to 42 guests. It is one of the very few passenger boats in the world that feature a stepped hull made of reinforced composites, a typical design for performance boats. The boat is powered by three 350 hp outboard engines, gaining a speed of 37 knots. What also makes this model special is that it is being manufactured by Gulf Craft in two of its facilities, the UAE and the Maldives.