[dropcap]A[/dropcap]ll eyes were on Gulf Craft at the Dubai International Boat Show, where the pioneering Emirates-based shipyard impressed guests with the largest fleet of yachts and boats on display, collectively worth well over AED 300 million and accounting for more than 20% of the total value of leisure craft on exhibit at the show. The industry trailblazer also announced multiple global debuts across its diverse portfolio of seaworthy innovations.
Celebrating 35 years of craftsmanship, Gulf Craft presented [highlight color="yellow"]a stunning collection of 16 luxury yachts[/highlight] and leisure boats, including 6 superyachts and 3 global debuts, signifying the builder's strongest-ever presence at the region's premier leisure marine event.  Gulf Craft's record-breaking participation comes hot on the heels of the shipyard's string of showcases in Europe, including boot Dusseldorf, where the company recently announced its exclusive partnership with globally recognized luxury yacht dealer, Drettmann International. At the Monaco Yacht Show, the builder  announced its plans to venture into the exciting world of megayachts through its two 50m+ projects, the Majesty 175 and Majesty 200.
"Our coral anniversary comes at a very exciting time for the industry, one characterized by an increased worldwide demand for exclusive luxury cruising. In the last 35 years, we have manufactured almost 10,000 yachts and boats, delivered them to clients all around the world, and invested more than AED 500 million in research and development and across our facilities," said Mohammed Hussein Al Shaali, Chairman of Gulf Craft. "Our selection today represents all the different experiences boat owners can have on water, and we will continue to invest heavily in research and development, product innovation, and aftercare solutions to enhance onboard comfort and deliver a seamless ownership experience to our customers."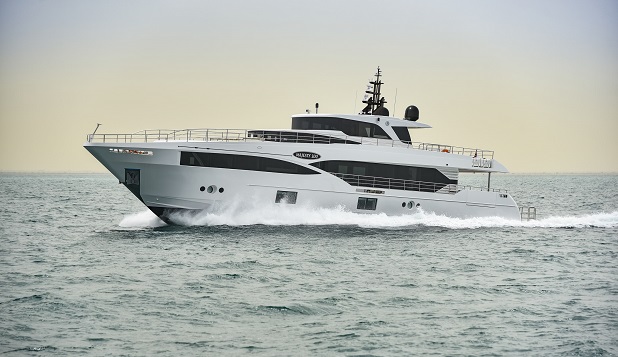 Gulf Craft's most recent masterpiece, the Majesty 100 will make its global debut at the Dubai International Boat Show this year. The Majesty 100 is the first in Gulf Craft's superyacht collection to have a partially enclosed fly-bridge. This unique feature allows guests sitting within its spacious lounge area to enjoy breathtaking views of the vast seascape – as though they are seated in a traditional fly-bridge, but with the added luxury and comfort offered by indoor living. Those looking for some fresh air can simply slide down the glass panels and open the folding doors fully, enabling immediate and seamless access to the outdoors.
With stunning exterior, interior, and naval architecture and design courtesy Gulf Craft's very own in-house Design Studio, the complete layout of the Majesty 100 is based on the principles of maximizing space and stretching the outdoor experience through to the interior. Sweeping floor-to-ceiling windows allow natural light to flow copiously through the superyacht's main deck, and two hydraulic extendable balconies fixed on both ends of the back-seating area offer passengers an effortless al-fresco experience while still having quick and immediate access to the craft's main indoor living and entertainment areas. The superyacht boasts 5 en suite staterooms that can accommodate up to 12 guests for overseas cruising.
Powered by two 1,900 hp MAN engines, the Majesty 100 can travel at a maximum nautical speed of 23 knots. The craft's superior engineering and hull design makes the Majesty 100 a very fuel-efficient superyacht, allowing it to travel even longer distances.