Delivered in 2014 "Grace E" is a notable milestone for Perini Navi Spa as the largest motor yacht to have been delivered to date and the flagship of the Picchiotti motor yacht line. Grace E pushes the envelope of comfort, quality and ecoperformance to a new level in the world of mega yachting. Ideal for cruising on the high seas, Grace E assures efficient and long range navigation. It has exterior spaces spread over five decks and its stunning interiors by Remi Tessier, are an unmatched example of sophisticated and contemporary elegance and a masterpiece in design.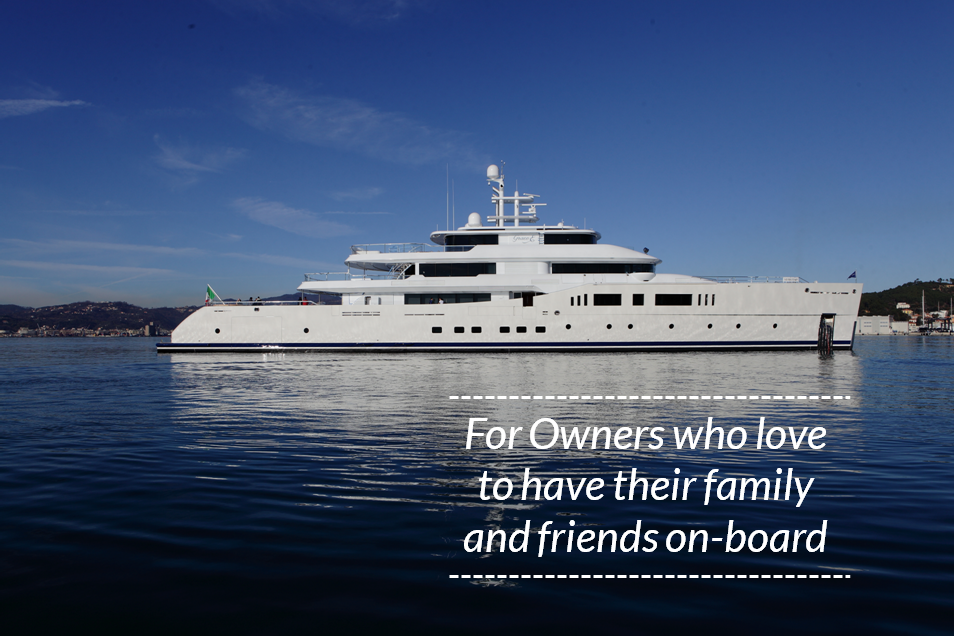 [dropcap]S[/dropcap]he is the Admiral of the Vitruvius fleet. Following on the success of her two predecessors, the 50m Exuma (2010) and the 55m Galileo G (2011), Grace E features the same hull and superstructure design elements that characterize the Picchiotti Vitruvius® series, a combination of luxury, comfort and efficiency, for which naval architect Philippe Briand is recognized and has been rewarded.
Grace E assures efficient and long range navigation, but with unique characteristics as far as the specified propulsion system. With its very well balanced design, the yacht is perfectly stable and very comfortable. The fine water entry and the stretched hull guarantee low consumption. This efficiency makes her the ideal yacht for cruising and exploring the world. With her sleek looks, Grace E promises all who sail on her a unique experience. The perfect yacht for an owner wishing to explore the oceans, she is designed to travel to out of reach places.
Designed by Philippe Briand in conjunction with Picchiotti, this stylish yacht began as a three-deck 53 metre yacht but evolved into a 73 metre yacht with five decks, boasting 1200 m2 of luxurious recreational facilities.
Her superior surroundings are synonymous with a yacht of outstanding caliber. Beautifully designed accommodation for up to 12 guests is provided in seven staterooms, four double cabins and two twin cabins. The Owner accommodation comprises a 92m2 suite, situated on the main deck and featuring extensive bay windows offering fabulous views out to sea.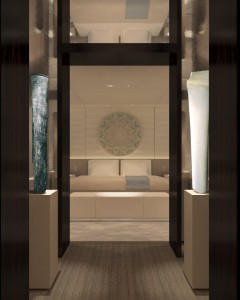 Grace E is the perfect setting for combining socialising with wellbeing. Guests may choose from a large exercise pool, an extensive spa which includes a hammam, gym, steam room, dry sauna and cold plunge pool as well as treatment rooms and plenty of shaded areas for relaxation. The state-of-the-art fitness center is equipped with, with cardiovascular machines, weight machines and a kinesis machine.
Timeless and elegant seating feature throughout living areas to create a refined atmosphere that is comfortable without compromising on style. Designed by Rémi Tessier, Grace E's sumptuous interior incorporates rich furnishings and a subtle colour scheme to accentuate the yacht's aura of peace, tranquility and elegance.
Grace E features an advanced new generation diesel-electric propulsion system with two Azipod fixed pitch propellers, by ABB. The system allows for major achievements in fuel and power consumption, long range, efficiency and remarkable noise & vibration reduction relative to traditional propulsion units. When cruising at 16 knots, no sound may be heard as the use of azipods enables the yacht to move very quietly through the water. The dynamic positioning system allows the yacht to drift above the seabed rather than dropping a heavy and potentially damaging anchor. Grace E also features reduced co2 emissions due to the optimised hull. The hull has been thoroughly tested and the reduced consumption has been confirmed during sea trials. She boasts 15% lower fuel consumption than other yachts of this magnitude and consumes just 23l per Nm (or 283l per hour) at 12knots.
Philippe Briand's hull optimises water pressure distribution and offers a stretched waterline, whilst the yacht's range of autonomy of 7,500 Nautical Miles is more than enough to cross both the Mediterranean and Atlantic. All energy for propulsion and hotel needs is provided by the vessel's eight generators which have been scaled to run at an optimal output rate of 80%.
Grace E is also equipped with a variety of four tenders – and related toys and garage spaces – for the exploration of the surrounding environment.
A sensory experience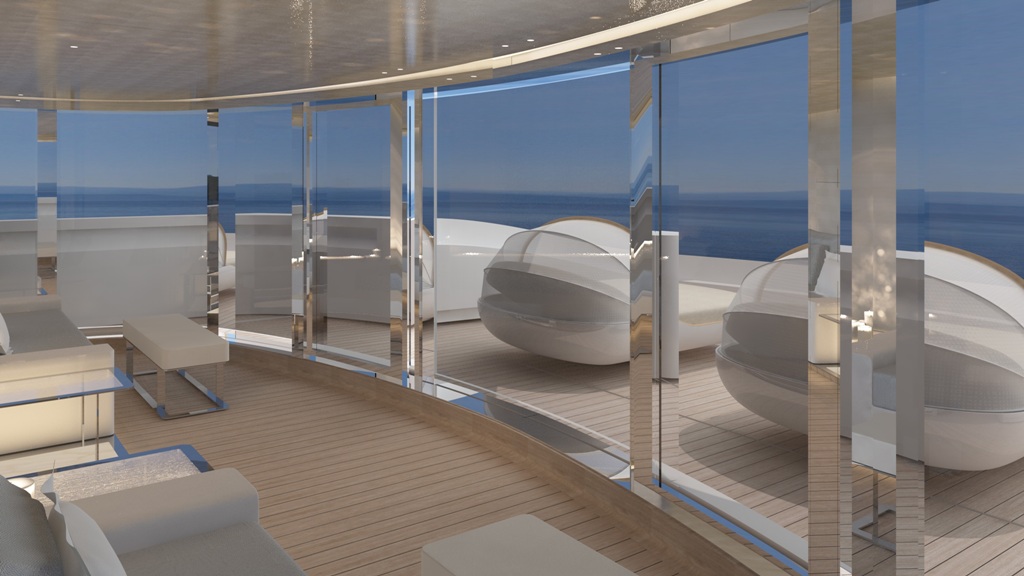 Grace E's naval architecture and styling was conceived by Philippe Briand under his Vitruvius design concept. A visionary and highly successful racing sailboat designer Briand was able to deliver a hull with uncompromised efficiency for a vessel of her size by utilizing a maximum waterline length, a low drag underwater hull shape and a powerful and highly economical diesel/electric power plant. The result is a highly refined yet beautiful yacht that is as capable crossing the South Seas in comfort as entertaining guests in Monaco.
Anyone who walks her decks while underway will readily agree that Grace E sets a new paradigm in terms of a sensory experience aboard a large motor yacht. She is utterly silent and motion free to the extent you do not realize she has left the dock unless you happen to look outside. The experience continues as you explore inside the yacht and the spaces envelope you with a sense of "Wellness", both physically and emotionally.
The design reference for "Grace E" was to create a yacht that is in harmony with the elements both in form and function. It is readily apparent that Grace E has met and surpassed this test at every level.
The Concept in detail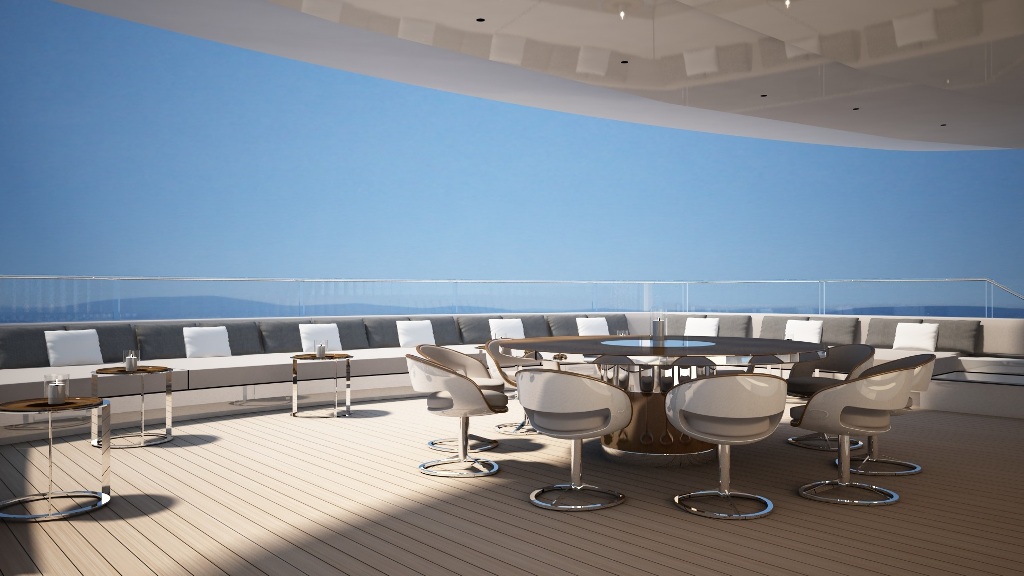 The interior of Grace E is highly refined by interior designer Remi Tessier with the masterful use of material selection, surface treatment and lighting. The owners had a clear design brief calling for a contemporary yet warm, casually chic interior. Natural lighting, artistic use light wood grains, and finishes of leather, parchment, onyx, stainless steel and high gloss ebony are the palette Remi draws from. The highly sensual interior design and assiduous use space create a layout that is extremely functional yet supremely elegant.
• The owners cabin on the main deck is a grand suite comprised of a total of 90 sq m. It is finished with sandblasted and bleached Sycamore panels "polished as if the wind, sand and sea had produced their texture". The floors are bleached Wenge and silk carpet. Overheads are a matt finished Palladium leaf pattern and Sycamore panels.
• The 12/14 guests are accommodated in 6 additional staterooms. There are two VIP guest cabins on the main deck, 2 king size staterooms and 2 twin berth (with Pullman) staterooms on the lower deck which can convert to VIP suites through connecting doors. The interior décor is carried throughout the vessel through the use of highly polished ebony window trim framing the natural panoramic seascapes accented by handmade white leather Venetian sun shades.
• Wellness deck – with over 238 sq m of interior and exterior space completely dedicated to wellness and spa activities including a 4 person Jacuzzi, massage room, beauty parlor, exercise arcade, steam bath and Hydrotherapy room with sauna, cold water plunge and jet bath. In addition there is a forward facing observatory lounge overlooking the bow to relax when done at the spa. From the Remi Tessier design collection are four swiveling sun beds with integrated retractable hoods, two forward of the observation lounge and two aft adjacent to the Jacuzzi.
There is also a variable speed endless pool situated on the main deck aft with two larger sun pods.
• Upper deck – There is over 170 sq m of open space evenly divided between an inside saloon and outside deck lounge. The two areas communicate through a massive 8m sliding glass door essentially creating one large open air lounge. Highlighting the space is a Carrara marble top signature Sushi bar, a huge U-shaped settee, two drop down entertainment display screens, outside dining table, 2 card tables and wraparound sun settee aft.
• Aft Cockpit – A feature made popular on board the Perini Navi sailing yachts, the aft cockpit on Grace E allows for relaxation in a slightly recessed and therefore protected lounging area adjacent to the aft deck with bar and informal dining. Owners and guests are exposed to wide open exterior spaces with unencumbered panoramic views of the surroundings.
Her graceful interiors
Grace E has been conceived for Owners who love to have their family and friends on-board. They wanted to have a casual chic and contemporary interior, light but warm and comfortable with the views and natural light being very important to them. The architectural interior construction concept of her walls and ceilings is composed of the same panelling element of light wood in juxtaposition – sometimes horizontally, sometimes vertically.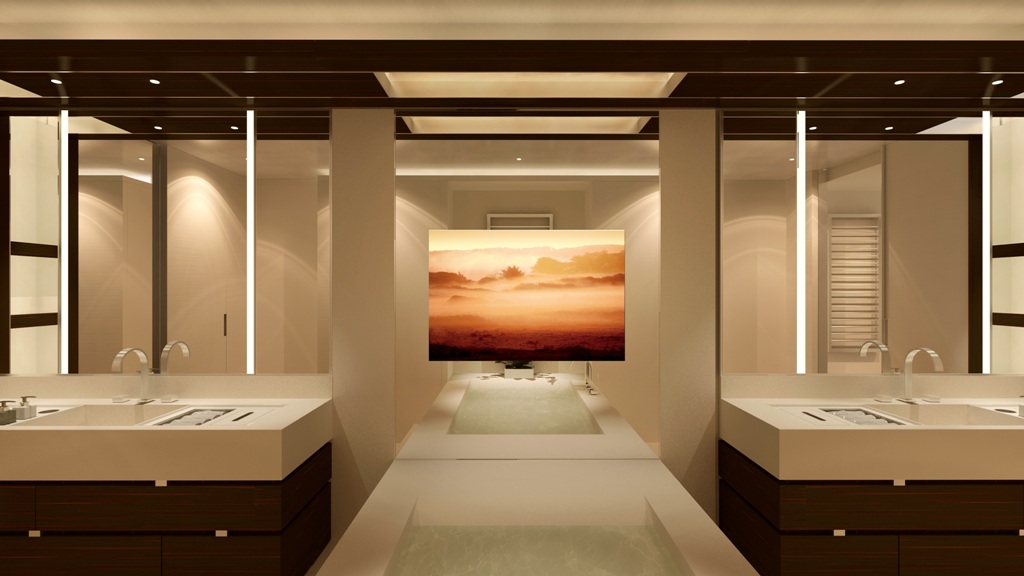 The thick panels of Sycamore are worked on, sandblasted, bleached and then polished as if the wind, the salt, the sea, the sand and the sun had produced their texture, giving them a sensual touch. The panels are placed in such way that some which are mobile can seamlessly slide apart to separate rooms in a natural way. Polished stainless steel architectural elements used on doors architraves and cabinets bring lightness thanks to their reflection and the purity of their lines adds strength to the picture.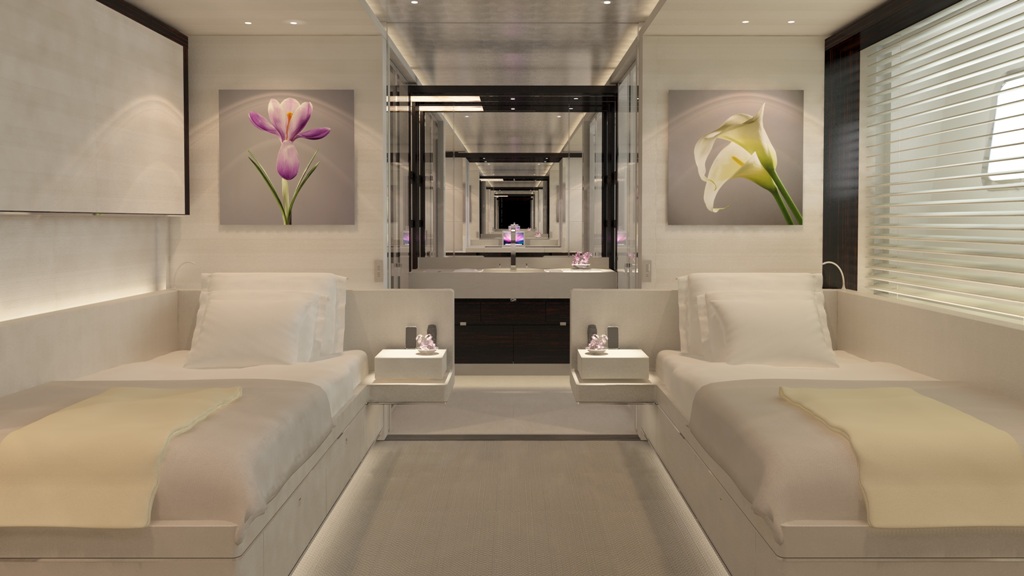 The floor consists of a bleached Wenge parquet with a contrasting and completely natural look. The central parts of her ceilings are laid with precious matt Palladium leaves which softly reflect light in the room as effectively by night as by day. Natural light enters through the large natural openings which allow a generous penetration of light into the room and provide panoramic views. These openings are surrounded by Ebony high gloss varnished frames which appear like those on a painting of a beautiful seascape – but this one is real life. They are protected from sunlight by large and long hand-made white leather venetian blinds which add a fresh touch to the look.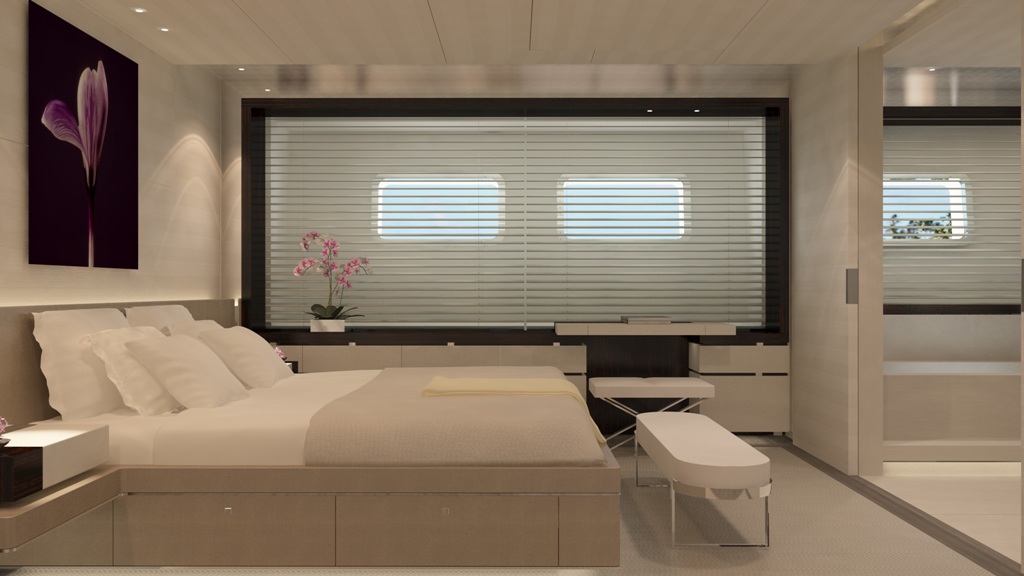 Below these frames lie an assembly of various cubes sheathed in Parchment which hold bespoke glassware and crockery. The entire range of indoor furniture on-board is from the custom-made "Rémi Tessier design" collection and comes in leather, linen, Ebony and stainless steel for seating and back-lit Onyx, stainless steel, Graphite and Shagreen for tables. The pastel patchwork carpets complete the geometrical spirit of the design.
Selective handmade embroidery work in unique designs brings a discreet but attractive touch.
The spectacular appearance of the atrium is achieved with a composition of a circular tower lined in hand woven wavy Gold threads laminated in a curved glass which encloses the lift capsule around which winds the staircase of soft woven leather steps.
The result seems as though the sun has illuminated the heart of the boat.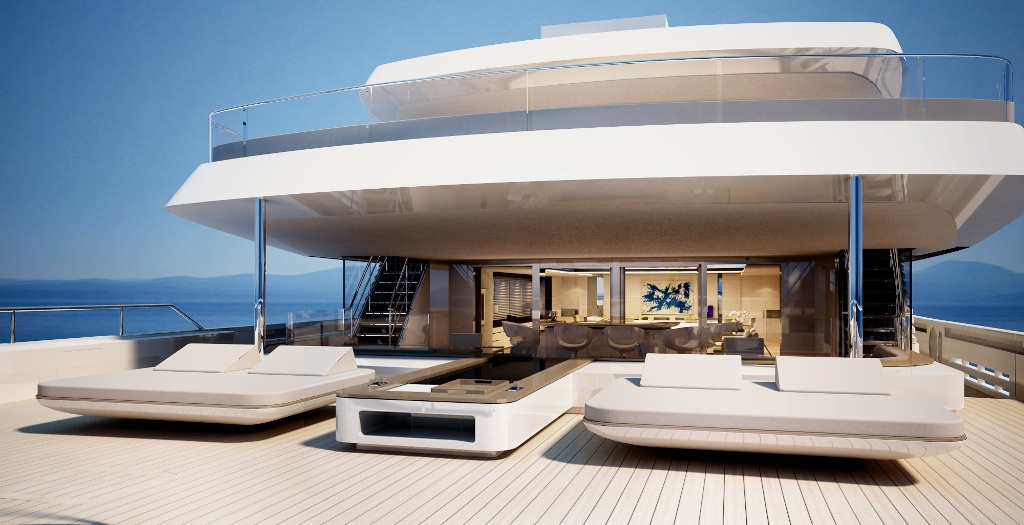 Communication between exterior and interior spaces has been given priority in the two saloons with large openings to the exterior decks. The arrangement of the exterior decks was given special attention particularly for the development of custom made furniture with unique characteristics such as the up and down folding tables with "L" shaped built in sofas around them on the aft main deck or the circular tables with multiple extensions allowing for seating positions for 10 to 16 people on the upper deck with a huge lounge bed all around.
All the exterior furniture is also fully custom and part of the Rémi Tessier design collection, including the Shell chairs and armchairs, the director chairs as well as the very exclusive sun-beds and lounge-beds which rotate at 360 degrees and have integrated canopies. The top deck has been entirely dedicated to wellness with a fitness room, massage room, steam room, beauty room, plunge pool and sauna.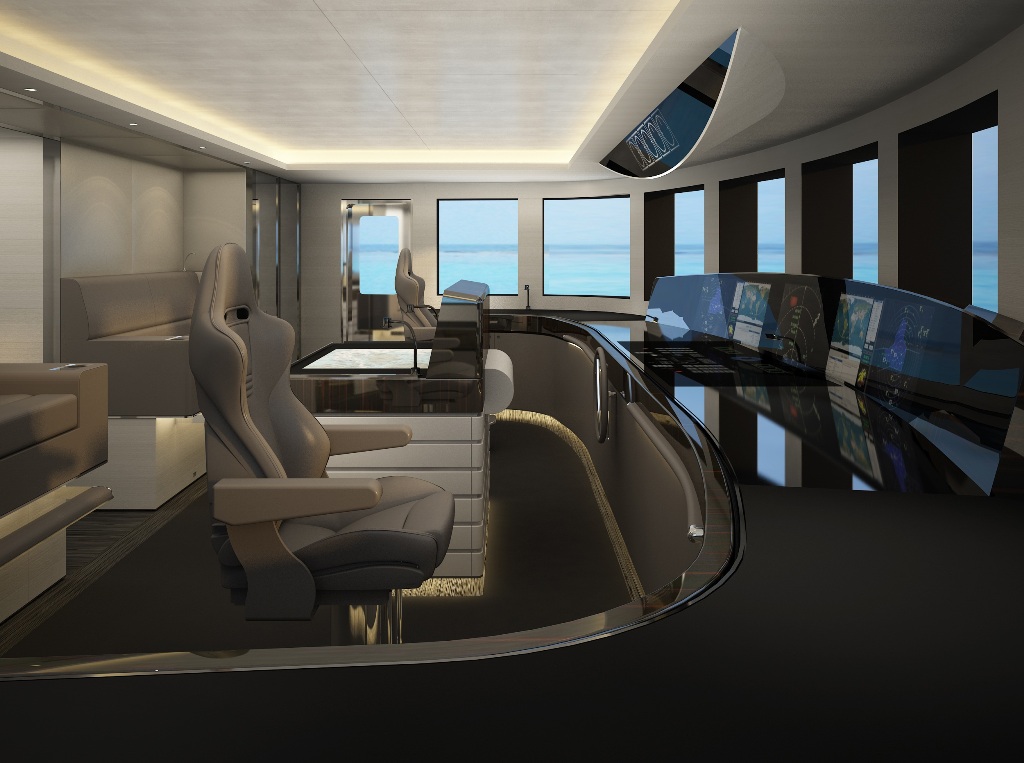 The wheelhouse interior is inspired by the "Rolls-Royce" spirit with integrated instruments and sliding high-tech system.
The harmony of this palette of natural and sophisticated materials with pure timeless lines produces a relaxing ambiance and allows the Owners' collection of contemporary Art, especially selected for the yacht to fully express itself and reflect the refined taste of the Owners.
On cruise
At 1876 gross tons Grace E offers 10-20% more interior volume than many other vessels of her same overall length due to her generous 13.3m beam, plumb bow, long waterline length and full underwater hull shape. Her steel hull with aluminum superstructure displaces 1740 tons.
With a range in excess of 7800nm at 12 kts she cruises economically at between 10-15kts with a top displacement speed of 17.5kts. This means she can cruise for months before needing to refuel her 188,000 liter fuel tanks.
Powered by up to four Caterpillar C32, and two C18, high speed generators her diesel electric power plant is capable of providing over 4400kw of power. Through the use of sophisticated automated power management systems exactly enough electric power is generated to satisfy the vessels requirements at any moment in time. Thus Grace E's generators can always operate within the optimally efficient load range regardless of speed or hotel requirements.
The Caterpillar generators power a pair of ABB propulsion Azipods. The twin Azipods provide 1600 kw of thrust each and are a highly efficient and maneuverable propeller system which has multiple benefits:
• When coupled with her dynamic positioning system the Azipods allow Grace E to remain in a "fixed" position on the surface without having to deploy bottom dragging anchors in sensitive underwater environments, or when the bottom is too deep. This system has proven itself to be highly accurate in up to 35 kts of wind during seatrials.
• Azipods are fully rotating in a 360 degree turning arc which mean there is no need for rudders or stern thrusters.
• The Azipod units are forward facing which means they pull the vessel through the water much like an airplane propeller pulls a plane through the air. This allows the blades to grab clean undisturbed water which further increases efficiency.
• Because there are no shafts or struts to create drag or transmit vibration Grace E is essentially completely free from engine vibration or shaft rumble regardless of her speed. A vibration analysis recorded results aboard Grace E roughly one third of the allowable limit and noise analysis also well under the allowable limits at only 46 dB in the owners cabin, and 47 dB in the main saloon underway at 17.5kts.
Other examples of Grace E's commitment to being extremely eco friendly are her onboard systems to reduce emissions and waste. By utilizing a comprehensive disposal plan it is possible for Grace E to remain completely isolated from shoreside disposal facilities for weeks at a time.
• All used glass is cleaned and crushed to the consistency of sand and disposed of appropriately
• All used plastic is cleaned and shredded to be compacted and sent to recycling
• Trash is separated, compacted and stored in a dedicated refrigerated space
• Food waste is collected in a food waste system
• Grey water is processed and recycled
• Generator exhaust is scrubbed through catalytic converters
The importance of operating effectively
Unlike many large motoryachts today which are more akin to commercial vessels, "Grace E" is built to fine yacht standards. This yacht level of detail and execution is evident throughout the vessel and becomes quite obvious in the some of the technical spaces through the use of custom teak, stainless and carbon fiber accessories. Hand rails for swimming ladders, carbon fiber crew sea stairs, teak treads on vertical access ladders and leather and brass covered tender chocks which are among the multitude of yacht details one will see throughout Grace E if notice is taken.
In order to service the owners and guests properly Picchiotti and her owners knew from experience that the 22 crew must be given the tools and spaces to operate effectively and collectively over long periods of time. This was achieved through thoughtful design with feedback from the owner's representatives and crew.
• Crew gym – It was a priority to give the crew a separate fully functioning gym in the crew area to provide for exercise and personal conditioning when off duty. The owners felt it important to extend the "Wellness" theme of Grace E to the crew as well.
• Crew Elevator – For efficient and safe transport of food, gear and personnel throughout Grace E a second service elevator was provided in addition to a full series of crew ladders servicing each level of the interior.
• Victualling hatch– A sideport hatch with overhead crane was added at the waterline directly into the galley service area of the yacht for the efficient replenishment of supplies and removal of waste via tender without having to use weather decks and aft boarding platforms.
• Crew lounge – in addition to living and working spaces there is over 70 sq m of space allocated for the crew to relax and dine in comfort and privacy away from active working areas of the yacht.
Toys and Support Systems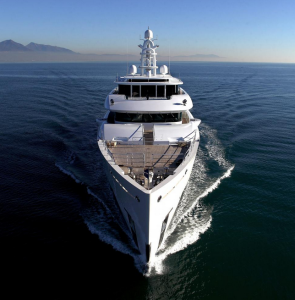 Grace E is capable of traveling anywhere in the world and as such she is equipped with a well conceived array of toys and support systems to allow her cruise with maximum creature comfort and minimum environmental impact. She carries 4 tenders, all stowed under deck in tender bays for protection and the ability to maintain them while underway. They are customized and purposefully built for their specific roles in support of the owners and crew.
• 9.5m Cockwells limousine tender with twin Hamilton jets
• 7m Yachtwerft Meyer limousine jet tender
• 5m Yachtwerft Meyer rescue/crew jet tender
• 3.5 Avon jet tender for owners personal enjoyment
Further Grace E carries assorted water toys which are deployed from a huge 113 sq m aft garage/beach club through side shell doors. The beach club is easily accessed by owners and guests from the aft cockpit. The toy inventory includes: • 4 SeaDoo wave runners • 6 Sea Kayaks • 2 paddleboards • Full dive equipment • 2 Sea Bobs • 4 bicycles • Multiple towable boards and floating
[divider style="dashed" top="20″ bottom="20″]