[dropcap]T[/dropcap]he 73m Picchiotti branded motor yacht created by the Perini Navi Group, was awarded with 4 Neptunes at the Showboats Design Awards 2015.
The jury of design and yachting experts has awarded Grace E with no less than 4 prizes that celebrate her design and construction:
The Environmental Protection Award
The Exterior Design & Styling Award in the Motor Yacht over 500GT range
The Interior Design Award in the Motor Yacht over 500GT range
The Naval Architecture Award in the Displacement Motor Yacht range
These awards recognize Grace E's unique combination of stunning interiors – designed by Remi Tessier – and the distinctive lines – born from Vitruvius Ltd and Philippe Briand. The perfect execution of the details and the finishing of the construction by the Picchiotti craftsman under the direction of the Perini Navi Group harmonised the design and technical contents of this stunning vessel.
Following on the success of her two predecessors, the pluri-awarded 50m Exuma and the 55m Galileo G, Grace E features the same hull and superstructure design elements that characterize the Picchiotti Vitruvius® series and assure efficient and long range navigation with her unique propulsion characteristics.
Grace E features an advanced new generation diesel-electric propulsion system with two Azipod fixed pitch propellers, by ABB. The system allows for major achievements in fuel and power consumption, long range, efficiency and remarkable noise & vibration reduction.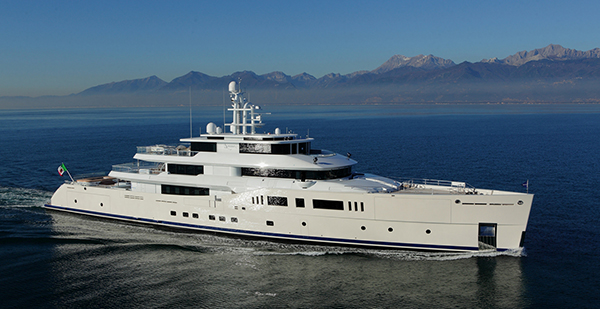 The Showboats Design Awards come after the Baccarat Trophy for Interiors awarded by the Monaco Yacht Show on the occasion of her public debut. Moreover Grace E is finalist in the Boat International World Superyacht Awards 2015 edition that will take place in Amsterdam in May.
[divider style="dotted" top="20″ bottom="20″]
Vitruvius Yachts, London-based yacht design company, is a subsidiary of Philippe Briand Ltd.
[dropcap]S[/dropcap]ince her launch in September 2014  she has been noted throughout the industry for her good looks, innovative cutting edge design and her glorious interiors. The owners wanted a true holistic approach to the design : Silence is indeed golden.
As well as her beauty, Grace E is recognised for her efficiency.  The Vitruvius hull is designed to be robust and streamlined giving her a long range with minimal impact on the environment.
[divider style="dotted" top="20″ bottom="20″]