GENEVA AT THE HEART OF TIME
The Origin of Swiss Watchmaking Culture
Exhibition Unveiled at Capital Museum of China
Today, the "Geneva at the Heart of Time – The Origin of Swiss Watchmaking Culture" exhibition organized by Capital Museum, China in collaboration with Museum of Art and History, Geneva and Vacheron Constantin has been officially opened in Capital Museum, China. In the context of the 65th anniversary of bilateral relations between Switzerland and People's Republic of China, it is the first ever Swiss horological exhibition in Capital Museum.
With about 350 exhibits including antiques clocks, pocket watches and wristwatches, as well as watchmaking tools and equipment on display, the exhibition displays the history and excellence of Swiss watchmaking and offers a unique view into the fine watchmaking history in Geneva, the cradle of fine watchmaking for more than three centuries, with a focus on its technical aspects and craftsmanship excellence. The exhibition will open to public from April 24th to August 12th, 2015, on a complimentary basis.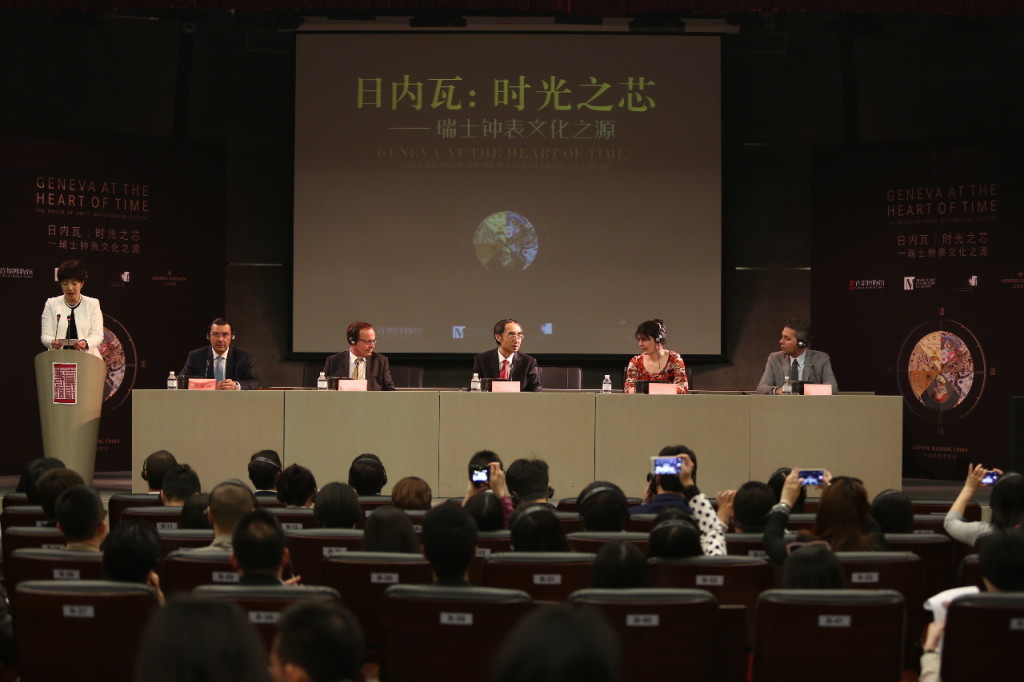 More than 200 watches and enamel exhibits of Museum of Art and History, Geneva are exquisite and precious, for example, "Les Frères Huault", Geneva (Switzerland), enamelers; Fromanteel, watchmaker, London (England), Gilt brass and enamel pocket watch, ca. 1680 and Rochat Frères, Cage with three singing birds and striking watch, Geneva (Switzerland), ca. 1814. The Manufacture Vacheron Constantin also exhibits about 80 exclusive pieces from its heritage collection, including the first-known pocket watch created by Jean-Marc Vacheron, founder of Vacheron Constantin, and an exquisite skeleton pocket watch presented at the National Exhibition of Zurich in 1939. In addition, Vacheron Constantin shows some precious tools and equipment.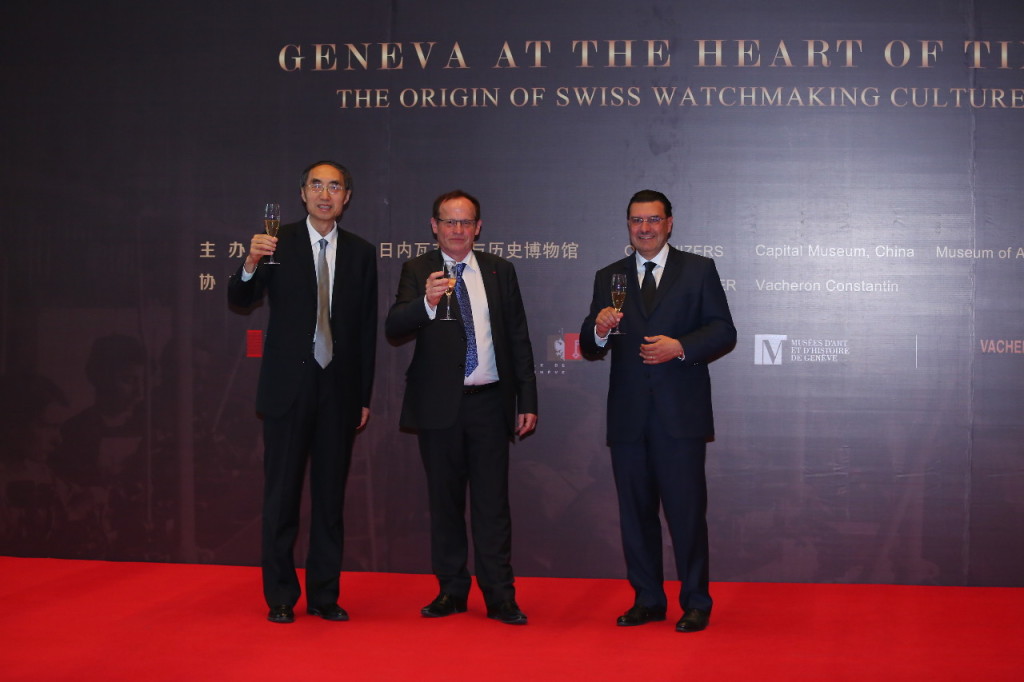 The exhibition also showcases a reconstructed 18th Century Geneva cabinotiers workshop, based on a painting by Christophe François von Ziegler on display at Museum of Art & History, Geneva.
In addition to the exhibition of heritage pieces, craftsmen from Geneva, including Master Watchmaker, Master Enameller, Master Gemsetter, Master Engraver, and Master Guillocheur demonstrate, in dedicated spaces in the exhibition, their age-old, yet state-of-the-art techniques from April 23rd to May 3rd, May 28th to June 3rd, and July 9th to July 15th, 2015.
Inside "Geneva at the Heart of Time – The Origin of Swiss Watchmaking Culture" exhibition
(Left) The reconstructed 18th Century Geneva cabinotiers workshop, based on a painting by Christophe François von Ziegler
(Center) Master Watchmaker from Geneva demonstrating his age-old, yet state-of-the-art technique
(Right) Master Enameller from Geneva demonstrating his age-old, yet state-of-the-art technique
[divider style="dashed" top="20″ bottom="20″]
www.capitalmuseum.org.cn   |   Geneva Museum of Art and History   |   www.vacheron-constantin.com