WHAT'S NEW AT THE FORT LAUDERDALE INT. BOAT SHOW? | The Fort Lauderdale International Boat Show (FLIBS), with its ever expanding fleet of superyachts, sport fishing vessels, go-fast boats, submersibles, and everything in between, will open its doors on Wednesday 30th October, celebrating its 60th anniversary.
Generating a substantial annual statewide economic impact of $857 million, FLIBS features nearly $4 billion in product with show sales exceeding $508 million. Located in the "Yachting Capital of the World" and recognized as the pinnacle of all nautical exhibitions, this year's show will feature over 1,500 boats and 1,200 exhibitors, with more than 110,000 visitors from around the world expected to attend. With three million square-feet of exhibit space, FLIBS spans seven waterfront locations, including the Bahia Mar Yachting Center, Hall of Fame Marina, Las Olas Municipal Marina, Hilton Fort Lauderdale Marina, Pier Sixty-Six Marina, Pier Sixty-Six South, and the Greater Fort Lauderdale/Broward County Convention Center, all connected by an intricate network of water and ground transportation services.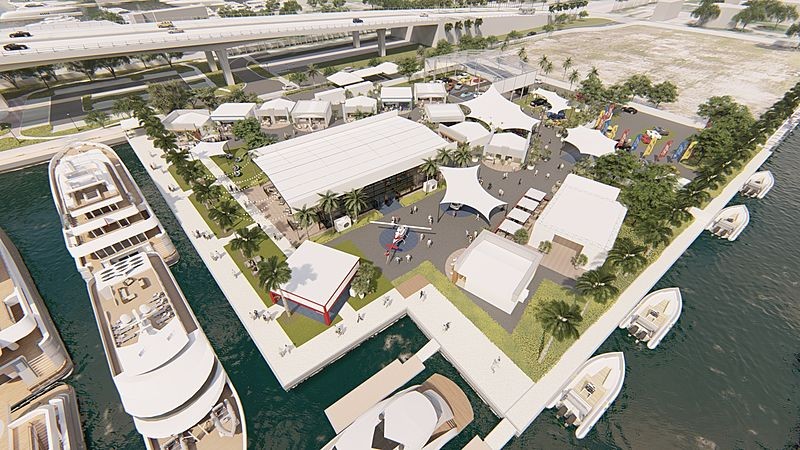 Here's what's new at this year's Fort Lauderdale International Boat Show: commemorating 60 years, FLIBS is set to unveil the new Superyacht Village, an enclave for superyachts and superyacht enthusiasts featuring the most spectacular yachts in the show. With a new dedicated marina and on-land exhibition space spanning 3.5 acres, Superyacht Village can accommodate yachts measuring up to 400 feet and will feature exhibits by renowned shipyards and yacht toys, including helicopters, personal submarines, exotic and collectible automotive, and other luxury items to showcase the superyacht lifestyle.
With six pre-existing locations, this year's show will debut a seventh site located at Pier Sixty-Six Hotel & Marina's new "Pier South" property. Adding to the magnitude of the show, the new location will expand the exhibition space to a total of 3 million square feet, all connected by an intricate network of water and ground transportation services. The new "Pier South" property will host this year's Superyacht Village.
"The growing number of large yachts exhibiting at the show continues to attract affluent buyers and superyacht charter clients," said Andrew Doole, president of Informa U.S. Boat Shows. "Thanks to a large investment by Informa and Tavistock, we are able to create a new, unique destination for the superyacht community within this extraordinary boat show directly across from Port Everglades. We are excited to expand our partnership with Pier Sixty-Six as they embark on an exciting future to revitalize the iconic waterfront venue that has been part of the boat show history since its inception."
The Windward VIP Club – presented by Delta Private Jets in partnership with Ulysse Nardin, will have a spectacular new in-water location anchored in the heart of the show on the main dock at Bahia Mar. Providing a unique setting to enjoy the excitement of this international boating spectacular, the new in-water VIP experience will feature an arched tent with outdoor terraces for shore and water views as well as a luxury premium open bar and gourmet food offerings and a Cigar Lounge presented by Delta Private Jets. A luxurious place to network and lounge, the Windward VIP Club provides exclusive experiences, including a variety of wine tastings, the show's signature Gosling's Rum Dark & Stormy Island Bar, and intimate events by Delta Private Jets and Ulysse Nardin.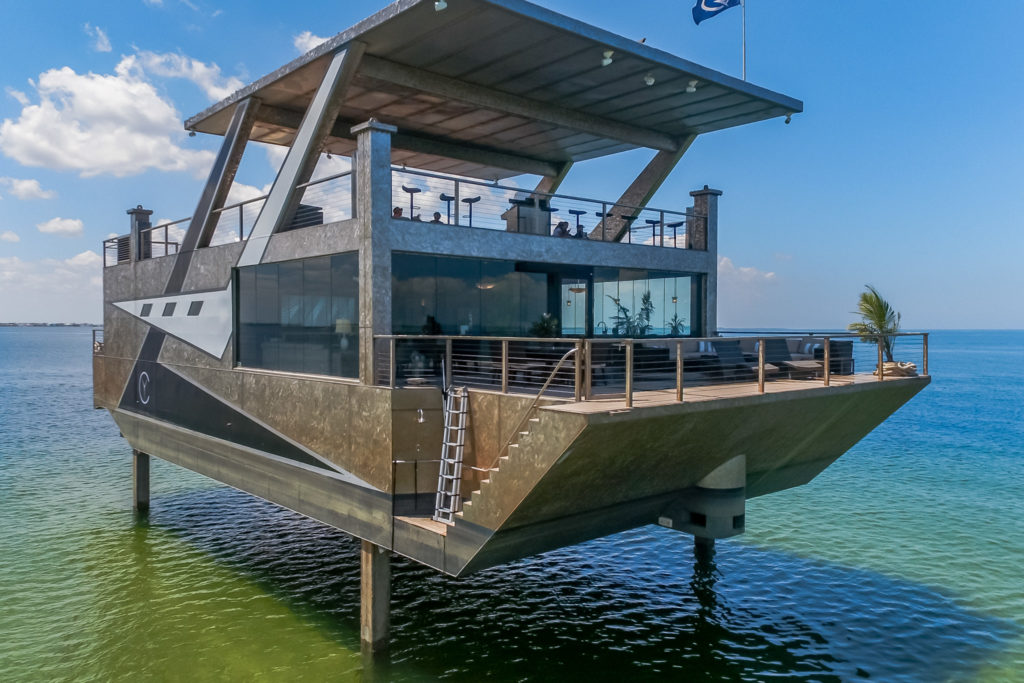 Mansion Yacht, the first yacht made entirely of stainless steel with spectacular indoor and outdoor decks that soar high above the entire show, will be docked behind the Windward VIP Club for exclusive guests to enjoy. Measuring 84 feet in length and 40 feet across, the Mansion Yacht is not only unique in sight, but also in build; the mega yacht has four 18-foot hydraulic legs with a lifting capacity of a million pounds each, which allows the yacht to stand up in the water (up to 15 feet in the air in three feet of water). Encompassing 9,000 square feet overall, the mansion yacht features a 20ft elevated 2,300 square-foot furnished deck for breathtaking panoramic water views. Tours and events at the Mansion Yacht are by invitation only.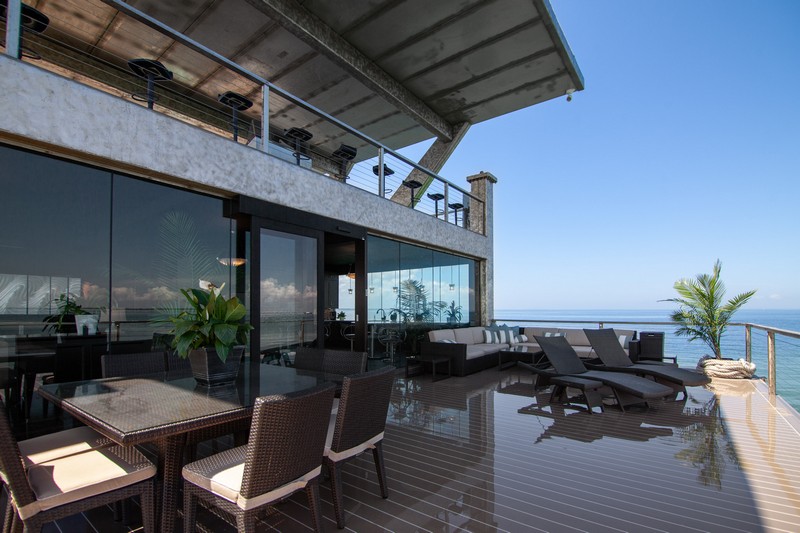 The flagship | Measuring 311 feet, Madsummer, launched by Lürssen, is the largest and newest megayacht, celebrating her world debut at the Fort Lauderdale International Boat Show. Built in 2019, the megayacht can house up to 20 guests across 10 staterooms. From her beautiful sweeping exterior curves penned by Harrison Eidsgaard to her colorful and personality-filled interior by Studio Laura Sessa, Madsummer is a bold, joyous expression of her owner's love of yachting. Stand out features include a main-deck 12-meter swimming pool, a large spa and diving area, and upper-deck skylight and fireplace.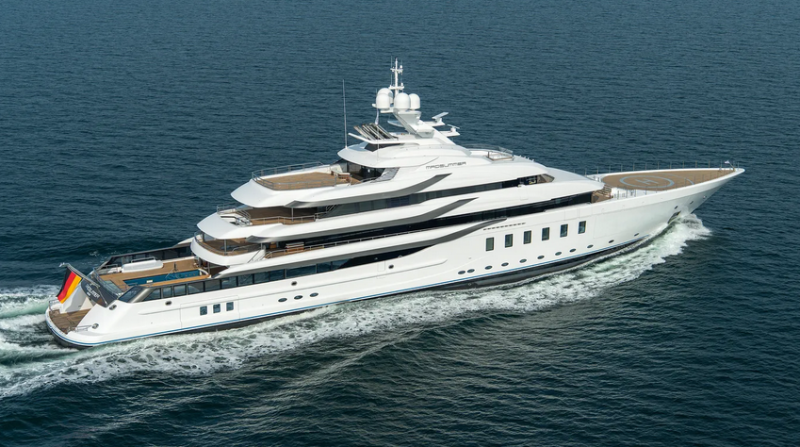 The Sunset Soiree, Second Annual Best Yacht Chef Competition will take place on Friday, Nov. 1 at 7:00pm. The yacht chef showdown, held in the new Superyacht Village, will be sizzling with excitement. Competing for the Best Yacht Chef title, some of the world's leading yacht chefs will battle it out in this gastronomic competition.
[divider style="solid" top="20″ bottom="20″]
Azimut Grande 30 M – Elegant exterior lines and personality-filled design combined with cutting edge technology for an exquisite Italian style that celebrates the collection's distinguished heritage. The layout includes 4 VIP cabins with private baths (as well as an additional day head). Together with the owner suite it sleeps 10. The four-member crew has three cabins and two baths to the bow, with independent access to the kitchen located on the main deck. Another special feature of the new Azimut Grande is definitely the exterior spaces: the flybridge is incredibly spacious, while the roomy exterior dinette is designed to encourage socializing among the guests. For Azimut Grande owners, the journey aboard their own masterpiece begins with the special services devoted exclusively to them: exceptional facilities and a dedicated and receptive team are at the ready to provide assistance.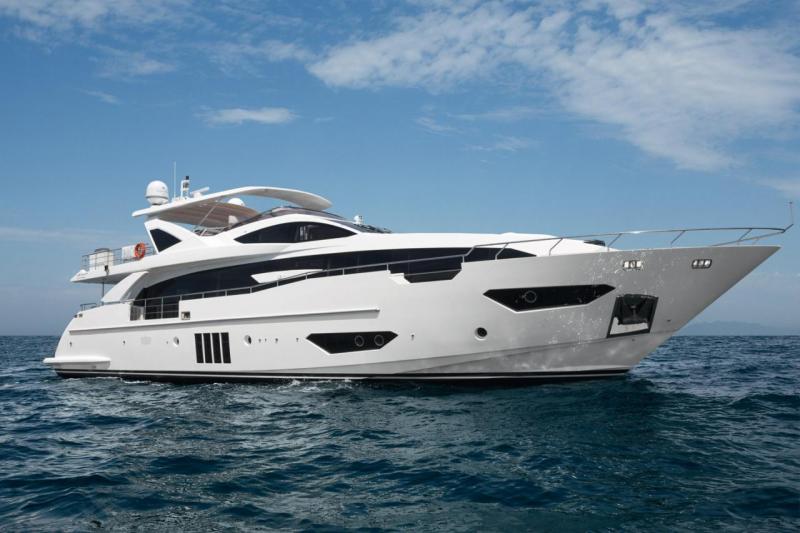 Extra 86 Fast – This 26-metre yacht can accommodate up to 8 people in 4 cabins, including 2 with single beds, 1 VIP placed towards the bow and 1 full-beam owner cabin (6.6 meters), all with en-suite bathrooms. The layout of the living area includes the galley situated aft, providing direct communication with the outdoor dining area through a large and bright window operated by an automatic up/down system. This modern and innovative solution allows to have a full-beam living room forward, housing large sofas and an extendable table, for a contemporary and refined design. The sizeable seamless windows generate the feeling of being inside a large crystal dome and provide floods of light and unparalleled panoramic views to the elegant interior living. The cockpit is spread over three levels sloping towards the water. While at the bow a large sundeck and a comfortable sofa create a fourth relaxation area. The access to the crew area at bow connects also to two cabins, 3 beds, and their respective bathrooms. The fly deck offers a second wheelhouse, a full-beam sunbathing area and a bar reserved to the living area with a C-shaped sofa. The "Fast" version is capable of reaching a maximum speed of over 30 knots thanks to the innovative, simple and extremely quiet IPS 1350 propulsion consisting of 3 Volvo Penta 735kw engines.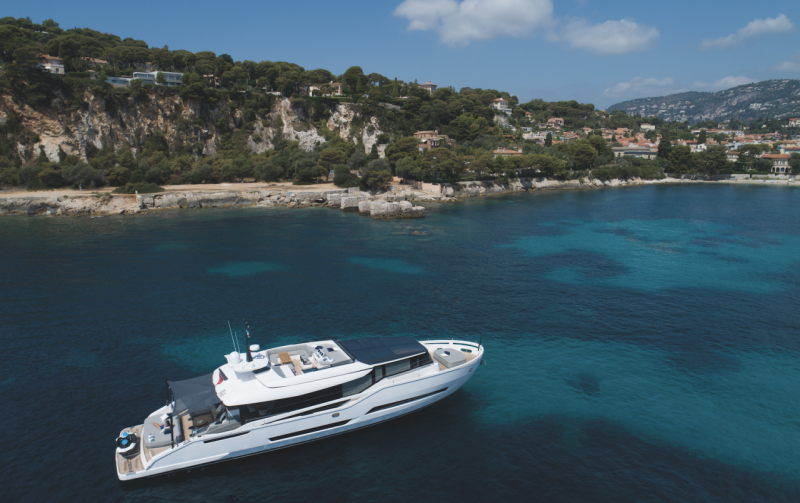 Heesen M/Y Vida – Thanks to her progressive 55-metre FDHF hull and two MTU 8V4000 M63 diesel engines, Vida offers frugal fuel consumption coupled with an efficient underwater profile that enables a remarkable 4,500 nautical mile range at her cruising speed of 13 knots. She combines magnificent comfort in all sea conditions with optimised efficiency across the entire speed spectrum. With a volume of 740 gross tons, this 55 metre steel motor yacht couples space, speed and fuel consumption like no other yacht in her class.
Vida's interior is truly stunning. The owner appointed B Design to create a décor that reflects his lifestyle and taste. Twelve guests are accommodated in five spacious staterooms on the lower deck, while the 80-square-metre owner's apartment is located forward on the main deck. The outdoor areas are equally stunning and offer Vida's guests plenty of entertainment space.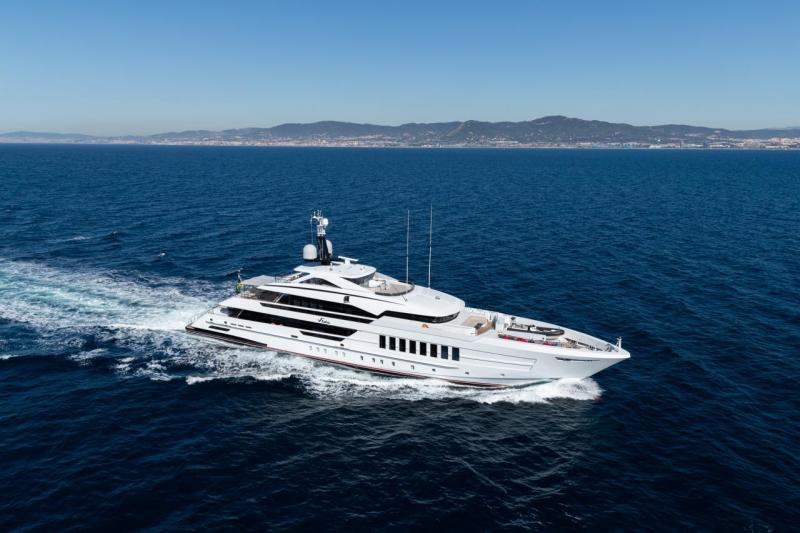 Majesty 140 – The newly unveiled Majesty 140 is an elegant 140-foot superyacht that offers unrivaled luxury. Its extensive glass side windows allow plenty of sunlight inside and give the guests stunning panoramic views of the seascape around. The luxurious tri-deck Super-Yacht features six staterooms with the option to increase up to seven. Extensive glass side windows fill the interior areas with sunlight, while offering guests stunning panoramic views of the seascape. Three levels of outside entertaining areas, including a 180 square foot Sky Lounge, with a forth waterside Beach Club are available to owners and guests. Outside views from the Main Salon have been maximised through the use of large panoramic windows. The open-plan Salon on the main deck includes L-shaped wrap around seating and a dining area for up to ten guests.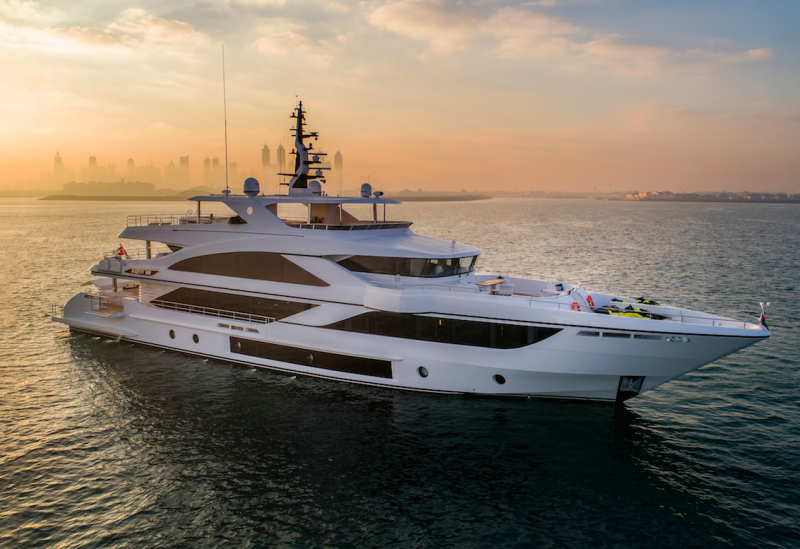 MCY 76 – The third yacht of the announced next generation MCY line (including MCY 66 and MCY 70.) has been presented this summer at Porto Piccolo, in the Gulf of Trieste, Italy. At the FLIBS 2019 this model will make its American debut.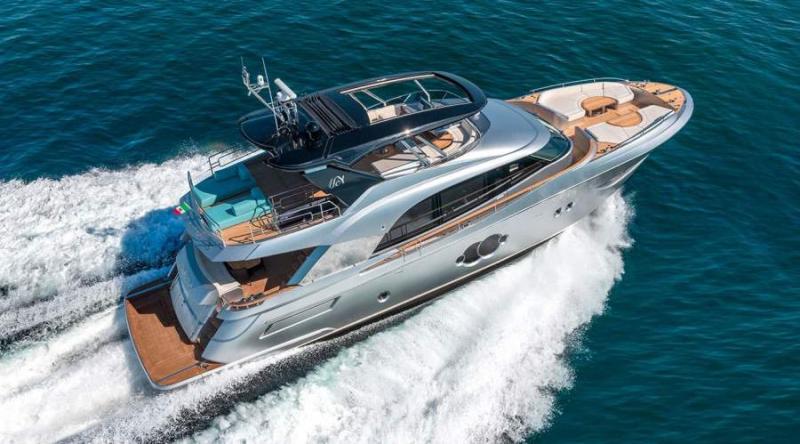 The Palm Beach 70 is the company's stunning new flagship model that was born from customer demand, building on the success of the iconic PB65. Featuring the same sleek flowing lines expected of a Palm Beach but with even more space, the PB70 is an incredible long-range cruiser and the ideal entertainer. Jump on board to experience what we think is the best performing 70′ monohull ever created, with superior handling and next-level performance. With quality craftsmanship, deluxe furnishings and innovative technology, our goal was to produce a best-in-class comfortable ocean-going cruiser that is equal parts welcoming, efficient and powerful, and has all the timeless appeal you associate with a Palm Beach Motor Yacht.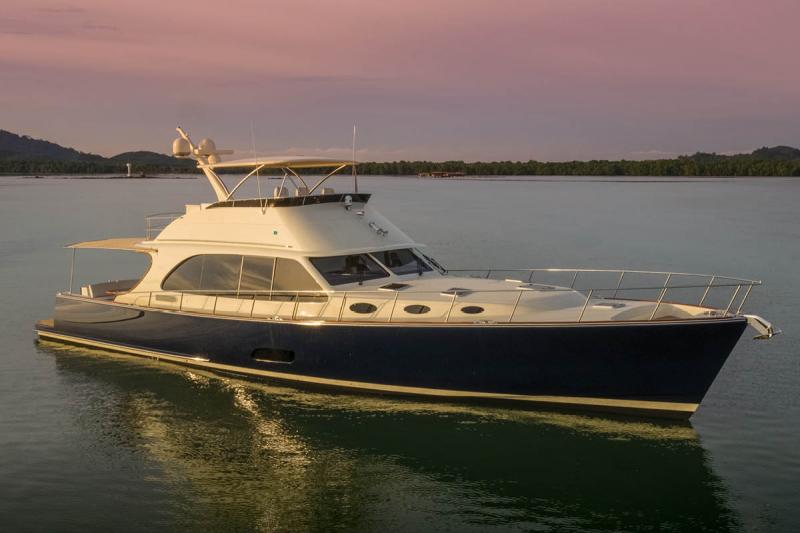 Riva 110′ Dolcevita – The era-defining flybridge Majestic like the work of art she is, as scintillating as the most magical epoch in modern history, 110′ Dolcevita is Riva's new fibreglass flagship, the latest masterpiece to grace the revamped flybridge fleet. The fruit of a collaboration between Officina Italiana Design and the Ferretti Group Engineering department, this nautical marvel is a flybridge of boundless beauty. She is a great creation in every sense – for her breathtaking visual impact, for her peerless blend of aesthetics, amenity and high technology, and for the elite cruising experience she bestows.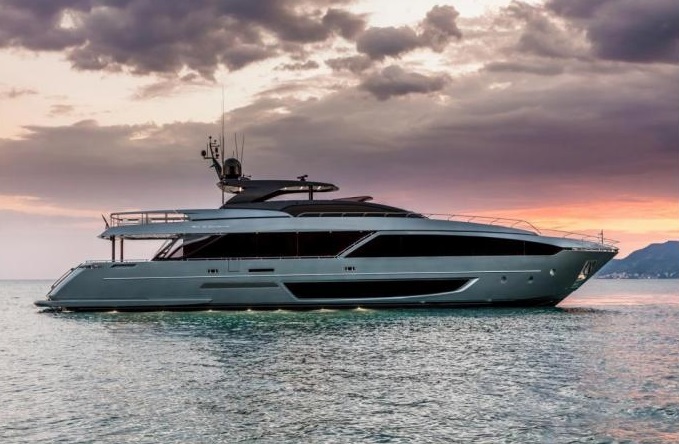 Sanlorenzo SX76 – A happy and intelligence synthesis between the classic motor yacht with flying bridge and recent and growing Explorer model, the SX76 incorporates the total family feeling of the SX line, keeping all thestyle features of the SX88.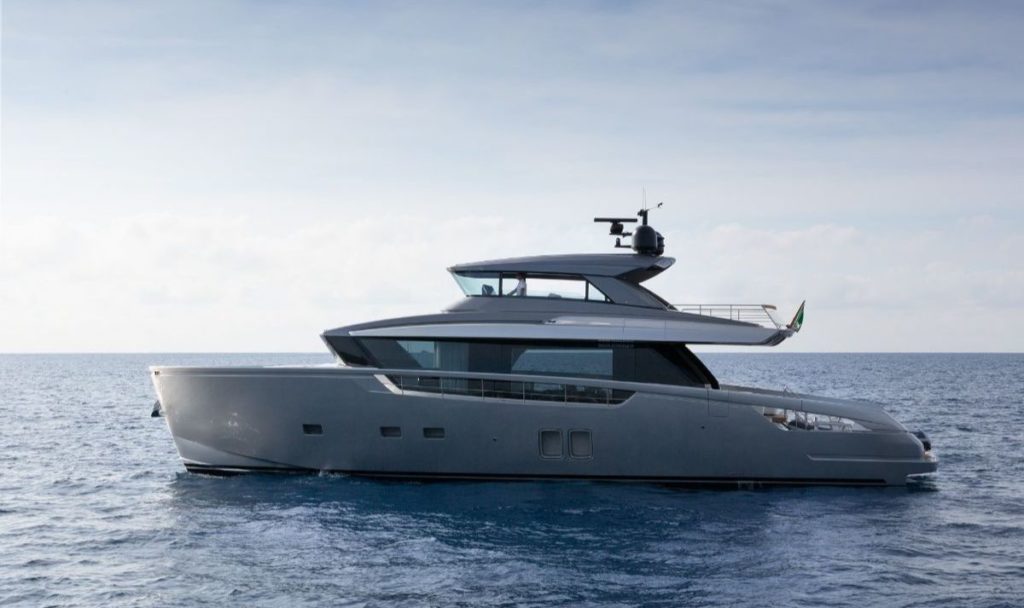 Wally Tender 48 – vant-garde design and thrilling performance that have made Wallytender a modern classic, with innovative new features.Fold-down bulwark sections, large interior volume with a true cabin and a real shower cubicle, galley unit on deck, plenty of storage aft and forward, retractable passarelle doubling as a 5-step swim ladder, special anchoring system operated at the touch of a button from the helm station, optional gyroscopic stabiliser.Propulsion package of two new Volvo IPS 650 engines (totalling 960 Hp) with user-friendly joystick controls for a top speed of 38 knots.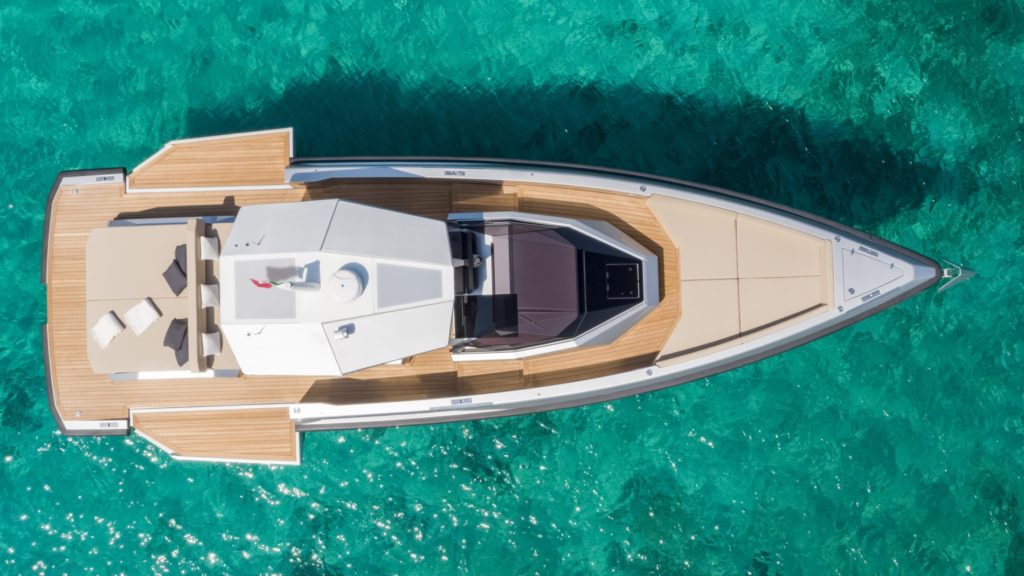 Zeelander 72 – The Z72 is an evolution of timeless design. Spacious and fast the yacht is a blend is a blend of form and function. Able to reach a top speed of 40 knots, this yacht majestically soars through the seas in supreme comfort and with a 680-nautical-mile range she is able to travel great distances. Her blend of interior and outdoor living spaces is phenomenal, she is an ideal yacht for those seek on water tranquility and the ability to entertain.