Ferretti Group took part last week in the 6th edition of the China Rendez Vous, one of the most important luxury goods event of all Asia, on the tropical island of Hainan, one of the main luxury destinations in the greater China region.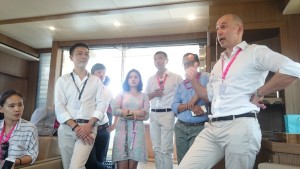 The Group, with a selection of the most prestigious yachts in its fleet, showcased two China Premieres, the Custom Line 100' and Ferretti Yachts 650, both sold and built for their Chinese Owners, plus Altura 840 "Tai He Ban", Ferretti Yachts 690 and Ferretti Yachts 530.
The China Rendez Vous, organized and founded by Visun Group, one of the most important real estate groups, has become a real must for the leading world operators in the luxury sector. At the show the Group exhibited its fleet with the support of its exclusive local dealer Speedo Marine.
From 3 rd to 6th December 2015, the Group will participate in the first edition of "So!Hainan", which will be held in the newly opened ClearWaterBay Marina. Soon after, from 4 th to 6th December, Ferretti Group will also take part in the familiar and traditional Hong Kong International Boat Show at Marina Cove, where some of the Group's best-sellers will be displayed: Ferretti Yachts 870 "Tai He Ban", Navetta 28 from Custom Line brand, Pershing 82 and the Aquariva Super (33') from the iconic Riva brand.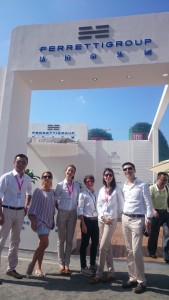 "These three boat shows are precious opportunities to present in this strategic area of Asia Pacific the Group's latest works of art created for the sea" – stated Stefano de Vivo, Ferretti Group Chief Commercial Officer. "The three fleets on display are definitely the best examples of outstanding production skills combined with an unrivalled quality of craftsmanship details and guaranteed by the entirely Made-in-Italy processing and production process, that has always distinguished all the Group's yachts."
[divider style="dashed" top="20″ bottom="20″]
www.ferrettigroup.com