[dropcap]E[/dropcap]ntry is restricted to VIP visitors only. It is the exclusive art gallery organized at the 2017 Dubai Int. Boat Show with the aim of introducing a special presentation of exquisite art, sculptures and one-off pieces from illustrious artists around the world. The gallery is connected to the Superyacht Lounge in the Marina Display aiming to attract VIP visitors and high profile art enthusiasts to view and purchase the collection.
Meet the 8 celebrated artists from UK, Russia, Czech Republic and the Middle East.
Najat Makki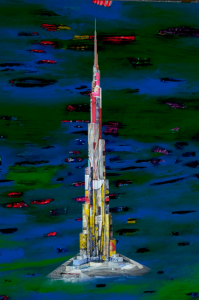 Najat Makki is the most renowned and multi-award winning female artist in the United Arab Emirates. Because of her ongoing significant contributions to regional and international art activities, she has gained success and recognition both within and outside the Arab world.  Born in Dubai, she chose to pursue the arts at a young age and in 1977, was the first woman to earn a government scholarship to study art abroad.  Makki went on to the College of Fine Arts in Cairo where she obtained her Bachelor's and Master's degrees in Relief Sculptures and Metal and in 2001, received her PhD in Philosophy of Art.
As an artist, Makki has been known to focus on the woman as a figure and symbol, using natural items such as henna, saffron and bark to create her works.  Recently, Makki's art has begun to take on a more abstract character as she continues to distinguish herself from her peers. Despite having received awards and presented exhibitions around the world, she continues to work in Dubai and encourage local youths to follow their artistic aspirations. Her artworks are often present in international auctions and her work attracts art collectors as well as museums and distinguished art houses.
[divider style="dashed" top="20″ bottom="20″]
Jan Frydrych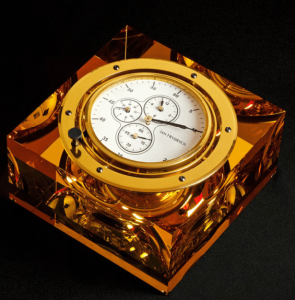 Jan Frydrych's first designs of artistic objects were created under the influence of the history of Czech glass. In the late seventies he started to use optical glass which opened up new possibilities for him. This material required a different technical approach, which is why he combined traditional techniques of cold grinding with techniques of handling optical glass for technical purposes.
Despite all the possibilities offered by hi-tech, it is his belief that the design and realization of his creations items from himself alone, from the work of his hands and the use of simple materials – pencil, paper, wooden models, his own imagination and some improved mechanical equipment over 200 years old.
[divider style="dashed" top="20″ bottom="20″]
Jaroslav Prošek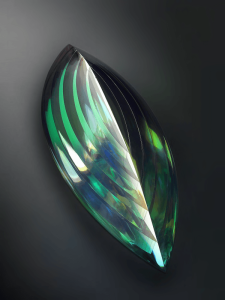 Jaroslav Prošek's constant experimentation with the possibilities of materials such as optical glass, crystal glass, stainless steel, marble or wood and his fine re-conception of the form and structure has put him at the forefront of contemporary art and design in Czech Republic.
Since his professional career as an artist began in 2010, Jaroslav Prosek has created  a number of extraordinary art projects which have excited and inspired people round the globe. Based in Czech Republic, Jaroslav's practice involves the complex creation of sculptures.
[divider style="dashed" top="20″ bottom="20″]
Naiel Mulla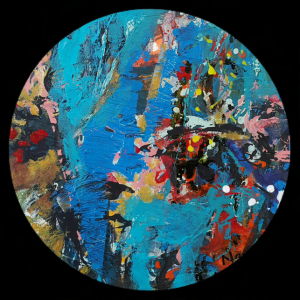 The Saudi fine artist Naiel Mulla, participated in more than fifty collective exhibitions, competitions and painting events since 1982. also, he participated in a number of international exhibitions organized by the Kingdom of Saudi Arabia in Egypt, Spain, Italy, Romania, Czech Republic, USA, Tunisia, Lebanon, France, Bangladesh, UAE, Kuwait, Qatar, Oman and Bahrain.
He won numerous awards and certificates of merit and encouragement from the General Presidency for Youth Welfare, and Saudi Arabia's Culture and Fine Arts Society.
[divider style="dashed" top="20″ bottom="20″]
Vlastimil Beránek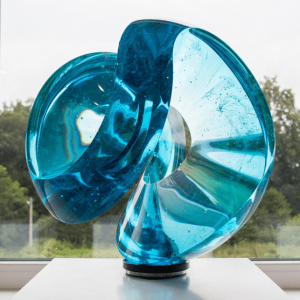 Vlastimil Beránek is considered to be one of the most amazing masters of glass around the world. The secret of his artistic and craftsmanship skills has been traditionally handed down from generation to generation. His family tradition working with glass started one hundred years ago. Then his father and brothers increased their fame in glasswork.
His pieces are very rare to see in exhibitions and Galleries as most of his pieces were bought by keen admirers of his work before he completed them. Furtermore, most of the pieces from Mr. Beranek were comissions for clients and usually ended up in residences of members of Royal families and Private collections of the top VIP collectors.
[divider style="dashed" top="20″ bottom="20″]
 Tim Heywood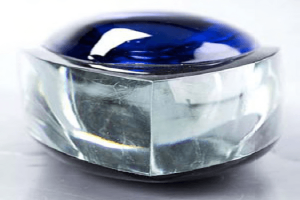 Tim Heywood is awards winning luxury yacht designer. He has produced some of the finest and largest yachts. He won for example 'Motor Yacht of the Year' prize  at the 2009 World Superyacht Awards for 133m Al Mirqab yacht and many others.
At the Monaco Yacht Show 2013 he presented his first superyacht inspired glass sculpture named "Titan Yacht", which was created in the workshops of the leading yacht chandeliers and glass art company Crystal Caviar. The sculpture was sold just days after its displaying. At the Dubai International Boat Show you can see another Tim Heywood's sculpture named "Gold Yacht". It has the same shape as the first one, but this sculpture was made from first-class gold amber Bohemian crystal.
[divider style="dashed" top="20″ bottom="20″]
Igor Lobanov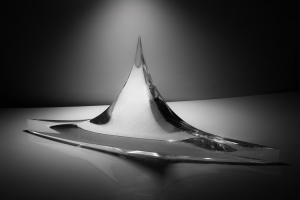 Igor Lobanov was born in Soviet Uninon, but during his life he becomes to an extraordinary luxury yacht designer. The world of superyacht design he entered in 2003, in 2007 he formed his own yacht design company. To his most interesting designs undoubtedly belongs design of the superyacht called "Project STAR". According this remarkable project was created stunning Bohemian crystal sculpture named "Star ship". It was made from pure Bohemian crystal, melted in mould and then grinding and polishing to this final look.
[divider style="dashed" top="20″ bottom="20″]
Michaela Smrcek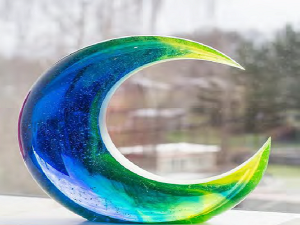 Michaela Smrček is Czech glass artist. She was born and grew up in Northern Bohemia, in the heart of Czech glass industry. She was fascinated by art during whole her life. She choose work with glass because of its beauty, malleability, sparkle, colours and magic of production of final artwork. She specialises into glass sculptures melted in mould. Her artworks are mostly inspired by nature, recently also by hectic way of life. At the Dubai International Boat Show you can see "Sci-fi scalare", dark blue artwork inspired by the sea life.
[divider style="dashed" top="20″ bottom="20″]