Etihad Airways, the national airline of the United Arab Emirates, and Universal Pictures today unveiled the luxury Fast & Furious 777 airliner at Los Angeles International Airport (LAX).
Actor/producer Vin Diesel was on hand as Etihad Airways Flight 171 arrived from Abu Dhabi to kick off the global junket and world premiere of Furious 7.  The film arrives in theaters on April 3.
Representing a welcome first for the franchise, the Fast & Furious 777 will fly the direct route between Abu Dhabi and Los Angeles, which Etihad Airways opened in June 2014.  The airline is also sponsor of the Furious 7 world premiere, which takes place in Los Angeles on April 1.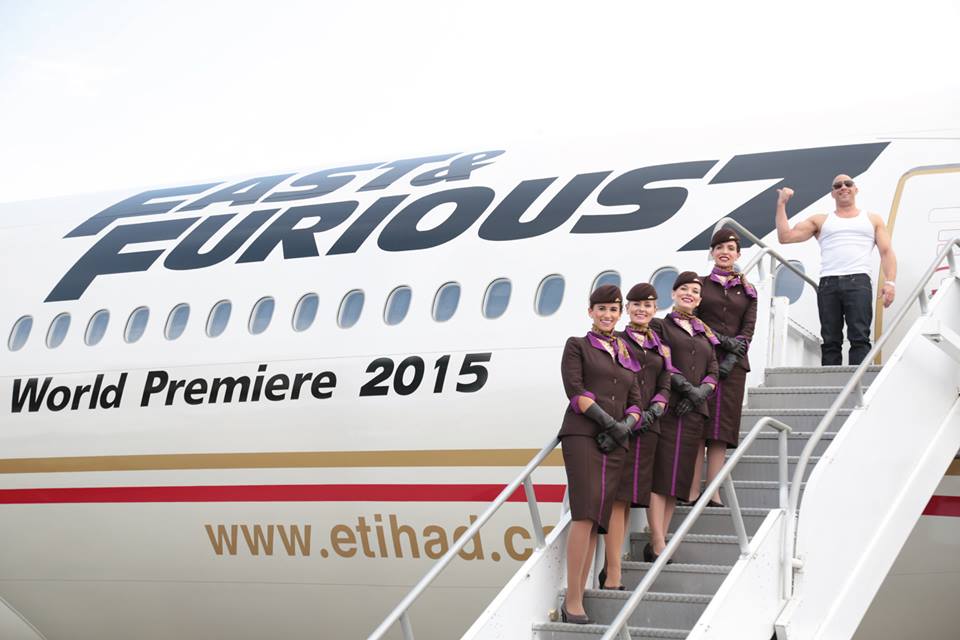 As the United Arab Emirates offered an opportunity to inject striking elements and locales into the series' mythology, Abu Dhabi became a key location for the Furious 7 production.  Over the course of two weeks in April 2014, the team lensed in areas outside Abu Dhabi in the Liwa Desert, as well as in the city center at such locations as the Sheikh Zayed Grand Mosque, Emirates Palace hotel, the Yas Marina F1 race circuit and the Etihad Towers.  Considering Abu Dhabi's striking skyline—one accentuated with stunning architectural achievements—aerial shots of the skyscrapers were mandatory.
"Etihad Airways is one of the fastest-growing airlines in the world with a strong history of culture and innovation and a commitment to reimagining the travel experience for our guests," said Peter Baumgartner, Chief Commercial Officer of Etihad Airways. "We are pleased to work together with Universal, an organization which shares that same spirit of innovation and reimagination when it comes to the world of entertainment, to unveil our newly-decaled Boeing 777 aircraft in support of the Fast & Furious franchise, and Furious 7 which premieres next month and highlights our airline's home of Abu Dhabi."
"When we began filming The Fast and the Furious in 2000, if you told me that we would one day have our logo on a wide-body jet, I would have said you were crazy," said producer Neal H. Moritz, who has shepherded all seven films in the series.   "We are so honored that Etihad has partnered with us to support this very personal film, and we thank the people of the United Arab Emirates for all the kindness and graciousness they showed throughout production."
The Fast & Furious decal will remain on the plane for the next four to six months.