[dropcap]T[/dropcap]he 2015 European Business Aviation Convention & Exhibition (EBACE2015) is Europe's must-attend business aviation event, which provides an unprecedented opportunity to learn about business aviation in Europe, see the latest products and services and meet with customers and colleagues – all in one location. Sponsored by the National Business Aviation Association (NBAA) and the European Business Aviation Association (EBAA), EBACE2015 takes places in Geneva, Switzerland from 19 to 21 May.
"On top of the usual – and invaluable – networking and business opportunities at EBACE, this year's show will feature highly insightful keynotes and education sessions on the relevant issues for our industry in 2015 and beyond. We expect this 15th show to be one of the best," said Brian Humphries, president, EBAA.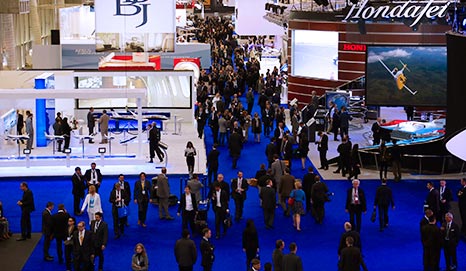 EBACE 2015 Will Mark 15th Anniversary as Premier European Business Aviation Event
This year's European Business Aviation Convention & Exhibition (EBACE2015) will celebrate its 15th year as the leading European business aviation trade show, education and networking event, with several special new features to help mark this milestone.
"We are excited to commemorate this great anniversary," said Chris Strong, NBAA's senior vice president of conventions and membership. "Obviously the business aviation community has faced significant challenges over the past decade and a half, but we've also experienced great innovation in equipment, safety and management methodology. Those innovations will be celebrated at EBACE2015."
The EBACE2015 Opening General Session, on Tuesday, May 19, will highlight the show's history, including a look at original exhibitors and events. An awards luncheon later that day will honor four individuals who were instrumental in the show's initial success: Kathleen Blouin, NBAA's former senior vice president of conventions and forums; Brian Humphries, president of show co-host European Business Aviation Association (EBAA); former NBAA President Jack Olcott and former EBAA CEO Fernand Francois, who will be recognized for their commitment to EBACE in its conception and initial years.
NBAA and EBAA plan to co-host a coffee social to celebrate the anniversary at their booths on the exhibit floor during the show, and throughout EBACE2015 attendees will have an opportunity to mark their participation at the anniversary event on a large signing wall on the exhibit floor. Signage hung throughout the exhibit hall will feature historic moments from the show's inaugural year in 2000.
"While we look forward to celebrating the anniversary of EBACE and the exciting moments of the event's past, we are also looking to the future by introducing new events and activities," said Strong. "Our aim is to provide attendees with a fresh experience at EBACE2015."
These new events will include the "Innovation Zone," a dedicated area of the exhibit hall that will feature education sessions on hot topics like unmanned aircraft systems (UAS), a Women in Aviation Networking event and a look at business aviation skills and careers. A young professionals networking event on Wednesday, May 20, and an exhibit area for UAS on the exhibit floor are other new activities offered at EBACE2015.
"The young professionals networking event aims to support individuals with new careers in business aviation," said Strong. "Development of young talent is critical to the sustained success of our industry and this event will provide an opportunity for young professionals to network with peers at this important juncture of their careers."
EBACE2015 will be held May 19 to 21 at the Palexpo conference center and Geneva International Airport in Switzerland.
Large Number of Exhibitors to Take Part in EBACE2015
EBACE2015 will feature more than 450 exhibitors on a show floor covering three halls of the Geneva Palexpo conference center. EBACE exhibitors have represented more than 60 countries in recent years, with the highest percentage of exhibiting companies from Europe and beyond increasing.
"We at NBAA and EBAA are honored to host exhibiting companies from around the globe at EBACE2015," said Chris Strong, NBAA's senior vice president of conventions and membership. "Typically, European companies represent just over half of all exhibiting companies, but we also see exhibitors from China, India and other regions."

Static Display More Convenient Than Ever
The static display of aircraft at the European Business Aviation Convention & Exhibition (EBACE2015) will be every bit as exciting, and more easily maneuverable for attendees, than ever before, organizers said. EBACE is a frequent platform for significant new aircraft model announcements, and EBACE2015 is no exception.
This year's static display at Geneva international Airport will feature more than 60 aircraft, including a new-model introduction and a first-time European appearance for another aircraft model. It also includes dozens of previously owned aircraft.
"EBACE is a must-attend show for business aviation professionals and end-users alike, particularly those who like to be up-to-date on the latest in new aircraft and product announcements," said Joe Hart, NBAA director of static displays. "This show is unrivaled in Europe for a potential aircraft buyer's ability to see different aircraft manufacturers, models and equipment side-by-side."
New to EBACE2015 is a single, contiguous static display footprint at the airport, which will ease the flow of traffic for visitors.
"EBACE is one of the most convenient locations for business aviation professionals and users, and this new layout for our static display will offer attendees an easier opportunity to compare aircraft models and features and see exciting new developments from many different aircraft manufacturers," said Hart.
EBACE has traditionally been a popular platform for manufacturers to make significant new aircraft model announcements. In recent years, new aircraft announcements at EBACE have included the Pilatus PC-24, Textron Aviation's Cessna Longitude and Bombardier's Learjet 70 and 75. Variant and upgrade announcements are also popular at the show, including Bombardier's Global Vision Cockpit for the Global 6000 and Dassault's Falcon 2000S variant of the 2000LX.
EBACE2015 will include an exciting new feature – an exhibit area for UAS manufacturers. This display will be located in the Palexpo exhibition hall and will allow attendees to see the capabilities and features of a wide range of UAS.
"One highlight of EBACE is exploring new aircraft, equipment and technology," said Hart. "EBACE2015 promises to deliver a great experience for business aviation pilots, operators and potential buyers."
[divider style="dashed" top="20″ bottom="20″]
www.ebace.aero