[dropcap]A[/dropcap]t DIBS 2015 Oceanco unveiled their latest 107mt superyacht concept design. An impressive yacht bearing the interior and exterior design of Ken Freivokh and naval architecture developed by the Shipyard in collaboration with BMT.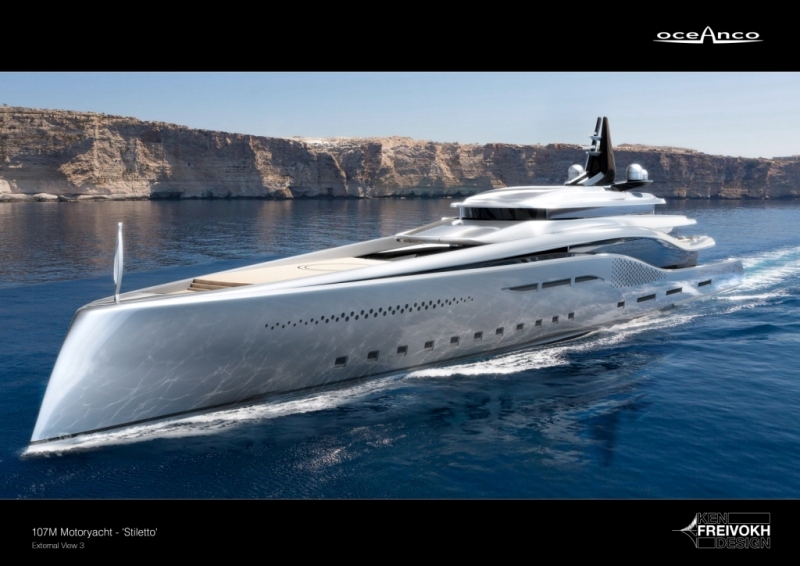 Unconventional Layout
With a steel hull and aluminium superstructure, Stiletto accommodates up to 18 guests in total and 30 crew members.  The luxurious owner's suite and terrace offer complete privacy, as well as their whirlpool, overlooking the aft pool and boarding aft platform. The VIP cabin is convertible into two separate guest cabins, in addition to the other 6 guests cabins.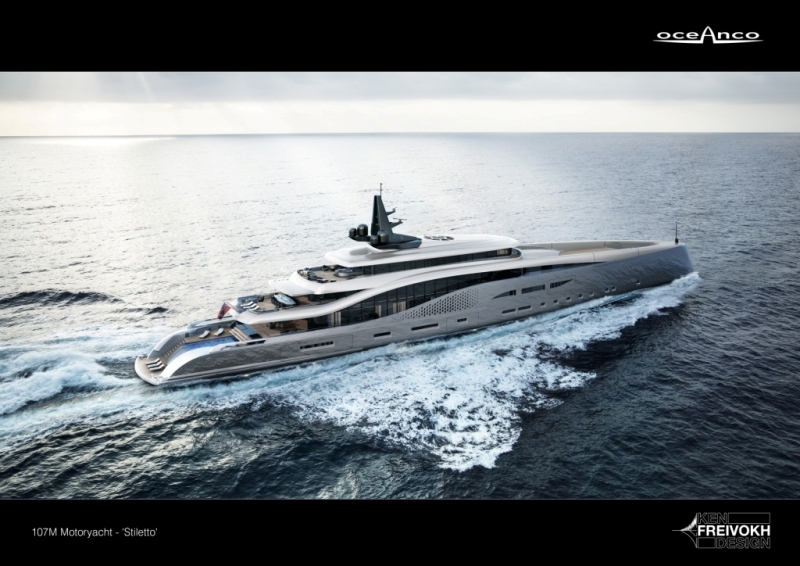 Stiletto is a surprise and rule breaker. Most superyachts only utilize the aft deck areas as centers for outside guest activities. However, on STILETTO, a major entertainment area, well sheltered for the elements, has been created on the foredeck. She is a superyacht that transcends all preconceived notions of interior and deck layout.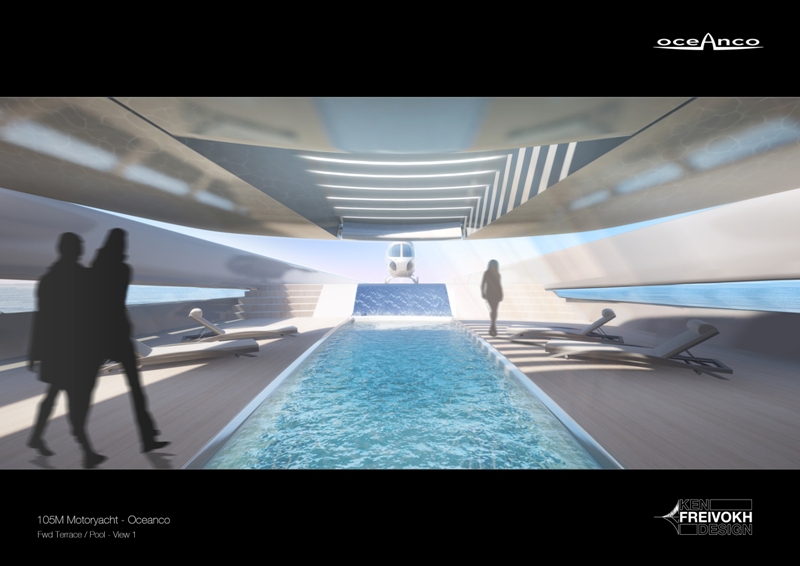 A sumptuous swimming pool, fully integrated to the external dining and bar areas and extended to a massive beach club and gymnasium, with a fun waterfall feature and sheltered sides, offers complete privacy for swimmers and sunbathers.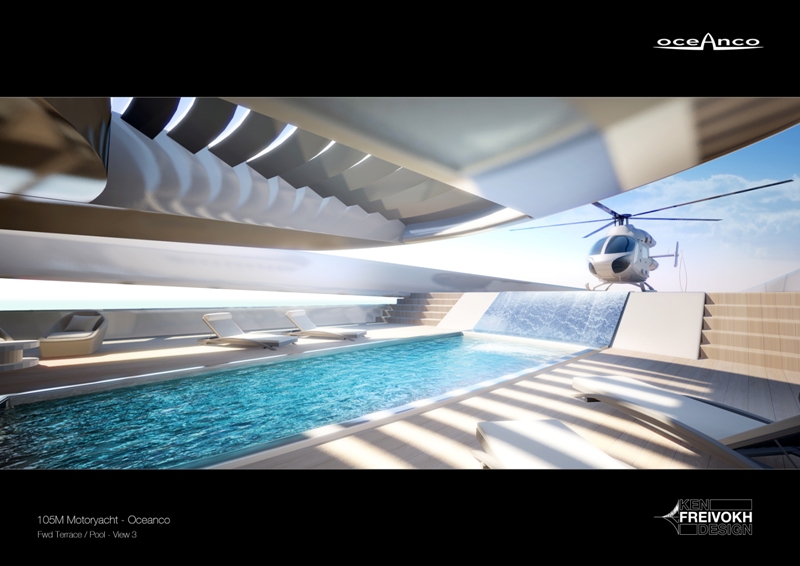 Add to that a double height saloon with 6 metres of headroom, an amazing mezzanine and a multi-storey atrium with internal balconies, glass lift and an impressive spiral staircase capped by a massive skylight, and the true extent of innovative design becomes evident.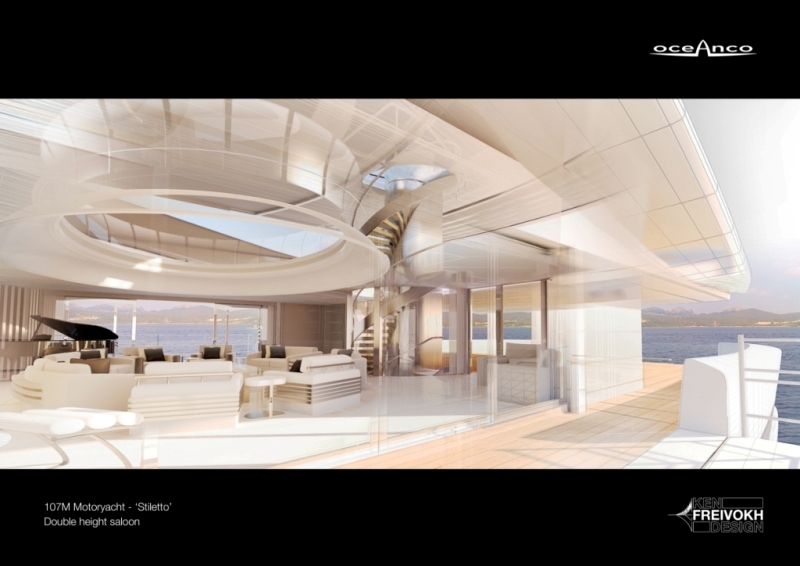 A mezzanine balcony allowing integration between decks creates a quite unique feeling of visual space, with panoramic views and long sightlines while a massive skylight aft floods the interior with light. A second spiral staircase that spans three decks gives access to a central bar/pantry on the main deck. On the lower level one finds jet ski storage and an array of gym equipment.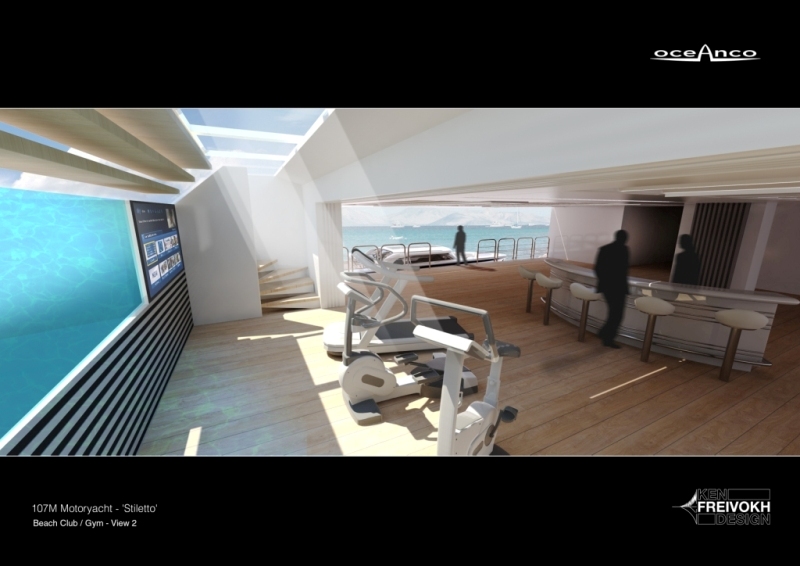 Powered by two MTU 16V2000 M72 engines, she will have a maximum speed of 18.5 knots. Amongst her technical innovations is a hybrid propulsion installation that has been optimised for various operating conditions, low overall installed propulsion power in comparison with conventional motor yachts, and an optimised energy balance by re-using wasted energy.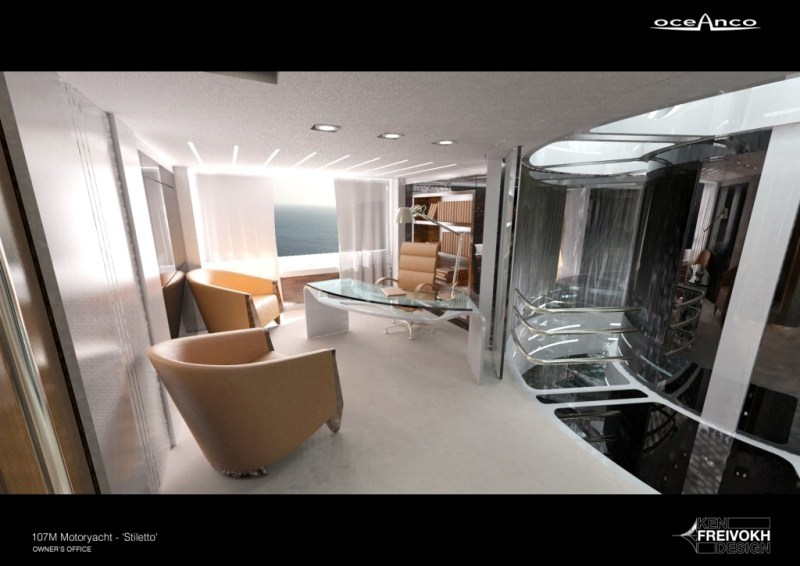 Ken Freivokh about 107m Stiletto
THE LUXURY IS TO HAVE A CHOICE
The kids are loudly enjoying the swimming pool, open to the gym and toys, all under the watchful eye of nanny, whilst mum and dad oversee proceedings from the private owner's deck overlooking both pool and the ocean.    Meanwhile, the young couples enjoy some drinks within the quiet atmosphere of the more intimate foredeck swimming pool, bar and recliners by the waterfall.   A choice never offered on a Superyacht before.
THE SEA, THE POOL, THE GYM, TENDERS AND TOYS……
Not everyone wants to spend all their time reading when on board! With shell doors open to the sea, the 10m tenders launched and ready, a sea aquarium with the backdrop of the swimming pool, a couple of flat screen smart TVs and a full array of gym equipment under massive skylights, the rich quality and diversity of the experience could not be duplicated on land or, indeed, on any other Superyacht.
STAIRWAY TO THE SKY
The atrium on Stiletto is not a lobby by a stairwell, it is an experience in its own right!   With balconies over double heights, a handsome and comfortable spiral staircase, an all glass lift and a massive skylight over, it is indeed an exciting and lovely experience to move between levels, and enjoy the level of integration and efficient circulation which is paramount to achieve efficient running of the yacht and enjoyment of the guests.
ONE YACHT, ONE MIND
Stiletto has been designed to provide a seamless and all-encompassing experience. The exterior styling, the continuity of line, long sightlines, inside/outside integration…… even the tenders and toys have been developed to fully match and partner the main yacht in terms of looks, efficiency, quality, attention to detail.
Gallery
Technical Specification
Builder: Oceanco
Type: Steel Hull and Aluminium Superstructure
Length: 107m / 351ft
Beam: 15.3m / 50.2ft
Watch video
[divider style="dashed" top="20″ bottom="20″]
Video and photos courtesy of Oceanco / Freivokh
[divider style="dashed" top="20″ bottom="20″]