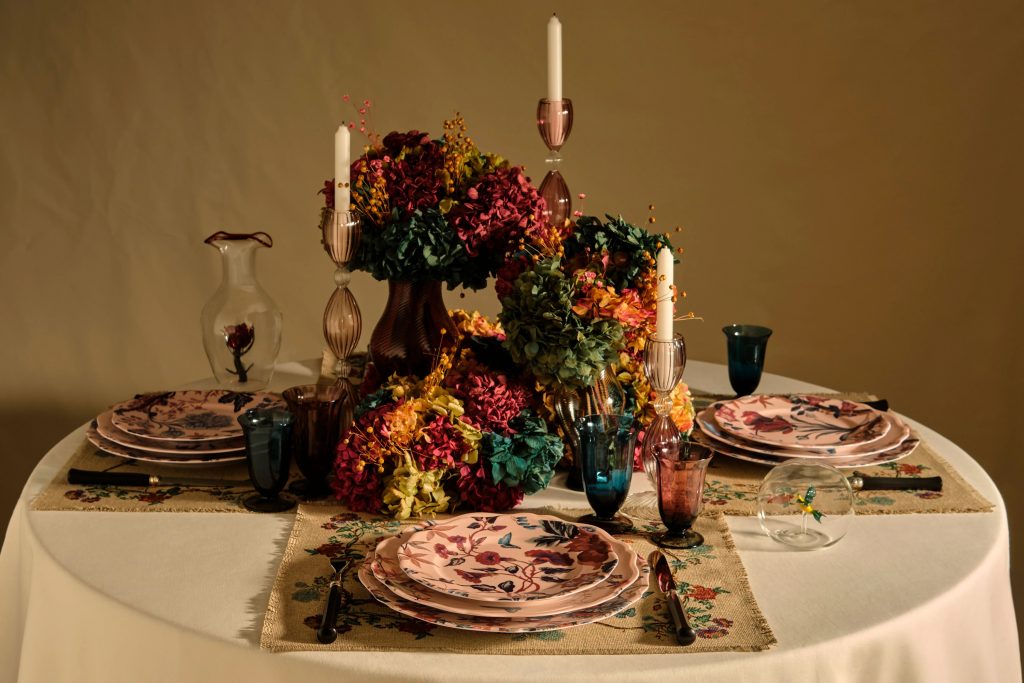 Named after the street that was home to Christian Dior's very own apartment at 7, Boulevard Jules Sandeau in Paris, the latest tableware collection by Dior Maison sees elegantly designs adorned with wildflowers and swallows. The 7, Jules Sandeau tableware collection is designed by the artistic director of Dior Maison Cordelia de Castellane, whose inspiration was drawn from her passion for the French 'art de vivre.'
At its core, the collection centres around wildflowers and birds, namely consisting of clematis, peonies, and dahlias, as well as swallows. These can even be found enclosed inside some of the pieces, like the carafes and decorative glass balls. Other variations of these motifs are transposed onto porcelain plates in three different sizes, and hand-painted placemats made from natural linen. The collection also features candlesticks in matching shades that speak of heritage and modernity, perfectly resonating with the the lifestyle that Monsieur Dior cultivated. Scroll through the gallery below to see more of the 7, Jules Sandeau tableware collection by Dior Maison.
Among the other novelties just added to the colelctions for the "art de la table" by Dior, we find Tutti Frutti and Constellation, two kinds of design that are particularly suitable for exclusive outdoor spaces – such as those on board yachts – or for exclusive dinners at in the summer moolight.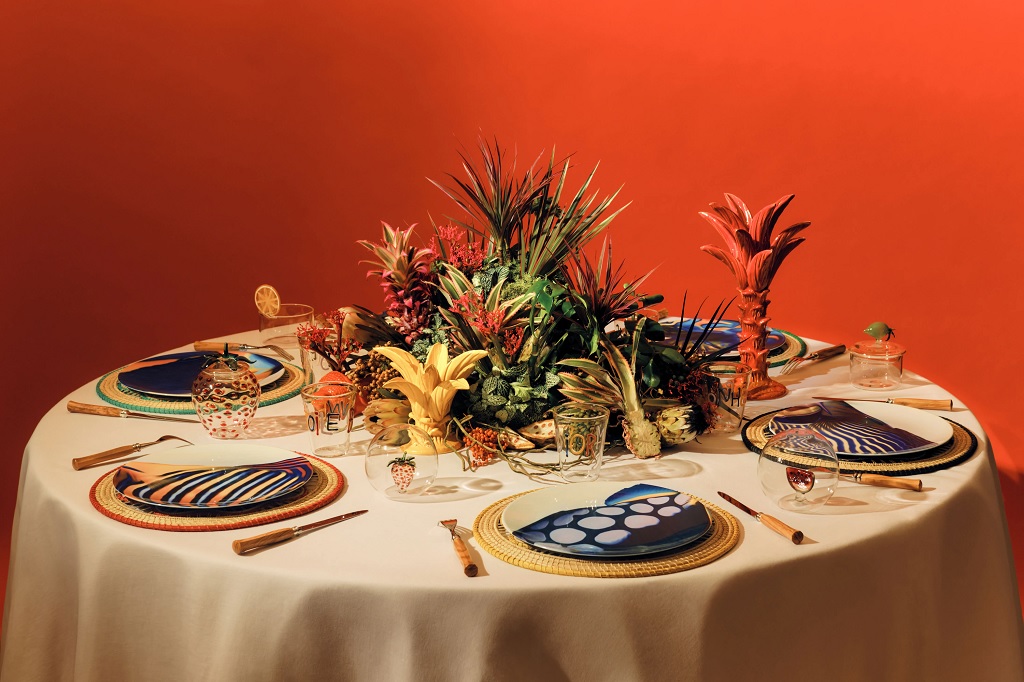 A delicate summer interlude, this new line of objects designed by Cordelia de Castellane is infused with joie de vivre. Irresistibly fruity, these zesty-colored pieces showcase lemons, watermelons and pineapples through exceptional savoir-faire, magnifying the beauty of hand-blown glass.
A journey of the senses and an invitation to escape, the extra fine Limoges porcelain six-plate set was designed for Chef Jean Imbert and his restaurant, La Case, at the Cheval Blanc hotel in St. Barth's. A tribute to the flavors and art of Caribbean life, this refined piece of tableware offers a poetic odyssey that explores the seabed. On the table, like an aquatic ballet, exotic fish flash their brilliant colors.
Born from a creative dialogue between Maria Grazia Chiuri and the Italian artist, Pietro Ruffo, a faithful friend and House collaborator, the line, named Constellation, is composed of captivating motifs, drawn in black and white. Inspired by Christian Dior's love of astrology, these symbolic sketches reimagine the tarot universe on a series of different plates and Limoges porcelain dishes. A dreamlike escape, a passionate odyssey to embellish any interior.
---
Dior