WhisperPower and Diesel Center, a leading propulsion engine distributor in Italy and exclusive partner of MTU, have established a strategic cooperation in the field of intelligent hybrid technology based power and propulsion systems for high performance yachts from 30 – 60 meters.
[dropcap]T[/dropcap]he new systems, which are being jointly developed by Diesel Center and WhisperPower, are already underway and will be supplied to various Italian and international customers later this year. The systems anticipate and allow for the need of modern yacht owners to improve the comfort level on board their vessel.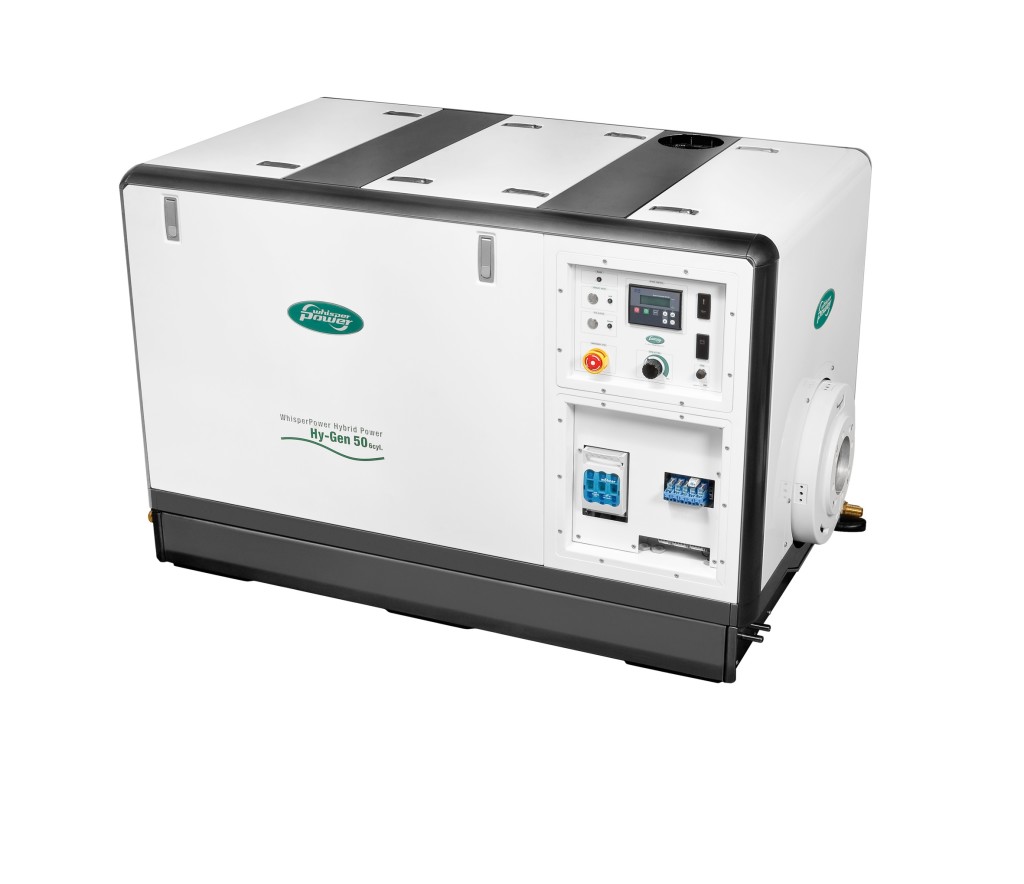 One of the key features offered by these "new school" systems is a diesel-electric modus.  This allows the high performance main engines to be switched off and the system then switches over to small, fuel efficient electrical propulsion motors integrated in the drive train (ECO mode). These electrical motors, with capacities of 70-130 kW per shaft, are operated by super silent speed programmable WhisperPower generators, the so-called Hy-Gen Genverters,  with power ratings from 100 to 300 kW, depending on the size of the vessel. The speed, whilst in "ECO mode", will be 7-9 knots. While set in this mode, the Hy-Gen Genverters also run, via the means of a DC bus with integrated inverters, various on board power consumers such as galley equipment, washing machines, air conditioning and manoeuvring devices including stern and bow thrusters. The new  system also includes a Silent Night Mode.  Using a battery storage and a three phase inverter system with a power rating of 20 – 60  kW dependent on the boat size,  it enables the operation of the air conditioning throughout the night without the use of shore power and/or running generators.
This strategic agreement provides WhisperPower with access to Diesel Center's extensive existing customer base whilst simultaneously providing Diesel Center with an attractive addition to its comprehensive portfolio.
"The combination of these two companies, Diesel Center and WhisperPower, brings together all the necessary resources to design, manufacture and distribute this extremely exciting new technology," says Roel ter Heide, WhisperPower's  CEO. "WhisperPower is the world leader in integrated power & propulsion systems for mid-size yachts and already upholds both an impressive list of users and a proven position in the market."
Michele Maggi, President of Diesel Center, adds:
"We are very happy with our new partner.  WhisperPower is strong on the development and manufacturing side and Diesel Center is very well established in the Italian and International markets for the supply of complete turnkey high class propulsion and control systems".
[divider style="dashed" top="20″ bottom="20″]