[dropcap]D[/dropcap]assault Aviation today rolled back the curtains on the ultra long range Falcon 8X, the company's new flagship and the latest addition to the growing Falcon business jet family.

Unveiled at Dassault's Bordeaux-Merignac facility before an audience of customers, operators, industrial partners and representatives of certification authorities, the Falcon 8X will offer the greatest range and the longest cabin in the Falcon line, along with the most extensive selection of cabin configurations available on any executive jet.
Announced in May of this year at European Business Aviation Convention & Exhibition (EBACE), the Falcon 8X builds on the advanced performance and technological prowess of the popular 7X long range tri-jet, the most innovative and fastest selling Falcon ever. The 8X will offer a greater range of 6,450 nm (11,945 km) – and a cabin 3.5 feet longer than the 7X while affording the same low operating economics and remarkable operating flexibility for which all Falcons are known.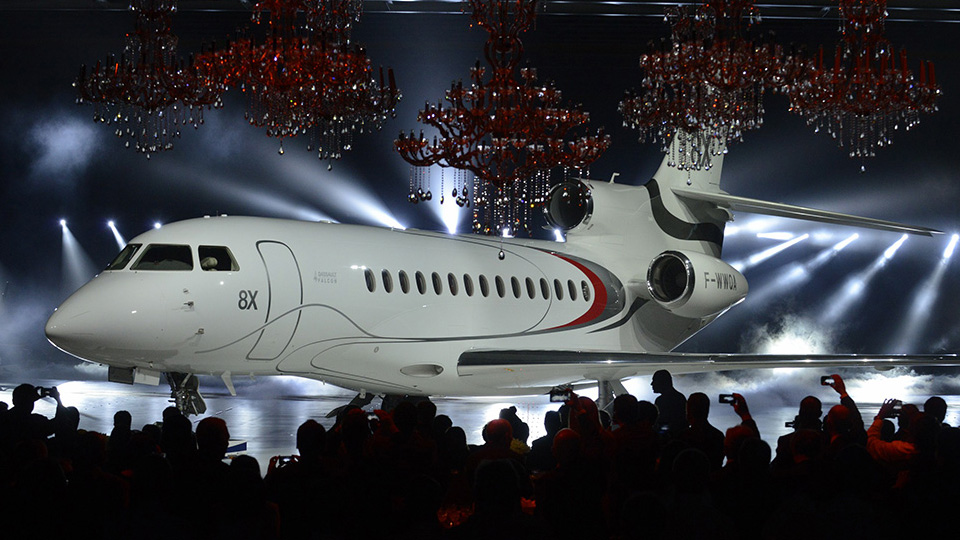 "Dassault's tradition of innovation and excellence helps explain the success of the Falcon 7X. More than 250 aircraft have been built in the seven years since service introduction, and demand remains strong. We anticipate a similarly bright future for the 8X." said Eric Trappier, Chairman and CEO of Dassault Aviation.
Final assembly and testing of the 8X is taking place at the state-of-the-art Charles Lindbergh hall at Merignac. The facility was built to handle production of the Falcon 7X, and the 8X will draw on the same advanced digital design and manufacturing techniques pioneered with the 7X. More than 8,000 Dassault civil and military aircraft, including 2,300 Falcons, have taken to the air from Mérignac since it opened in 1949.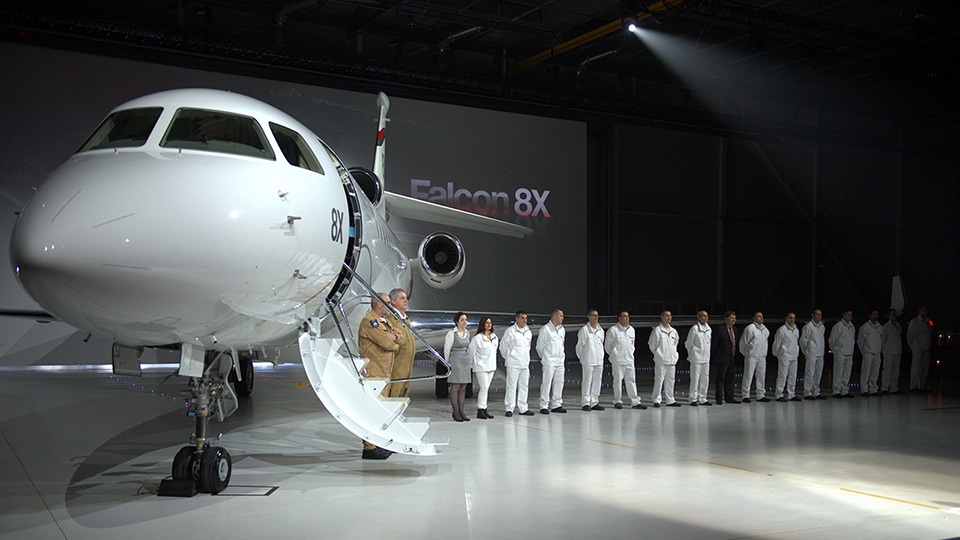 Wing mating and engine installation on the first Falcon 8X were completed in July and first power up occurred shortly after. Ground tests, including flight control system testing, vibration tests and fuel system testing, concluded in November. The first engine run up took place in early December and the aircraft is on track for a maiden flight in the first quarter of 2015.
"We are extremely happy with progress on our new Falcon flagship," said Olivier Villa, Senior Vice President, Civil Aircraft, Dassault Aviation. "The program is right on schedule and all systems are performing exactly as designed."
A total of three aircraft, including one fully outfitted with a cabin interior, will be used in the flight test and certification campaign. Deliveries are expected to begin in the second half of 2016.
[divider style="dashed" top="20″ bottom="20″]