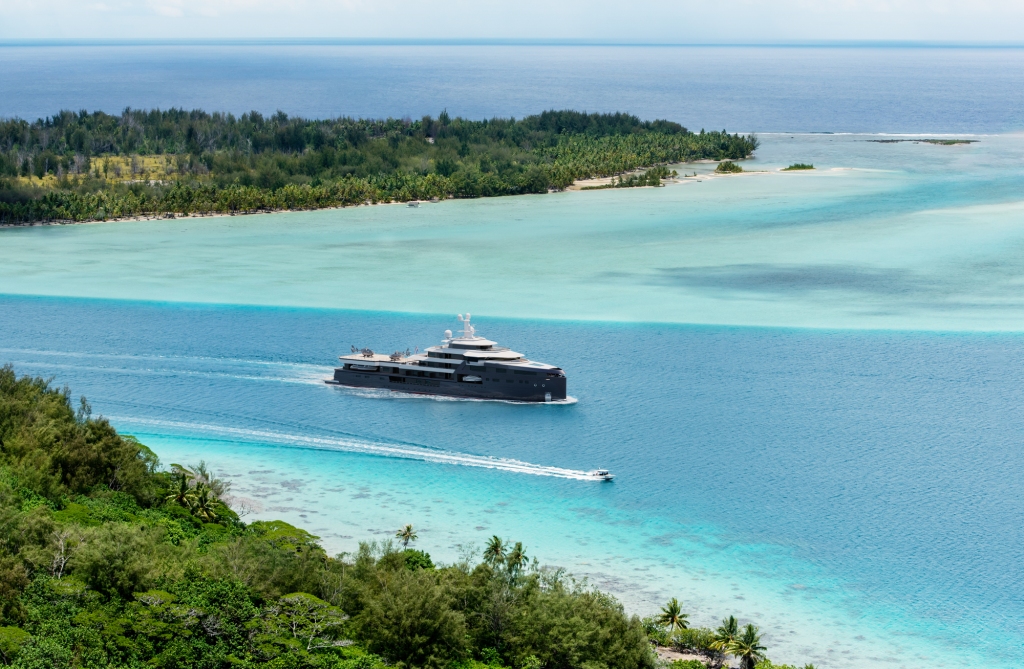 Right at the top of our SeaXplorer range, the 105-metre SeaXplorer 105 represents everything that drives Damen Yachting to be leaders of the luxury expedition yacht market. This magnificent vessel combines the very best features of luxury yachting with true explorer capability. Damen Yachting's in-house SeaXplorer design team has combined the feedback and experience from their SeaXplorer clients to create the top of the line SeaXplorer yacht.
Together with input from the exterior design partners at Azure Yacht Design and operational design partners EYOS Expeditions, the concept is an evolution of the best of the previous SeaXplorer 90, SeaXplorer 95 and SeaXplorer 100 designs.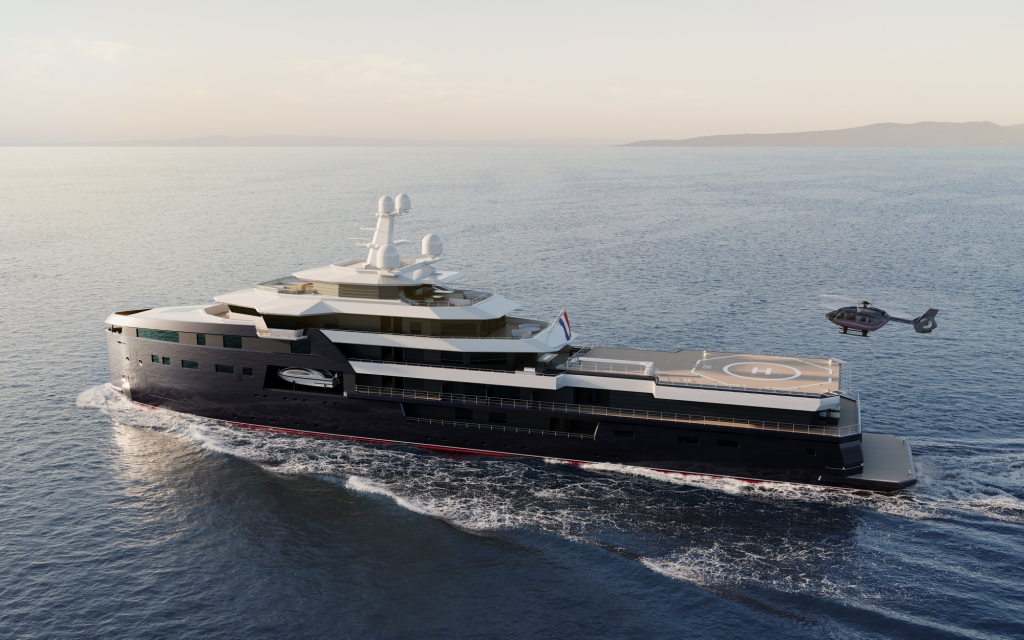 "The SeaXplorer 105 is a fully developed design," says Enrique Tintore, SeaXplorer Design Manager at Damen Yachting. "However, the scope for client customisation is massive – that's a key part of our proposition throughout the design process."
Next to the 13-metre chase boat, the yacht can carry four 8 to 12-metre tenders (limousine, RIB, landing craft, sports tender) stored in the forward garage and tender bays. Among the yacht's huge collection of toys, she can also carry a submarine, and has a scuba dive deck with watersports centre and waterline embarkment.
The SeaXplorer 105 has a true luxury expedition-sized volume with a Gross Tonnage of 6,500 and 5,775 square metres over her 8 decks. She offers large staterooms for 24 guests, including two expansive Owner Suites, built under PYC rules making her fully charterable. She has huge onboard stores for all provisions, luggage parts as well as heli fuel, tender fuel and tanks for 8,000 nautical mile (Trans Pacific) range.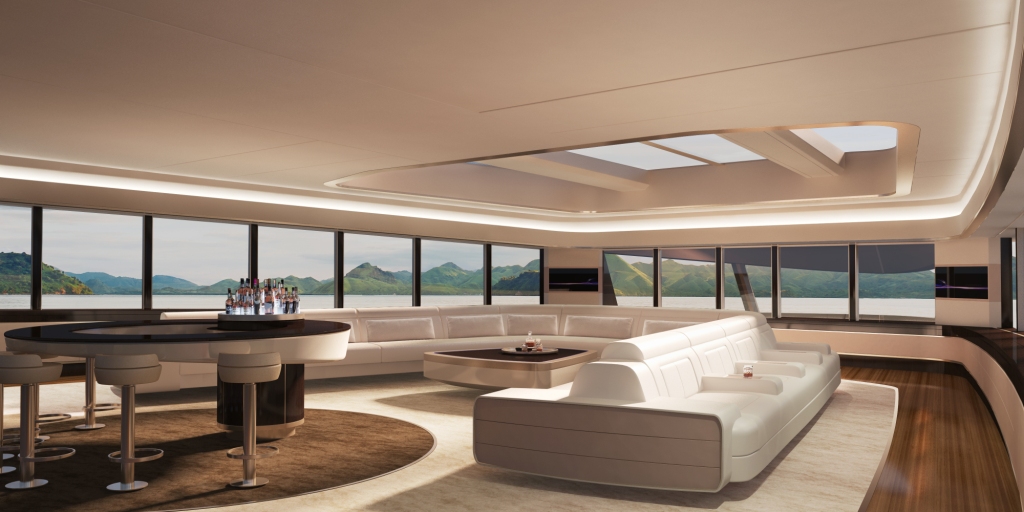 As part of the SeaXplorer expedition yacht range, the SeaXplorer 105 shares the unique Observation Lounge with outside bow point deck – but on a big scale with 123 square metres (1,324 sq ft) devoted to enjoying spectacular views. The space includes a bar and multimedia centre.
Together with the latest hybrid diesel-electric pod propulsion to reduce the impact on our oceans, the SeaXplorer 105 complies with the IMO Polar Code category B requirements for polar safety and environmental protection. Her hull is built with Polar Class 7 ice strengthening with double-acting stern icebreaking for maximum safety in fast-changing ice conditions.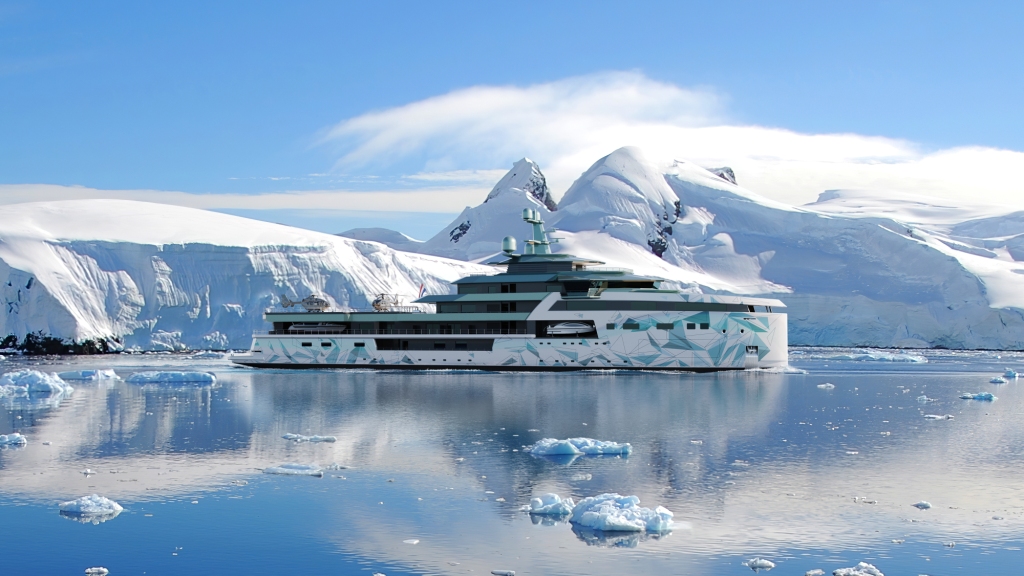 The powerful stabiliser fins retract where difficult-to-detect 'growlers' (truck-sized fragments of icebergs or glaciers) float beneath the surface – significant hazards for yachts with weak hull appendages such as fixed fins.
Below deck the garbage stores and large greywater tanks ensure her zero-discharge operations for long periods between port calls.
The fully certified twin helideck (primary surface and standby area) is suitable for two fast and reliable twin-engine helicopters. Below deck a weathertight double hangar with hydraulic lift system keeps both aircraft protected from the elements. Two helicopters offer increased flexibility, redundancy and safety when out of range of rescue services. Plus in Antarctica, regulations require two helicopters when flying far or landing in the mountains for skiing.
Having a 300 square-metre twin helideck also means the Owners can host unprecedented parties for 200 guests with an ultra lounge layout. There is also plenty of room for an outdoor cinema, full size doubles tennis court or basketball half court. The transom is not only a swim platform, but also an open bar area with upstairs lounge.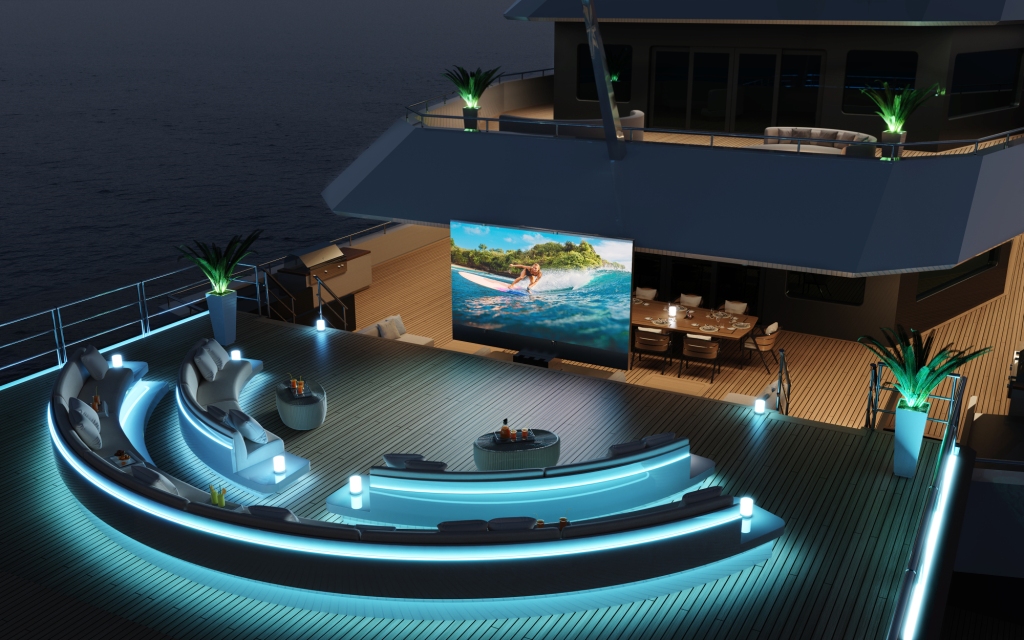 Equal in size to the huge twin helideck is the indoor SeaXplorer Spa. In this approximately 300-square metre Main Deck wellness space, let sea breezes and the sound of the waves revitalise your body and spirit. The indoor Swimming Pool is 8 metres in length, while the space also includes a gym with folding terrace, whirlpool, steam room and sauna, with folding terrace, massage room, hairdresser and beauty salon and treatment room.