His creative world is made up of dreamlike images which takes shape in his mind like "headshots". A sort of combination of truth and imagined reality created through images that have never been photographed.
Do you remember the beautiful cover chosen for the issue of April 2018? How to forget the amazing Axel Crieger's work La Belle au bois dormant? Axel Crieger is a superb talented photographer, artist and designer who was born in 1955 in Germany and currently lives and works in Los Angeles, California, USA. For this issue of October we decided to adorn our cover with his photographic work entitled Tribute to Alexander McQueen, the British fashion designer and couturier died, hanged at his home, in 2010. Known for the emotional power and raw energy of its shows and a profound respect for craftsmanship, Alexander McQueen is a standard bearer for British fashion. Today, under the direction of Sarah Burton, the brand combines an in-depth knowledge of British tailoring with a unique creativity that sets Alexander McQueen apart. The image created by Axel Crieger was chosen for its poetic strength, mystic effect, sophisticated charm surrounded by an atmosphere of magic, which results in a journey into the unknown. Like the one the world is experiencing nowadays due to the pandemic and its uncertain future. Axel Crieger's works are the expression of an intimate world released through creative images dipped in new scenarios, full of vivid colors or stressed with lights and shadows able to convey the work a mysterious charm similar to an allegory.
Who is axel crieger?
Axel Crieger was born in 1955 in Munich, Germany and studied Visual Communication. The concepts of "truth" and "reality" fuse together when the American-German artist creates his modern photo-collages of the Icon series; out of previous images and special effects he recreates new environments for famous figures of modern history. As he says, this images are "headshots" created in his mind.
As a photographer, director and designer, Axel Crieger has worked for international clients like Levis, Time Warner, BMW, Heineken, Daimler or Ford in New York, Los Angeles, Paris, London or Milan. Many Hollywood stars are devoted collectors of Crieger´s works, which are also internationally awarded. Axel's Digital Paintings are composed of a variety of photographic quotes, designs, drawings and special effects to create photographic images, which have never been photographed. His art has been exhibited in several places around the world and is represented by various international galleries and international art shows.
He has created books, TV shows, exhibitions, commercials and a variety of designs and large paintings. He met with Andy Warhol and got published in Interview Magazine, the publication founded in late 1969 by the major pioneer of the pop art movement. In 1980 Joseph Beuys, German avant-garde sculptor and performance artist (1921-1986), painted over one of his exhibits, signed it and declared the result Best of the Show. Oscar winner Michael Blake published his book "American Night", and Muhammad Ali received "Rumble in the Jungle" for his private collection.
---
Axel Crieger's work aims to design new realities and to tell virtual stories combining a variety of tecniques with a true sense of style to masterful compositions. His protagonists are mostly historical personalities who are placed in a situation saturate by the artist's historical knowledge.
Nowadays he creates his art in a virtual space, which he seldom leaves, creating pictures of ideas, dreams, personal choices and public perception.
His work has garnered critical acclaim and numerous awards and is available in small editions.
His works can be found in many private and public art collections like the Miller Collection Los Angeles, Jones Day International, Abdi Ibrahim Istanbul, Aberdeen International, Begum Agakhan Zurich, McKinsey&Company Moscow, Muhammad Ali Los Angeles, Ernst&Young London, EON Ag Germany, Consulate of the Netherlands, Istanbul, Robert Lee Hong Kong, KMP Singapore, Silvio Denz Paris, Young&Rubicam Tel Aviv, just to name a few.
---
Axel Crieger cooperates with Louisa Peixoto, a luxury Portuguese home design brand. The designer pieces are bold, compelling and sure to impress. The designer created a cabinet with the artistic intervention by Axel Crieger.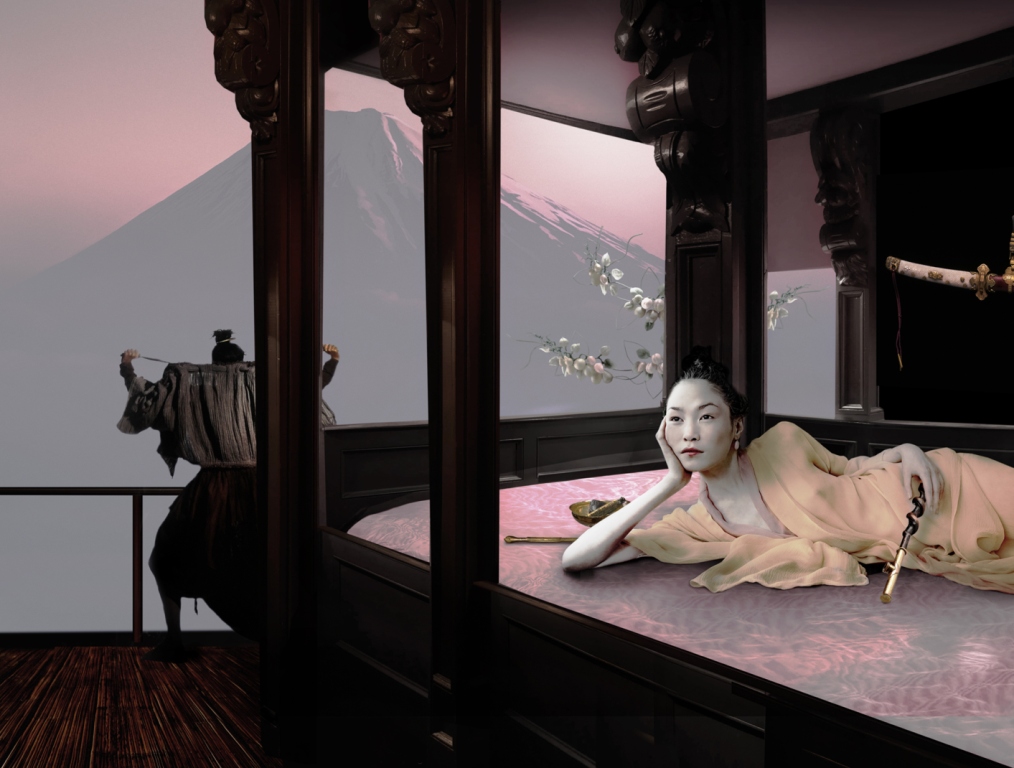 ---
"Axel Crieger is a worldwide known artist, designer and photographer. His digital paintings have a rich and profound pictorial space that invites the viewer into it and make him/her a silent participant of the story". Anna Bondarenko
"Axel Crieger's luxurious images are magical and transport you to a world of dreams where real life takes on new dimensions. The images are mysterious and the very thoughtfully selected palette gives them a dramatic feel". Eva Ledecka
"The digital images by artist Axel Crieger will attract anybody's attention. They are timeless, modern, depict celebrities in dreamlike settings and luxury products giving them a highly originally and uncompromising new look". Luxury Living
"Axel Crieger's version of transformative art is as irritating and disturbing as it is fabulous".
Guénolé de Bouvoir