[dropcap]C[/dropcap]omanche has taken part for the first time in the 6th edition of the Caribbean Les Voiles de St. Barth sailing race, alongside 70 teams competing in 10 classes. As expected, Comanche had an excellent performance in the match-off between the newest, fastest, and most sophisticated racing yachts in the world. Notable yachtsman Jim Clark commissioned Comanche to be built at Hodgdon Yachts, with the purpose of building a sailing vessel capable of breaking records.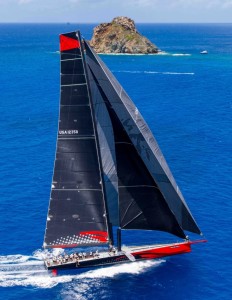 The first record was already set by during Comanche's construction at Hodgdon Yachts, becoming one of the largest single-hull infusions undertaken stateside. The second was set the 15th of April on the water, when Comanche established a speed record of 2 hours, 33 minutes, and 4 seconds in the Maxi 1 class during Les Voiles de St. Barth.
During the four racing days, Comanche took all the line honors in her division and placed second, just behind Rambler 88, with 12 points on the scoreboard according with the corrected-time performances. This regatta was the first time that 100-foot Comanche and Rambler 88 were seen sailing against each other, offering an exciting competition.
Comache's skipper, Ken Read, commented,"Unreal sailing with the "Fat Bottom Girl" (Comanche) at the Voiles St Barths. When the rivals all go home happy the stars aline. Comanche wins line honors 4 for 4. Mission accomplished. Rambler wins rating handicap in class 1. Mission accomplished. The first meeting of the monsters a huge success. These boats are changing how we look at sailing. A special thanks to the owners who are making it happen".
[toggle title="ABOUT HODGDON" state="close"]Having started in 1816 during the era of clipper ships, Hodgdon is America's oldest boat builder. Still family owned, this East Boothbay, Maine company has evolved into a leader in advanced composite construction while maintaining exceptional skills for world class traditional and modern interiors. The company's divisions include Hodgdon Yachts, specializing in custom sail and power yacht construction (up to 60 meters); Hodgdon Custom Tenders, building some of the highest quality superyacht tenders afloat; Hodgdon Interiors, crafting high-end superyacht interiors (up to 80 meters); Hodgdon Yacht Services, devoted to service, refits, storage, and dockage; and Hodgdon Defense Composites, constructing specialized defense craft. [/toggle]
[divider style="dashed" top="20″ bottom="20″]