Comanche, built at Hodgdon Yachts, is one of the newest participants in the 6th annual Les Voiles de Saint Barth, which takes place April 13-18, 2015. Over 80 boats and 1,000 sailors are expected to compete at the event, which has been a not-to-be-missed competitive gathering since its creation in 2010.
A unique combination of sportsmanship and conviviality – which makes for excitement both on the water and ashore – attracts a growing number of competitors each year. Among them are some of the leading names in the sailing world and they make an exceptional line-up at the event, which is firmly anchored as one of the Caribbean's major sailing meets.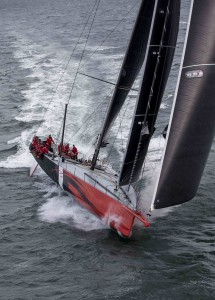 When it comes to regatta headlines, nothing beats having participation from Comanche – the newest and most sophisticated racing machine – built at Hodgdon Yachts in East Boothbay, Maine. Designed by the French team of VPLP Design/Guillaume Verdier, the 100 foot pre-preg vessel – which features a state-of-the-art pre-preg carbon fiber hull – was launched in October 2014.
Comanche's first race was the Rolex Sydney Hobart Yacht Race in December 2014. Following a close race, the boat crossed the finish line shortly after Wild Oats XI. This proved that the sailing yacht has huge potential in both medium and strong winds, with serious acceleration.
Ed Roberts, Hodgdon's Global Director of Sales and Marketing, said:
"We'd like to extend our best wishes to Comanche and all of the boats participating in Les Voiles de Saint Barth. It's sure to be an exciting event that we'll be watching closely."
[toggle title="About Hodgdon Yachts" state="close"]Having started in 1816 during the era of clipper ships, Hodgdon is America's oldest boat builder. Still family owned, this East Boothbay, Maine company has evolved into a leader in advanced composite construction while maintaining exceptional skills for world class traditional and modern interiors. The company's divisions include Hodgdon Yachts, specializing in custom sail and power yacht construction (up to 60 meters); Hodgdon Custom Tenders, building some of the highest quality superyacht tenders afloat; Hodgdon Interiors, crafting high-end superyacht interiors (up to 80 meters); Hodgdon Yacht Services, devoted to service, refits, storage, and dockage; and Hodgdon Defense Composites, constructing specialized defense craft. [/toggle]
[divider style="dashed" top="20″ bottom="20″]