[dropcap]A[/dropcap]fter its prestigious calls into Cannes, Monaco and St Tropez, and before Miami and Palma de Mallorca next spring, the CNB 76 will visit Paris. In 50 editions, the Nautic boat show will never have accommodated such a large yacht within its halls.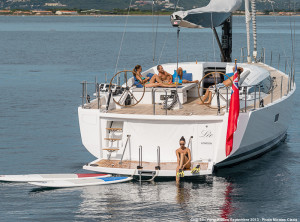 Before taking to the sea and heading for Turkey, where its proud owner awaits, the boat will therefore stop over at Porte de Versailles from 5 to 14 December 2014, to the great delight of lovers of elegant yachts.
The CNB team will proudly present the 4th CNB 76 on stand 1D30, while of course exhibiting the latest models of one-off projects that are under way.
Seaworthy, elegant, efficient, comfortable and easy to handle, the new CNB 76 embodies 25 years of CNB excellence. With her superb proportions and a unique elegance signed by talented, world famous naval architect Philippe Briand, her lines perfectly integrate a raised saloon, ideal when sailing as well as at a mooring. The layouts are as harmonious as they are comfortable and truly functional.
Designed by designer Jean-Marc Piaton, they can accommodate a professional crew whose presence and activity shall by no means disturb the owner's and his guests' privacy.
CNB 76, a luxury yacht to explore the seven seas with total peace of mind.
"A CNB yacht must be attractive, reassuring, exciting. She's is a "real" yacht designed for long hauls, whose only limits are the ones dictated by general, practical seamanship. " Olivier Lafourcade, director of CNB superyachts.
"She is a fast and safe yacht, for which we transposed to a 76′ length the established architectural parameters that make the sailing qualities of the Bordeaux 60: size: stability, speed, balance." Philippe Briand, naval architect of the CNB 76.
"We have sought to make a yacht as CNB as possible … CNB yachts express a kind of elegance '"à la Française'", combining balance, symmetry, modesty and refinement in every last detail." Jean-Marc Piaton, interior designer of the CNB 76.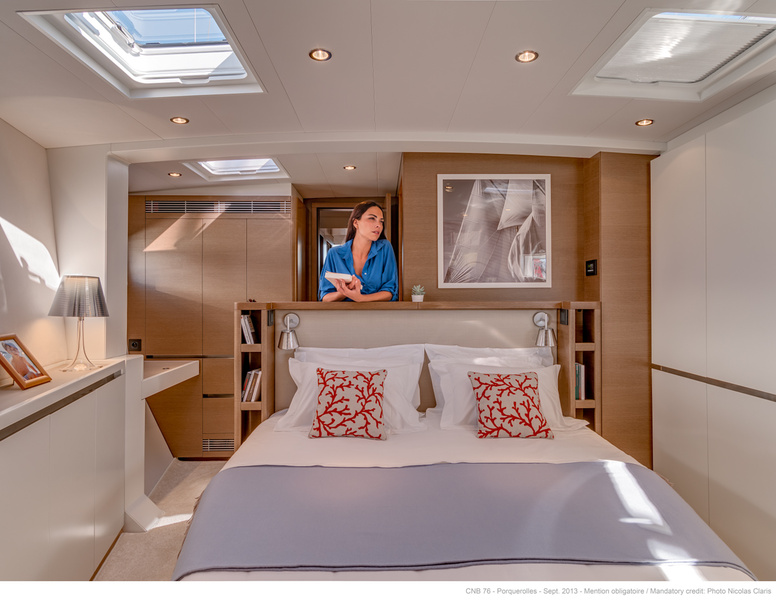 [divider style="dashed" top="20″ bottom="20″]