[dropcap]T[/dropcap]he recently launched Baltic M78 Bill and Me, which will be unveiled at the 2017 Monaco Yacht Show (27-30 September), is not only an impressive combination of composite construction, advanced naval architecture and stunning exterior and interior design, but also a demonstration of Baltic Yachts' move into motor yacht building.
[divider style="dashed" top="20″ bottom="20″]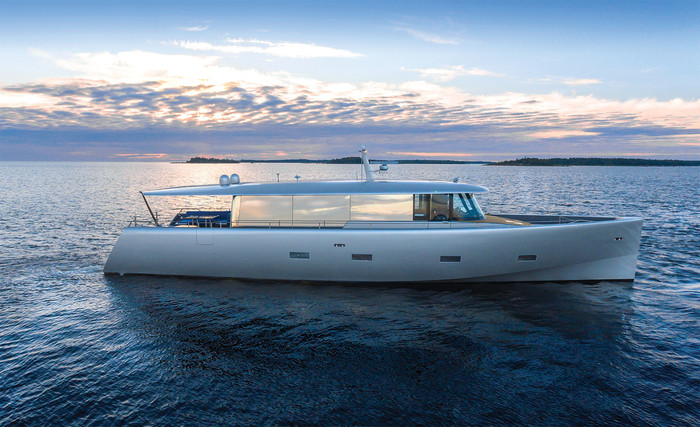 Stand out features
Advanced composite construction
Displacement 40 tons loaded
25 knots top speed
17 knots cruising speed
Stunning custom interior
Carbon/glass superstructure
3D-printed stainless steel detailing
Gyro-stabilisation
[divider style="dashed" top="20″ bottom="20″]
Bill and Me was commissioned by experienced owners who wanted all the seamanlike design and comfort of a sailing yacht combined with the speed and ease of use of a comfortable motor yacht. Naval architecture is by German 'Mani' Frers and her remarkable interior is largely inspired and specified by her owners with professional input from Design Unlimited.
Baltic Yachts' deep experience with light, stiff advanced composite construction ideally suits a fast motor yacht's need to perform at speed and during trials Bill and Me met all her predicted performance parameters with ease.
Interestingly, Frers observes that the speed of large, fast sailing yachts now virtually matches that of relatively fast motor yachts and he believes much can be learned from both disciplines to produce highly efficient hull forms.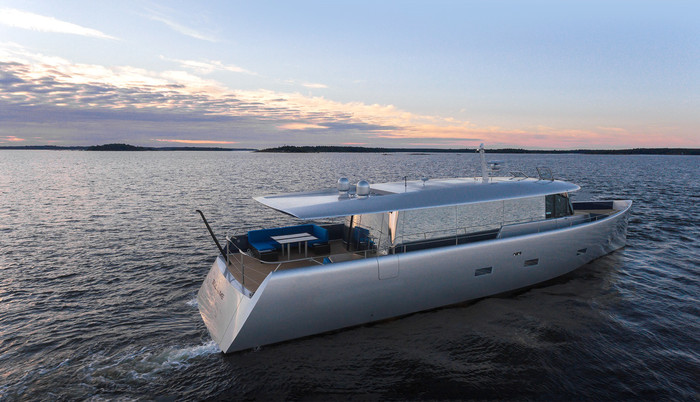 Frers has studied recent commercial ship research into making vessels as efficient as possible, resulting in the motion of his motor yachts becoming less aggressive. This has had the unexpected effect of reducing motion sickness. Baltic Yachts and its engineers have worked closely with Frers to capitalise on this design research which has benefitted from the advanced composite construction techniques perfected in Jakobstad.
The motor yacht's relatively modest beam is fundamental to the yacht's easily driven, sea-kindly hull. She's powered by twin 625hp Volvo Penta diesels driving through IPS 800 Duo-props with their well-proven low vibration and fuel efficiency.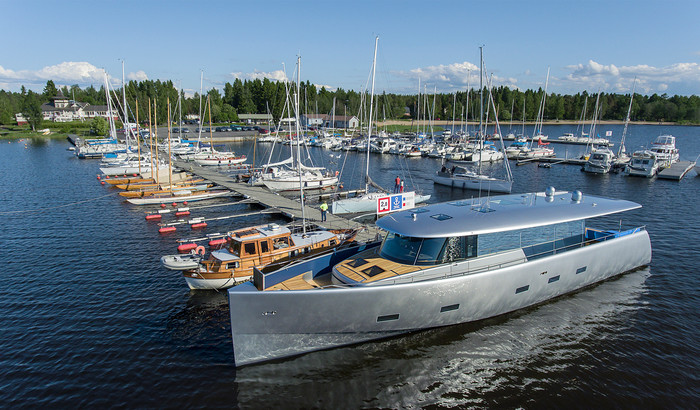 Although the emphasis is for a yacht able to achieve cruising speeds of 16-18 knots, her semi-planing hull, which is fitted with special trim tabs, is designed for top speeds of 25 knots. Bill and Me's stability is further enhanced by two Seakeeper, gyro-driven stabilisers.
Two separate saloons are contained within the Baltic MY78's composite and glass superstructure, one for dining the other for relaxing. They both have direct, one level access to the extensive deck areas fore and aft, which are protected by deep, all-round bulwarks.
[divider style="dashed" top="20″ bottom="20″]
3D printing in detail design
Other features on deck include a remarkable reflective glass deck superstructure finish and custom stainless-steel work including unique 3D printed push pit and pulpit design which enhances the yacht's contemporary look. There's also a hydraulically operated boarding/swim platform and a bespoke fishing seat in the aft cockpit area.
[divider style="dashed" top="20″ bottom="20″]
Interior design is stunning and seamanlike
Below decks there are two amidships guest cabins, an owner's suite forward and space for two crew cabins aft, all finished to an extremely high standard of custom detailing. The styling is more akin to a sailing yacht than a motor yacht with traditional timbers like oak, teak and cherry in evidence, with all corners rounded for seamanlike safety. Unusual embossed leather also features on some of the surfaces.
A great deal has been worked into her accommodation including a stern garage for a tender. A beautifully detailed and well-equipped galley features a dumb waiter serving the deck saloon. Striking photographic studies, stucco panelling commissioned from an Italian interior design specialist, custom built furniture and intense colouring in some of the soft furnishing combine to put this bespoke yacht in a class of her own.
Peter Jones, responsible for developing motor yacht sales at Baltic Yachts said: "This 78ft motor yacht sets new standards and points the way forward for what we will be able to achieve at Baltic Yachts. Reaction to the M78 has led us, Frers and Design Unlimited, to work on a 30m version of the Bill and Me concept, details of which will be available at the Monaco Yacht Show."