[dropcap]D[/dropcap]eveloped by MAG Design Studio, the Mecaer Aviation Group in-house design studio, the concept "Belvedere" explores augmented reality and a new approach to the flight experience.
The project has been shortlisted at the The international Yacht and Aviation awards 2015 (Design et al), taking place next month in Venice.

High-definition floor and ceiling screens play images captured by external cameras; creating a virtual separation of the cabin and an appearance of two divided shells. The passengers will experience a unique and privileged view of the external environment and dynamic panorama.
Upon entering the aircraft, a spacious galley can be found, including several amenities and other storage compartments; near the galley is an attendant's seat, lavatory and access to the cargo area. The VIP area is equipped with four adjustable armchairs, enclosed in two spacious shell-like ledges and equipped with four additional seats creating a sofa effect.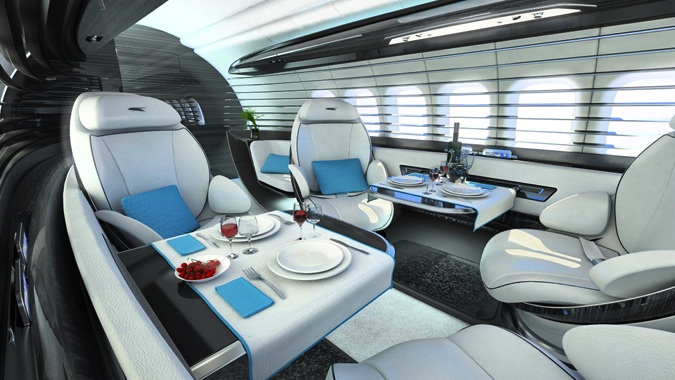 The upper Passenger Service Units (PSU) are equipped with LED accent lights, reading lights and storage areas. Each VIP seat has two dedicated extractable tables and removable supports for touchpads. Electrochromic windows, MAG proprietary product, are disguised behind adjustable Louvres. A fitness area equipped with cardio and strength training equipment separates the VIP area from the master bedroom.
The bedroom features a king size bed, a monitor and an en-suite lavatory equipped with a shower. When the aircraft door is open, the master bedroom enjoys the view of a small terrace, equipped with chairs and tables for an outdoor lunch. Such a design solution is achieved thanks to the specific aircraft type and doors layout.