[dropcap]A[/dropcap]Palm Beach Motor Yacht is the ultimate reward. A feeling of prestige, an ownership experience without compare. Each Palm Beach is meticulously created, modern technology and craftsmanship perfectly intertwined. Unique custom tailoring harmonises seamlessly with the personal requirements of individual owners to create a unique vessel designed to maintain its beauty and integrity for generations.
There are no compromises. Sporting character, superb engineering and build quality with impeccable style, it is the pinnacle of modern day pleasure boating. True quality continues to inspire, impress and give pleasure long after the transaction is forgotten through it's timeless classical lines.
Mark Richards – Palm Beach Motor Yachts & Grand Banks Ceo about a Palm Beach motor yacht…"to provide the customer with a product that's as close to perfection as humanly possible".
PALM BEACH STORY BREAKDOWN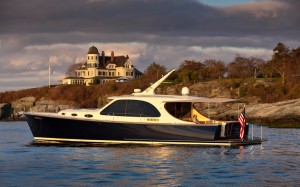 The picturesque Palm Beach on Sydney's Northern Peninsular, is a magical place to grow up for lovers of a nautical lifestyle. The slender strip of land is boarded by water on both sides and has been a fertile environment for the development of world class surfers, boat-builders, sail makers and sailors.
After leaving school in 1982, Mark Richards began a 4 year boat building apprenticeship on the Northern Beaches of Sydney, which laid the foundations for his longstanding passion for boat building and the marine industry in general.
Mark Richards pursued a 10 year professional yachting career including 2 American Cup challenges, World Match Racing victories and countless dinghy regattas. He is also an eight-time champion skipper of the grueling 628-mile Sydney-to-Hobart sailing yacht race, led Australia to victory in the 2003 Admiral's Cup, and has represented Australia in two America's Cup regattas. Wild Oats XI under the guidance of Mark Richards won line honors of the Rolex Sydney Hobart Yacht Race 2014. Wild Oats XI is the most successful yacht in the 70-year history of the Rolex Sydney Hobart race and still holds the record for the most consecutive line honors won.
1995, for four years Palm Beach built specialist sailing yachts and enjoyed a loyal following and critical applause.
1999, Mark and his team of expert launched the PB 38, the first of many Palm Beach Motor Yachts and established a new factory one hour north of Sydney at Berkeley Vale. The world renowned PB50 followed in 2002 then, a smaller 32ft. The PB38ft and PB32ft allowed Mark and his team to focus on satisfying a growing demand for larger boats.
2009 the first of several inspiring PB65s were built for owners in Australia and the USA.
2010 the PB50 earned the prestigious award of Best New Power Boat at the Newport International Boat Show in the USA and a number of sales followed.
In 2011 a 55ft smaller sister to the 65ft was launched, again to international and domestic acclaim. For the first time in history, the same company won the Best New Power Boat award at Newport International Boat Show two years in a row, this time with the newly launched and very first PB 55 !
In 2012 the much anticipated PB 45 was launched
2014 In August 2014 Grand Banks Yachts Limited announced to acquire a 100%-stake in Palm Beach Motor Yacht Co Pty Ltd of Australia and Mark Richards was appointed CEO of the enlarged Group.
2015 Miami International Boat Show will be the perfect venue for the all-new PB 52 world debut.
PALM BEACH YACHTS PART OF GRAND BANKS YACHTS GROUP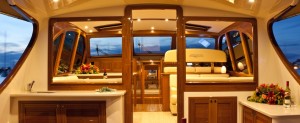 In August 2014 Grand Banks Yachts Limited announced to acquire a 100%-stake in Palm Beach Motor Yacht Co Pty Ltd of Australia and Mark Richards was appointed CEO of the enlarged Group.
Grand Banks said the transaction would strengthen the position of the Singapore-listed luxury motor yacht builder as a global company with two world-class brands that are well represented in the leading markets of the North America, Australia, Asia and Europe. The manufacturing facilities of both brands will continue to operate at their respective locations – Grand Banks in Malaysia and Palm Beach in Australia.
PALM BEACH 2015 RANGE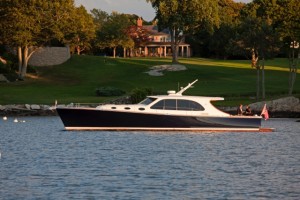 A Palm Beach motor yacht it's a choice that opens the doors to a world of exclusivity, sumptuous quality and personalization. In a Palm Beach Motor Yacht, experience a subtlety that is rare: a world of unparalleled craftsmanship, refinement and comfort as you create a powerful, seaworthy vessel.
The unique experience is designed to extend to all on board from the helmsman to the fortunate passengers. Supreme comfort and grace compliment the phenomenal performance.
When first stepping behind the wheel of a PB, one is struck by the 360 degree vision created by an expanse of glass in the saloon and uncluttered deck. The saloon is quiet due to high levels of insulation through the engine compartments, flooring and custom designed exhaust systems.
The interior decor accented by an expanse of Burmese teak is complemented by fine leather upholstery, solid Silestone counter tops and custom carpet, all created to the highest standards. The carpet is bound and perfectly fitted to the cabin space. Underneath is a lead-insulated, carpet underlay that is not only comfy underfoot but provides additional sound resistance for the separate generator and engine compartments. Large powered windows on both sides retract to provide fresh air and come in handy during docking. Every available space is utilized for storage, including custom drawers for cutlery, dishes and glassware and state of the art entertainment components including TV and multi speaker stereo—all included as standard equipment and customized to suit each individual owner.
PB 45 was developed from the mould of the popular PB 50 in response to client requests. Specific feedback resulted in a entry level boat with more contemporary styling and family-focused robust finishes. As with all Palm Beach Motor Yachts there is no compromise on build quality or handling. The first PB 45 was launched in 2012 to exceptional interest from new and existing Palm Beach owners.
PB50 is seen by many as the quintessential PB Motor Yacht with its sweeping sheer line and sporty, timeless style. Since its first launch in 2001, over 22 PB 50s have been built (as at 2012) and they remain well sought after both new and as pre-owned vessels with exceptional reliability and resale value. PBMY continues to update and improve each and every boat that it builds based on the latest technology, products and owner feedback.
PB 52 will make it's world debut the all-new model at the next Miami International Boat Show next 12-16 February 2015.
PB 55 was introduced at the Newport International Boat Show in September 2011 and awarded "The Best New Motor Boat (over 30ft)". The 55 was modeled on the company's flagship 65 and comes with a two or three cabin layout and rear tender garage. Like all PBs each boat is styled to suit the owner's unique specifications.
PB 65 launched in 2009 to critical acclaim by owners, boat lovers and the media. While the PB65 is a far bigger boat than the PB 50 she shares the same high quality build finishes, timeless, teak – dominated styling and sea going competence as all Palm Beach Motor Yachts. The model has a tender garage, laundry and all the extras that are expected on a boat of this scale, without losing the spacious, light filled feeling of the saloon, cabins and rear cockpit.
PALM BEACH CONSTRUCTION
MODERN TECHNOLOGY MATCHING IMPECCABLE CRAFTSMANSHIP
Built in Australia to the highest standards available, Palm Beach factory enables all stages of construction to occur in one facility. Utilizing solid works 3D design programs coupled with computerized CNC systems and state of the art tooling ensures precise construction. Latest generation E glass, vinyl ester, epoxy resins and stitched multi-axial fabric over core-cell linear foam are used to provide a very strong, but lightweight hull and deck. All bulkheads and fixed furniture are structurally bonded to the hull and deck for superior strength and rigidity like a performance racing yacht. Each model is engineered with proprietary noise silencing materials and the exclusive Quiet Chine © hull to provide a tranquil environment while aboard.
Palm Beach uses Volvo marine engines and world class equipment, but will build to client specifications if alternatives are preferred. All engine and ancillary equipment sit atop fully isolated and decoupled engine mounts to reduce noise and vibration. The engine room consists of loaded vinyl acoustic isolation panels, preventing noise from moving outside of the engine room into the boat's living area.
Stability and agility are paramount and uncompromized. A trip offshore in rough conditions delivers superb performance with a fine bow entry and warped hull, providing outstanding fuel consumption and comfortable cruising speeds. Maneuverability and ease of handling comes through hydraulic steering, electronic gear selection and optional bow/stern thrusters.
The internal fit out is not unlike that of a high tech racing yacht where the bulkheads and fixed furniture are structurally bonded to the hull and deck further reinforcing the strength and lightweight properties of the hull. When it comes to internal fit out, yard offers owners with a choice of either our traditional finish dominated by polished Burmese teak in conjunction with hand crafted joinery or contemporary finish. While still using teak trimming, yard contemporary finish uses more soft furnishings and composite materials to provide a more modern feel while maintaining our high quality.
[divider style="dotted" top="20″ bottom="20″]