[dropcap]F[/dropcap]ollowing her successful maiden trip, FLYING FOX (Lurssen 136m, 2019) has enters the Imperial Yachts' Charter fleet. The gigayacht is now exclusively available for charter worldwide through Imperial, who were the Yacht Management company throughout the construction process and will continue now as Operational Manager.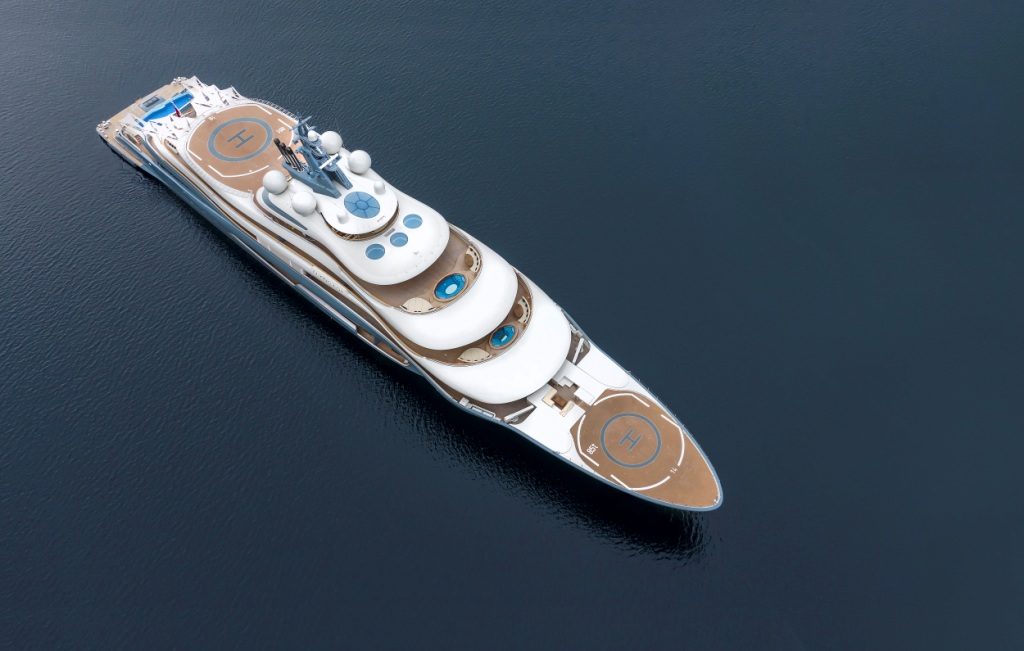 Named after a genus of rare and impressive bats living mostly in Asia and Australia, which are reputed to be the largest in the world, FLYING FOX's curvy and extraordinary exterior design complimented by her dove grey hull designed by award-winning Espen Øino make her a spectacular and unique vessel. At 136-metre length and PYC compliant, her 22.5m wide beam ensure a comfortable living space together with a unique design on both exterior and interior. Her luxurious, contemporary interior design from Mark Berryman offers 11 cabins for 22 guests, all with private sea view terraces. Additional accommodation is also available on request for staff.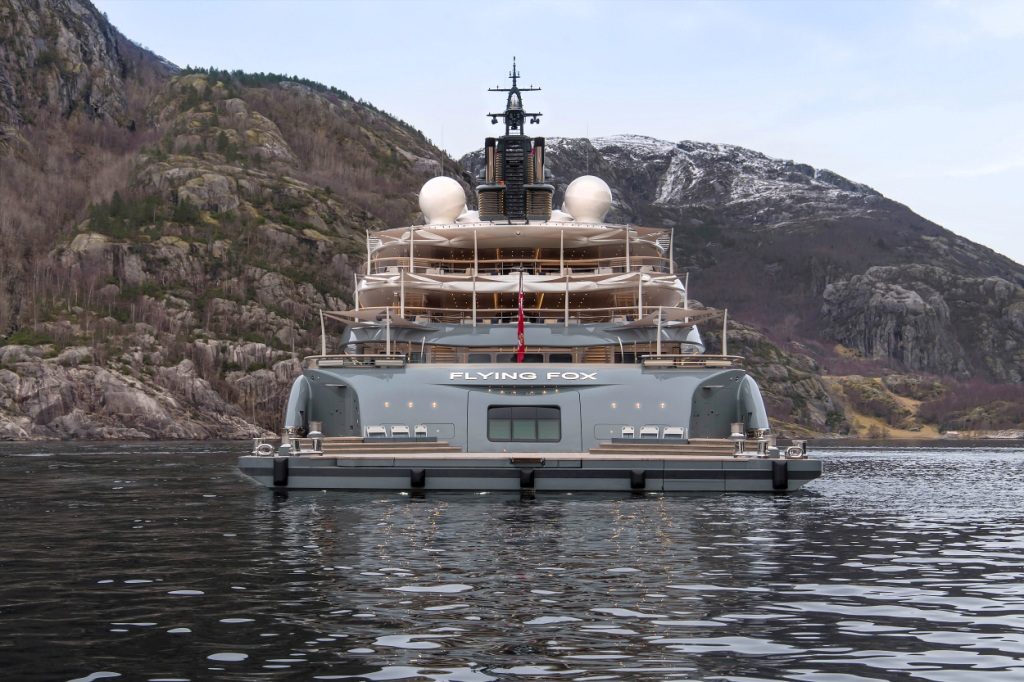 "There is nothing like FLYING FOX on the charter market." Says Julia Stewart, Imperial Director. "This superyacht is unprecedented, we look forward to marvelous and unique charter journeys on board for the most demanding of guests. It's a real pride to have been involved in creating a beauty together with our partners and their highly involved teams, Lurssen, Espen Oeino and Mark Berryman. Imperial has always been at the cutting edge of the superyacht industry, and together with FLYING FOX we open today a new era of high-end luxury charter service."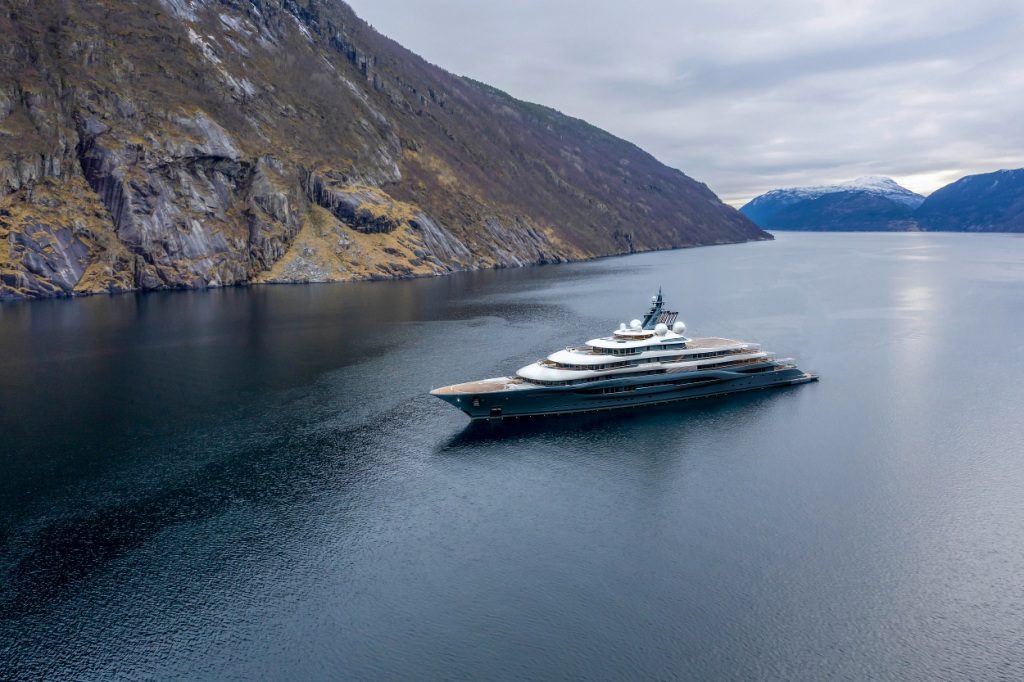 Built for lovers of the great outdoors, FLYING FOX provides exclusive outside key features. A special one to highlight is the 12-metre swimming pool, which runs transversely on the Main deck, a first for a superyacht of this size and a technological challenge unlocked. Everywhere on board, innovation in shape and comfort in all areas are the keywords of her layout: from her wide swim platform to the Roof deck, her modern and high level of outfitting is the theme throughout.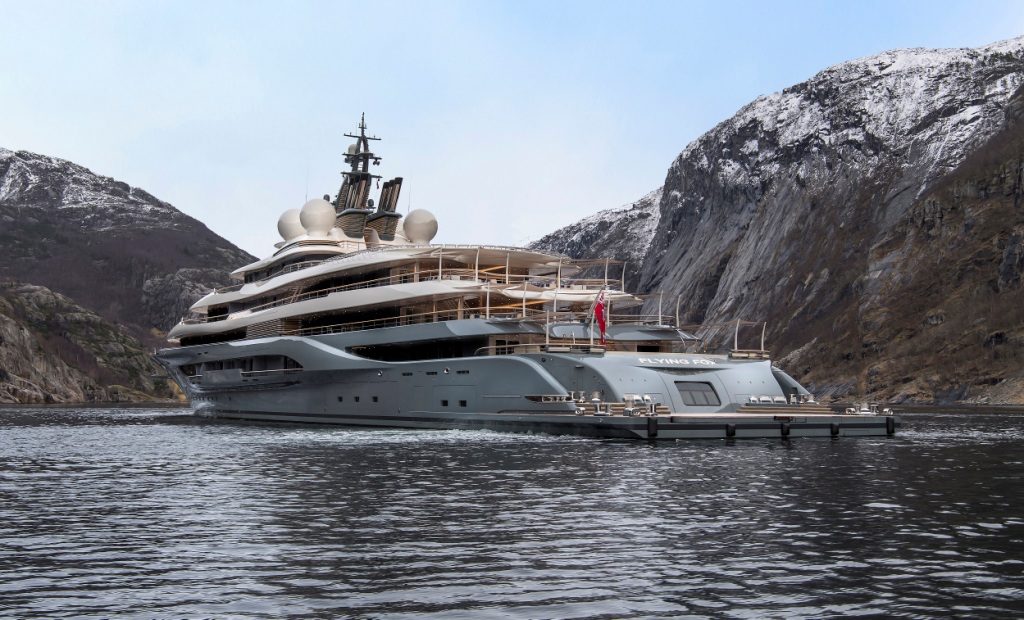 Creator of cosy atmospheres, Espen Øino's design is enhanced by roundshaped gas fireplaces on Upper deck and Bridge deck aft, built around wide and comfortable lounges with panoramic sea views. Offering a fully private Master forward area on Upper deck including its private Jacuzzi, plus another Jacuzzi on Sun deck and other multiple options of exterior lounges throughout her decks, FLYING FOX is the new definition of creativity. To make sure your privacy is kept at the highest level wherever you are cruising, FLYING FOX is also equipped with state-of-the-art onboard security system.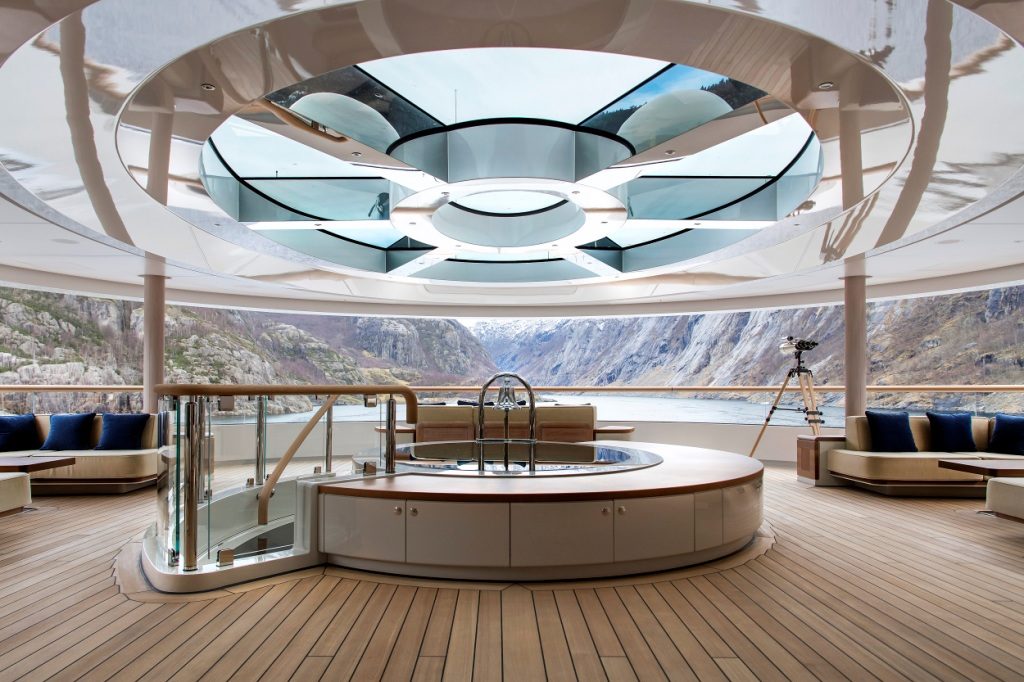 Built to the highest standards, FLYING FOX boasts impressive, high-ceiling interior spaces from Mark Berryman. Her calm atmosphere is enhanced by the use of warm, natural and neutral decorations and colors. Furniture and floors are made of bamboo, teak and oak which contribute to her elegance, combined with Travertine and Jerusalem stone with fine leathers throughout the whole areas. The whole design is
enhanced by an immersive touch of green: real trees and plants are available throughout the vessel to recall her natural spirit. Starting on Main deck, fitted with 10 tasteful and well-designed VIP en-suite cabins, follow her spiral staircase or lift serving all decks to access the key interior area on Bridge deck. Enjoy the large 2-floor salon and wood fireplace with an impressive 22-seats dining table, or immerse yourself in the highend Cinema room with D-box seats and state-of-the-art surrounding sound.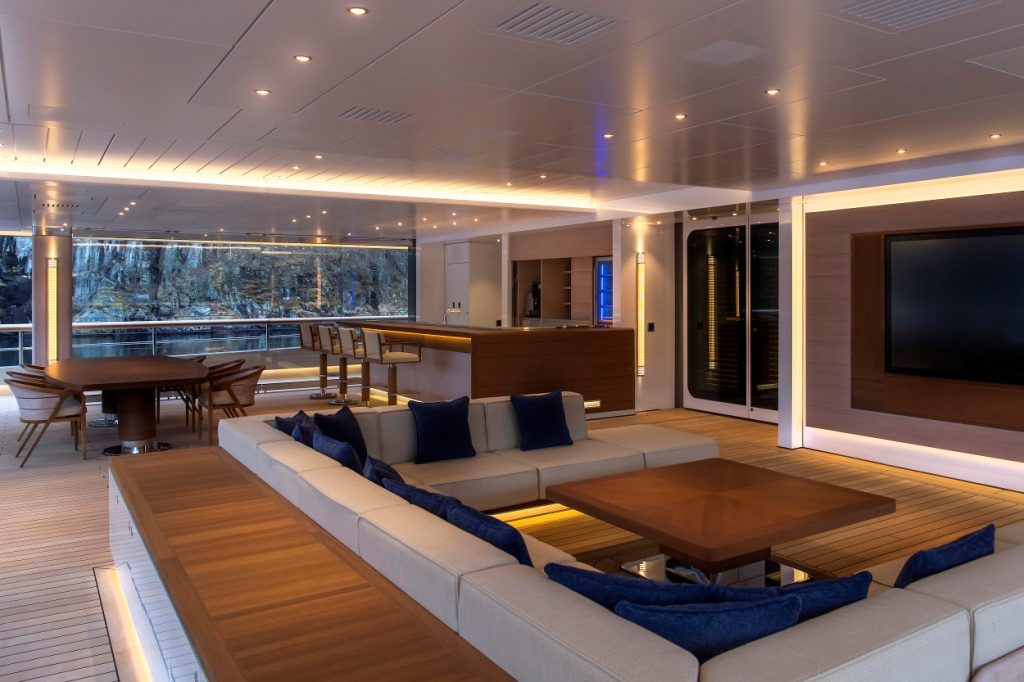 The main guests will enjoy a separate Master area located on Upper deck forward and made to combine professional and personal life with a certain sense of efficiency. From the aft deck with impressive outside Cinema screen, salon with wood fireplace and conference room, join this private zone designed with a great sense of elegance: private office, bathrooms with dressing rooms (His and Hers) and a magnificent Master stateroom with en-suite private salon and trees, wood fireplace and bay window opening to the private Jacuzzi. A Beauty Centre is also included within this private area, for the ultimate privacy and relaxation.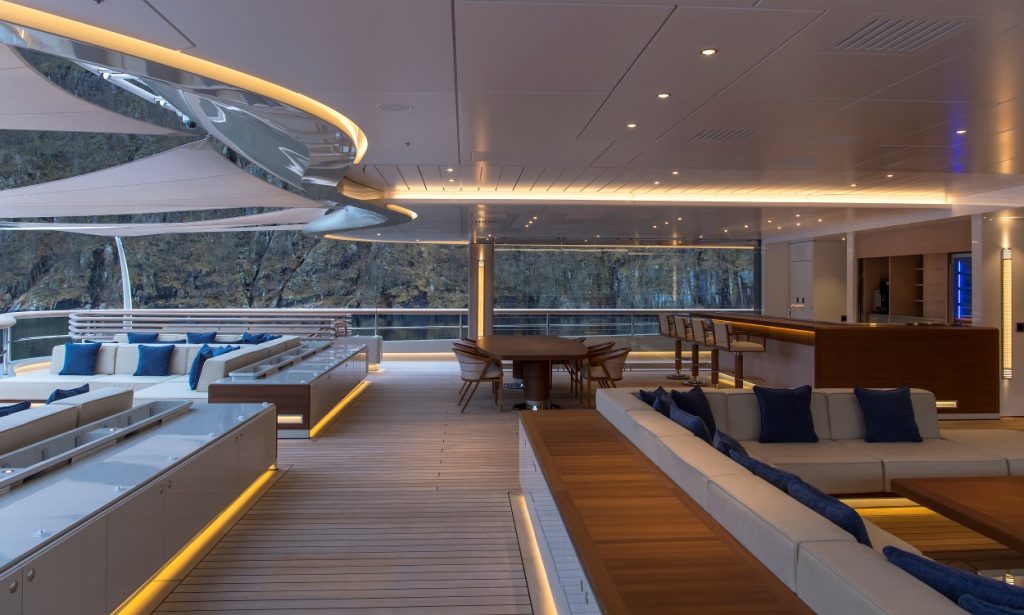 Complete your experience on board with a panoramic sea view like no other yacht offered until now: appreciate the peace that reigns on the Observation Salon with her circular roof windows and relish a moment out of time in the forward Jacuzzi, overlooking the most beautiful and remote landscapes. On Roof deck, the beauties of this world will be offered to you through a panoramic exterior salon enhanced by natural light: a private paradise on board.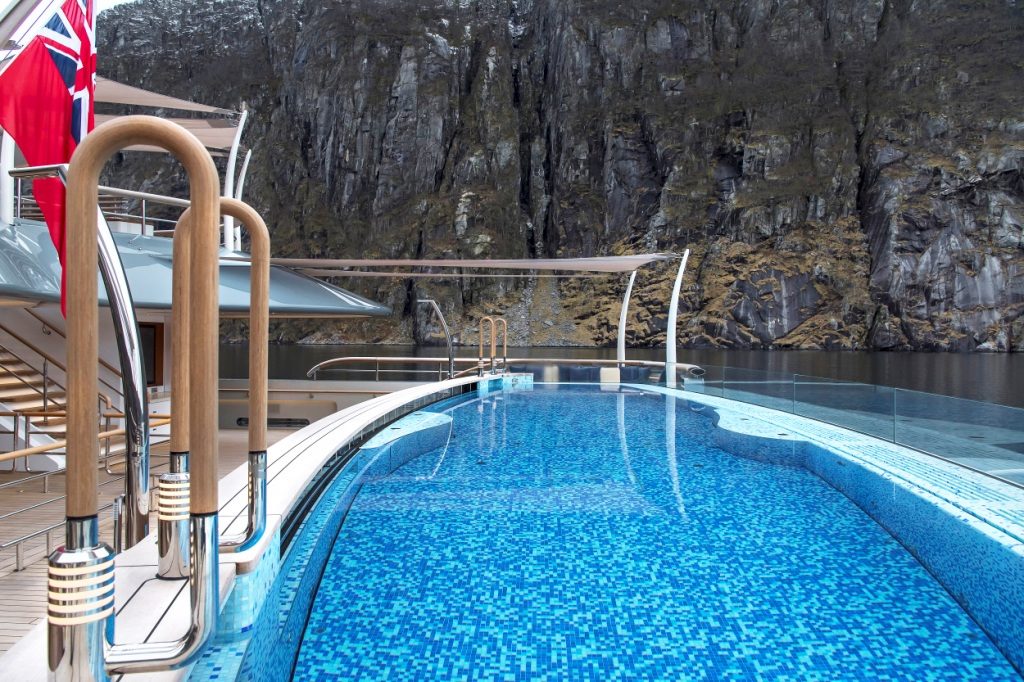 Crewed by an experienced team of 54 professionals offering all guests a plethora of specialties with proven credentials in their respective domains (and for some of them, former Olympic athletes and/or experienced triathletes), FLYING FOX is reinventing the art of luxury charter experience together with Imperial. Sports addicts can spend incredible moments in her impressive Dive Store area with the finest diving materials available on the market and qualified, experienced instructors; or enjoy the large array of water toys (among the classic Sea Doo jet skis and other Seabobs, give a try to the exclusive Zapata flyboard and hoverboard) and tenders (9 in total, including a highly luxury custom 12.5m enclosed Limo tender, 11m luxury open Limo tender, 9m Beach landing craft or a 8.5m powerful Super Air Nautique Coastal) for an unforgettable charter journey.
For those looking to escape the outside world, FLYING FOX is built with a never-previously-seen 400sqm 2-floor Spa including the finest assets and treatments that only a palace can offer. On Lower deck, a Sea Lounge with large Jacuzzi and transverse direct accesses to the sea through the Dive Centre and Sea Lounge platforms, treatments such as Hammam, Sauna, Cryo Sauna and more together with highly skilled
therapists. On Bridge deck, a Beauty Centre with Massage rooms and a fully-equipped Gym area with the finest equipment available on the market and professional trainers. Most certainly the absolute relaxation and sport area available on a superyacht!
Fine cuisine connoisseurs will also enjoy a new culinary experience: with her highly-skilled Chefs and their extensive Michelin-star restaurant knowledge, each guest can enjoy any kind of cuisine made with the finest appliances. Available on her Bridge deck aft. Teppanyaki grill, rotisserie oven, BBQ or spit roast tandoori oven, all tastes are satisfied and the impossible becomes your daily life with FLYING FOX.