[dropcap]T[/dropcap]hree new models will soon enlarge Arcadia's gamma of yachts. Arcadia Yachts also plans a +25% upgrade of green energy production for all new and current models.
Actual series of fibreglass yachts ranging from 85 and 115 feet will enlarge with a new model: Arcadia 100. In addition the 2015 yard fleet expansion plan is the steel production of full displacement yachts sizes from 145 feet up to 180.
Arcadia 85
10 units already delivered in different areas, between the Mediterranean, USA and China; hulls #11, 12 and 13 are now under construction. Order Book of large number of units sold in China to be delivered within the next 5 years, the first of which has arrived in Hong Kong on the begining of December.
Materials: Arcadia 85 hull is built in reinforced fiberglass with vinylester resin for the three external layers. Sides are built in PVC sandwich with fiberglass. Superstructure is GRP and verandas in stainless steel. Now available in two versions: Mediterranean (standard) and Far East /US.
Arcadia 100
New 2015 model – hull #1 in lamination. Materials: Arcadia's 100 hull is built in reinforced fiberglass with vinylester resin for the three external layers. Sides are built in PVC sandwich with fiberglass.
With a remarkable GT, positively effecting living space. This new yacht will have three decks then, and an overall length of 31.06 meters, 29.29 meters on the waterline, a beam of 7.75 meters and a displacement at full load of 110 tons.
With an optimized hull for efficiency, whose primary advantage is to reduce the fuel consumption compared to other yachts of similar dimensions, the new Arcadia 100, powered by two 1,000 hp engines reaches a maximum speed of about 18 knots and offers a cruising speed which is perfect for long distance day trips.
Actually, at 16 knots, fuel consumption is apx. 260 liters/hour and at 14 knots this decreases to 160 liters/hour. At economical cruising speed, suitable for night navigation and long range cruises, it drops down to 80 liters/hour. Arcadia 100′s extended cruising range is also favored by low generators usage as, when the yacht is at anchor during the daylight, electrical energy production can be also supplied by the solar panels that cover almost all of the superstructure.
Arcadia 115
4 units produced and sold. Materials: Arcadia's 115 hull is built in reinforced fiberglass with vinylester resin for the three external layers. Sides are built in PVC sandwich with fiberglass. Superstructure is GRP and verandas in aluminum.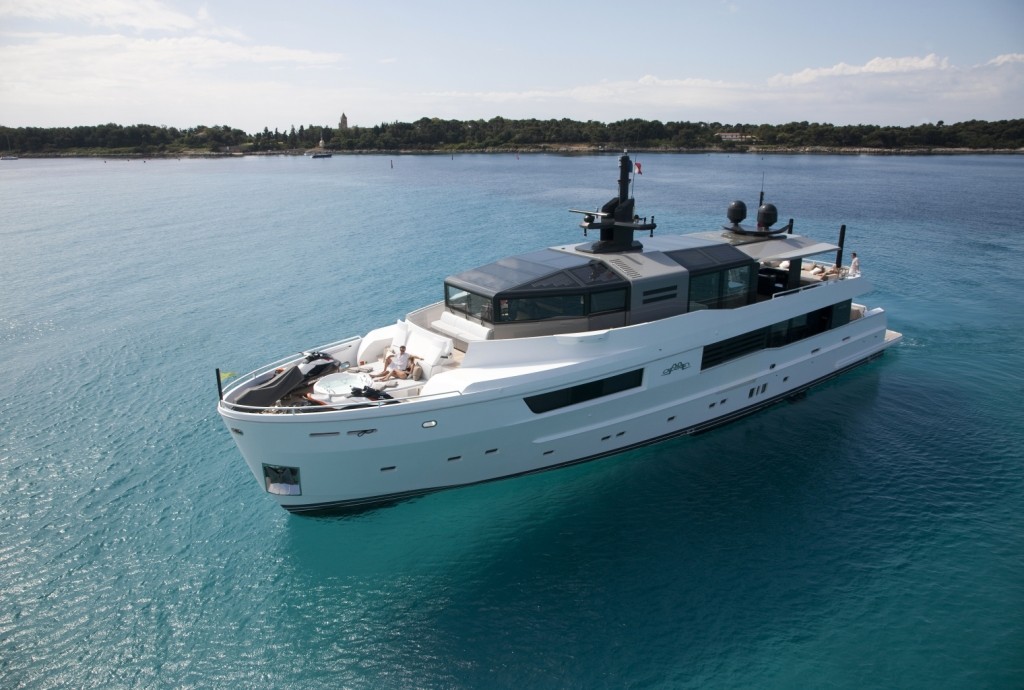 MORE ON NPL HULL HYDRODYNAMIC EFFICIENCY
The semi-displacement hull requires limited engine power, guaranteeing low consumption, emissions and maintenance costs. Arcadia Yachts produces semiplaning yacht. Its particular hull (NPL) is named after the National Physical Laboratory of England where tests were conducted to determine the best shape hull and the best ratio length-beam in terms of hydrodynamic efficiency. Studies and tests were implemented by Arcadia's chief engineer and designer Francesco Guida as well as hull shape – prior to adopt the NPL as Arcadia's Hulls with the result of excellent sea keeping qualities and noise reduction for an exceptional comfort while cruising or at anchor. Arcadia hull in reinforced fiberglass with vinylester resin for the three external layers. Sides are built in PVC sandwich with fiberglass. The advanced semi-displacement hull which allows efficient performances together with the very light superstructure significantly reduces weight and fuel consumption and related running costs of its low-power engines.
FULL DISPLACEMENT HULL – NEW STEEL AND ALUMINUM 2015 RANGE
Arcadia 145
New 2015 model – The project has been recently completed and the Shipyard is ready to start construction. It's a 44mt of Loa with remarkable volumes. Arcadia 145 will record a Gross Tonnage few below 500 GT. Arcadia 145 despite generous main deck created according to a ahead wide body concept, will be a benchmark for yachts of this size.
The solar panel verandas, already present on other models of the Arcadia range, are located on the upper deck, and thanks to even more efficient photovoltaic elements, the panels will produce up to 6 kwh, a 25% upgrade of green energy.
Both of the two versions offered by the yard feature the owner's suite on the main deck, with an adjacent office and sitting room, a spacious bathroom and direct access to the lobby. Aligned with Arcadia Yachts "family feeling", lighting and spacial concepts for the 145′ are decisive factors. Ample bay windows, at full hight for vertical panels, but also present on the overheads, provide a unique sensation of airiness.
Arcadia 180
New 2015 concept – Arcadia Yachts will unveil more details during the year 2015.
+25% Green Energy in 2015
Double glazing solar panels in all Arcadia Yachts are integrated within the superstructure. This feature ensures maximum comfort whilst recharging the batteries and powering many utilities and services on-board. This is the only way to reduce the use of generators.
On all Arcadia's model, Yard will installs solar panels, placed inside a special insulating glass designed and produced especially for Arcadia in accordance to rigid protocols, guaranteeing a 25% increase in electricity production. This was made possible in part by the increased generating capacity of the cells themselves, in part with attentive superstructure design, increasing the surface area dedicated to the panels.
Since the Yard's establishment in 2008, Arcadia's design choices, based on environmental considerations, characterize the Yard's design philosophy. Arcadia has consistently proposed unprecedented solutions that harness solar energy and allow lower energy consumption and generator dependency. Across the design range, irrespective of length, from the past into the future.
The Arcadia design and technical department always makes use of a scientific approach. The technology allowing transparent superstructures with internal solar panels derives from studies undertaken at the University of Naples Federico II – Prof. Adolfo Palombo.
The solution is special insulated glass that uses low-emission electric energy production cells insulated by Krypton gas. The first infrared studies done by both the Yard and the university have confirmed positive results: 18° of thermal cooling between interior and exterior temperatures, the equivalent of a 20 cm. brick wall.
A standard Arcadia's "Eco-tech solution" in addition to the +25% of green energy, is related to waste water.
Every new and current Arcadia model has sophisticated systems which provide waste water treatment to avoid pollution. An other relevant step oriented to Arcadia's Eco-think.
[divider style="dashed" top="20″ bottom="20″]