Arcadia Yachts – the innovative and unique "eco-friendly" Italian shipyard – has announced the appointing of Eletek Technology as exclusive dealer for Greater China. Eletek forecasted 15 units to sell in Greater China within the next 5 years along with the presentation of Arcadia's Yachts during the most important Chinese boat shows. The first show for Arcadia and its model 85 will be – for the 2015 – the Hong Kong Gold Coast Boat Show.
Eletek Technology Limited – established in 1997, is mainly focusing on business related to the marine industry and has rapidly established itself as a leading marine electronic service provider in Hong Kong and China. Eletek is the only company presently offering comprehensive sales and service encompassing shipping industry, from the recreation boat, work boat, fishing boat to the deep sea commercial vessel. Eletek has established distribution networks which links up hundreds of dealers covering almost every part of China's waterside, harbour workboat and river trade markets.
Ugo Pellegrino President of Arcadia Yachts states:
"We are very excited for this strategic agreement with Eletek. We are confident that our yachts can have a serious success with potential Chinese yacht owners, for several reasons. First of all, new and current Arcadia models are so different from all the other yachts and comply in full with the Chinese yacht buyers expectation for excellent see-keeping; our yachts counts ( senza s) on generous, roomy and shielded spaces (approx around 220sqm) as Arcadia offers by its aft-deck. Arcadia's maximum beams are the largest available on market. The lifestyle on board of Arcadia, thanks to its peculiar continuity of spaces on the main-deck and the volume of its convivial areas, is perfect for socializing during their frequent social events. And last but not least the Italian style that a large number of Chinese owners prefers".
Mr W.K. Leung – Eletek CEO refers:
"After a long and accurate market survey in search of the ideal motoryacht suitable for China market, Eletek selected Arcadia's production since we are convinced that the peculiarities offered by Arcadia's innovative projects comply perfectly with Chinese growing clientele. New technologies, green approach, modern design, innovative concept for space distribution on board and an unmatchable comfort  in navigation make all Arcadia models unique and pertaining to a "new yacht generation". You will discover why only coming personally on board".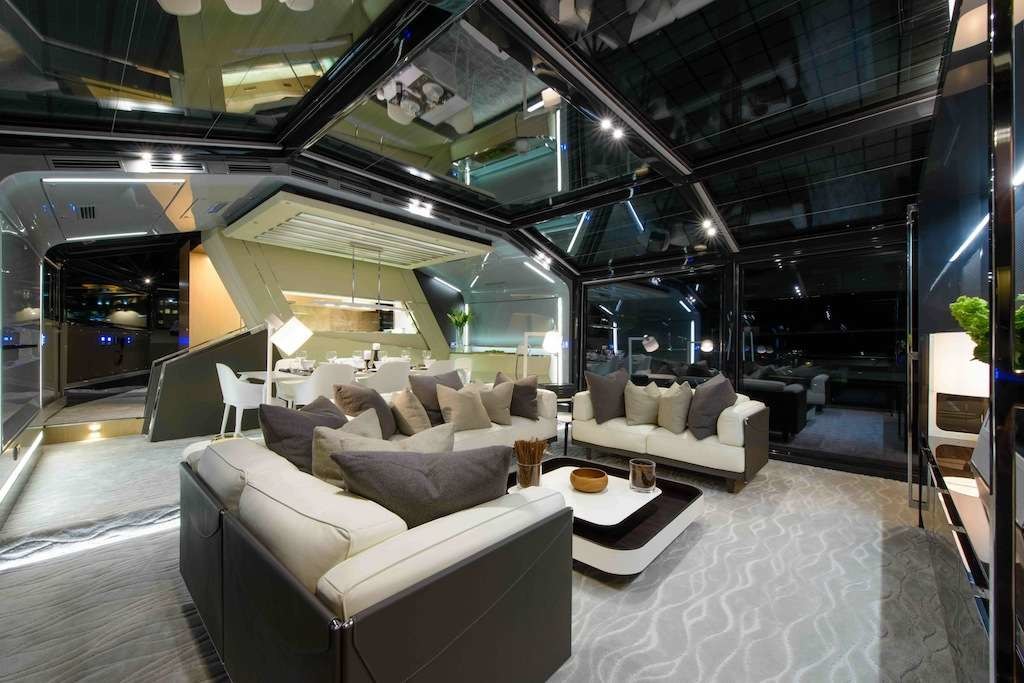 HULL #07 OF ARCADIA 85 IN ITS FAR EAST EDITION DELIVERED IN HONG KONG – M/Y Lady 007 is the name of the first Arcadia delivered in Hong Kong to Eletek. The layout and the functional living concepts of Arcadia 85 in its Far East Edition are the result of a construction evolution: the linear design of the superstructure and the vertical line of the bow allow a better use of every single available internal/external space. Living capacity is wider than other yachts of the same size. The uniqueness of Arcadia's project is finding a design solution to integrate solar panels. Yard's passion for solar technology and clean mobility is finally expressed in this 26mt length and 7.15 width yacht equipped with 40sqm of photovoltaic panels each composed of hundreds of high performance solar cells. That's how and where any Arcadia Yacht generates almost all the energy for the equipment on board and gives it such excellent class-leading "green credentials".
Arcadia 85 Far East version:
Generators enhanced to support more powerful air conditioning
Insulation increased to improve the onboard comfort according to warmer and more humid climate

Net separation between technical crew areas including galley

 

 

and guests living spaces

An overall of 15 mt of free view from living area to stern

A special and new color for the hull a

 

"

light grey pearl

"
[divider style="dashed" top="20″ bottom="20″]