[dropcap]I[/dropcap]talian boatbuilder Amer Yachts has installed Volvo Penta Easy Connect in their 94-foot superyacht, D'aria, making it the largest yacht to be connected to the app. The boat will be at the Cannes Yachting Festival giving customers the chance to see the technology in use. Volvo Penta Easy Connect provides users with data related to the engine, boat, and routes taken – directly to their smartphone or tablet – which can be viewed in real-time onboard or again when back on land. Since its launch on iOS in 2018, there have been several updates, including its introduction to Android devices, D1 and D2 engines, all of which have expanded the benefits to a broader audience. Now, the app has come aboard a superyacht.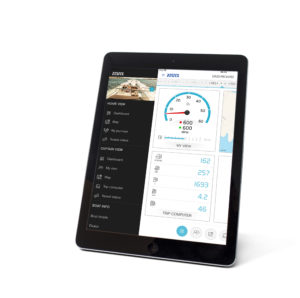 The D'aria yacht is the first superyacht with Easy Connect. D'aria is the fourth Amer 94 off the line and won the Environment Initiative at IBI METSTRADE Boat Builders Awards for Business Achievement, held in Amsterdam in November 2018. Every aspect of the boat has been carefully considered and – where possible – made from sustainable material. Volvo Penta Inboard Performance System (IPS) technology has also made the superyacht one of the most fuel-efficient. So, it comes as no surprise that such a forward-thinking design would incorporate one of the most advanced systems around – Volvo Penta Easy Connect.
 "Easy Connect is a useful tool for planning and simulating trips and transfers, monitoring engine hours and navigation, all easily from the app on your tablet," explains Barbara Amerio, owner of Amer Yachts. "Each crew member – as well as the guests – can take part in the data monitoring experience in a simple and intuitive way. The data can be shared with other users or social networks; or – in the case of a technical issue – the ground service staff can more effectively get involved and prepare for how to address it. Easy Connect is a very welcome tool to complete the integrated Volvo Penta system that makes life on board the 94 easy and simple" says Amerio.
The Amer 94 will be exhibited at the Super Yachts Extension, where customers will be invited to come aboard and see the benefits of Easy Connect in action.