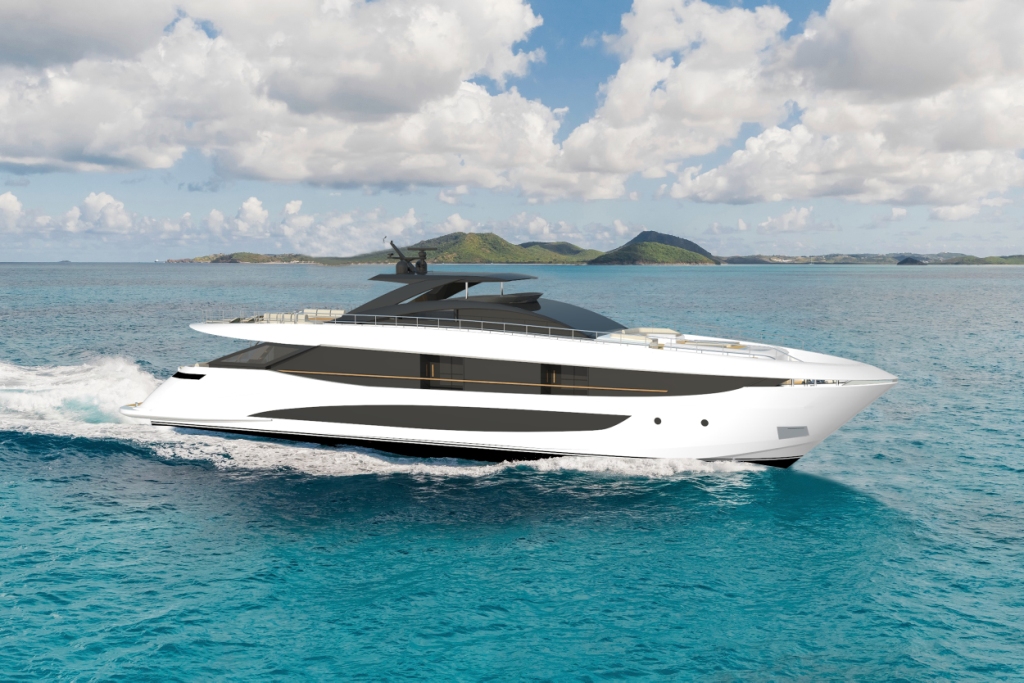 This week the Italian shipyard Permare (Amer Yachts) has unveiled new images of the interiors of their new flagship – Amer 120 – currently in build in Sanremo. The new model will be introduced at the next boat shows but has some features for which she is already renowned. Permare, with almost a ten-year experience in planning hull with multiple pods, is building the largest boat in the world equipped with IPS motorization.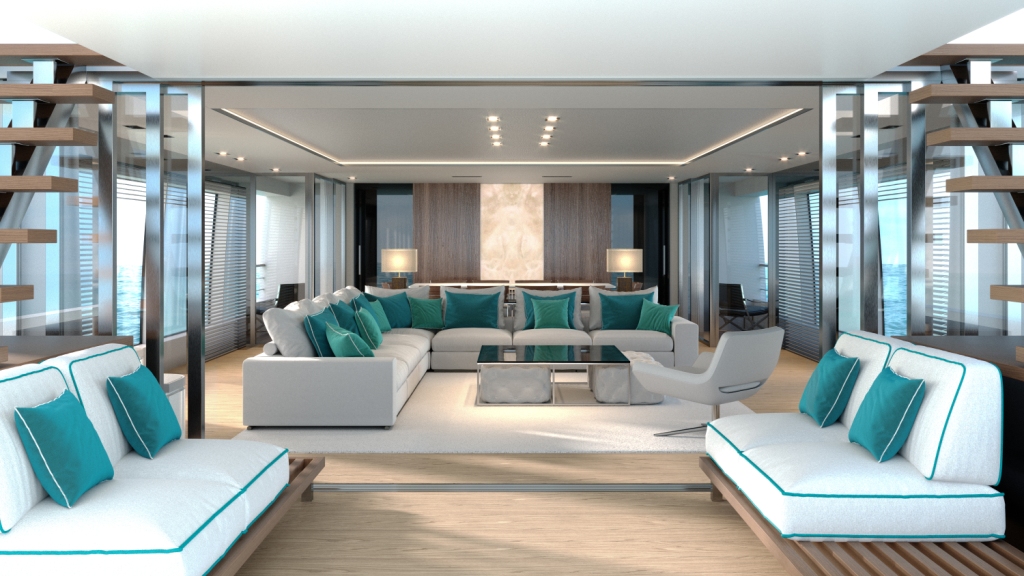 The new Amer 120, will have a LOA of 36,5m and a beam of 7,70m, featuring an exterior and interior design by Arch. Massimo Verme. Currently in build, the yacht, in composite material, is scheduled for launch next year. According to preliminary data, the yacht will reach a max speed of 26 kn. About this new model, Barbara Amerio said: "We are very proud of this new build, not only is this boat our new flagship, but she also represents an important record for being the largest yacht ever built with IPS system (Volvo Penta)".
Amer 120 is characterized by a full-width superstructure, which allows to have all the spaces of the main deck (saloon, owner's cabin, kitchen, etc.) of particularly large dimensions; in terms of propulsion, it is equipeed with 4 Volvo IPS engines, able to be adapted for a future SCR (Selective Catalytic Reduction) installation that will allow to sail in the so-called ECA (Emission Control Areas).
"We have always worked with the environmental issue in mind and with the target of improving our green approach during our building process using new innovative tools for the creation of mouldings", says Barbara Amerio. "Volvo Penta Ips propulsion allows navigation with exceptional comfort, quiet and vibration-free and easy manoeuvrability with the joystick that greatly simplifies mooring manoeuvring from 4 different points of the ship. Another feature a key point for the shipyard is the consumptions reduced to a minimum".
The ship is standard equipped with a Seakeeper gyroscopic stabilizer that reduces the roll of the boat at anchor and the Humphree fins stabilizers that reduce it during navigation. The perfect combination of these two stabilizers increases the comfort already exiting to an excellent level by the Volvo propulsion and electronic anchor tool.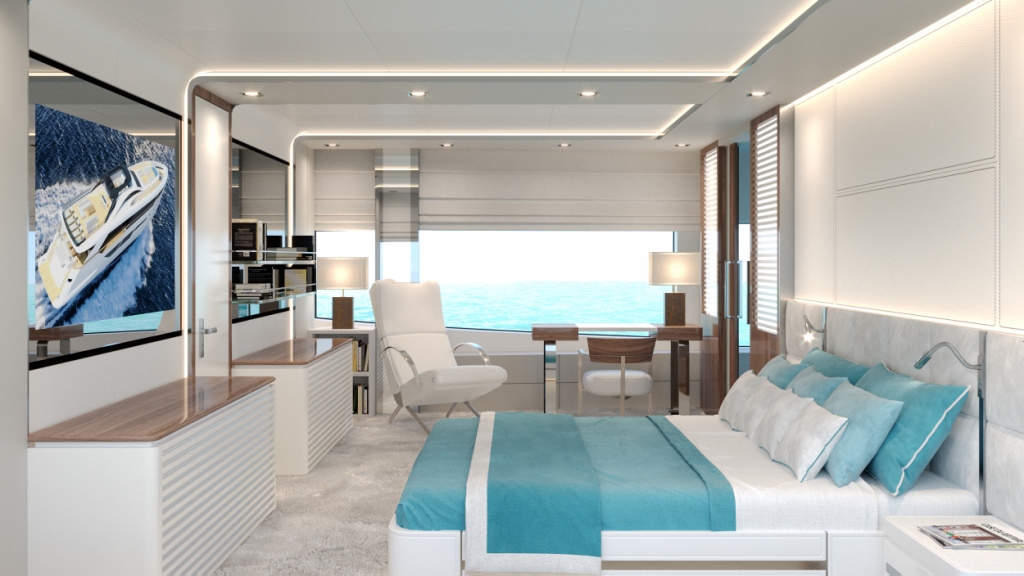 The large windows of both the main deck and the cabins of the lower deck will allow a greater presence of natural light for a more emotional blue waters view experience. A great work has also been done in the crew area where all the cabins have been made more comfortable.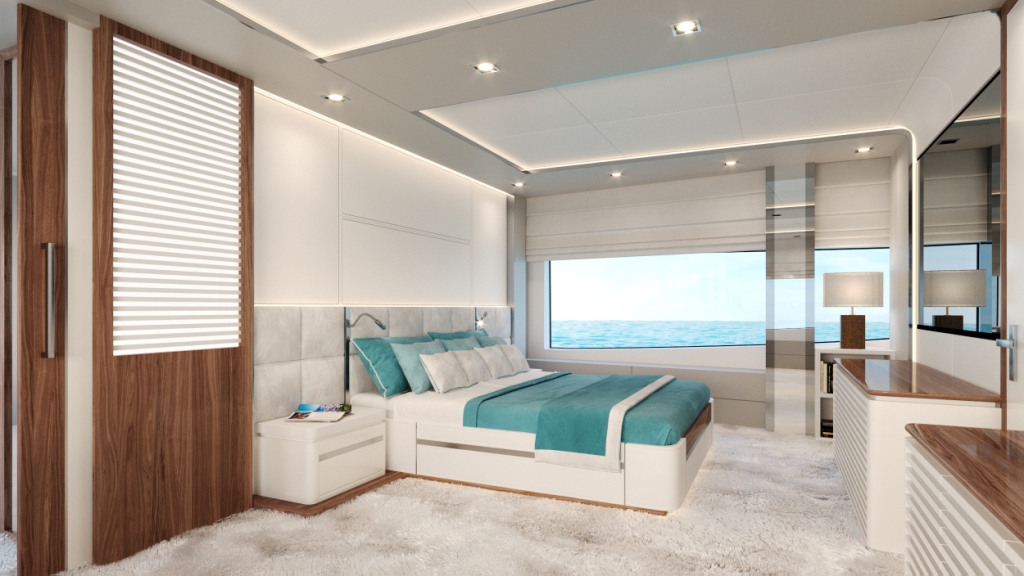 This yacht is studied to be compliant to all the requirements requested to get the Rina green and comfort certifications. Moreover, the yacht is ready for a new technical certification that will measure the impact of the vessel in the underwater environment. For this new particular certification, the yacht must respect very strict parameters.