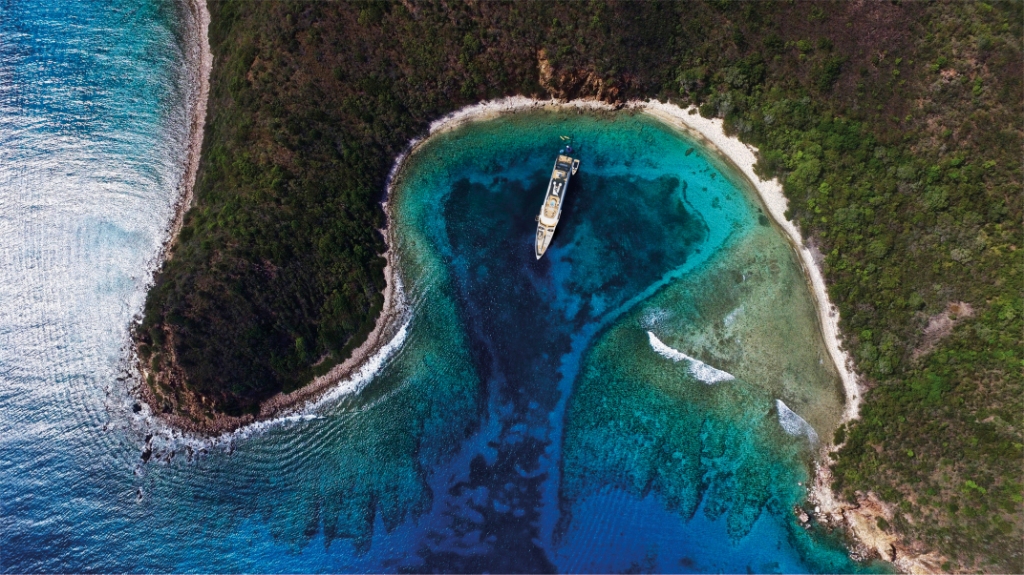 From Superyacht Digest Magazine / July Issue 2020 – by Julia Zaltzman
Dutch shipyard Amels' new wave of Limited Editions yachts offer today's yacht clients the Holy Grail of ownership – fast delivery, proven engineering, customisation, and, of course, design personality.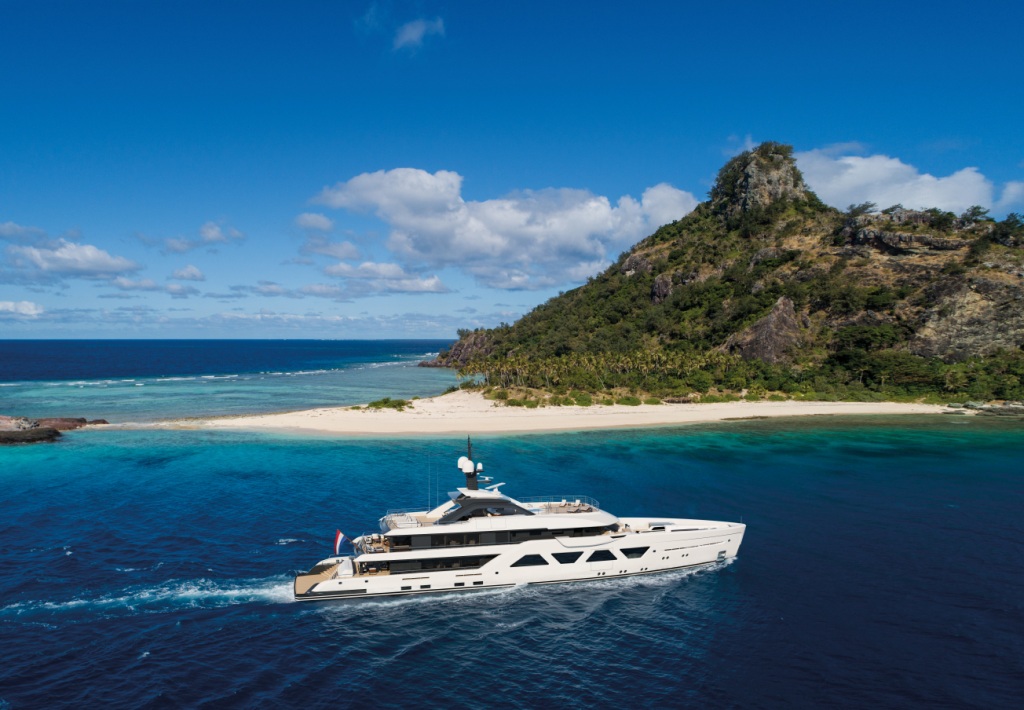 Amels is a shipyard on a mission. From its Vlissingen facilities in Holland, it manages an almost relentless output in its climate-controlled halls and vast covered dry docks. Announcing a steady stream of new yacht launches as though they're going out of fashion, its partnership with high profile superyacht designers has done much to boost the awareness and popularity of its latest offerings. Prolific at the very least, Amels, which has been part of Damen Shipyards since 1991, is dominating the industry.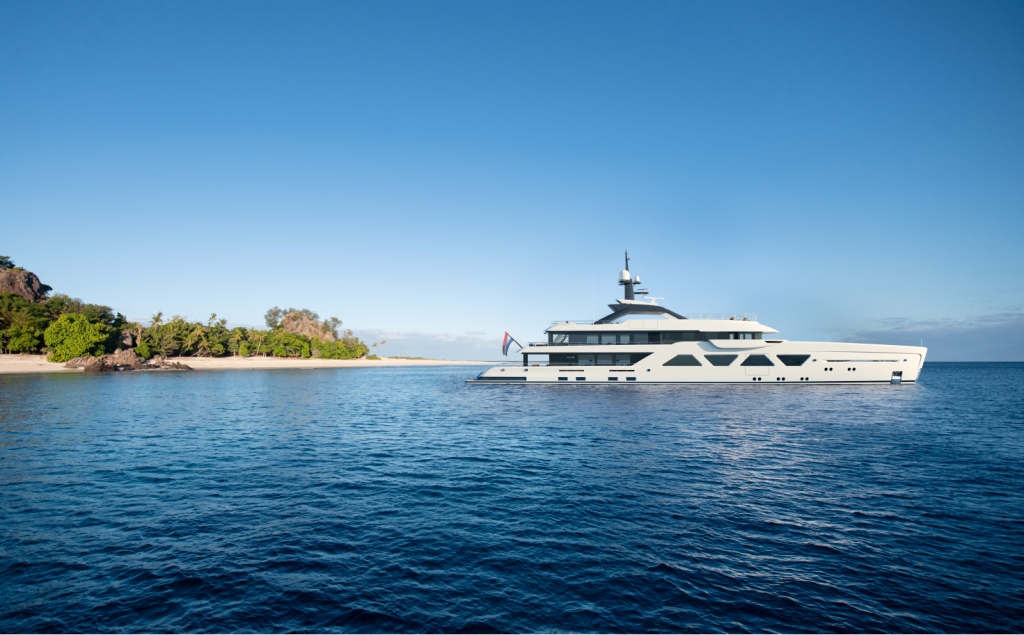 But don't just take my word for it. The proof is in the pudding. The Amels 60 – the yard's brand new 60-metre Limited Editions yacht – launched at the 2019 Monaco Yacht Show, and has so far already sold two models; the first in November 2019, and the second in February 2020. Both are currently under construction for delivery to their owners in 2022. It's easy to understand why this latest design is proving so popular, too.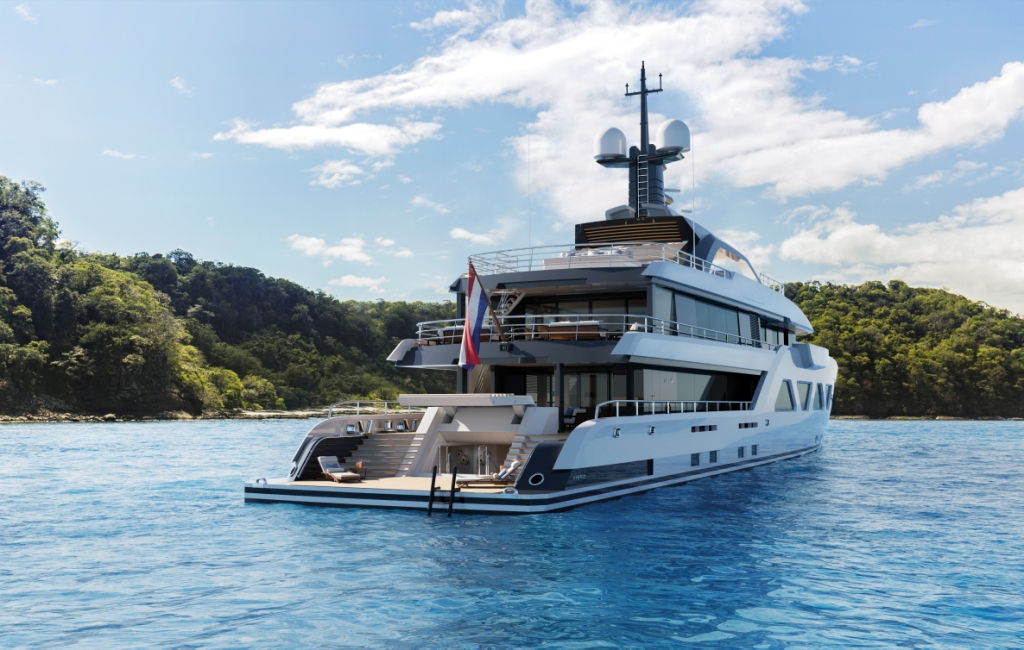 In addition to hybrid power and propulsion technology, the yacht's key features include a large sun deck, swim platform and folding owner's suite balcony. A nine-metre luxury tender stowed on the foredeck is also a welcome addition. When coupled with a generous interior volume of 830GT and Amels' signature large main deck windows, the result is a boat that can be tailored to suit the owner's lifestyle and preferences, but delivers on the latest design trends within the yachting industry.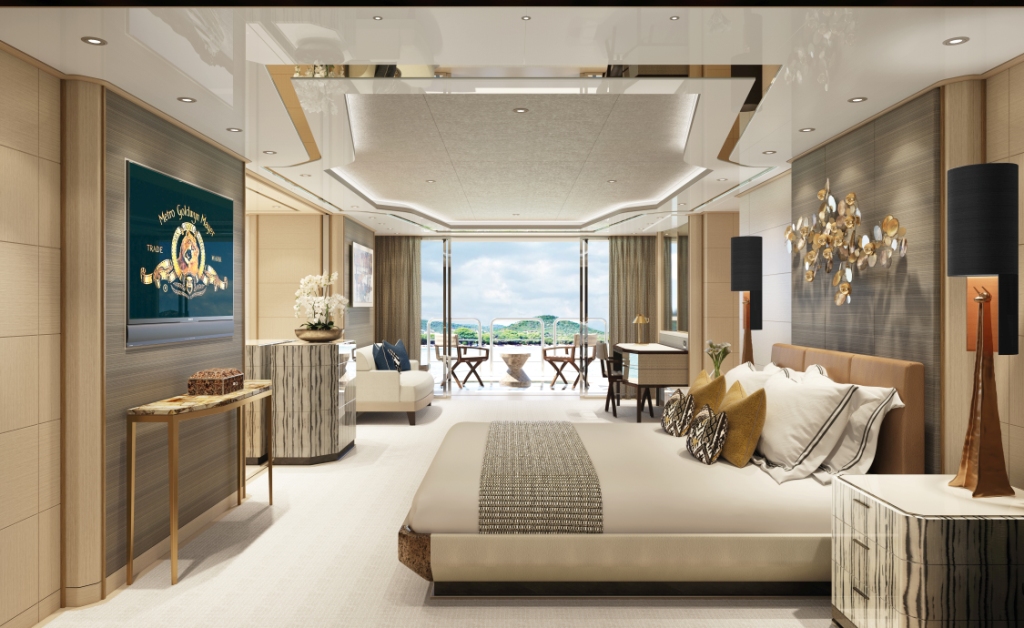 "The AMELS 60 has a future-proof hybrid package that our clients can rely on", explains Rose Damen, Managing Director of Yachting for Amels and Damen. "No full displacement superyacht of this size can match the AMELS 60's comfort, quality and efficiency in such a cost-effective design. We developed pragmatic technology that works invisibly in the background to deliver maximum efficiency, minimum impact on our environment, with the widest operating flexibility".
Amels naval architects, in collaboration with parent company Damen Shipyards' in-house Research Laboratory, developed the all-new hull form, which provides the optimum combination of full displacement comfort with fuel efficiency. The owner benefits from very low noise and vibrations, lower fuel and maintenance costs, while also reducing harmful emissions. However, equally as significant is the exterior penmanship from renowned designer Espen Øino. Each Limited Editions yacht is recognised for fast delivery, a proven and reliable technical platform, custom interiors and exterior styling, but it is the first time Øino has designed a "yacht up front".
"When first approaching the design of the Amels 60, my aim was to try and do something that would endure the test of time", explains Øino. "I believe that a timeless design will appeal to the highest percentile in a community of potential yacht owners, but will do the same in 10 years' time, as well. In my opinion, simplicity is the key to achieving that, therefore creating a design that isn't necessarily perceived as being typical of a certain era".
"But, alongside simplicity, boats, as opposed to buildings, are dynamic moving objects", adds the Norwegian-born designer, "so you need to bring in some dynamic elements to the design. And that's the trick – trying to make it simple, yet dynamic".
Examples of this design philosophy include the sheer line transition from the upper deck to the bridge deck and down to the main deck, as well as the paired back design of the bulwarks and overhangs. Also, the top deck arch is "a fairly plain design and yet similarly quite distinctive", explains the designer, while the bow is neither vertical nor classic. "It's a modern interpretation of something you would have seen perhaps 70 or 80 years ago, so there's a hint of retro there, without it being a retro design", he says.
Since 2007, AMELS has built more than 40 Limited Editions yachts in its hugely successful premium semi-custom range – from 55 to 83 metres in length. According to Amels' marketing manager, Victor Caminada, it's the yard's continuous innovation and commitment to absolute top quality that has proven the Limited Editions' enduring appeal to modern superyacht owners.
"The overwhelming success of the Limited Editions ranges speaks for itself", says Caminada. "Since the introduction of the concept in 2005, we have sold more than 40 Limited Editions yachts. They have proven successful and popular for both private and charter use, and across the range fast delivery combined with high quality remain the key characteristics. These are the features that our clients value, many of whom are repeat clients who have chosen to step up from 55-metre Limited Editions to one of the larger designs in the range".
The AMELS 60 is the builder's second collaboration with Øino, following the 78m AMELS Full Custom that is now under construction for delivery in 2021. Launched in December 2019, it is the builder's first fully custom built yacht since introducing its AMELS Limited Editions range. The yacht touched water for the first time at the end of last year after the hull's successful launch at Damen Shipyard's hull-building facility on the Danube. Following transport to Amels' outfitting yard in Vlissingen in early 2020, the 2,850GT yacht is the yard's largest yacht to date, in terms of volume. Here Comes The Sun launched in 2017 remains the longest at 83m.
Speaking at the launch, owner's representative Andrew Tree of Superyacht Technical Services, commented: "This truly custom yacht, with stunning design both inside and out, could only be achieved with the greatest collaboration, having the very best of European design and the highest quality of construction and management. It has been a pleasure to represent the owner throughout this prestigious build process and we look forward to her completion and delivery in 2021."
In total 13 yachts are currently under construction at the Vlissingen hub. The 78m AMELS Full Custom joins four Limited Editions yachts, two DAMEN SeaXplorers and five refits. Completing all these projects requires expert project management and craftsmanship from everyone involved, explains Rose Damen. "During these busy periods we have up to 1,500 men and women working at our yards, including our own personnel and our co-maker companies," she comments. "Everything is running like clockwork!".
In November 2019, the productive builder also announced the sale of a 60m AMELS 200 from its Limited Editions Range. Sharing the same naval architecture, high volume and hybrid electrical power technology as its predecessor the AMELS 188, as well as a four-deck elevator and air-conditioned gym on the sun deck, the elongated AMELS 200 features larger aft decks and swim platform, as well as full-height windows in the owner's suite. Exterior designed by Rockstar designer Tim Heywood, the unique interior is by London-based studio Reymond Langton, while the client was represented by Burgess in the sale. Impressively, the next available AMELS 200 is already in build for fast delivery.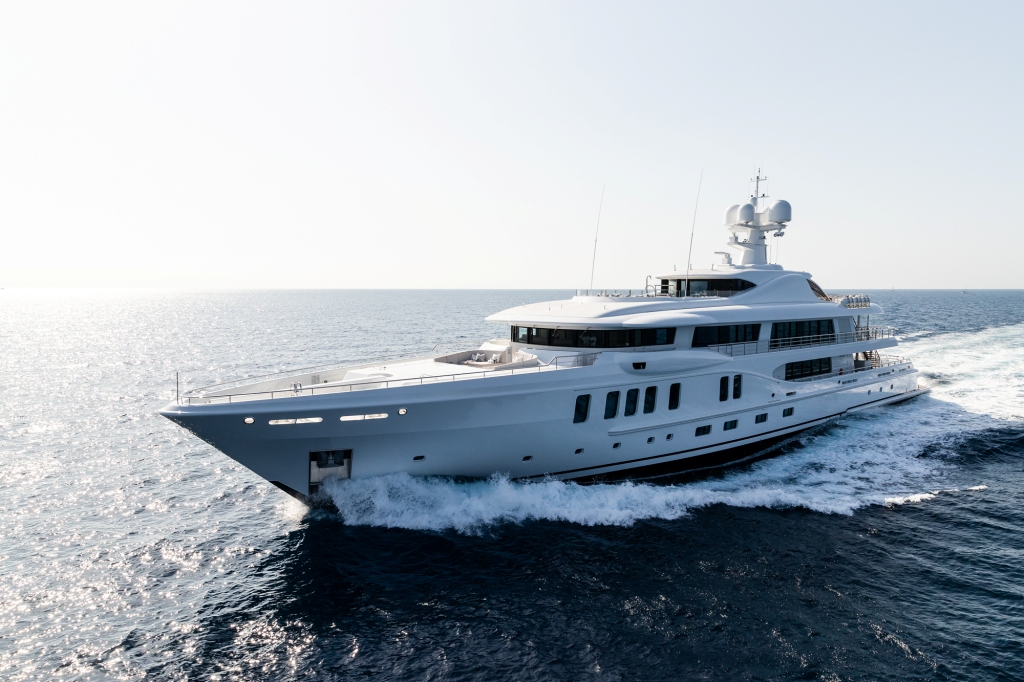 This last point can be something of a deal clincher, particularly when it came to 68m Aurora Borealis. Another Heywood design, and one which sold to a new owner in February 2020, the 68m yacht came into play when the owner was looking for a yard who could build his boat within three years. Launched in 2019, Amels was able to make the short time period thanks to its proven engineering platform, despite the changes made to the design, including additional length, says Antoine Larricq of Fraser Yachts, who represented the owner during the build.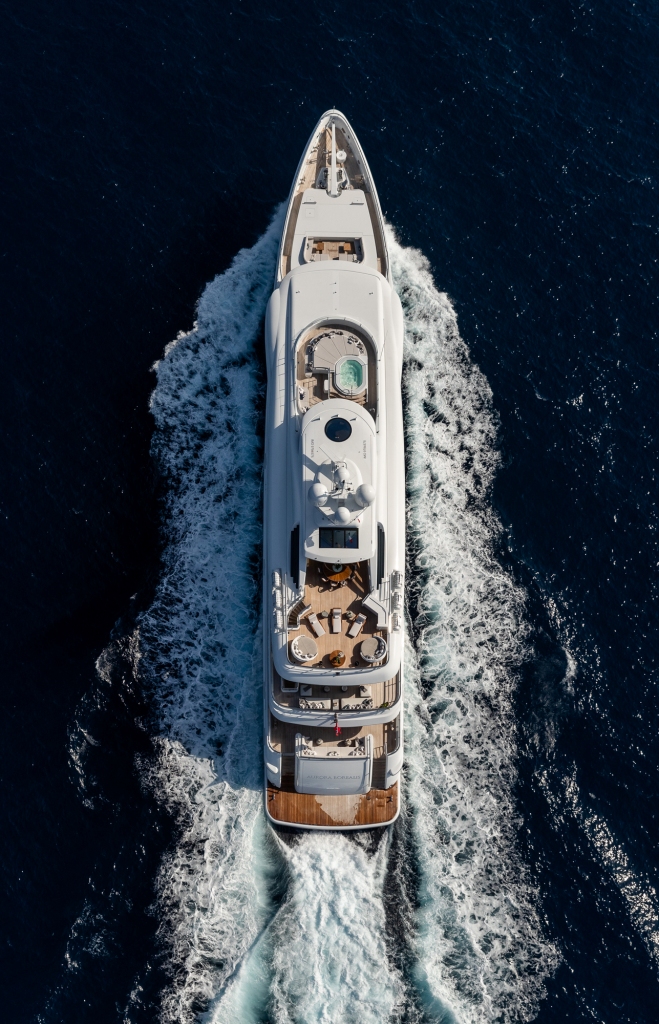 "There were a number of customisations, including extended decks, a large beach club and swim platform, to be made with a relatively short delivery time of less than three years", he explains. "That obviously always adds challenges but thanks to the naval architecture and engineering already being in place, we were able to get started with the steel-cutting straight away".
Aurora Borealis' fully custom interior hails from the design boards of British studio Winch Design. Taking inspiration from nature and the surrounding skies, Winch Design opted for naturally beautiful materials to embellish her indulgent interior and create a fresh, soft, light and spacious design, explains Jim Dixon, Winch Design's Director of Yachts and Aviation: "A harmonious, refined and Scandinavian influenced design is bought to life with intricate detailing to create an impressively luxurious and fully custom interior. The extended transom beach club features a full-service bar and relaxing lounge space. Spa facilities include a changing room, shower, ice-drop and large steam room decorated with a hand-made pietra dura mosaic artwork and a fibre-optic starlight ceiling". The result, much like its peers, is otherworldly.
---
Victor Caminada explains more about Amels Limited Editions
---
SYD: "How have the AMELS Limited Editions yachts evolved over time to meet the changing needs of today's yacht owners?"
VC: "We are continuously innovating and evolving our product range to meet not only the changing needs of today's yacht owners but also the changing requirements of our industry and responsibility to our environment. The AMELS 60 is a great example of how we have regenerated the proven and successful Limited Editions concept to create a new design perfectly suited to modern yachting needs. The very concept of AMELS Limited Editions embraces evolution be it in design features, length or technology. Each design within each of the Limited Editions range has evolved over time based on the valuable feedback we gain from our clients and captains enabling us to fine tune the ranges to meet current and future needs whilst still guaranteeing the fast delivery and high quality AMELS is renowned for. There is also a strong internal drive to innovate and incorporate the latest technology so as to anticipate changing needs. The AMELS 188 Limited Editions VOLPINI 2 is a great example of this. She was the world's first Tier III compliant new build yacht when she was delivered in July 2018, well ahead of the introduction of this new industry standard, and the first with AMELS Hybrid Power. Furthermore, the Limited Editions AMELS 188 design has since evolved further to become the AMELS 200 with an extended swim platform and full-height windows on the main deck – a design evolution geared towards owners' needs".
SYD: "Amels has now built more than 40 Limited Editions yachts, what sets the AMELS 60 apart?"
VC: "The AMELS 60 is the new generation of our superyachts. She features new innovative naval architecture, her future-proof hybrid technology has been built with the environment in mind and her huge sun deck, nine-metre luxury tender and generous interior volume of 830GT are aimed at today's yachting needs. She is the result of three years of comprehensive research and development, founded on the success of the generation that came before her. The more obvious difference is of course the introduction of a different designer for the AMELS 60 – Espen Øino".
SYD: "What specific requirements did the owner of Aurora Borealis have in mind during the design and build stage?"
VC: "The owner was looking for a yard who could build his boat within three years. To achieve the specific requirements that he had within the relatively short delivery time, the AMELS Limited Editions design and engineering platform quickly became the ideal starting point. He could draw on a proven engineering pedigree and existing AMELS design (namely the AMELS 212), and customise this to suit his own yachting needs. The result was a longer and larger yacht, now known as the AMELS 220 design. To meet the owner's specific requirements there were a number of customisations made to the original design. These included extended decks, a large beach club and swim platform. The transom has also been opened up to give a greater feeling of space, which has been helped by pushing the passerelle outboard, plus we have removed the ears on the aft extremities of the swim platform to create a smooth curved transom. These customisations were important in order to make the space child friendly as the owner has young children".
More Images: 67M M/Y NENINKA (ex AURORA BOREALIS) – © Breedmedia for Fraser Yachts