[dropcap]A[/dropcap]t the recent Cannes Yachting Festival Sirena Yachts presented their new flagship, Sirena 88, with the interior design by Cor D. Rover. Talking to Superyacht Digest, Ms Ipek Kirac, CEO of the Turkish yard, confirmed that the company is now looking at the superyacht world, ready to build the first hull in the 50/60 metre range, which is currently their max capacity at their facility in İstanbul.
In the new October issue, Sirena 88 is presented by Brittany Cooper, who has also collected this interview with the yard and the designer.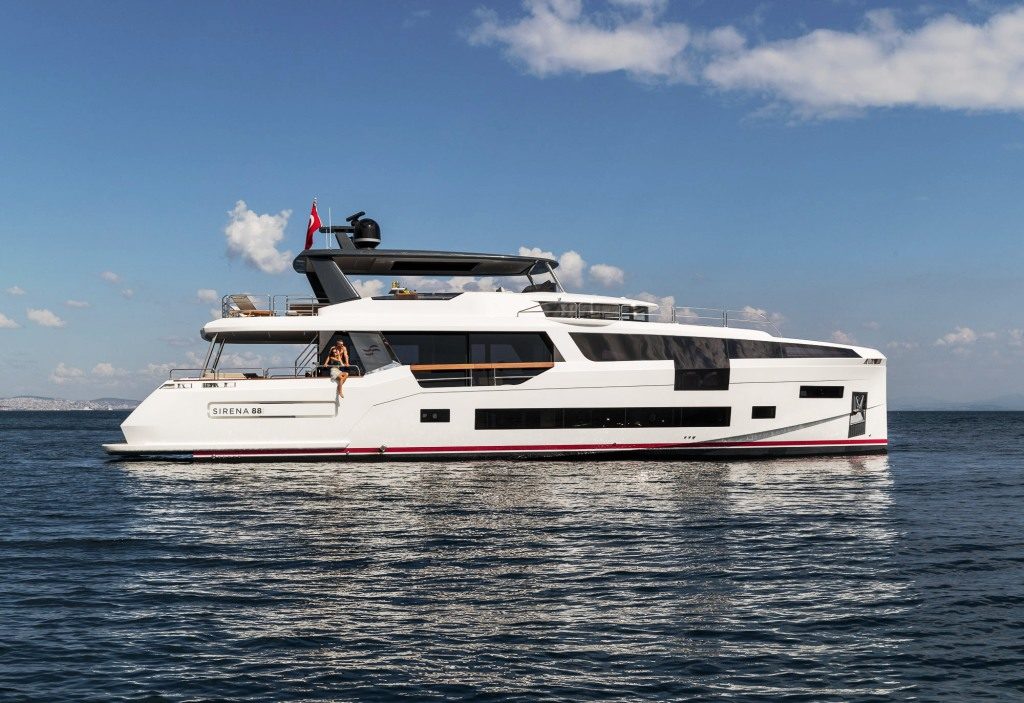 [divider style="solid" top="20″ bottom="20″]
By Brittany Cooper – from Superyacht Digest | October Issue 2019
SIRENA 88 | GRAND ENTRANCE: Offering volume galore for its size, a nippy top speed, and lavish interiors, Sirena 88 marks an entry into the superyacht sector for Turkish powerhouse Sirena Yachts.
[divider style="solid" top="20″ bottom="20″]
[dropcap]T[/dropcap]he new flagship model from Turkish shipyard Sirena Yachts, the Sirena 88, has a lot to offer, with impressive internal volume, unrestricted views and flexible layout choices chief among its drawcards. Featuring sporty naval architecture by Germán Frers and interior design by Cor D. Rover, Hull 1 was launched at a ceremony on 23 July, and made its debut at Cannes Yachting Festival in September.
At 26.81 metres LOA, and 7.1 metres in beam, this is the largest yacht ever produced by Sirena Yachts – in fact, at the end of 2018 the company expanded into a dedicated new production facility by the sea in order to proceed with its construction.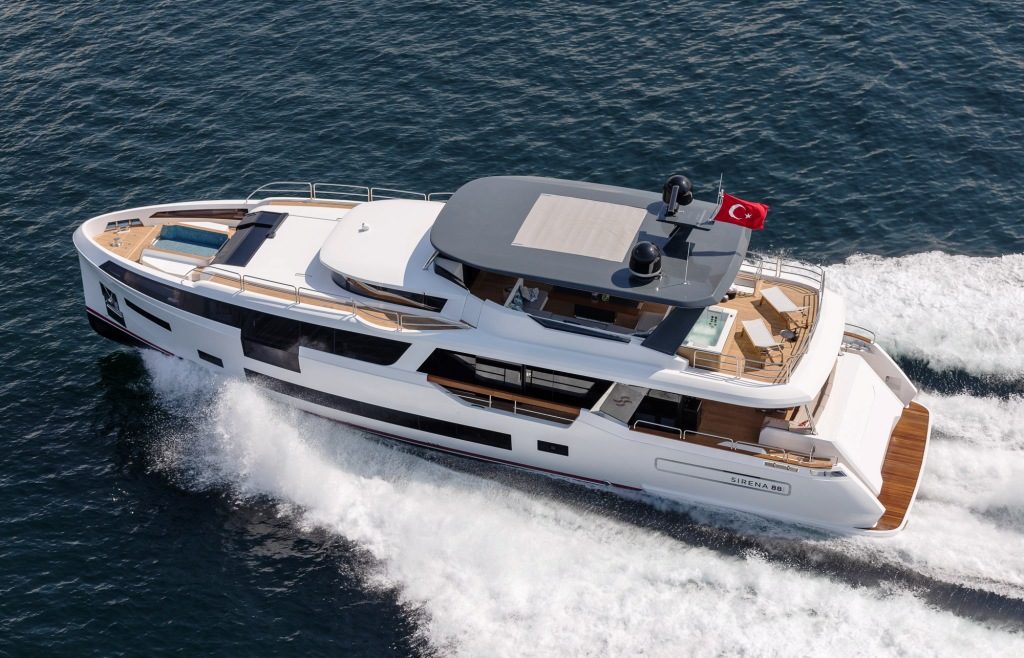 According to the yard, her lines are the evolution of the sleek styling that it has come to be known for (on her smaller sisters the 58 and 64), with a glass-fibre hull and carbon-fibre superstructure for lightweight durability. The Sirena Yachts team recounts that one of the project's most important challenges was to maximise interior volume while maintaining a high-performance profile. It is the yacht's unusually wide beam that allows the inclusion of some top-notch features normally found on larger yachts, such as a fold-out balcony and a beach club. The Sirena Yachts team recounts that one of the project's most important challenges was to maximise interior volume while maintaining a high-performance profile. It is the yacht's unusually wide beam that allows the inclusion of some top-notch features normally found on larger yachts, such as a fold-out balcony and a beach club. One crucial feature is the all-round insulation, floating floor and box-in-box furniture system to absorb noise and vibration, making for a smooth ride.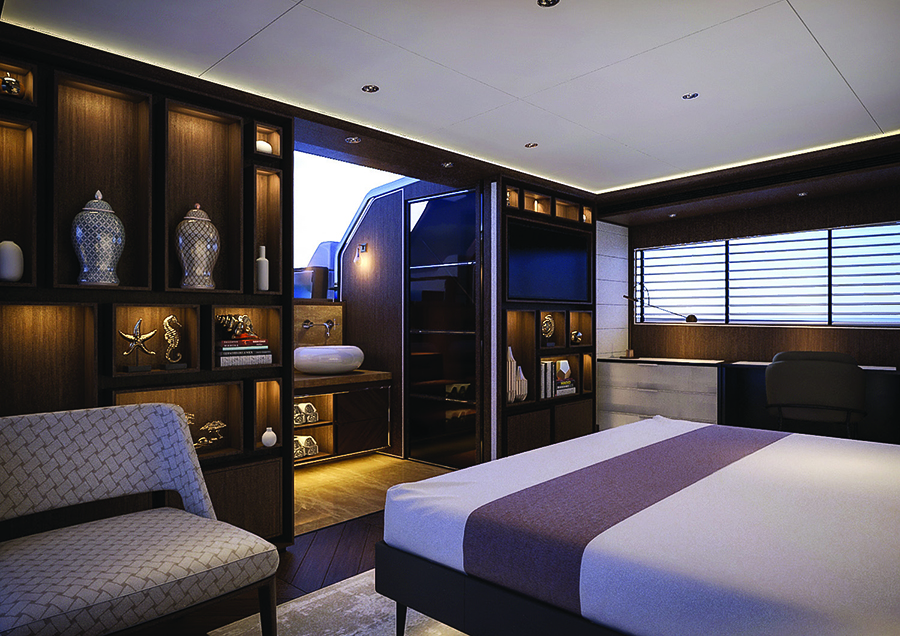 MASTER SUITE ON THE MAIN DECK
The owners' stateroom on the main deck is accessed via a starboard corridor from the lounge area. It offers unimpeded panoramic views out to sea, as well as a view directly on the dipping pool located on the foredeck, flanked by sun lounges on either side. The area is protected by high bulwarks for privacy and shelter from wind. For interior designer Cor D. Rover, this stands out as one of the most innovative features of the model: "For me it is surely the direct access from the forward full beam master stateroom to the private foredeck dipping pool and sunbathing area. Not only the access, but also the visual connection with views from the owners' bed onto the pool". On the port side of the master suite there is a sitting area along with a full fold-out balcony. To starboard, a combination desk and dressing table. Forward, along with a walk-in double shower and private toilet compartment, the head boasts a distinctive feature window that gently curves upwards to serve as a skylight, letting in a maximum of natural light.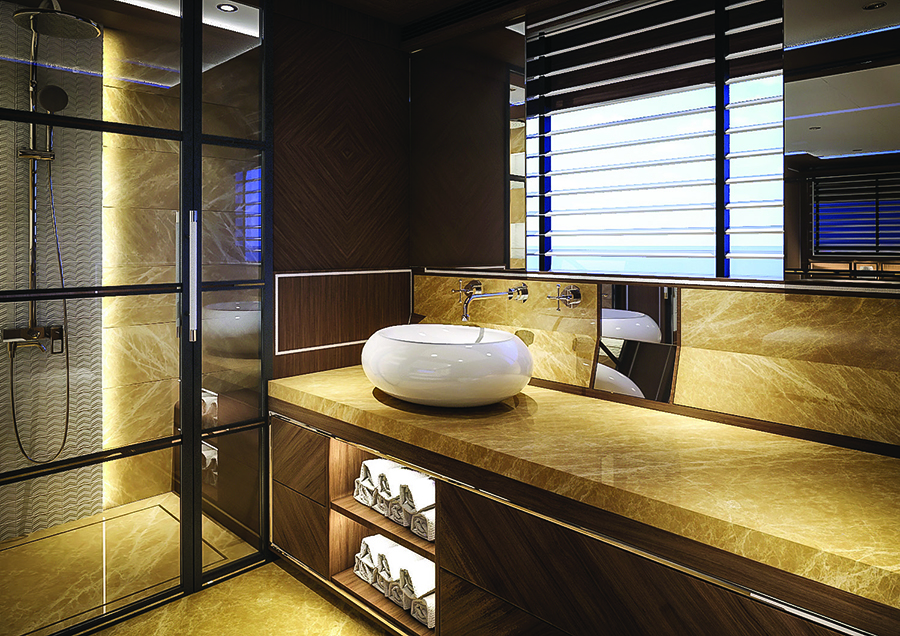 CUSTOMISED LAYOUT
Hull 1 has a total of five staterooms, including the master suite, and below decks, a VIP suite amidships, two double guest staterooms with ensuite, and a forward luxury guest cabin with private head, to accommodate 10 guests in total. Insulating the guests from the engine room is the crew area, consisting of a private sitting room and two cabins with a total of four crew berths. Another layout option for the model is four staterooms, accommodating eight, plus the standard two crew cabins. "In the four-cabin version, the owners' cabin is combined with the lower forward cabin. This will give a two-floor, loft style cabin, which I think would be a unique feature on this size of boat", comments Tanil Sürmeli, Product Manager for Sirena Yachts. Another suggested layout option is the choice between an open galley or a smaller closed-off galley which allows for larger dining space. Indeed, at present the model is built on spec, but the yard is quick to point out that every aspect of the interiors can be customised to suit the desires of a potential client. "The layout is something that we can change to meet a client's needs", affirms Sürmeli. "We are able to play dramatically with the spaces within the structural confines of this hull. As a semi-custom builder, we are open to their ideas". This is what happened with Hull 1. The build began with the yard's brief, "and then midway through, a buyer came on board. The project was transformed into this specific buyer's requirements", Sürmeli explains. And still, launch deadlines were met without a qualm.
FROM ON HIGH
The flybridge design makes for sweeping panoramic views from the helm (located forward to starboard), for the captain's ease of navigation. In fact all of the operating procedures are kept away from the main deck, leaving guests with a dedicated and well-considered layout for enjoyment and relaxation. There is ample space for leisurely social gatherings – including sun pads, lounge areas, sofas, and an alfresco dining area that seats eight. If the sunbathing should prove too much, guests can take a break in the whirlpool spa tub, also located on the flybridge, with fantastic views of the water and also conveniently close to the nearby cocktail bar.
AFT DECK DINING AREA AND BEACH CLUB
Down the teak laid GRP and stainless steel stairs leading from the flybridge to the main deck, there is a formal dining area that seats 10, served by the nearby galley. Moving aft through the wide doors, there is another sheltered alfresco dining area with facing U-shaped and straight settees, accessible via port and starboard staircases to the luxurious beach club (seating six) and hydraulic swim platform.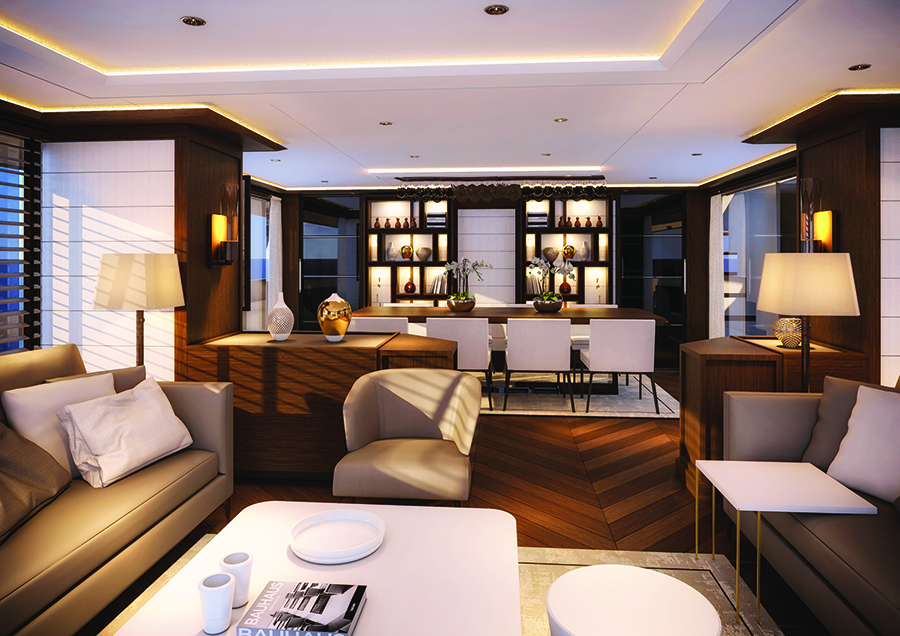 A SENSE OF HARMONY
According to Cor D. Rover, the grey oak used throughout the design gives the interior a contemporary look without being cold. Combined with the stainless steel touches, reflective surfaces and high quality off-white leather with hand stitched details, create an experience of harmony and elegance. The colour palette of the entire interior is in natural tones with bright colour accents that give a subtle nod to life on board a yacht. Comfort, style and attention to detail are achieved with excellent craftsmanship to carry out these design elements precisely. One crucial feature is the all-round insulation, floating floor and box-in-box furniture system to absorb noise and vibration, making for a smooth ride. Furthermore, thanks to the clever design solutions on the boat, each area has ample light and the rooms feel open, airy and spacious. Of course, the team dedicated much attention to storage space resulting in some inventive solutions. As for décor and furnishing, the team drew on a mix of luxury brands and in-house artisanal craftmanship. "We provide a selection of Minotti, Tribu, Turnstyle, Hermes, Loro Piano, Dornbracht, and Saken products for décor, furnishing and accessories options to our clients", says Sürmeli. Cor D. Rover elaborates, "we used a selection of European brands but the larger part of the interior was done in-house. Like all global industry players we used the combination of European design with the excellent artisan skills that you find all around western Turkey". With a workforce of 550, 80 of whom are engineers, the company keeps key manufacturing areas in-house, including stainless steel, much of the furniture, teak and upholstery as well as composite parts.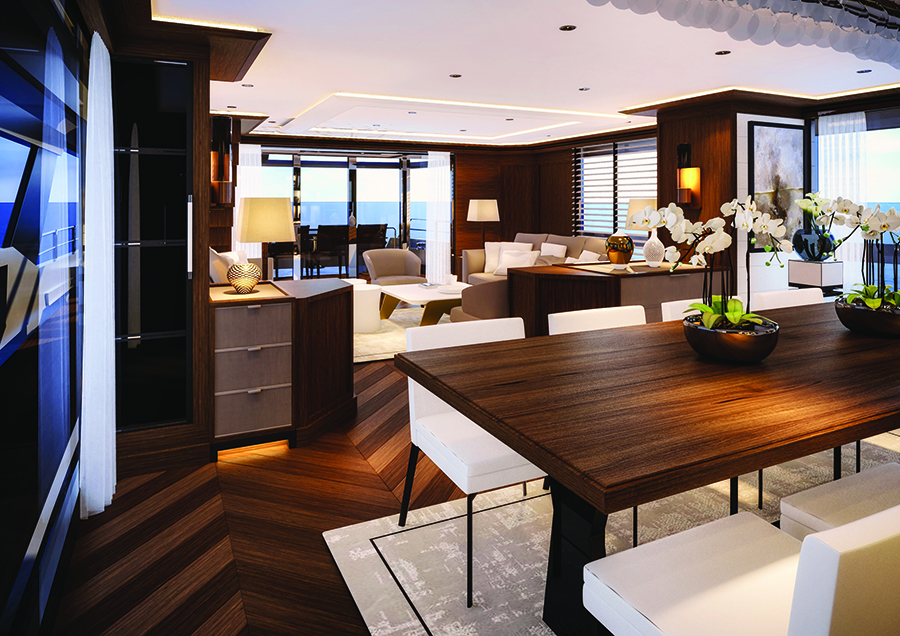 THE HULL STORY
A note on construction. In order to ensure that the vessel is as light as can be, Sirena Yachts has opted for modern techniques and materials: both the model's composite hull and its carbon-fibre-construction deck and superstructure are vacuum-infused, the former using E-glass and vinyl-ester resin.
MAKING HISTORY
This looks to be the breakthrough model for the in-demand Turkish builder, which is aiming to establish itself in the world of superyachts, having now stepped across the 26-metre line. Not unexperienced by any means, the company has been in business since 2006, and has long produced Azimut's Magellano range, as well as its own range of Azuree and Euphoria sailing yachts. The company also brings knowledge of the composite and stainless steel techniques from its experience in railroad and automotive production.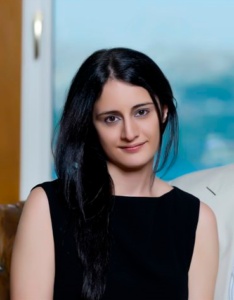 Ms Ipek Kiraç, CEO of Sirena Marine, commented during the July launch ceremony: "I would like to express my gratitude to all the members of the Sirena family and designers who have contributed to our achievement. This bigger model means we now play in a new category and I'm sure we are now ready for this. Over 400 boats (to date 410) that we have produced so far are now cruising all over the world keeping receiving huge acclaim".
PERFORMANCE MATTERS
After sea trials, the yard revealed that the model is versatile enough to perform economically and comfortably at both planing and displacement speeds, thanks to – among other features – vertical and longitudinal centres of gravity optimised by Germán Frers. It is perhaps for this reason that Sirena Yachts calls this their "true expedition go-anywhere small yacht", claiming a range of 2,400 nautical miles at nine knots, and a top speed of 23 knots when powered by the standard twin 1,400hp MAN V12 engines. Cruising speed is 16 knots. There is also the option of giving the boat a bit more wallop with an upgrade to twin 1,550 MAN V12 engines, which bumps the top speed up to 25 knots. Clients can select between a 16,500-litre fuel tank and the standard 11,000-litre depending on operational requirements. It comes after years of success with smaller models, but this may just be the beginning for this growing yacht brand. It is unlikely that we will see a Sirena smaller than the 58 in future, so the 88 heralds a new era of larger luxury models coming from Turkey.
Q&A with Sirena Yachts – Tanil Sürmeli, Product Manager
The Sirena 88 is presented as an evolution of your smaller models, the Sirena 58 and Sirena 64. What aspects will be similar and what will be different? TS: "We wanted to keep our brand promises in all our models; big volumes with high efficiency and speed. We see the 88 as the step to superyacht market. So we increased our methodology accordingly. You will see many solutions that you usually would see on a 30-plus-metre yacht. For example; we provide superior sound insulation that I believe can get easily Comfort Class certification". What are the most innovative features of this model in your view? TS: "I believe it is the volume we created. It was a very big challenge to create a 30-plus-metre yacht's volume and still be able to reach 25 knots of speed with a beam of 7.1 metres". How did you select Germán Frers and Cor D. Rover as collaborators? TS: "We have worked with Germán for a long time. For the interior we needed someone who can be flexible and creative to fulfil clients' needs, as the 88 is a semi-custom product. I believe Frers and Rover make the perfect combination of tradition and modern design.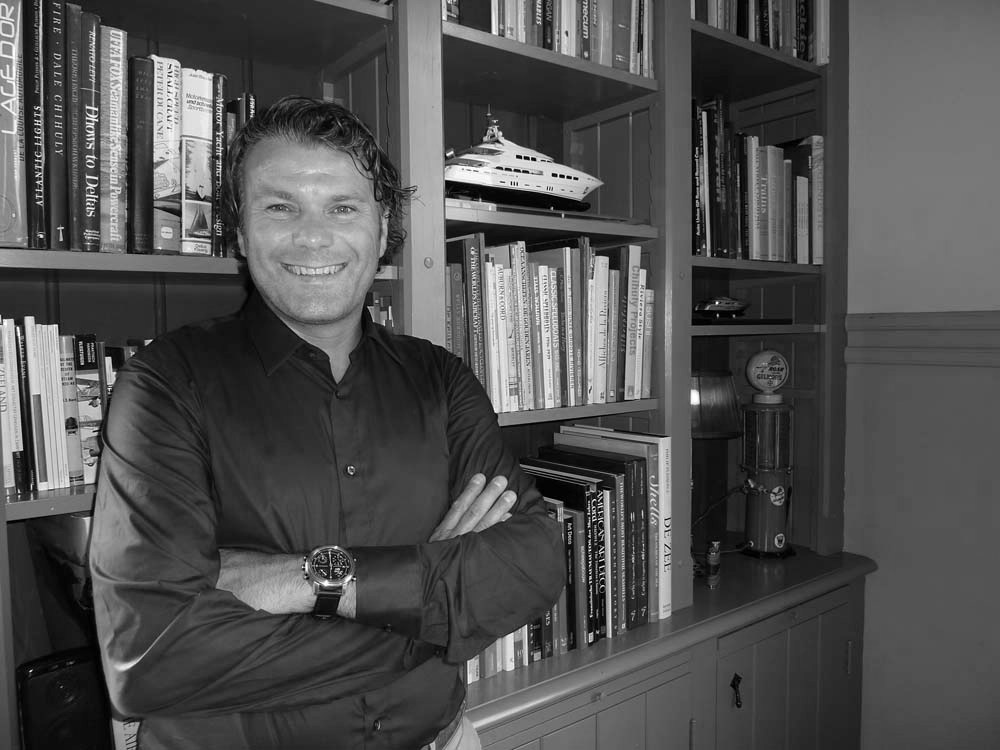 Q&A with Cor D. Rover, Interior Designer
What first motivated you to collaborate with Sirena Yachts? CDR: "Besides the high ambitions and very serious approach of [CEO] Ms. Kirac personally – and the shipyard as a whole – towards becoming a big player in the marine industry, it must have been my passion for Turkey and its people as well. We have only been strengthened in this love affair during this project". Can you explain the main differences between the cabin layout options for Sirena 88? CDR: "The standard layout has a total of five staterooms. The owners' full beam stateroom forward on the main deck, a lower deck full beam VIP amidships, and another VIP in the forward section with a very interesting skylight feature on both sides. Two guest staterooms with twin beds and ensuite bathrooms complete the total of 10 guest beds. The yard offers the flexibility to turn any cabin into whatever the client dreams of, from gym to cinema to karaoke room or wellness spa". Can you point out any interesting features in regard to light, whether natural or artificial? CDR: "We tried to have as much natural light as possible in the interior with large glass panels and interesting skylight features. Artificial lighting is subtle and warm, the moment the sun has set" What desires, themes or motifs influenced the interior design? CDR: "The interior of the 88 is based on creating a warm and inviting atmosphere that makes you feel at home, but also gives an exclusive feeling of relaxing enjoyment".