[dropcap]T[/dropcap]he newly debuted 76 feet Suprema from Adler Yacht is ready to captive the attention of all visitors in Cannes, thanks to its innovative design, hybrid propulsion system and advanced technology. Created by leaders in the marine, aviation and automotive industries across Europe, this boat forges a new path for flybridge yachts within this size range. Swiss brand Adler Yacht, which has close ties to the aviation business, chose to build its yachts in Monfalcone, near Trieste, on the Adriatic Coast of northern Italy. This allows the company's yachts to benefit from the renowned Italian craftsmanship and yacht building expertise. When it came to selecting design and engineering teams, Adler Yacht wanted nothing but the best from Italy, Germany and Austria. Nuvolari-Lenard, the highly awarded and renowned Venice-based superyacht design studio, provided both interior and exterior design for the Adler Suprema, which is constructed from carbon fibre, Kevlar® and fibreglass to provide a tough and rigid hull that is also sporty and efficient.
[one_fourth]
Adler Yacht appointed Mr. Philipp Pototschnik as new chief executive officer, effective immediately. The new CEO's key task is to lead the Swiss company's further development and promote expansion on various regional markets. Philipp Pototschnik takes the helm from Alessandro Barizzi.[/one_fourth][three_fourth_last]
It is the first carbon fibre yacht in its category. The Suprema's Hybrid Marine Solutions (HMS) propulsion system was developed by Germany and Austria-based TTControl GmbH, Aradex GmbH and Akasol GmbH, which are experienced in the marine and automotive industries. Two years of testing and four years of development on the hybrid system have resulted in what is probably the most efficient yacht in its class, with up to 50% more efficiency than a conventional system. At a rate of 8 knots, with a fuel capacity of 5,200 litres, the yacht can provide a range of over 3,500nm. The result is a trailblazing 23.11m flybridge yacht that offers many of the comforts and technology one rarely sees on a superyacht, let alone a vessel in this size category.
Nuvolari Lenard's eye-catching exterior lines are featured on some of the world's most legendary superyachts. They have lent this vision and talent to the Suprema with characteristic flair. Its strong lines and sporty profile also offer a large amount of exterior space for a yacht of this length. Adler Suprema has one of the largest flybridges in its class, emphasising the enjoyment of the outdoor space to those on board. The naval architecture of the Adler Suprema's hull complements its advanced propulsion system, providing excellent performance and efficiency, with an ultra-long range and high-speed power that can outpace most other yachts. The diesel-electric HMS system offers guests a vibration- and noise-free experience when cruising at slower speeds.
[/three_fourth_last]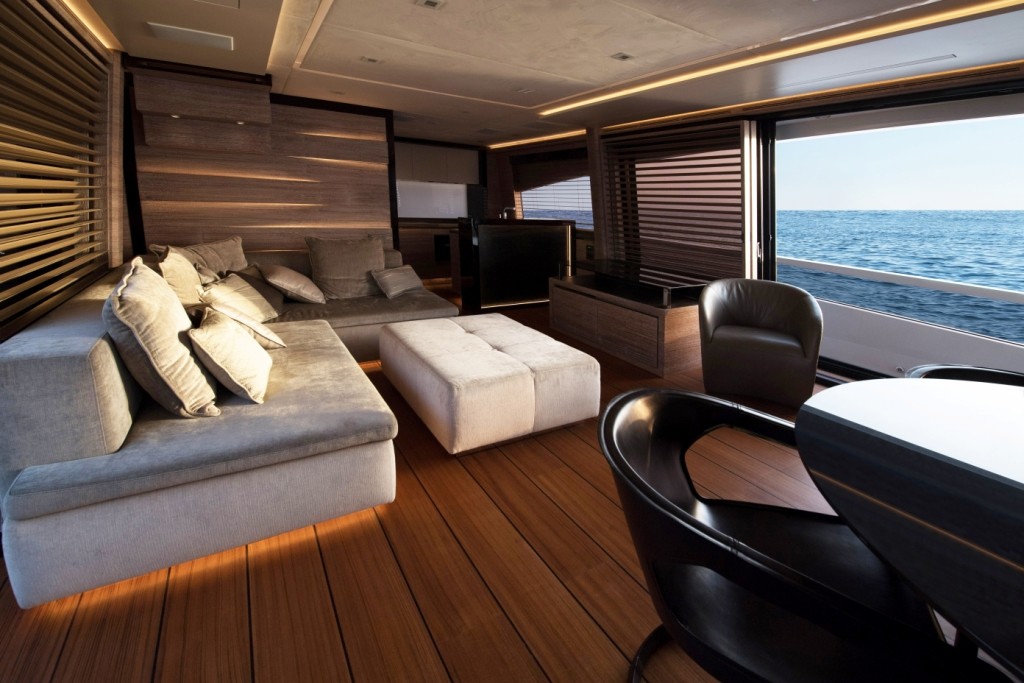 The level of detail to which Nuvolari Lenard has considered for the interior design is on a par with that usually seen on a much larger vessel. There is accommodation for between six and ten guests in three or five cabin arrangements, as well as two live-aboard crew.
Technology is a key part of the Adler Suprema's appeal. iPad controls allow an owner to monitor and change the settings of the yacht's various systems, even when not on board. For ultimate discretion, privacy glass provides one-touch transformation of windows into opaque glass panels. The high-capacity batteries will last all day, meaning guests can enjoy the full suite of facilities without needing to touch the generator or engines. Drawing on aviation, automotive and marine backgrounds, the team behind the Suprema have placed paramount focus on safety and security. A sophisticated fire alarm and suppression system, CCTV, and infrared and underwater cameras offer peace of mind, while Adler provides 24-hour phone support to clients. The Adler Suprema is described as a semi-custom yacht because of its fixed technical platform. However, a great number of interior layout and decoration choices remain available to owners for future new builds, to make a yacht truly their own.
The Suprema's HMS diesel-electric hybrid propulsion system includes carbon propellers with twin diesel Caterpillar engines and twin ATE high-efficiency 100kW e-units, which alone can provide up to 60min of silent electric propulsion at 8 knots (with a full recharge taking an hour). Emission- and vibration-free propulsion can be achieved up to 10 knots, but when the situation calls for speed, the Suprema can provide a maximum output of up to 28 knots and a high-speed cruising of 22 knots. The variable-speed electric propulsion system can delivery gentle docking manoeuvres that are silent and easy to handle.