[dropcap]C[/dropcap]hristian Grande, award-winning yacht designer and creator of the 2011 style-icon bicycle "Italia Veloce", has unveiled his new concept of modular and sustainable "floating villas".
Uncommon flexibility and simplicity in installation
Situations and sensations that have become rare and forgotten will become possible and part of the daily routine: floating houses, adaptable to changing circumstances, could become schoolrooms for infants or resorts hidden away in nature, where we can cultivate culture and passion and transmit these sensations to our little ones.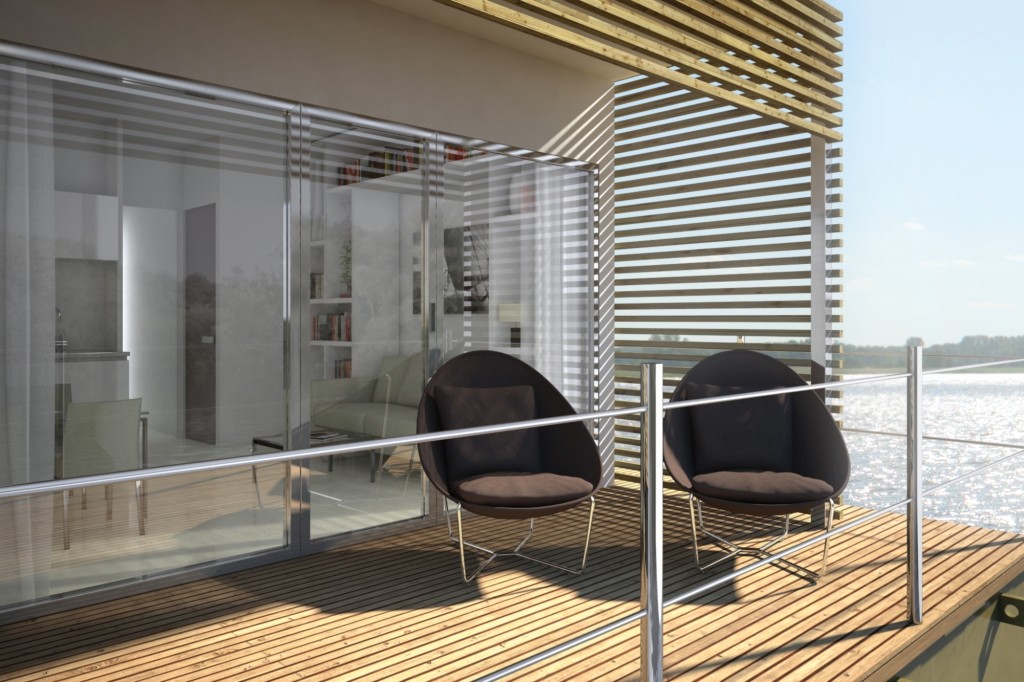 Overview
The proposal elaborates on the creation of floating housing units, to be built in modular chains of constructive and compositional elements for the housing envelope. New conceptions of living close to nature and modular housing are this projects distinctive elements, characterized by attention to detail, personalization of external and internal habitats and the infinite possibilities given by modular construction: from single one-room units to actual villages articulated on several levels. All these concepts are floating and designed to integrate into the surrounding landscape.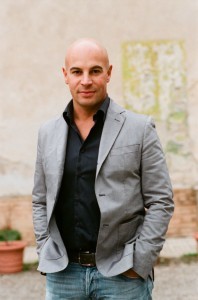 Technical data
The key element of this project resides in the total standardization of structural elements, systems and finishings, with the sole exclusion of aesthetic variations or later functional personalizations. The project specifications are articulated by means of simple dependable systems: buoyancy r sandwich technology for walls using recycled plastic and honeycombed baffles in straw, cork or particleboard, the latter to guarantee thermal insulation and light weight. Other exterior finishing materials are also contemplated, adaptableserves,e to different contexts and uses. For example: wide teak planks for exterior coverings with details in aluminum, roofing with either PV panels or corrugated sheet. Sizes and finishing are therefore available for any use imaginable: housing, recreation, guest accommodations or commercial uses. The load bearing structures are tested for up to two horizontal levels and composed of stringers and posts in aluminum, with the possibility to flexibly host electrics and climate controls by means of a system of standardized joinery. Flooring is also conceived to host electrical and plumbing systems, with hollow sections to guarantee thermal and acoustic insulation.
The floating module system
The primary structures for the system are floating 6.5 meter by 3.25 meter modules, designed as modular reference points for the installation of the various superstructures. Stability is guaranteed by the shape of the floating elements and by the possibility to use the modules as housing for both electrical and plumbing systems and housing for larger systems such as pumps, compressors, waste holding tanks, and so on. The housing element is designed to be enlarged horizontally as far as can be technically allowed by linking base modules, and vertically up to two floors. The distributive system and walkways are created by means of special dock and gangway modules, railings and small bridges, all derived from the base modules. These allow the creation of guest accommodations, vacation villages or dynamic commercial centers, all with the possibility to expand, while respecting the environment and the landscape. A further innovation is the possibility to modify the housing agglomerate in the future by changing the size, varying the layout or substituting exterior finishings. Modifications would be relatively simple and inexpensive. The possibilities are noteworthy, and would allow an equilibrated urbanization of the marine environment, with sustainable and non-intrusive operations that are also removable (the system has been designed to be transportable by trailers on land) and even self-propelled, by equipping the base modules with electric outboard motors and thrusters attached to the linking elements.
Customization and the environment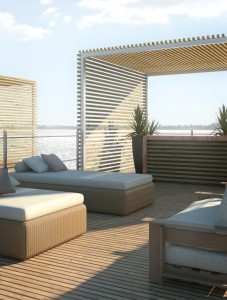 The strength of this system is its uncommon flexibility and simplicity in installation. This foreshadows a new conception in sustainable living, the possibility of many different uses, and the even greater potential for sustainable growth. The house boat project was conceived to offer a high potential level of customization for interior and exterior finishings. The residential user can have a lot of fun not only in configuring the ideal living space, but also in selecting energy efficient furnishings and home automation systems. A custom made retreat looking over a bay could be characterized by non-intrusive exteriors that would let the house blend in to the surrounding environment, while the interiors could be minimal or hi-tech.
Suburban rhythms, but always connected!
The future owner will be able to determine the final uses for his floating modular villa, deciding whether to be connected to the multimedia information and data networks or to live in complete isolation from civilization. Whichever the case, the floating villa is designed to become a completely suburban habitat for those who can afford to live at slow rhythms and without time constrictions, because it gives us the possibility to live fully emerged in the surrounding environment, with its rhythms and mutations.
Scenarios for residential and commercial use
This already futuristic project takes many scenarios, residential or not, into consideration. For example, thanks to the inherent technological content of the standard modules, it is possible to create a floating house that is simultaneously a remote office and a living unit, fully equipped with all the necessary technological amenities, and even romantically ideal for writers and artists who are searching for relaxing and contemplative environments that favor creativity and imagination. Even with recreative or commercial use, the possibilities that the standardized system provides are multiple and permit a large degree of customization both in terms of floor layout and finishings and systems.
[divider style="dashed" top="20″ bottom="20″]