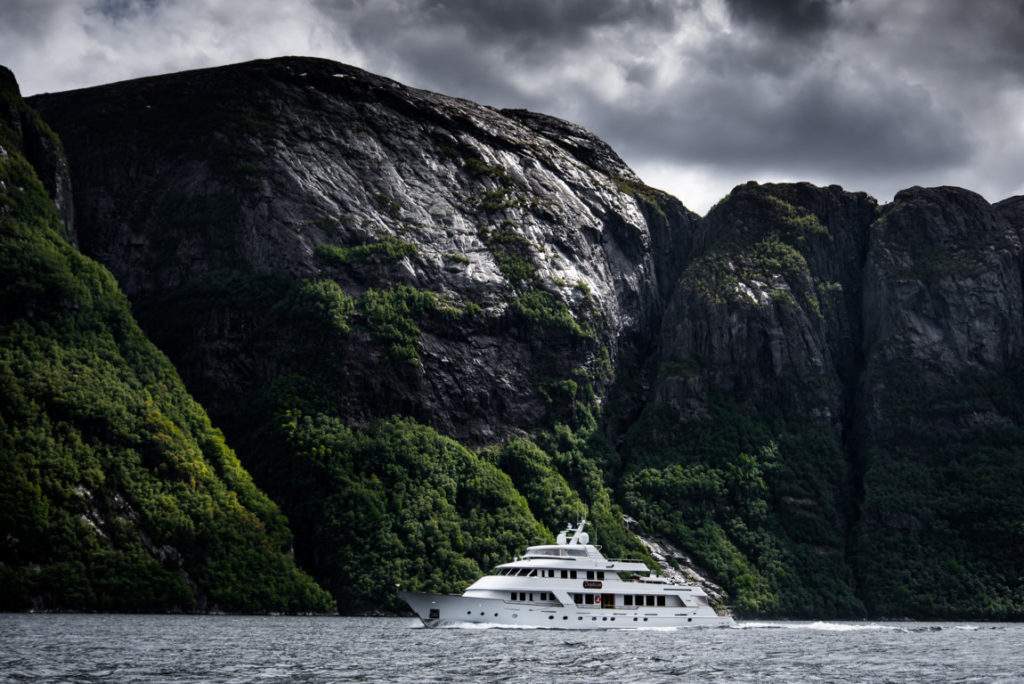 A TASTE OF ADVENTURE IN THE BEST COMFORTABLE WAY. INDULGE IN A THREE DAY ALL-INCLUSIVE LUXURY GETAWAY IN NORWAY. DISCOVER THE FJORDS, FROM STAVANGER TO THE SPECTACULAR LYSEFJORDEN, ON BOARD THE 43M MEGAYACHT DAYDREAM, ENJOY BREATHTAKING LANDSCAPES AND DISCOVER CULINARY DELIGHTS.
---
This article was published on Superyacht Digest JULY ISSUE 2019 – Pag. 146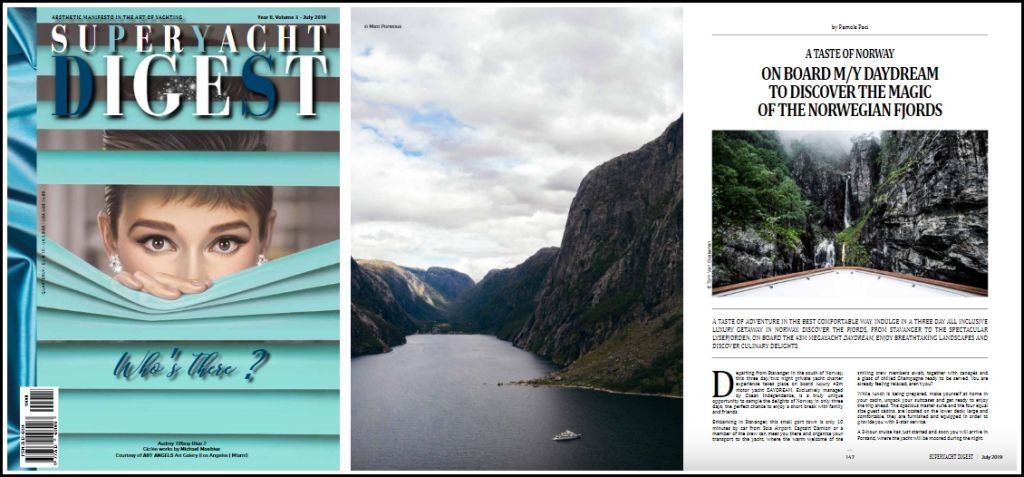 ---
Departing from Stavanger in the south of Norway, this three day/two night private yacht charter experience takes place on board luxury 43m motor yacht DAYDREAM. Exclusively managed by Ocean Independence, is a truly unique opportunity to sample the delights of Norway in only three days, the perfect chance to enjoy a short break with family and friends.
Also available for longer charters throughout the Norwegian fjords, DAYDREAM exudes quality, with spacious interiors and multiple decks, ideal for socialising. Her casual luxury makes guests immediately feel at home in this Scandinavian paradise, while her great selection of tenders and toys provide numerous ways to explore the region. For total relaxation, guests can soak in the on deck Jacuzzi or enjoy a massage from the onboard masseuse. Accommodation is provided for up to 10 guests in 5 staterooms, including a full-beam master stateroom, two doubles and two twins.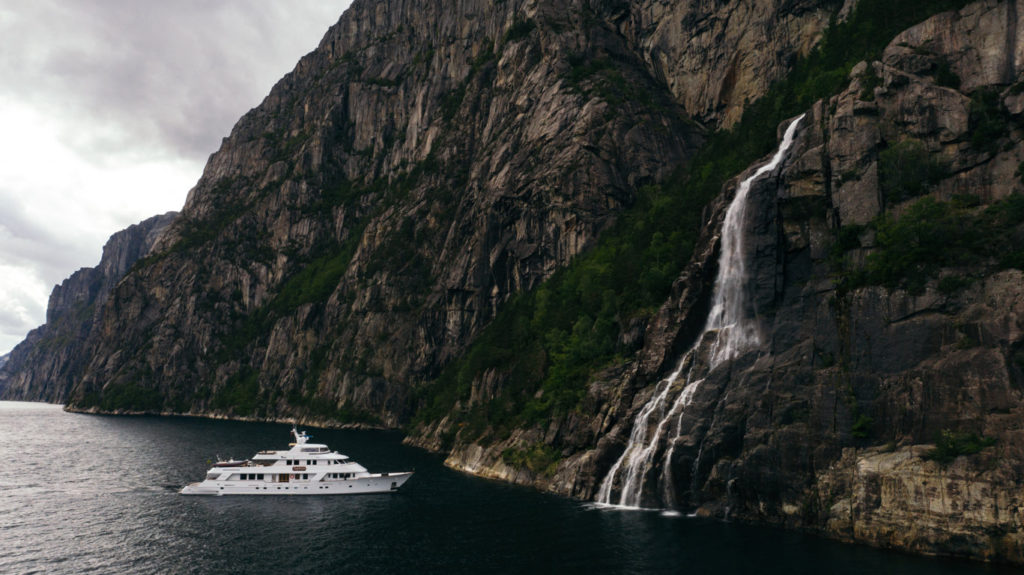 Embarking in Stavanger, this small port town is only 10 minutes by car from Sola Airport. Captain Damion or a member of the crew can meet you there and organize your transport to the yacht, where the warm welcome of the smiling crew members await, together with canapés and a glass of chilled Champagne ready to be served. You are already feeling relaxed, aren't you?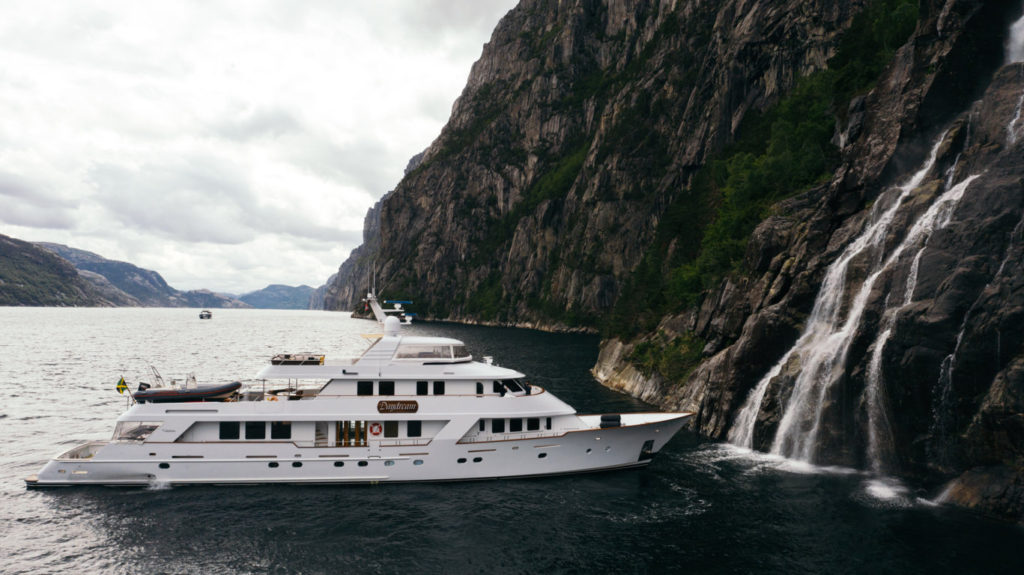 While lunch is being prepared, make yourself at home in your cabin, unpack your suitcases and get ready to enjoy the trip ahead. The spacious master suite and the four equal size guest cabins, are located on the lower deck; large and comfortable, they are furnished and equipped in order to provide you with 5-star service. A 3-hour cruise has just started and soon you will arrive in Forsand, where the yacht will be moored during the night.
Up to 10 guests can enjoy world-class cuisine from the dedicated, private chef on board, whilst discovering the unique culture and breath-taking natural wonders of Norway. New Zealand born Captain Damion Moses has the spirit of a true adventurer and extensive knowledge of Northern Europe, having worked on yachts in Norway, Sweden, Finland and Russia. He and the entire crew adapt to your every need, making your experience on board DAYDREAM an unforgettable one.
Take a leisurely lunch, enjoy time on the sun deck and watch the fantastic scenery that gradually reveals itself between the fjords. Along the way the yacht will stop to admire the stunning natural landscape and breathe the delightfully refreshing air. The 7.95m Merry Fisher tow tender will also be available to get fully up close and investigate the beautiful waterfalls, tumbling cliffside.
The stunning scenery is all around you 360° and it often feels it is enveloping you as if in an embrace. Once at the head of the fjord, the crew will launch the jet skis and other toys for those wishing to explore the fjord and get closer to nature.
Nearing the rocky walls you will discover new perspectives, the feeling of being so small compared to the mountains increases and the sky will appear even further away. The magic has just started! This is the time to indulge your adventurous side: pick from various water sports activities, kayaking, paddle boarding, wakeboarding or enjoying a pleasant stroll in Lysebotn, a village in Forsand, where small colourful villas stand out amidst the thousand shades of green of the landscape.
In Lysebotn, active guests may wish to hike or try tandem paragliding, an exhilarating opportunity to see the fjords and landscape below from a completely different viewpoint. The paraglider is launched upwards by a winch boat and a professional tandem pilot is there to guide you. Don't panic, the only risk you might run is not being able to launch due to unfavourable winds… or losing your companions along the way if you are not great walkers! In that case, try calling "Helllo! Is there anybody out there?" The sound of silence is so strong, they will hear you for sure.
Once the afternoon watersports and activities are complete, DAYDREAM will be your haven in the midst of magnificent nature, where even sunset is late to arrive enabling you to enjoy the incredible, breathtaking views as long as possible. In the atmospheric mid-summer Scandinavian light, guests can enjoy a delicious al fresco – time will seem endless, it means you are completely relaxing.
On the second day, after a delicious breakfast prepared by the first-class chef, DAYDREAM leaves Forsand to reach Jørpeland taking approximately 1.5 hours. Captain Damion will outline all the possible activities: hiking up Norway's iconic Pulpit Rock – guided by Daydream's experienced crew, visiting Landa Park – a fascinating prehistoric village, for a journey back in time, enjoying a horse trek or discovering local walks near the anchorage.
After lunch another wide range of opportunities is on offer, as an alternative to life on board, where watersports equipment is always at your disposal. In addition remember a glass of champagne can be always served to you in the jacuzzi on the sundeck at any time. A fishing trip on the Merry Fisher tender with experienced crew members could be the right occasion to test your fishing abilities; if you happy flying by helicopter, a fabulous scenic flight over the top of the Fjords is a unique opportunity not to be missed.
Be brave, challenge your sporty side. A delicious dinner will be ready for you following the conclusions of all daytime activities! On the final day, after breakfast, you will have the opportunity to discover the fascinating island of Mosterøy, only a 1.5 hours cruise from Jørpeland. You will be able to visit the Utstein Monastery and immerse yourself in its fascinating history, originating from Viking days.
Then take a walk around the area to soak up the beautiful and peaceful surroundings. If you still feel charged, go for a bike ride or take a walk ashore from DAYDREAM's anchorage. Lunch will be served on board as the yacht heads back to Stavanger, ready for your flight back home.
The Taste of Norway 3-day itinerary is weather dependent. All the activities are approximate and not guaranteed, but Norway is packed full of places that are worth discovering. Whether a sunny day or in case of rain, you can embark on a journey to an enchanting island with exotic gardens, for an experience that that will delight your senses. Blossoming gardens full of exotic plants and palm trees are waiting for you at Flor & Fjære, on the island of Sør- Hidle outside of Stavanger, where Queen Sonja of Norway celebrated her 70th birthday. The gardens and restaurant opened to the public in 1995, hosting two tours per day during their season from the beginning of May until the end of September.
The island is visited by over 30,000 guests each year and functions as a popular tourist site, complete with a garden tour and lunch/dinner in the onisland restaurant. 43m M/Y DAYDREAM is available for charter with Ocean Independence. As her Captain Damion Moses explains, the 43 metre Christensen yacht DAYDREAM has spent six seasons cruising Norway's stunning waterways. "The yacht is the ideal charter yacht for the region, a perfect floating hotel, suitable for any kind of guest, young people, families, kids…There's so much to do in Norway and discovering this landscape by yacht is the most efficient way to be completely embraced by nature".
The crew is often what make a big difference in any kind of charter experience. Captain Damion has spent considerable time in Norway and knows the area very well. With the help of the knowledgeable crew, he can guide you towards great anchorages and suggest the best activities according to the weather conditions.
The Norwegian summer weather is often quite stable, and the temperatures are pleasant both on land and at sea. The days are long in Norway during the summer season, so a vacation in Norway is not a traditional one, as is expected in the regular Med destinations.
The pleasure of this vacation will be in all the activities you and your family and friends can be involved in together. And do not forget this is the land of Trolls, get ready with your camera, you might see some magical creature suddenly appear in the the scenery!
Superyacht Digest has had the honour to be on board M/Y DAYDREAM for this charter experience in the Norwegian Fjords and takes this opportunity to really thank Daydream's Owners, Capt. Damion, the crew and the Ocean Independence team, for this fabulous, unforgettable Nordic adventure! 🙂
Photo credits: Tom Van Oossanen, Matt Porteus for Ocean Independence